Work-From-Home Hacks, Presented by The Wing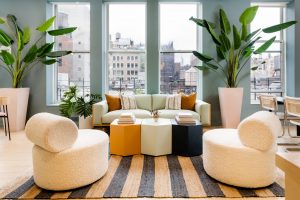 The Wing offers beautiful workspace essentials, networking & support, and charging & refueling — all designed for optimal productivity, creativity, and inspiration. Here, The Wing's Lauren Collins shares work-from-home hacks plus a special opportunity to reserve your own complimentary day pass.
Remember the early days of remote work? Sleeping in, cozy sweats, and laughing at colleagues who couldn't mute.
It started slowly: video meetings crept onto our calendars as we sunk deeper into our couches. Goodbye, commuter stress, and hello, living room! With the flip of a laptop, millions of us finally got to work on time. 
And: the pets! Tail-wagging reached an all-time high as soon as our furry friends realized their humans were never, ever leaving. (The equivalent to us winning the lottery, perhaps?) 
Nearly 21 months later, the honeymoon is most definitely over. Remote working has taken a serious toll on our minds, bodies, and relationships, despite the obvious conveniences. 
We're in desperate need of a reset – especially working women, who are often responsible for time-consuming household work while navigating their careers.
Working mothers face additional challenges.
"Mothers are three times as likely as fathers to be responsible for housework and child-care duties during the pandemic," according to a 2020 report from Lean In and McKinsey and Company. 
At this rate, womens' plates at home are literally piling up to the ceiling –  is this the latest one we're expected to break? (We're too exhausted to even remember the metaphor – myself included.) So while the at-home workplace evolves, The Wing has you covered by sharing some tips to survive and thrive from home.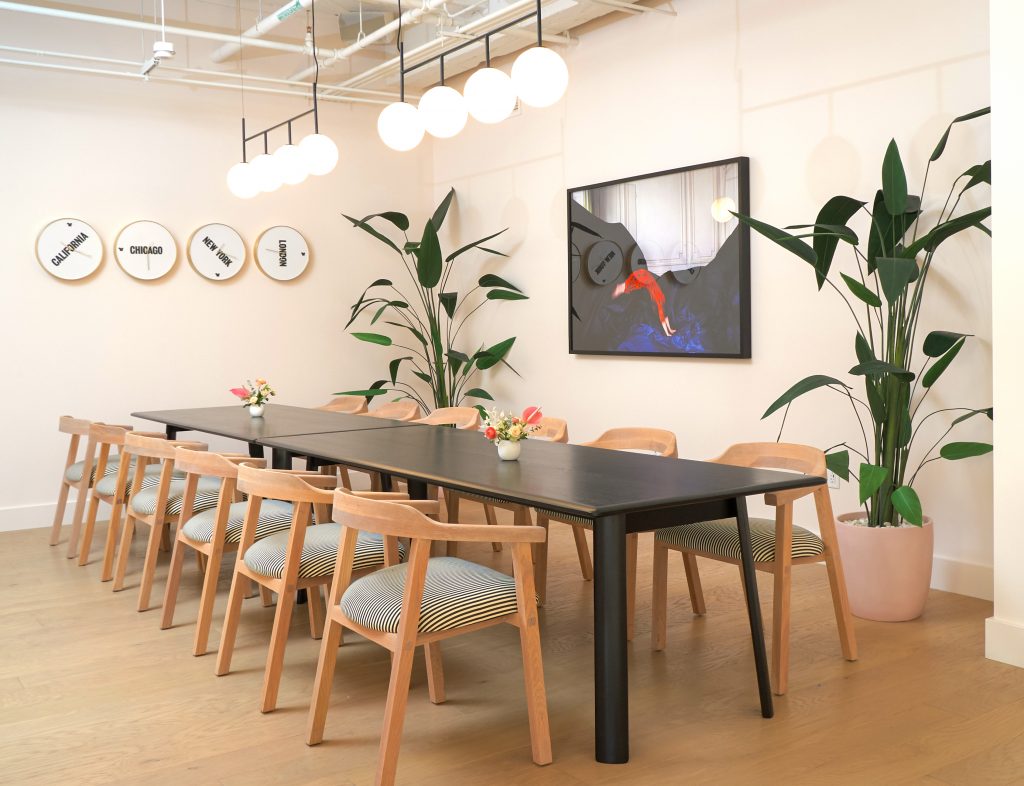 Routine. Rinse. Repeat. 
Wake up at the exact same time, every day, for one week. Or: apply this to the nighttime routine with a consistent "lights out" deadline. Eat breakfast before you send an email. Insert "any healthy behavior you can think of" here for fourteen days straight – 15 minutes of yoga, a morning walk, or include a protein with every meal. Start small, but stay the course. You'll save so much mental energy when basic tasks become habitual. Why do the world's most successful people share this advice? Because it works. 
Dare to decline meetings. 
Remember the old office days when a half-eaten sheet cake was left on the kitchen counter for hours? Or: a pile of plain bagels? An undeniably sad scene and you kept walking by. Some Zoom meetings are those sad cakes and bagels in disguise, and they deserve to be ditched. If there's no clear purpose, agenda or leader who'll capture actionable next steps, reserve your right to respectfully decline. If stale bagels have taught us anything, it's that some meetings just aren't worth it.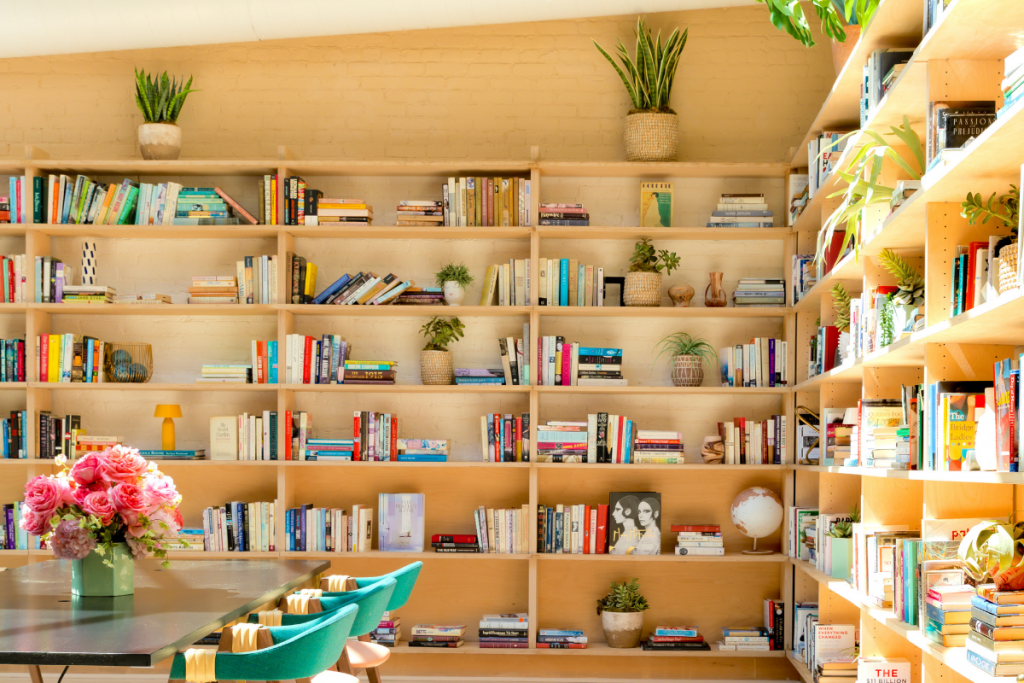 Make a meal. 
It's never been easier to eat cereal for lunch, or have fast food delivered to your doorstep. We often make bad choices when we're stressed or short on time. Try preparing lunch for yourself the night before a busy workday. PB&Js are underrated. And: if you're a parent stuck making your kid lunches, what's one more for yourself? The prep pays off when you're literally sandwiched between three meetings. 
4. Escape the room. Literally. 
We race to charge phones as soon as the low-battery alert appears. Try powering down instead and run for the door. Fresh air and a neighborhood stroll can revive you in as little as fifteen minutes. Escape the four walls at least twice a day, and your productivity will spike.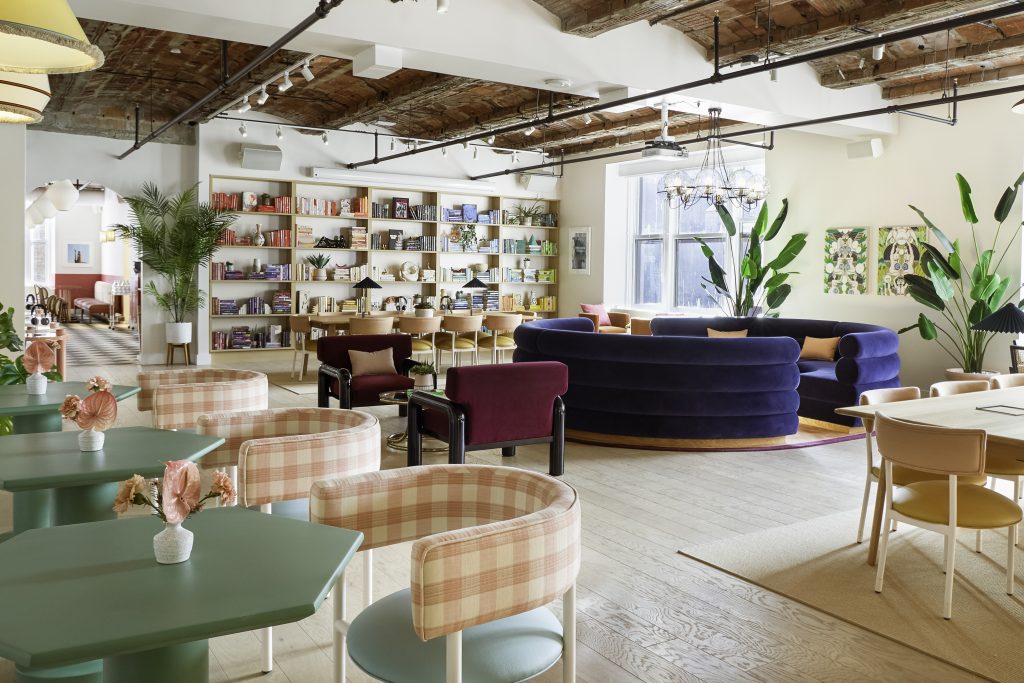 5. Establish at least one in-person meeting a week. 
Building upon #4 and noting this may be difficult for some (and an inherent reminder to always follow safe guidelines), apply this to any part of your life. Meet an old friend for coffee or chat with a neighbor. Humans have been through a range of experiences and emotions recently, and the benefits of face-to-face contact vs. a text thread are unparalleled. Many of us are also out of practice, so try to stretch those muscles on a regular basis. 
6. Visit a coworking space that inspires creativity and productivity. Warning: promotional plug to follow.
Do you live in or near New York, Los Angeles or San Francisco? Are you in need of a new workplace scene, even occasionally? Are you tired of squinting to view your coworkers' Slack profile pictures? 
For these reasons and more, we encourage you to visit The Wing. Bring a friend, colleague, or both. You'll like the high-speed WiFi, full-service color printers, and variety of meeting spaces. Delicious morning lattes and mid-day wine offerings served to you while typing. Breathtaking city views, inspiring decor, and a welcoming atmosphere surrounded by others (from a safe distance) await you.
We promise your pets will understand. 
See what's possible when you work from The Wing with a complimentary visit. Reserve your date and *click here* to activate your complimentary day pass, using the code WINGFROMHOME.