In Honor of Women's History Month, Here's Why WAWO Champions Women-Owned Businesses All Year Long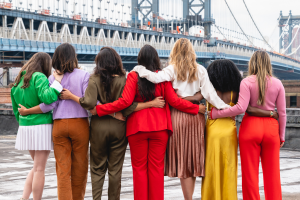 WAWO is a woman-owned business built around championing other women-owned businesses, so it probably won't come as a surprise that March is kind of a big deal in our world.
(If you're new here, hi! WAWO stands for We Are Women Owned, and we're all about helping women makers, do-ers, and curators gain visibility + find community)
Not only is it Women's History Month (officially defined as a time to "commemorate and encourage the study, observance, and celebration of the vital role of women in American history"), it's also WAWO's birthday month – we've been at this for five whole years!
If you've ever wondered if there's actually a need to rally support for women-owned small businesses in 2023, let us be the first to tell you that yes, absolutely, there is.
Scroll on for a glance at a few of the numbers that motivate us to keep moving forward in our mission to help everyone discover, support, buy from, and hire more women-owned brands.
When we look at the stats on women, the workforce, and entrepreneurship, some of them seem promising, like:
→ Women account for 80% of purchases and drive between 70 – 80% of consumer spending… all while accounting for 50% of the population. (And that's based on 2019 numbers!)
→ 40% of US-based businesses are women-owned.
→ 62% of businesses started in 2021 were founded by women of color.
→ In First Round Capital's portfolio, women-founded businesses outperformed businesses founded by men by 63%.
But also? A lot of the numbers are pretty depressing:
→ Just 10% of Fortune 500 company CEOs are women. (Not so fun fact: apparently, there are literally more S&P 500 CEOs named Michael or James than there are women CEOs… like, at all.) 🤨
→ In 2022, women earned approximately 85% of what men earned… and those numbers have only changed 2% since 2022.
→ A mere 7% of women-founded startups receive venture capital.
→ Thanks to the United States's lack of a federal paid family leave policy, one in four American women returns to work within two weeks of giving birth.
And that's not even accounting for the women who had to figure out how to make a living because the traditional work environment is too often untenable for people who have a disability, are neurodiverse, or who have caregiving responsibilities (hello, astronomical cost of childcare).
Womp womp.
See? That's why, whether a woman is choosing to start a small business out of possibility or out of necessity, WAWO will be in her corner, cheering her on and encouraging everyone we know to shop women-owned.
Simple ways to support women-owned small businesses
Motivated to discover, support, and get your money into the hands of more women-owned brands? Love that! We've got 3 simple steps to help you get started:
→ Seek out women-owned businesses online and in your city. The WAWO Directory makes this super fun and easy! Inside, you'll find listings for 100+ incredible brands across categories like Accessories, Apparel, Baby & Kids, Beauty, Food & Beverage, Gifts, Home & Lifestyle, Paper Goods, Pets, Wellness, Services, and more!
→ Shout out your favorites! Have you recently discovered a woman-owned brand that you love? Tell everyone – friends, family, IG and TikTok communities, and so forth! Your community will appreciate the recommendation, and that small biz owner will be thrilled to get in front of new, values-driven customers.
→ Check out this amazing blog post from our partners at goodbuy: 5 Actions You Can Take This Women's History Month
Finally, we'd like to leave you with this:
When you support women-owned small businesses, you're getting so much more than a beautiful product or a thoughtful service – you're contributing to economic growth, pushing back against the tide of inequity, and straight-up making someone's day. Plus, you can feel way better about where your hard-earned dollars are going.