Weaving the Future, One Artisan-made Textile at a Time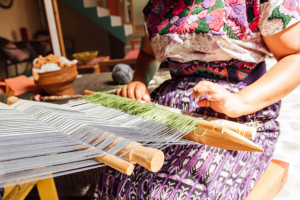 Have you ever heard of fast fashion? Just in case you're learning about fast fashion for the first time, it refers to companies that constantly push out new products and new lines, which enables them to keep pace with rapidly evolving consumer tastes. The clothes are cheaply made in order to keep up with the pace, and have many downsides. Here are just a few of those downsides:
People bought 60% more garments in 2014 as opposed to 2000, but they only kept the clothes for half as long. This means that those clothes end up in the dump. The equivalent of one garbage truck full of clothes is burned or dumped in a landfill every second.
When these cheap clothes are washed, 500,000 tons of microfibers are dumped into the ocean each year. That's the equivalent of 50 billion plastic bottles. And the clothes made with polyester (which you'll find in about 60% of garments), release 2-3 times more carbon emissions than cotton. Oh, and polyester doesn't break down in the ocean.
The fashion industry is responsible for 10% of all man made carbon emissions – which is more than all international flights and maritime shipping combined.
The fashion industry is the second largest consumer of water worldwide. It takes 700 gallons of water to produce one cotton shirt.
There's more, but we're going to stop before we get even more bummed out. This sounds like all bad news, right?
Well, the good news is that there are awesome people working to change the industry, and move from fast fashion to slow fashion, harmful to sustainable, and inhumane to innately human. One of those people is Hannah King, the founder of Woven Futures.
Woven Futures is a slow fashion brand that celebrates Latin America's artisans and vibrant textile culture through timeless designs that honor makers and the planet. Hannah has formed personal relationships and partnerships with indigious artisans from her home country, Guatemala, and her mission is to connect them to the fashion industry and fight the toxic processes behind fast fashion.
Read on to learn more about Hannah, her journey, and how she is working to revolutionize the fashion industry.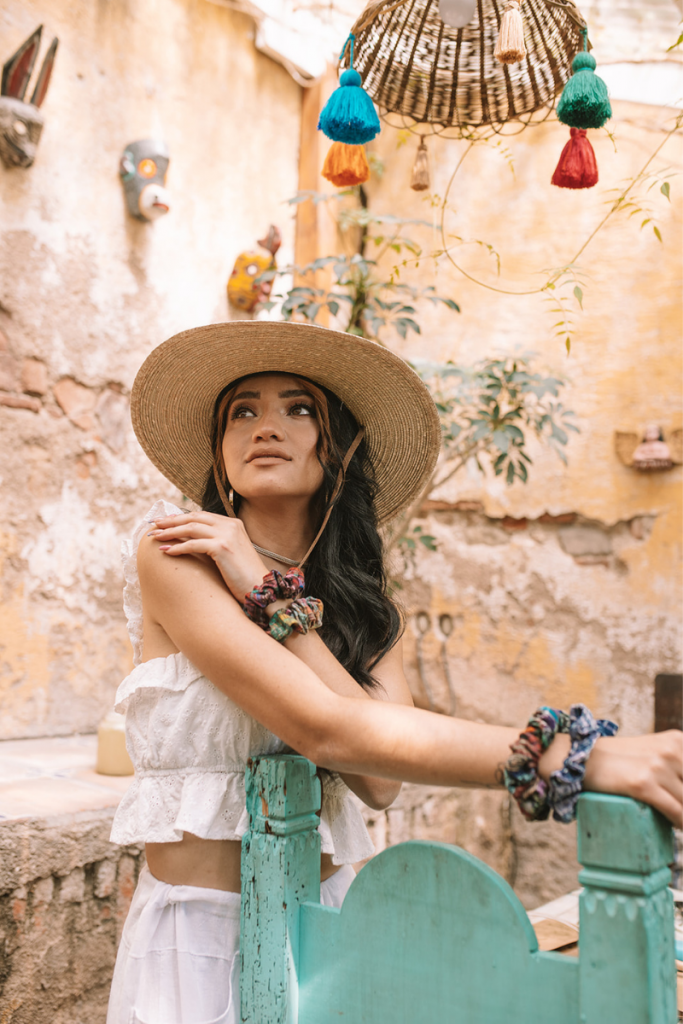 Erin Coles: Tell us about yourself, your background, and what you were doing prior to starting Woven Futures!
Hannah King: Hi! I'm Hannah, I'm a 24 year old Latina that loves all things coffee, culture, languages, and salsa dancing. Growing up in Guatemala instilled a passion in me for International Development early on. When my family and I moved to the U.S. I saw the stark difference in opportunities that I had compared to back home in Guatemala. I always wanted to do something to help bridge that opportunity gap but didn't know the "how" to that desire until I began my business.
EC: So what was it that inspired you to start Woven Futures?
HK: I spent a summer working with a social enterprise here in Guatemala and met a lot of artisans in my free time who shed some light into the intricacy of their craft and the struggles they had when it came to selling them. As a Guatemalan myself it felt wrong to go back to the U.S. without helping out in some way so I brought a box of textiles and kept the artisans' contact information, hoping that I could create a channel for them to reach more customers. Ultimately, I loved the crafts and knew how special this handmade process was and wanted to share that with the world.
EC: Where does the name Woven Futures come from?
HK: I chose Woven Futures because everything we make is Woven but also because our work literally weaves people together from different backgrounds through the shared appreciation for these skillfully made items. Futures is inspired by creating a more equitable and ethical future in the fashion industry through our work as well as a more sustainable future for the communities we work with through our consistent partnerships and fair-trade.
EC: Love the inspiration behind the name! Can you share a little more about how the products are created? What techniques are used in creating each piece?
HK: All our products are handwoven either on a back-strap loom, foot-loom, or by hand-weaving techniques. These are Mayan techniques that have been passed down multiple generations – they're techniques from hundreds of years ago that are still alive today. The thoughtful and intentional weaving process results in extremely detailed and high-quality pieces that not only look different but have a rich texture and softness to them. Artisans spend about two to three weeks weaving textiles that then become final products like our totes, headbands, scrunchies, and makeup bags. Every product is also naturally dyed! All together, it can take about 3-6 weeks to create some of our Woven Items.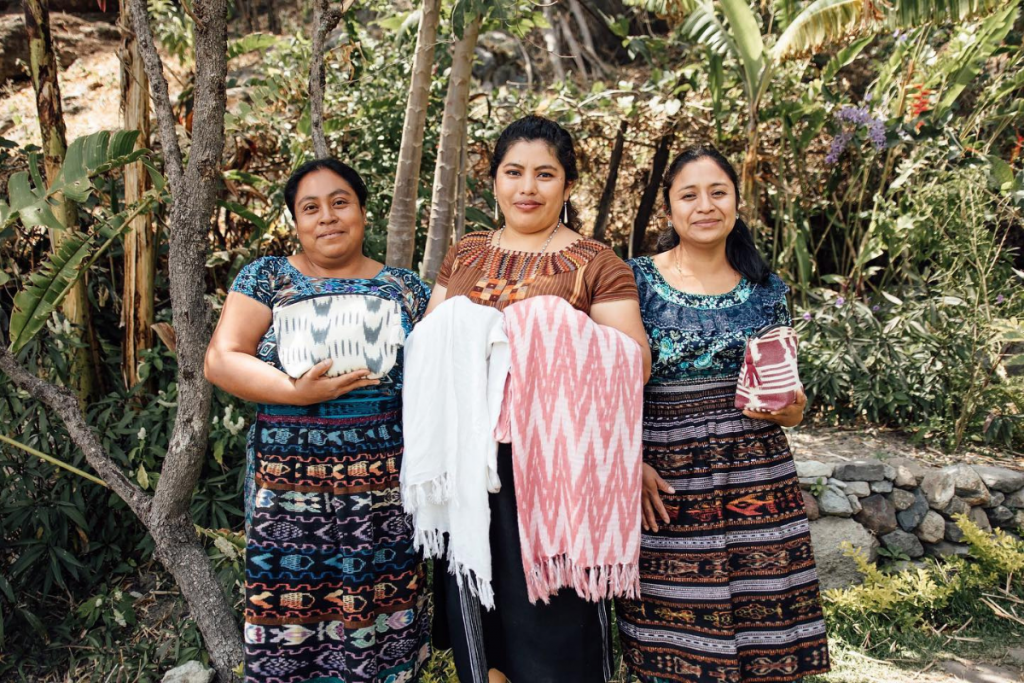 EC: What an incredible process! And can you share a little more about your sustainable practices?
HK: We're committed to being as zero-waste and environmentally friendly as possible through our production. Fortunately, our artisan's traditions are already inherently sustainable and make that an integral part of our business model. We use 100% organic cotton that is locally grown to make the majority of our products. Using organic cotton helps reduce water waste and ensures that no pesticides are used in the growing process. Any other products we make are made out of upcycled textiles that are given a new life as new products instead of going into landfills as textile waste.
We also exclusively use plants, herbs, and spices to make up our dyes and pigments for our textiles. We do this not only because it's the right thing to do but it's how we stay in touch with the earth and our Mayan weaving traditions. Using locally sourced and natural materials allows us to provide transparency behind our supply chain and guarantee green and clean products to our customers.
EC: Tell us a little more about the artisans you work with! How did you find these artisans, and what is the relationship like?
HK: Being Guatemalan has played a big role in my work with artisans and building trust in the communities we work with. I started meeting our first artisan partners through textile markets after living in the highlands of Guatemala. I started out by buying consistently from a few artisans (products they were already making) while getting to know them. This was important because many foreign brands come here to "work with artisans" but unfortunately lead to unethical practices, unfair pay, or stolen designs. By buying consistently and sharing the mission of our work, I was able to gain artisans trust and begin getting my own designs made through these partnerships. Eventually artisans would refer to me friends or family that also specialized in different crafts and our team began to grow.
Today we work with several cooperatives and artisan families that make up 90+ artisan partners. All our artisans set their own price and are our business partners, not employees. This empowers them to grow their business with us and other clients, leading to financial sustainability. Our artisans also work from home and have the ability to care for their families while earning a just income for their skilled labor. This is particularly important to me because it ensures non-factory working conditions that keep family at the core. We personally know all the artisans we work with and collaborate with them on new design concepts, production methods, and color tones for our products.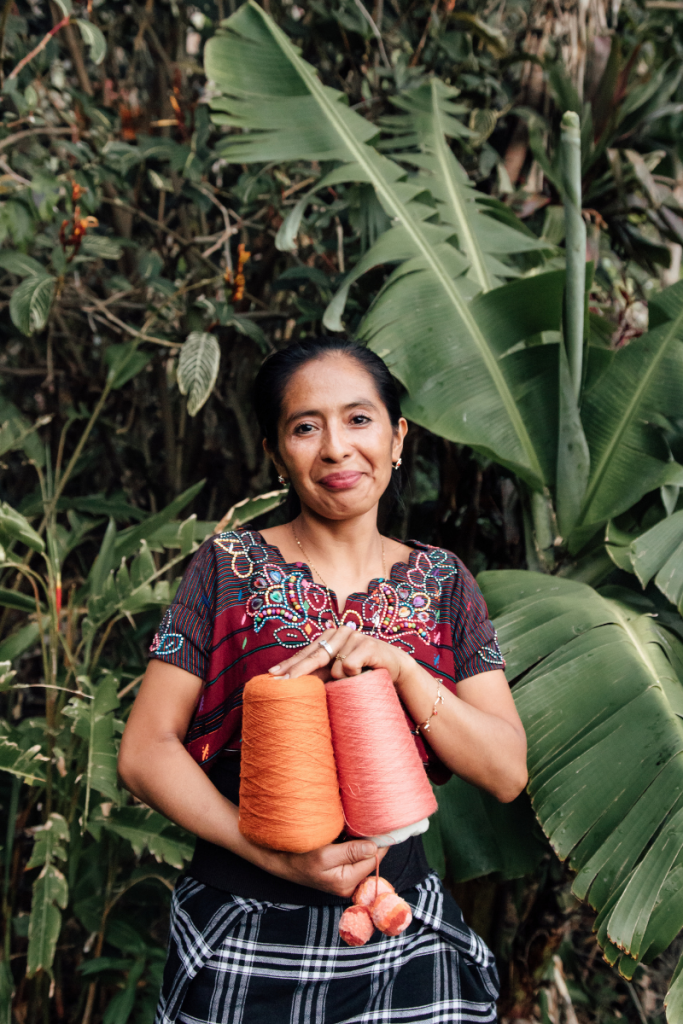 EC: Wow. The environment you've created is so, so special. So basically, the other end of the spectrum from what you're doing is considered fast fashion. What is fast fashion and how is Woven Futures helping to stop the fast fashion trend?
HK: Fast fashion is the rapid production of inexpensive fashion produced by mass-marketers. Fast fashion perpetuates mass consumerism and emphasizes profit over people and the planet. Fast fashion brands like Forever21, Fashion Nova, Princess Polly, and others push out over 50 micro-seasons and collections that are trendy but not made to last and end up in landfills or as waste.
The two main problems within fast fashion are the unethical treatment of garment workers who are often not paid a fair wage or given safe working conditions to make these garments and the negative environmental impact that fast fashion has on the planet. Synthetic fibers have microplastics that end up in our waterways and also use harmful chemicals to create dyes for clothing. These dyes intensely impact the local waterways from the factories they are made in and have resulted in chronic health issues for communities who end up having those dyes in their drinking water. As a brand, we recognize that those harmful processes are NOT at all necessary to make beautiful clothing or accessories. They are only used because they yield a cheaper production cost.
At Woven we are making beautiful and natural products that are intentionally designed to last you years and stay in your wardrobe – not the landfill. Through our products and sustainable production processes we are setting a new standard in the fashion industry, education consumers about the origins of their items, and offering an alternative to fast-fashion.
EC: How did the pandemic affect your business, and the artisans you work with? What did you do to pivot your business?
HK: Guatemala shut down as a country for 7+ months because of the pandemic. Public transportation was halted, curfews were in place, and only essential workers were able to work. This shut-down disproportionately affected indigenous communities – most of whom don't have access to remote work or alternative work options besides their crafts. Many groups came together to help support communities through emergency food aid but the impact of the shut-down was everywhere and is still evident today even after months of the country reopening. We worked remotely via whatsapp and phone/video calls with artisans for 10 months during the pandemic and hosted some virtual market sales to help artisans supplement the income they'd lost due to market closures. It has been a blessing to have our online store and platform to connect with our customers during COVID and it has truly kept us and our artisans afloat.
However, despite the country being reopened, tourism is extremely low (what artisans depend on for their local market sales) and the economic effects of COVID are still prevalent. This has specifically affected independent artisans that can't afford a market stall and rely on street vending to sell their goods. Because of this, we're seeking out new artisan partners to support the recovery of the artisan industry and help support more vulnerable individuals that were affected during COVID. Our new collection features several of these artisans and is something I'm extremely proud of! Through our partnerships we are able to provide consistent income and fair-wages for artisan's work during a very difficult time in Guatemala. We're still recovering ourselves and are always finding ways to support more artisans as the economy recovers.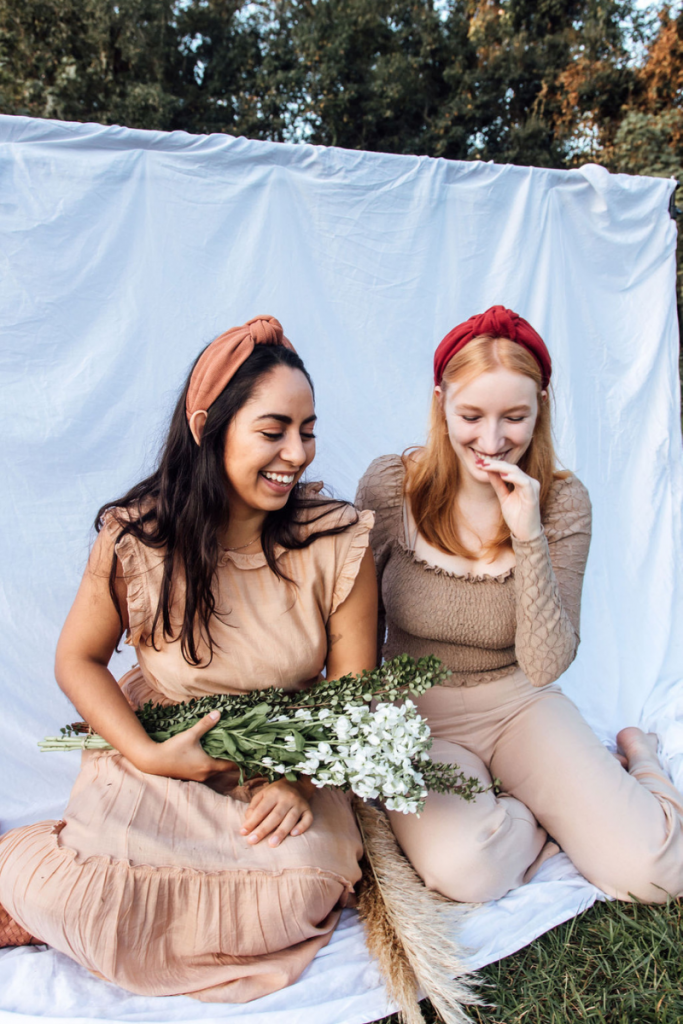 EC: Wow. The more we chat, the more impressed I am with you, your thoughtfulness, and your deep desire to support these individuals and communities.
Especially now that online sales are so important, how do you generate interest in your brand, and how do you go about educating your customers about your products? What strategies and platforms are you using?
HK: We've grown our brand organically through word of mouth and social media. I love social platforms because they allow you to tell your story and really connect with your audience. We use Instagram and Facebook to share our products, their process, and the artisans who make them. I find that videos are probably the most engaging content we have as it allows people to view the process and see it for themselves. We love to host pop-ups as well (pre-COVID we did a lot of these and would meet a lot of new people who resonated with our work)! I'm hopeful that we can start these up again! Being a part of the WAWO popup in summer was great too and connected us to this community!
EC: Awww, and we are so happy to have you as part of the WAWO community!! I'd love to know – what has the customer feedback been like? Give us an example of what your customers are saying!
HK: I'm proud of what we've built at Woven. When someone finds our brand we're met with an overwhelming appreciation for the work that we're doing and an admiration for the textile pieces our artisans make. I'm fortunate that we have so many brand champions who advocate for artisans and sustainable practices. When people give feedback, they usually point out the uniqueness of our items, the details behind them, and the culture behind each piece!
EC: Where do you sell your products? What is your plan of where to sell moving forward?
HK: We currently sell online at wovenfutures.com and at a few local boutiques. We're working on growing our stockist and partnering with more retailers to get our products to more people this year!
EC: Who are your ideal customers?
HK: As a Guatemalan brand, our ideal customers are Latinx Women who are champions for their communities and love to represent their cultura. They're young women who are connected to their latin lineage and love to keep the artisans and textile culture alive.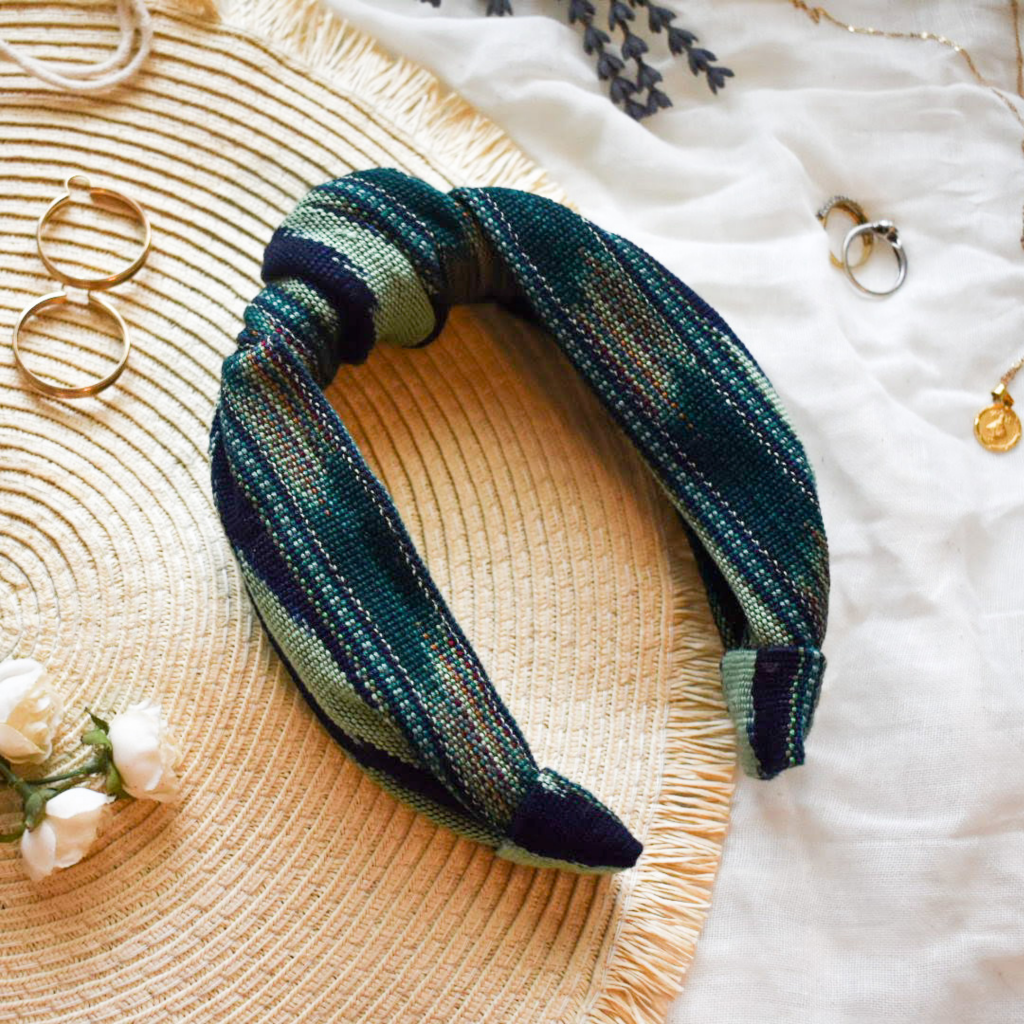 EC: What has been your biggest challenge in building your business thus far?
HK: Competing in a very saturated fashion industry has been a challenge for me. Because our price-point is higher and our processes are different, we have to put a lot of emphasis on awareness and education to our audience. Fortunately, the demand and awareness for sustainable and slow-fashion is going up so we're definitely finding our market. Stocking up on inventory and designing new collections every year is also very capital intensive so I've had to be creative in how I fund my business (competitions, grants, self-funding).
EC: What is the best piece of business advice you ever received?
HK: "Learn to separate advice from opinions" – You'll have a lot of people give you their personal opinions and frame it as "advice" which can be confusing and conflicting especially if those are important people to you. Learning to listen to my intuition and stay true to my gut has been a game changer.
EC: That's such great advice! And what advice would you offer to a fellow entrepreneur?
HK: Do something you're genuinely interested in and love. What gets you through the difficult times of your startup journey is your commitment to the cause you're working for and the passion you have for your business. I know people who have a "successful" business but are miserable because they have no true passion for it. It can be cliche but it's true, pursue things you genuinely are interested in and everything else kind of falls into place.
EC: That's so true. You'll have a much better experience if you truly love what you do. So when you're not working on Woven Futures, what are you doing?
HK: I love being active and outside so you can always find me on a run or at the beach/camping with my boyfriend and our three dogs. I'm a big coffee connoisseur so a coffee shop is a sure place to find me at too. Family is also extremely important for me so we have a lot of get togethers!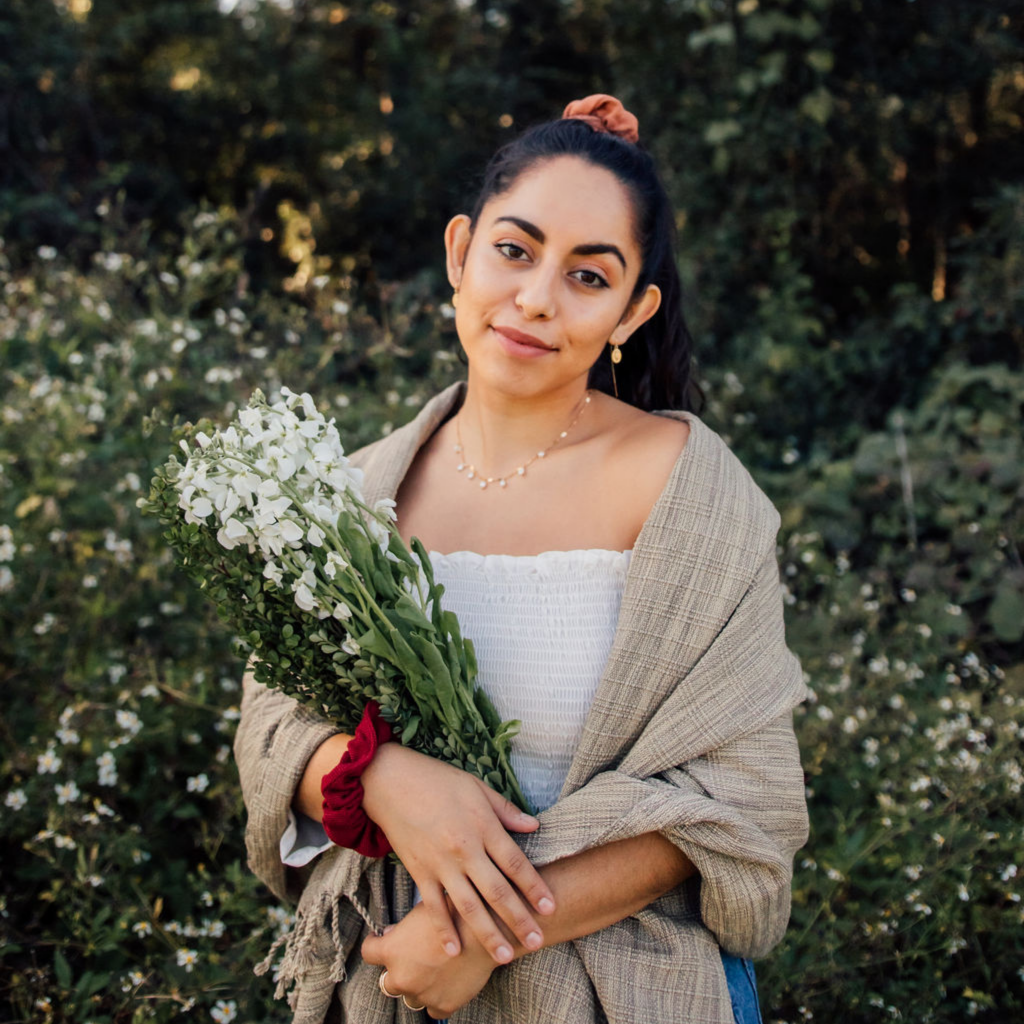 EC: How do you balance or integrate all the facets of your life – all while making time for personal relationships and self-care?
HK: Starting a company consumes you, especially in the early years when you are doing every job. I learned early on that I needed to create boundaries for myself with my startup to avoid burn-out and salvage my relationships. I was living and breathing my business to the point that I couldn't fall asleep because my mind was running 24/7. A mentor had me physically write out all my responsibilities and begin stripping away the ones that weren't essential – almost like a self-audit. I realized I was taking on too much and as a result, wasn't taking care of myself. I began structuring my time better (time-blocking) and would get up a few hours earlier to start the day with exercise and time for myself before working. Ultimately, working on my discipline has helped me get more done for my business while still leaving time for me.
EC: I think I'm going to steal that exercise from your mentor! So what's next for Woven Futures?
HK: We recently got included in a PR box for HBO Latino's newest special Havana Street Party Presents: Beatriz Luengo! This was a huge accomplishment for us and is hopefully leading us into more partnerships and retailers. We're working on scaling so that we can partner with more artisans and eventually expand to other artisan communities in Latin America.
Wow, we are so grateful for people like Hannah, who are helping to build the future of fashion, business, families, and our planet. To follow along with Hannah's journey, or to support Woven Futures, check out their website, Instagram (@wovenfutures), and Facebook!