Transforming the Mental Health Stigma with Functional Fidget & Sensory Jewelry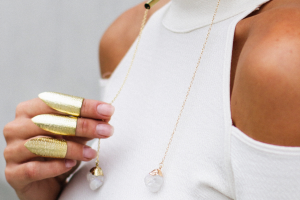 Let's talk about mental health for a moment. Mental health has become a larger part of the national conversation over the past several years. And in 2020, discussions around mental health skyrocketed in response to the COVID-19 pandemic, which has sunk Americans' mental health ratings to a new low.
And even though it's becoming a larger part of the conversation (thank goodness!!), there are still many people who feel ashamed to share what they're going through. Some people don't want to worry family or friends with their feelings, some feel that they're exhibiting symptoms that are generally considered "bad," and others simply don't know how to identify what they're feeling.
Well, Dara Firoozi, founder of Adarabella Designs, is on a mission to end the negative stigmas surrounding mental health through her line of functional and fashionable jewelry that serves as an on-the-go mental health aid.
Dara created Adarabella Designs using her own mental health journey, her Senior Research and Design Thesis at the Penny W. Stamps School of Art & Design at the University of Michigan, and grounding techniques she learned from her own therapist as her inspiration. Read on to hear Dara's story, and to learn more about her mission to change the conversation around mental health.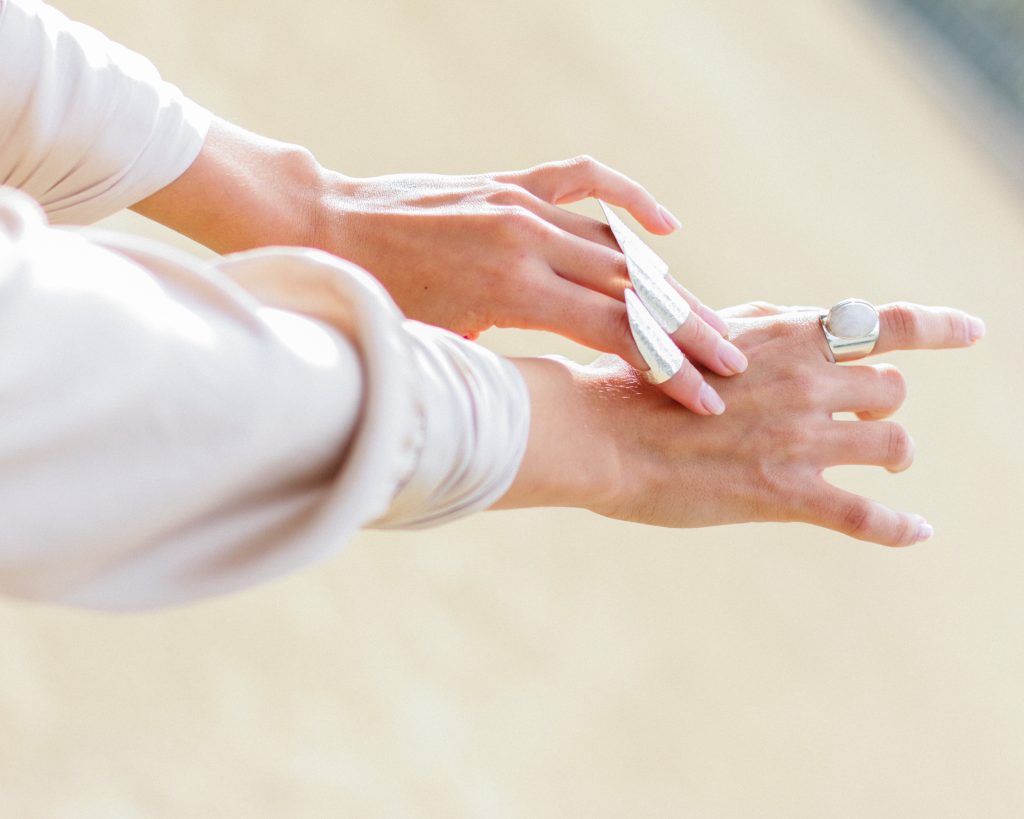 Erin Coles: Tell us about yourself, your background, and what you were doing prior to starting Adarabella Designs?
Dara Firoozi: I am a Discursive Sensory Designer who is passionate about provoking positive conversation around mental health, through researching the relationship between the body and anxiety, and designing functional jewelry for Anxiety and Stress relief.
I was raised as a Third Culture Kid from a Persian American family and grew up in Shanghai, China from ages 3 to 16, until returning to Michigan for my last two years of High School and College. In fact, Adarabella Designs blossomed from my Senior Research and Design Thesis and the University of Michigan's Penny W. Stamps School of Art and Design!
EC: Wow, that's amazing! Tell me more about what inspired you to start Adarabella Designs!
DF: I was studying Product Design, while in therapy, learning different grounding and coping techniques and wanted to take what I was learning about psychology and "put it on the body" in the form of soothing mental health aids. I explored the relationship between the body and anxiety, in addition to researching therapeutic and naturopathic healing practices, to inform the forms and function of the wellness wearables. I decided to start Adarabella Designs after hearing the enthusiastic responses I received from people at my senior showcase asking if they could order a piece from my thesis collection.
EC: What is the mission of Adarabella Designs?
DF: Adarabella Designs aims to provoke positive conversation around mental health, inform people about the relationship between the physical body and anxiety, while encouraging them to incorporate therapeutic healing practices, and inspiring individuals to share their story and remind them that they are not alone in their journey!
I am passionate about empowering mental health through the five pillars of Discursive Design – to provoke, persuade, inform, inspire and remind, through communication, social engagement and anthropological gaze.
EC: That's so incredible – and so needed right now. Why is a focus on mental health so important?
DF: I believe in ME for WE: the more I better myself, the more I can give. I tapped into the concept of 'design for one, design for all' by designing products that I genuinely needed to help achieve my Mental Health goals of redirecting daily stressors, dissociation and panic attacks. If they could help me, then they could help others!
With sensory grounding, these products can help soothe anxiety and stress, and focus ADHD or dissociation from PTSD as well as redirect OCD or self harming tendencies and redirect people to healthier coping mechanisms. Fidget and sensory jewelry aside, I aim to destigmatize the taboo around Mental Health, and to empower and educate people on self care and self awareness practices.
EC: The focus on creating something for yourself that can in turn help others is brilliant! I understand a lot of psychological and neuropathological research goes into the creation of all Adarabella Designs pieces. Can you give us a brief overview of some of the science behind how and why these pieces work?
DF: Our products encourage self soothing through self care and self awareness practices incorporating mindfulness, coping mechanisms and tracking triggers. These will allow you to reflect upon when you find yourself in need of comfort and how that can be achieved in a healthy manner. You connect and listen to your body while learning from it!
Sensory grounding is a therapeutic coping technique that uses the five senses: sound, sight, scent, touch and taste to calm someone when they are anxious or triggered. Grounding helps keep you present and reorient to the here-and-now. Sensorimotor Psychotherapy is another practice of psychology incorporated in our designs, "as a primary entry point in processing trauma," particularly when it comes to dissociative states or different modes of the fight-or-flight response and additional Post Traumatic Stress Disorder symptoms as well as Cognitive Behavioral Therapy practices.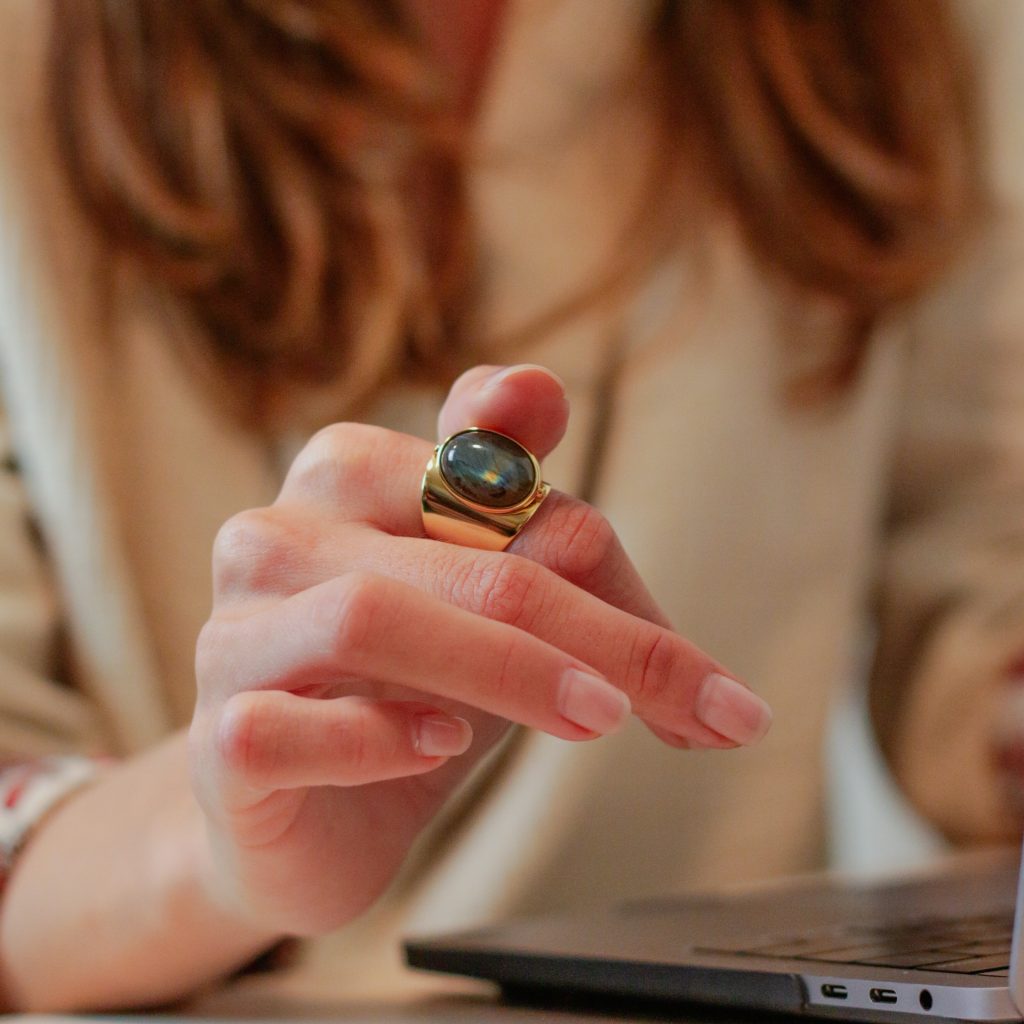 EC: Wow – and where are these pieces made?
DF: I am passionate about blending the old world processes of metalsmithing with the new age processes of digital fabrication when it comes to the production of my work. While the Aromatherapy Necklaces are handmade, the Self Defense Rings and Tap Rings are 3D printed in wax from a rendering I designed and then cast in metal. These pieces are made by a small team back home in Shanghai, and I personally still hand make the Calming Collars and Mask Chains. However I am developing a form that I will CNC* to help me quickly hand bend the tubes with ease and accuracy!
*CNC stands for Computer Numerical Control, which indicates computer software and electronics controlled machines instead of a direct human operator. CNC routers are machines used to cut many types of materials, such as wood, plastic, aluminum, and high-density foam.
EC: How do you go about educating your customers about your product – especially given the unique nature of what you're offering? What strategies and platforms are you using?
DF: At a conference I once heard amazing advice from one of the owners of Fluer Marche, the CBD company, about the importance of education first, sales second when introducing a product with a taboo or misnomer. With the goal of empowering positive conversation around Mental Health, I incorporate storytelling of my own experience and holding space for others to share theirs. Creating Instagram Reels, Videos and GIFs have been a huge element in displaying the concept and function of the jewelry. Social Media, our ecommerce platforms and email marketing have been incredible tools for connecting and communicating with people in recent times!
The one on one conversations I have with customers online or at markets, empower me to keep up the work, especially when I see them laugh and smile, or stop in awe because they feel seen, heard and supported through the fidget and sensory jewelry. I am looking forward to exploring new ways to reach more people including an upcoming speaking event for USC students!
EC: That's such great advice – education first! What has the customer feedback been like? Give us an example of what your customers are saying, or what your customers have experienced when using your pieces!
DF: I love when people walk into our booth at Markets and just start laughing or pulling their friends in to introduce our work. Seeing these big reactions and hearing how people want to show their loved one their support of their journey by buying a piece. Whether it's therapists recommending pieces for patients, a parent gifting their child and showing they hear their struggle, or a online order with a custom note saying "for the days that seem impossible" and the courage and self empowerment of those who are treating themselves to a piece, it makes my heart glow to watch the Adarabella community grow! I love hearing how the Tap Rings are helping people with focus, or how the Calming Collar eases social anxiety, and mostly, that the Self Defense Rings make people feel safe and in control when walking.
EC: Wow, those are all such powerful experiences. What an honor to witness all of that! The note "for the days that seem impossible," has me tearing up! Where do you sell Adarabella Designs? What is your plan of where to sell moving forward?
DF: While I originally sold at Markets and Pop Ups to get the products in peoples hands and get one on one feedback, last year Adarabella Designs came online and our website, Etsy and social media presence has been ever growing!
We aim to expand our team internally, as well as with Campus Reps and Sales Reps across the country to help introduce the products! We also hope to connect with therapists, coaches and wellness centers as well as the traditional retail experience.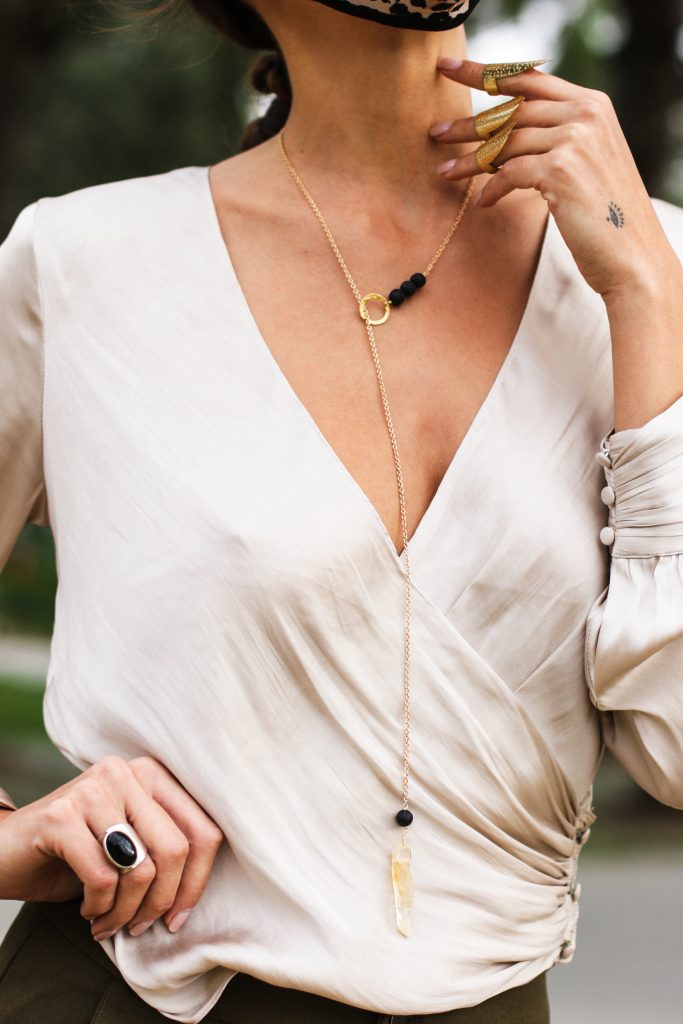 EC: Who are your ideal customers? Any new product offerings coming up?
DF: Everyone! This year I am expanding the line to menswear and gender inclusive wear, as well as teens and tweens. Now that I have an understanding of ecommerce, digital marketing and social media management, I am eager to grow my team in those areas so I can focus on research and design of new products and holding space for the growing community! We have four prototypes on our website right now and presales coming soon! I am very excited about the Habit Hacker to help redirect and form positive actions.
EC: Congrats on the new prototypes! What has been your biggest challenge in building your business thus far?
DF: I had limiting self beliefs that I am not experienced enough, starting a business straight out of college, or it could look like I have a gap in my resume if I am unsuccessful. I worked really hard to shed those, by setting reasonable and attainable goals within realistic time frames rather than seeking external validation to feel successful.
EC: It's so powerful that you were able to see those limiting beliefs within yourself, and find ways to work through those. What is the best piece of business advice you ever received?
DF: "Tell your story!" The designs are an extension of my truth and they come from a place of fear and hurt that guided me to resilience and self love. The story guides my drive to learn, explore and create. They open the conversations that lead to connection, insight and inspiration from customers. The stories are what make us a community and empower each other's mental health journey!
EC: What advice would you offer to a fellow entrepreneur?
DF: You need accountability! If you can't provide it for yourself, find an accountability partner. I swear by my business coach, Jen Matiolla, who specializes in Neuro Linguistic Processing! Build your community with a collaboration over competition mindset, shout out your peers as much as your own brand. Self educate with webinars, online courses and youtube. Seek out mentors! I believe you are the sum of the five people you are closest to, surround yourself with who you want to be.
EC: That is such fantastic advice. Shout out to Jen for that!! So when you're not working on Adarabella Designs, what are you doing?
DF: I honestly enjoy learning! I have slowly over time been acquiring certifications in Breathwork, Acupressure, Reiki and hope to deep dive into my newest budding passion – Craniosacral Therapy! I am excited to get back to breaking out of my comfort zone with exploring ecstatic dance group classes and aerial hoop! I am also learning more and more about arduino coding so I can incorporate technology into the fidget and sensory jewelry in the future!
EC: Wow – that's amazing. I'm so impressed! How do you balance or integrate all the facets of your life – all while making time for personal relationships and self-care? I'm especially interested to hear your perspective here, because I know important mental health and self care is to you!
DF: I work to integrate the guidance from my business coach and mentors by taking action. I decompress to recharge through practices like breathwork, craniosacral therapy, and movement and meditation.
When people are regaining their empowerment after losing their voice, I think it's challenging because it shocks others when they step up, when they set a boundary, or when they're assertive. Don't hesitate if there is resistance; show people how you treat yourself and how you want to be treated. I am constantly working on coming from a place of curiosity, love and empathy in my personal relationships.
EC: What's next for Adarabella Designs?
DF: Big push for Menswear and gender inclusive wear, as well as teens and tweens! Excited to grow the team to conduct material explorations eventually expand to wearable tech, furniture, interactive calming creations, as well as more wellness resources, workbooks, course offerings and more!
Not only is Dara the coolest (right!?), she's also incredibly smart, thoughtful, and deliberate about everything she does. The jewelry designs are beautiful, functional, and discreet – which is perfect for anyone who prefers to keep their mental health journey inward facing. Check out and shop all of Dara's designs at www.adarabelladesigns.com and follow @adarabelladesigns on Instagram for more updates!
Check out our fidget and sensory jewelry at AdarabellaDesigns.com and use code WAWO for 20% off your order!