This Hand-Poured, Soy Wax Candle Company Will Give you All the Feels (and Smells)!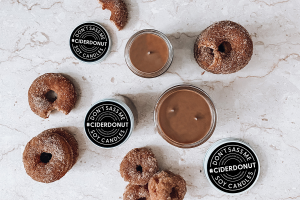 Remember when you were a kid, and your caregiver baked your favorite sweet treat? Maybe it was chocolate chip cookies, apple pie, or vanilla cake. Remember how the smell filled up the room, and sometimes creeped its way into adjacent rooms in the house? And remember how that made you feel, and what those childhood moments meant to you? Every time you smell that sweet treat, you're brought right back to the special moments you experienced years ago.
And how many times have you walked into a store and bought a candle that reminded you of that favorite sweet treat, only to light it at home and hardly smell a thing? Well that's what happened to Courtney McCarthy – founder of Don't Sass Me Soy. From that moment, she decided to change the candle game by creating bold and strong soy candles that fill up a room without being overwhelming, and that hold the scent from start to finish.
With the holiday season right around the corner, what else could you want but the coziest candles to warm up your space, and bring back those nostalgic memories!? Read on to hear all about Courtney's candle-making process, where she gets the inspiration when naming her scents, and how she manages life as a business owner, wife, and mom to an 8-month old!
Erin Coles: Tell us about yourself, your background, and what you were doing prior to starting Don't Sass Me Soy?
Courtney McCarthy: I have been a graphic designer for almost 10 years. I went to college and have been working as an in-house designer since. When we moved to Charleston last summer, I decided to focus more on my business as a main job instead of my side gig. I love graphic design though! I still take freelance jobs, and I can see myself adding more of that into my life eventually.
EC: What inspired you to start Don't Sass Me Soy?
CM: I was always pretty crafty like my mom. I love making things with my hands and thinking about what I can create that isn't on a screen. Plus, I always wanted to brand something by myself- doing everything by hand including packaging (all of the labels are designed, printed and trimmed by me). I wasn't sure what that should be, but then I would go to stores and smell every candle – and bought way too much. Once I got home and lit them, I didn't feel like I could smell anything. So that is how the idea of starting this company came to me. If I can't find a candle that smells up the room, I should make them myself.
EC: Where does the name Don't Sass Me Soy come from?
CM: I try and keep a tinge of sarcasm and wit with my business and life in general. Don't sass me was something I would say jokingly, so it seemed fitting with the route I wanted to take with my candle names. I wanted to have a unique company name, as well as product names, that you won't find elsewhere.
EC: I love that! And they are so unique!! Can you share a little more about your process of making candles?!
CM: So. Much. Supplies. I have a semi-organized pouring space with wicks, oils, dyes, jars, pitchers, etc. Luckily I have the ability to turn my wax on to melt and then go back into the house to clean, play with my 8 month old, Murphy, or watch Netflix while I wait for it to come to temp. It's really all about watching temps, careful stirs, timely pours. Once the wax is in the pitcher and mixed, there is a short window of the perfect pour temp. Pouring too early creates tunnels in the candle and pouring too late causes it to not cure as smoothly.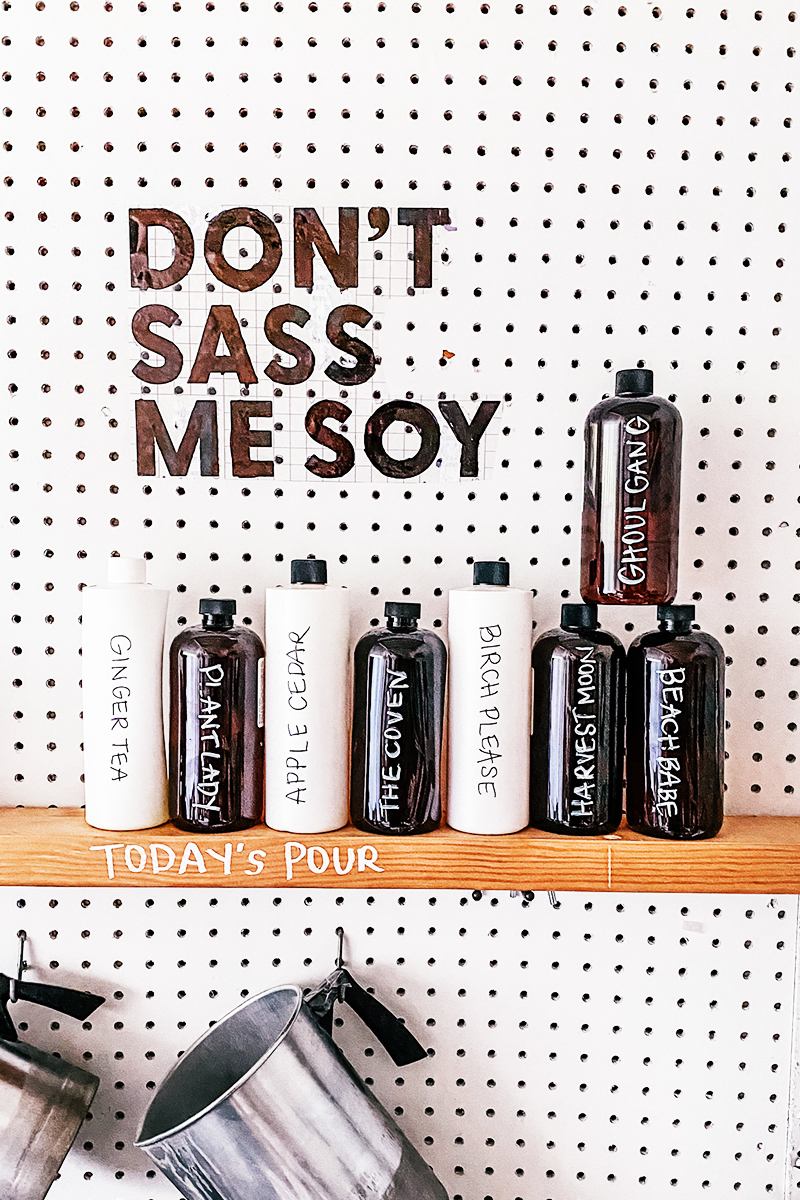 EC: Wow, that must take a lot of care and consideration! And where are your candles made?
CM: When I first started Don't Sass Me Soy, my husband and I lived in Fells Point, Baltimore, MD. I set up two tables in my living room and just got going. By the time we moved, the place was filled with shipping supplies, stacked with jars and wax, and all of the props / set up I needed to do my markets and festivals. Now we have a house with a garage so I have taken that over. It's so convenient to still be able to work right at home, but not right in the living room! I have a separate studio that I go to when I have larger orders or a large amount of separate orders that require more space.
EC: I love that you have your own separate workspace! Now I'd love to know – what are the benefits of burning a soy candle versus other wax blend candles?
CM: It's so much better for you! Soy wax is 100% natural, vegan and totally organic. It burns clean into the air unlike other waxes or wax blends. A candle with synthetic wax like paraffin emits toxins while burning. It also throws out a waxy residue in the air. If you were to burn paraffin candles underneath a glass light/chandelier, eventually you would be able to scrape that wax residue off of it. Soy doesn't do that. Another benefit of soy is that it burns so much slower and holds the scent better. Slow burn, big scent right to the bottom.
EC: Wow!! Knowing that, I'd be afraid to burn any candles that weren't made with soy wax! Ok – the names of your candles are so cute and clever! How do you come up with those, and why is it important to you to create these unique names?
CM: When creating a new candle I first come up with what it will smell like, then think of the name. I use the combination of the smell and name to create a color that will compliment both of those things. It's definitely the most fun part of the process! When I need more names for new candles, I really just pay attention to my surroundings. I look on social media and see if any phrases or quotes stick out. Most of the time I just fire words at my husband and see if he reacts to them. Lucky him!
EC: How many new collections do you release each year?!
CM: Since the beginning, I've always tried to add in a few new scents with each season. My bigger collections being fall and holiday, of course – everyone's favorite candle time of the year! My Tangled Tinsel Holiday Collection was just posted on Sunday (11/1/20), and I'm so excited to share them! There are some new ones that I just love and some are returning from previous years.
EC: What's your personal favorite scent or blend?
CM: It might always be Fiery Citrus. It's sweet orange and chili pepper, so bright and spicy. It's also the first candle I ever poured!
EC: How do you generate interest in your candles, and how do you go about educating your customers about your product? What strategies and platforms are you using?
CM: This answer is ever changing. It started at markets and festivals with in-person contact and answering customer questions. This is probably my favorite way to do it honestly. I would post things on facebook and instagram, but I didn't really focus on that approach too heavily. Now being solely online, I am sharing more on social media about new collections, burning tips and giving inside looks from my pourhouse.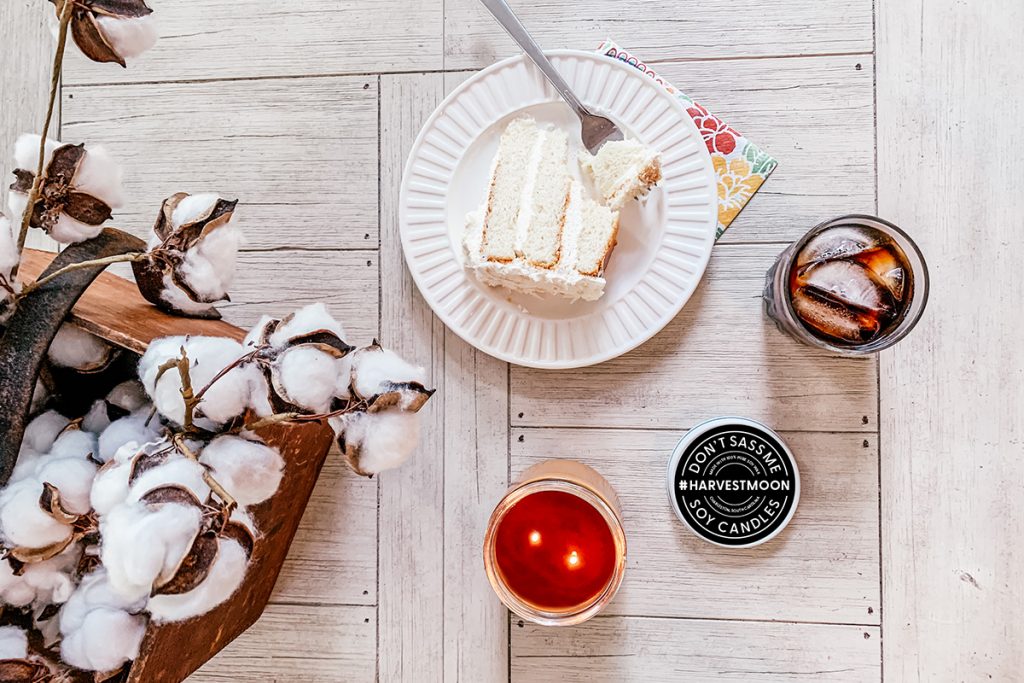 EC: What has the customer feedback been like? Give us an example of what your customers are saying!
CM: I've had very positive feedback, but there are bumps in every road! I always strive to keep my customers happy so they come back for more. I nip issues in the bud as soon as I can, but that usually is more shipping related than anything else. No matter the amount of bubble wrap there is always a broken candle or two. Sending those reships out as soon as possible really helps. I just added a product review section on my new website so I don't have much there yet. Everyone: leave reviews for small businesses! It boosts the owners confidence- which I feel like we all really need right now. Plus it doesn't take that much time and can really draw new customers in that direction.
Here are some of the reviews that I received on my Etsy shop before opening my new online store:
"Fantastic quality as usual, this was sent as a gift and arrived quickly and safely!"
"Because of COVID, there were some delays with my order. However, Courtney was so responsive and on top of it and sent out another package. I am a candle lover and don't sass me candles are the best!! They burn so well and fill our house with a warm scent. Definitely will be ordering more and will be my go to for gifts! Highly recommend!"
"I have been ordering candles for years now and I am always blown away at the consistent high quality and the perfect scents!"
"We love Don't Sass Me Soy candles so much! Great communication, fantastic customer service, and awesome scents. Thank you! Ginger tea is our absolute favorite and we always get questions about it when we have company!"
"Such a great scent all year round! Leaves the house smelling like funfetti cake=) super quick delivery and Courtney was even nice enough to hold the shipment a bit later than normal at my request. Will definitely order again!" (cake cake cake candle)
EC: I can say from experience that I totally agree with everyone here. Your candles are delicious! Where do you sell Don't Sass Me Soy? What is your plan of where to sell moving forward?
CM: I used to solely do little craft markets and street festivals. I'd pack up my tent, tables, decorations and candles almost every weekend and set up somewhere. It was the best. I wanted to also have an online shop so I turned to Etsy, and it's really the way to go for someone looking for a guided way into selling online! I had a good customer base that I met at my events in Baltimore so after relocating to South Carolina it was a great way to still get them their candles. About 80% of my shipments go right to Baltimore! Let's Go O's!
Right up until the end of January last year, my schedule was packed with events (I was due with my first baby on February 5th and did markets right until the very end), and I was still doing pretty well in my Etsy shop. Once the pandemic hit, all of my spring events and beyond were either getting cancelled or rescheduled. Now I'm 100% online for the time being. I opened my new website in July (dontsassmesoy.com) and, especially with a baby, being online is a really good set up for me to get work done, but also be able to spend time at home with little Murphy!
EC: And who are your ideal customers?
CM: Everyone! Hahaha. Usually a younger crowd. Homeowners. I'm not really sure where to pinpoint it! I think a majority of the population love candles. They are something handmade and reasonably priced that you can take home and add some cozy to your home.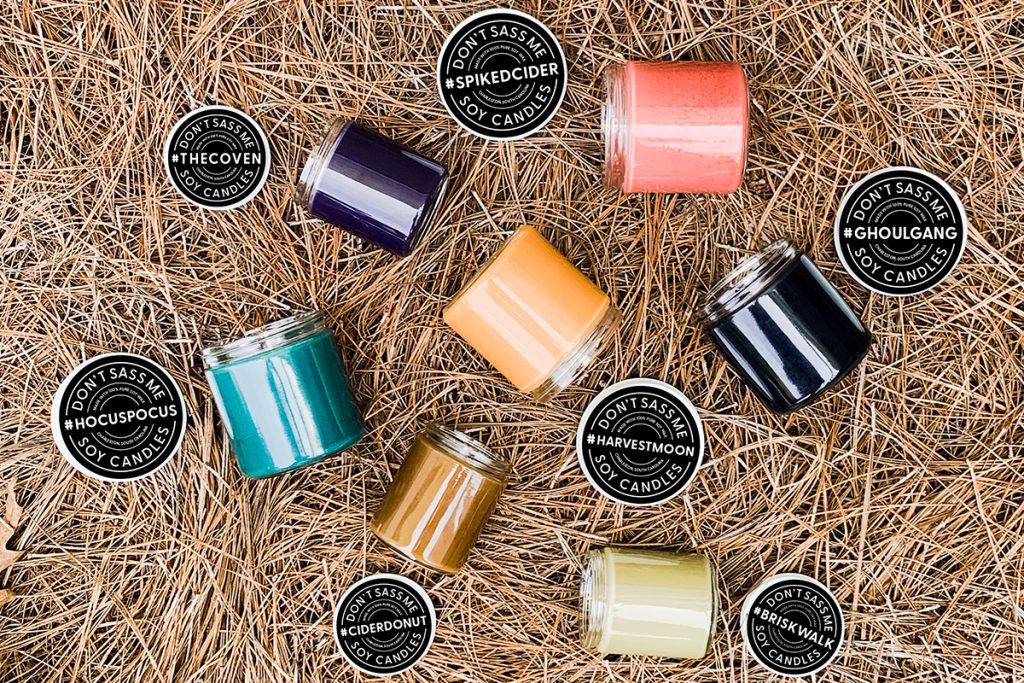 EC: As business owners, we've always been told to narrow down our target market, but I think you get a pass because you're right! Candles are for everyone! Now tell us about your new subscription offering, and why you chose to offer this option to your customers!
CM: I'm so excited about this! I've wanted to offer this for a few years, but it wasn't an option with my Etsy shop. I was able to set it up through my new website – and the first month sold out! I kept the openings a little lower to make sure everything went smoothly, but the November box spots opened on November 1. It's $25 per month (shipping included) for one 16 ounce, double-wicked candle. The scent is only available through the subscription and it's been fun planning future months!
I always had a legion of subscriptions that had you locked in for a certain length of time, and where the money (usually blindly) is auto-drafted from your account. It was something I didn't really love, but I know that's usually how it works. I wanted to offer something different that was more in the customers' control. There is also no commitment. Each month, you will be sent an invoice to pay – plus have the option to add other candles to your shipment. That way, you know when you're paying and what you're paying for. I opened a lot more spaces for November, and will continue to do that each month!
EC: What has been your biggest challenge in building your business thus far?
CM: I would say planning social media marketing! I'm learning more all the time, but it's challenging to pour candles, send out shipments, do daily life things and also put time aside to plan posts. I have been getting better, but of course there are weeks where I do more than others. Always learning!
EC: What is the best piece of business advice you ever received?
CM: Well the close people in my life always tell me to be a little more relaxed! When you're sending out products you make by hand, it's hard to not overanalyze the little things! Soy wax is a very high maintenance wax. It isn't blended with anything to mellow out some things that happen during the curing process. For example, some batches of wax cure with a little "frosting" which is totally fine and normal. It doesn't affect the burn at all, but it just doesn't look as perfect. It looks really similar to a frosted window. I used to panic about a frosty batch, but I've learned that it's just something that happens! There isn't anything you can do about it- it's just the nature of the beast. While I'll never send anything out that's really frosted, if you get one with a little – it's totally ok!
EC: What advice would you offer to a fellow entrepreneur hoping to break into the candle-making space?
CM: To put in the work and not take yourself too seriously. Soy wax is pretty high maintenance to work with. You even have to watch the weather when you're planning a day to pour (humidity and rainy days are the worst!). Be patient with the process and ingredients. Some days soy just doesn't want to cooperate!
EC: When you're not working on Don't Sass Me Soy, what are you doing?
CM: A lot of my time is spent with my 8 month old, Murphy! I do a lot of my work while he's asleep and any other time I can. I'm lucky to be there for the giggles and rolls and new little things he's figuring out. It's all so fun to watch. Making food and baking, maybe someday I can add working out here…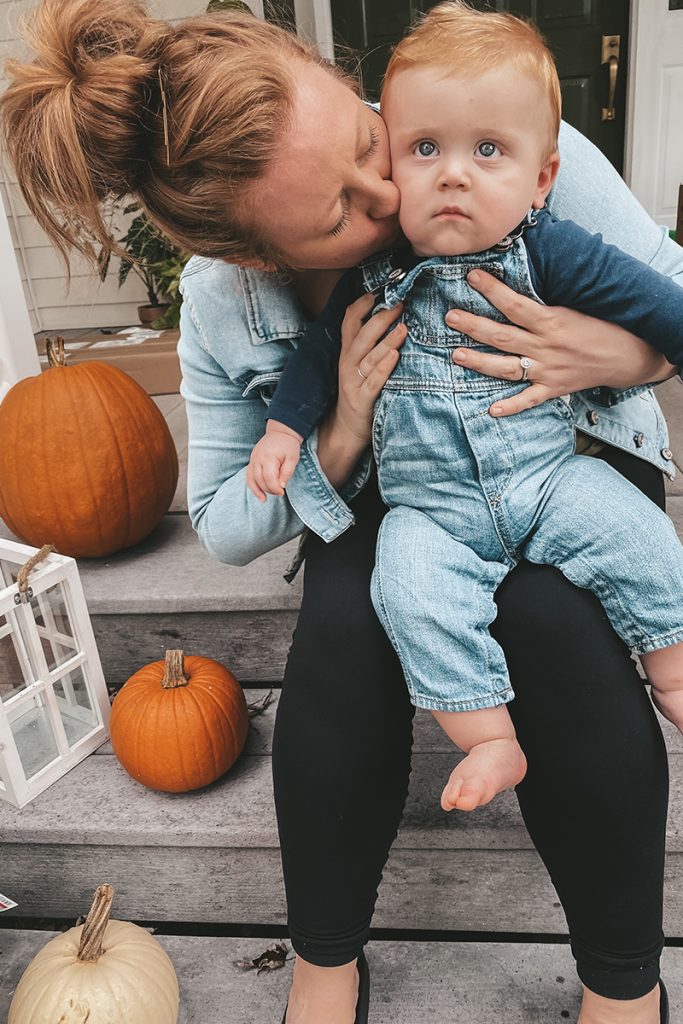 Q: How do you balance or integrate all the facets of your life and business – all while making time for personal relationships and self-care?
A: It's all about to-do lists for me. I write down everything I want to have done by the end of the day. This helps me remember what the day's priorities are. I love a hand-written to-do list. On a normal night at my house after Murphy goes to sleep, my husband and I make dinner and watch one of our shows together on the couch. A good meal and down time is probably my most frequent form of self-care. I do try and squeeze in a face mask here and there!
Q: Love a good face mask! What's next for Don't Sass Me Soy?
A: This holiday season! I hope it kicks my butt. I have some larger goals on my list, but during my busy time of year I try and focus on the present to stay on top of things happening right now. After the holidays things slow down a little, and I'm able to set goals for myself and my business for the coming year. I also have a few exciting projects coming next year- so make sure to follow me on Instagram for updates!
So if you haven't yet tried Don't Sass Me Soy Candles, now is the perfect time to give it a go! The fall scents are calming and amazing, and the winter scents will make perfect gifts for all of your friends and family this holiday season! And maybe try to squeeze in a face mask here and there, just like Courtney – with your favorite Don't Sass Me Soy Candle burning. You deserve some you time!