This Graphic Designer is In Pursuit to Paint the World a More Colorful and Happy Place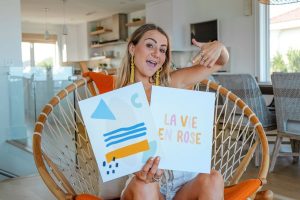 Did you know that when users are scrolling on a mobile device, as a business, you have about 1.7 seconds to capture their attention? That's a crazy small amount of time, right?! We all know how important it is to have a strong social media presence. More and more people are turning to Instagram and Facebook to gather information about brands, or discover new brands altogether. So as a business owner, how in the world do you stand out amongst other brands?
The answer!? With incredibly thoughtful, colorful, and intentional design! Enter Nicole Goldfarb, founder of Nicole Goldfarb Design. Nicole's colorful and intentional designs help brands stand out in this digital world. And if you don't need a graphic designer of your own, Nicole can still brighten your world through her cheerful and bright hand-drawn prints, stickers, and accessories. Her design style is inspired by the vibrant energy and bold colors of NYC, juxtaposed with the laid-back vibe and serene palette of the Carolina Coast. She works with millennial-geared brands to create fun illustrations, insta-worthy brand collateral, and engaging social media content. She is also in pursuit to paint the world a pinker, more colorful, place and spread happiness!
Read on to learn more about Nicole, her journey to becoming an entrepreneur, her advice for business owners, and so much more!
Erin Coles: Tell us about yourself, your background, and what you were doing prior to starting Nicole Goldfarb Design?
Nicole Goldfarb: My official title is freelance illustrator/graphic designer and entrepreneur but professional titles have always felt a little stuffy and boring to me. I like to think of myself as a color-obsessed creative, lover of social media, and small business owner! I believe in doing happy dances, laughing till your abs hurt, and playing on the beach until the sun goes down.
Design is my number one passion. I have a deep love for art and design that drives everything I do. I believe that everything has the capacity to be beautiful and to go above and beyond the ordinary. I create products and designs that serve a function but are also inspirational and infuse art and creativity. I truly love all facets of design – art direction, photography, typography, illustration, graphic design, interior design, and fashion.
I have spent half of my life in North Carolina and New York, making me exactly 50% Southern and 50% Northern. I love a relaxing day spent on the beach, but also live for a bustling day in the city. Before I started Nicole Goldfarb Design I was working in NYC as a graphic designer at a digital/social advertising agency. I worked mainly on the Playtex Sport and Hawaiian Tropic accounts to create social ads for Facebook, Instagram, and Snapchat. I loved my job but after 2 years of working there I was itching to try something brand new!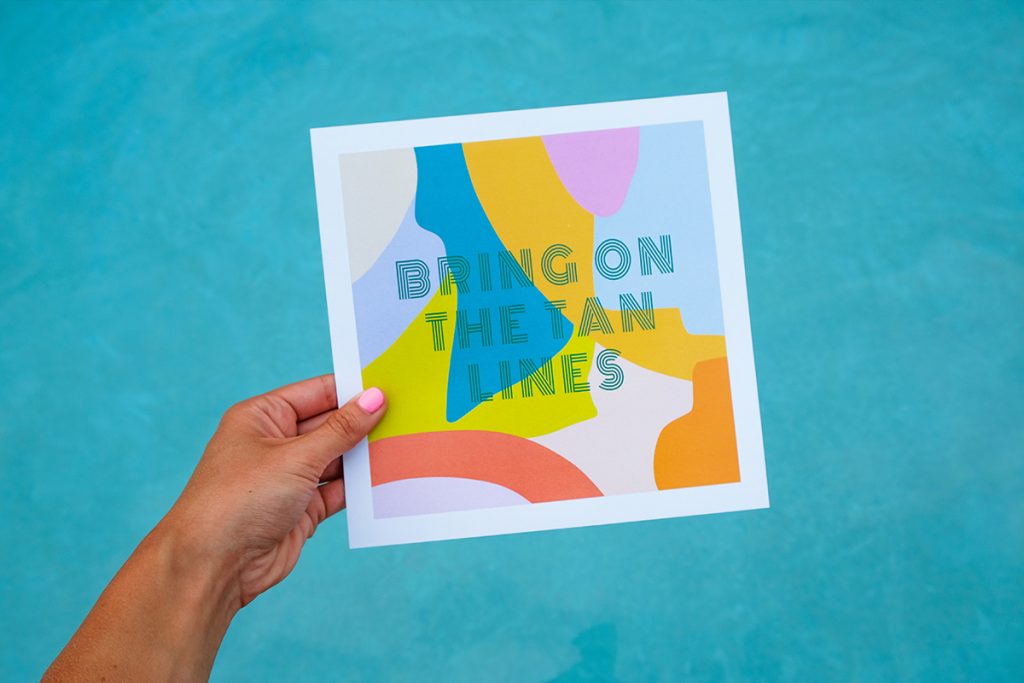 EC: And so what inspired you to start Nicole Goldfarb Design?
NG: I was working as a graphic designer at a social/digital advertising agency in NYC and I loved my job but at the end of each day I felt like I still had so much pent up creative energy. All day long I worked with the same fonts, same colors, and similar imagery. It was all stuff I enjoyed, but I felt very confined to brand guidelines and wanted to creatively explore more. So I bought myself an iPad Pro and Apple pencil and spent almost every night after work drawing for hours. Eventually I built up an impressive portfolio of drawings and I didn't want them to go to waste, so I started an Etsy shop and began selling my illustrations as art prints. I never thought anything would come of it but one thing led to another, and through word of mouth, I started picking up freelance design jobs as a side hustle.
I got the opportunity to design textiles for a beach chair company in South Africa and a gigantic custom wallpaper for a bakery in NYC and I thought to myself "This is so cool and fun!". I loved that I was able to work on a wide range of projects, and I was no longer confined to designing within the same repetitive brand guidelines. I could let my imagination truly sore! And I was able to tap into all my creative passions – illustration, photography, art direction, typography, and graphic design.
After a year of juggling a full-time job and freelancing, I made the decision to leave my steady paycheck for full-time freelance, and though it was scary, I knew I was ready and could do it! I had built up a consistent flow of freelance work and was finding so much more fulfillment and satisfaction in what I was doing on my own. Taking that leap of faith was one of the best decisions I've made!
EC: Why did you choose to use your own name as the name of your business?
NG: It really sort of came about organically and randomly because I never intended on freelancing and starting my own business. Because I was doing it as a side hustle to start, I didn't put much time into the name and chose to use my own name, since it was an easy pick. Once freelancing became my full-time gig, the name just sort of stuck and now here I am over 2 years later, still as Nicole Goldfarb Design! Sometimes I play around with the idea of creating a new name for my online shop ecommerce biz, but I haven't gotten around to actually changing anything yet. Stay tuned though, you never know!!
EC: Where are you based?
NG: I am currently based out of Wilmington/Wrightsville Beach, NC! It's a long story…but I started off in NYC and (so I thought) temporarily moved back home to NC in July of 2019. I had hopes of moving to California shortly after, but then COVID kinda rocked the world and my plans have been put on hold. I'm still trying to figure out my next move, but I've thoroughly enjoyed being by the beach and my family in the meantime!
EC: Yeah, the pandemic has definitely changed a lot of peoples' plans! Glad you're looking at the silver lining of it all! So what services do you offer? Logo design, gifs, stickers, etc. ?
NG: Broadly speaking, I offer custom illustrations, brand collateral, and social media graphics/content creation. But let me break that down for you a little more! I work with clients to create illustrations for a number of uses such as on websites, sticker sheets, advertising campaigns, and brand merchandise (t-shirts, mugs, tote bags, etc.). I also create GIF stickers, Instagram Story/Feed templates, one-of-a-kind IG Feed posts, and IG highlight icons. What's unique about me is that I offer more than just digital design services. I also have a background in photography and art direction and one of my favorite things to do when creating social content is to incorporate illustration with photography to create mixed media pieces.
When I first started my business I offered logo design and brand identity services but I've slowly stopped taking on projects of that kind to make room for other types of work. Every now and then I will take on a brand identity project but it has to really get me excited and work with my schedule.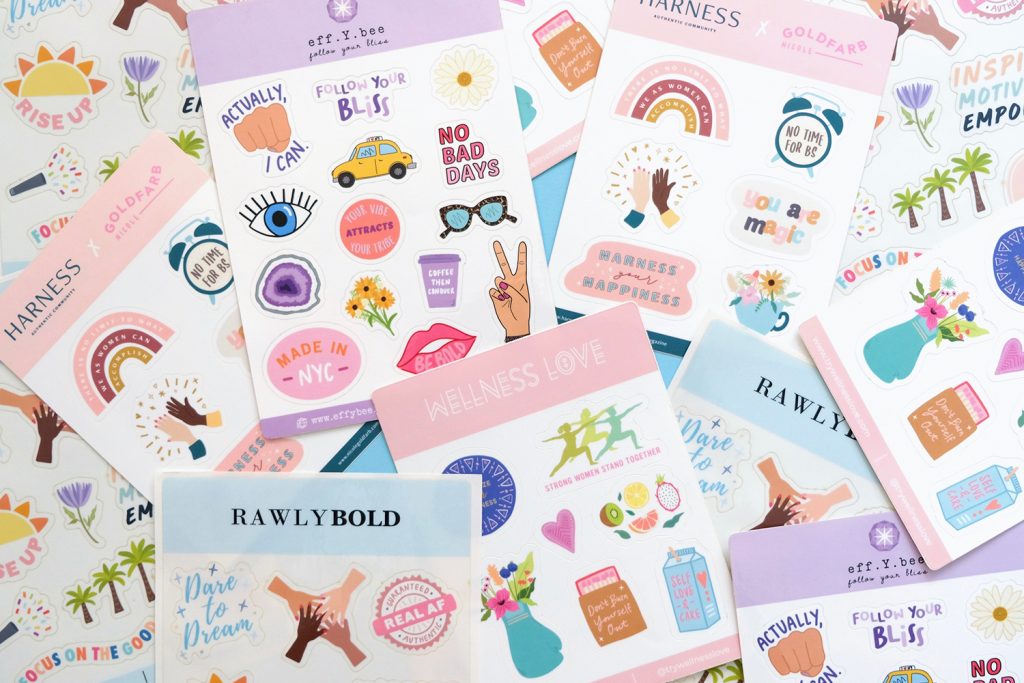 EC: How would you describe your design style?
NG: I would describe my design style as colorful, fun, and uplifting. I love to use bright colors, whimsical illustrations, and cheerful words. Through my designs, I aspire to encourage people to have fun, make waves, and embrace the carefree happy summer vibes year-round. I get a lot of inspiration from fashion, the beach, current trends, and pop culture. I love to experiment with shapes, colors, and elements found in nature.
EC: Who is your ideal customer?
NG: When it comes to my creative services, my ideal customer is a female-owned business who is in the beauty, lifestyle or fashion space. Someone who's target audience is millennial women and someone who knows the importance of having a presence on social media. Since color is a hallmark of my designs, I love to work with clients who aren't afraid to experiment with color and make a bold splash in design. Staying on trend and relevant is also important to me, so I love to work with clients who are up-to-date on pop culture and enjoy keeping up with new trends of all kinds; whether that be the vocabulary we use or the design styles we incorporate.
My ideal customer for my online shop is women who are fashionable, spunky, like to have fun, and enjoy the beautiful things in life! Target age around 18-35, but they are young at heart so age really doesn't matter because it's just a number! They are confident go-getters, but they don't take life too seriously. They are also optimistic and live life to the fullest!
EC: What is your favorite design project you've ever done?
NG: That's a tough one!! There are so many that I love! I really enjoy creating sticker sheets or GIF stickers. If I'm not creating GIF stickers for clients, I'm usually creating them for myself because I can't get enough of them!! If you search "nicole goldfarb" on IG Story GIFs you can find a whole bunch of the GIF stickers I've made just for fun!
I especially love working with my friend, Mandy Ansari, who is a blogger/Instagram influencer and mental health advocate. I work with her to create social graphics and GIF stickers for her popular Instagram, @mandy. I love working with Mandy because she and I have very similar design styles – we both love bright colors, funny yet uplifting sayings, and girly Palm Springs inspired designs. I have created nearly 30 GIF stickers with Mandy and every month we add more to the list! To me, it doesn't even feel like work, it just feels like playtime, so that's how I know I'm on the right track!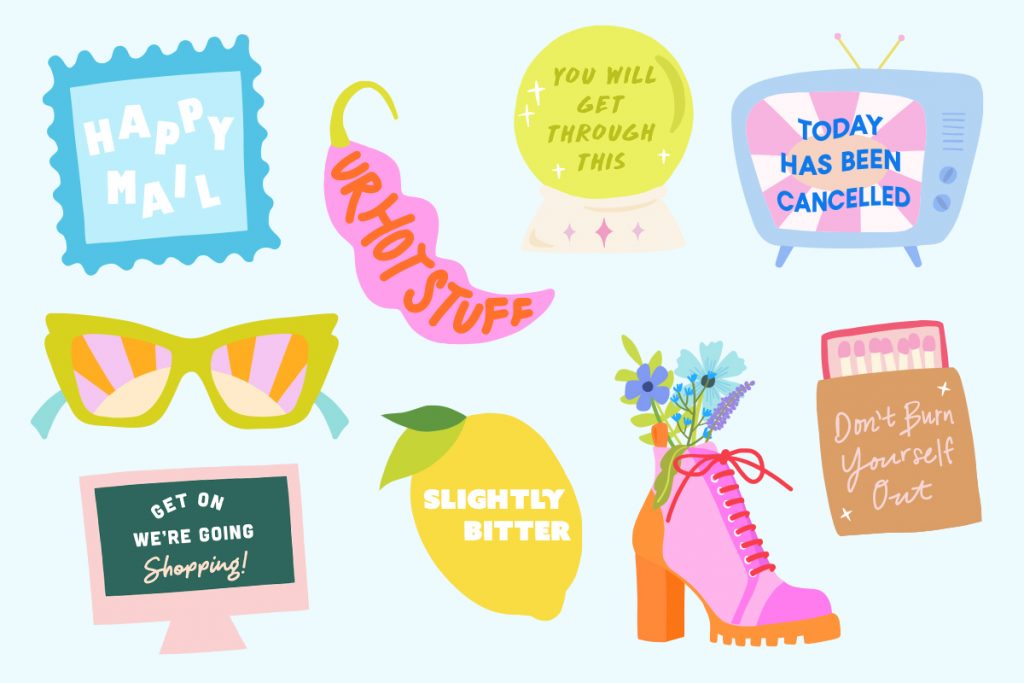 EC: What has the client feedback been like? Give us an example of what your clients are saying!
NG: I've spent a lot of time pinpointing my ideal client and working hard to create a brand and style that appeals specifically to my target audience and due to that upfront work, I've gotten so lucky to work with amazing clients who are pretty much always on the exact same page as me. I feel like I could be BFFs with most of my clients which is a super fun feeling! With that being said, most of the client feedback I've received is very positive and usually there are few edits to be made. If anything, they'll ask to adjust a hue of a color or to increase the speed of an animation on a GIF sticker. I've been called a "no-edit wonder" and the "Beyonce of graphic design" which still makes me blush when I think about it!! I could never take Queen B's place, but hey, I will take the compliment because who doesn't aspire to be Beyonce?!
EC: The Beyonce of graphic design!? That's the ultimate compliment! K, so many people – let's say small business owners – feel like they can forego hiring a graphic designer because of tools like Canva nowadays. What are the benefits of hiring a graphic designer?
NG: Canva is an awesome tool and can be the perfect short term solution for small businesses on a tight budget, but working with a graphic designer to create custom graphics often goes a lot farther in the long run and does wonders for the success of your business. There are a ton of benefits of hiring a graphic designer, but in my opinion, the two biggest benefits are 1) a graphic designer will ensure that the artwork is uniquely designed and branded to your company and 2) the artwork is specifically designed for your target audience (which is MAJOR).
When you work with a graphic designer, they make sure that everything is cohesive, aligned, and one-of-a-kind. I love to create mood boards for bigger projects so that I can check the artwork against the mood board art direction to ensure everything is aligned perfectly and looks amazing! Essentially, graphic designers make sure you're the most put together, well-dressed person at the party that everyone wants to chat with!! Canva has a lot of beautiful design templates, and though you can customize them, the same general designs are being used over and over by so many different people/brands and instead of standing out, you start blending in. There's also no guarantee that the templates they offer will fit in perfectly with your brand identity and voice.
We are inundated with a million and one things a day which makes it very hard for brands to stand out. Speaking from a digital/social perspective, brands have the length of a scroll to capture their consumers attention. Being easily recognizable is one way to stand out from the crowd, hook your consumer, and build brand loyalty. My goal when working with clients is to create something so recognizable and eye-catching that even if the brand name wasn't attached to the graphic, people would know exactly where it came from.
Professional, unique designs are super important, but you need more than just a pretty picture to truly thrive in business. You need to establish a connection with your audience. When you hire a graphic designer, they create designs specifically for your target audience. Colors and fonts convey so many emotions and messages, which is why what you present to the world needs to be something that'll be well received by your target audience. You need to create that "they get me" feeling within your consumer. Canva templates are designed for general audiences and unless you've studied design, it may be hard to pick a color palette and design elements that speak specifically to your target audience. If I'm working with an LA swimwear company that is all about loving life, feeling confident and enjoying the sun I would be sure to stay away from Serif fonts which feel formal and authoritative, and I'd lean more towards San-Serif fonts that appeals to a modern, bold, and trendy aesthetic.
Design is a form of communication and if you aren't communicating in a way that your audience understands and appreciates then you'll never truly get through to them. That's why when I work with a client I like to know exactly who their target audience is because it determines a lot of the design choices I make. I study the brand and their audience. That is often why good graphic designers are on the pricer end because they are not only putting a lot of time into designing something beautiful and eye catching, but they're also using strategic design practices to ensure the artwork reaches and resonates with the correct audience…leading to lots of interest in your business and a high conversion rate!
EC: That's so insightful, and so true! How do you generate interest in your brand, and how do you go about educating your customers about your services? What strategies and platforms are you using?
NG: Instagram has been hugely helpful in spreading awareness about my design services and online shop. Most of my clients find me on Instagram through hashtags or on the explore page. Word of mouth has also been huge for me! Having an active social media presence is the best way I've found to educate consumers about my services and book new clients. I often show a lot of behind the scenes content on IG Stories and post finished designs to my IG feed.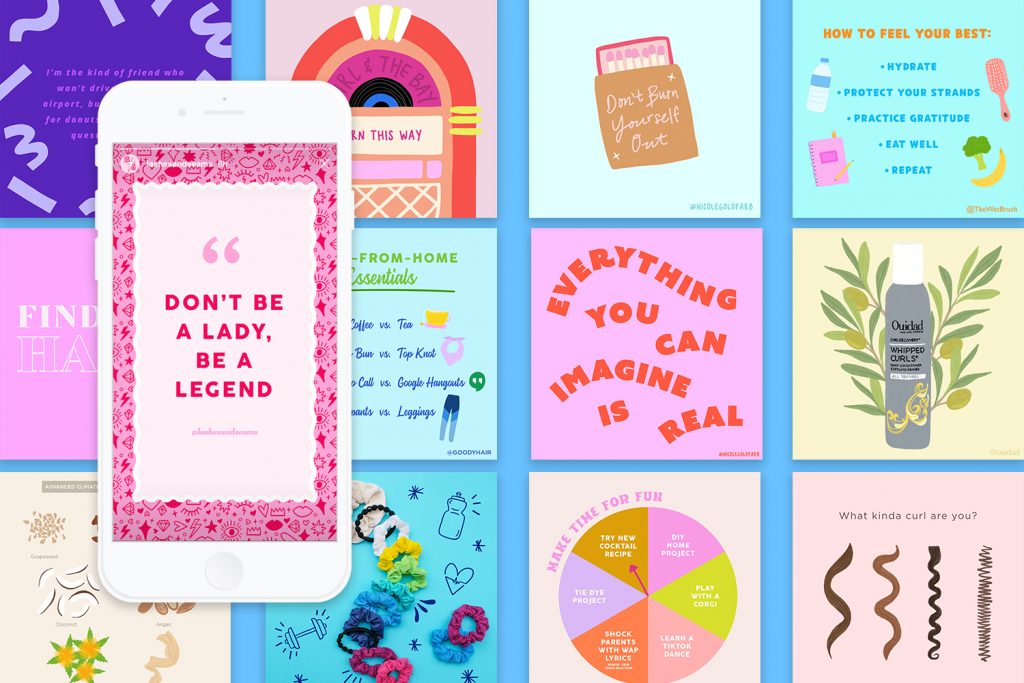 EC: If someone has never worked with a graphic designer before, but would like to – what kind of information should they come prepared with when reaching out?
NG: It really depends on the type of graphic design project, but in general, I would say it's good to come prepared with the following info:
Know where the designs will be displayed so the designer can determine the proper specs to design the graphics at
If you have a brand style guide, a color palette or specific typography provide links to them so that the designer can ensure they create something that looks on-brand
Provide information on your target audience. Make sure the designer knows who your customer is so they can take that into account when designing
Having a general concept direction is a great way to quickly build a creative strategy but if you are totally lost and have no idea what direction you want to go in, no fear because that is what a designer is there to help you with! They should be able to ask you the proper questions to help them determine the best design direction to go in for your project.
A timeline and budget is always helpful but it's not necessary
EC: Aside from commissioned design products, you mentioned that you also sell some of your own designs like prints, stickers, and keychains. Why did you choose to also sell physical products?
NG: Selling my artwork on various items is actually how I first started out!! It all began with an Etsy shop and then eventually it led me to starting my own small design business. I still have my Etsy shop, which has a handful of the items I sell, but most of my online sales come from my personal ecommerce website. My goal is to one day own and operate a small goods and gifts brand, similar to Bando! They have been my #1 inspiration for years and years and are the reason I decided to start an online shop.
I also love being able to demonstrate what I can do for others through the items on my online shop. Many times, clients will specifically point out things in my shop and say, "I love this! Can you make something similar for me?!". Having an online shop is the perfect way to demonstrate my skills, my style, all while making some extra money!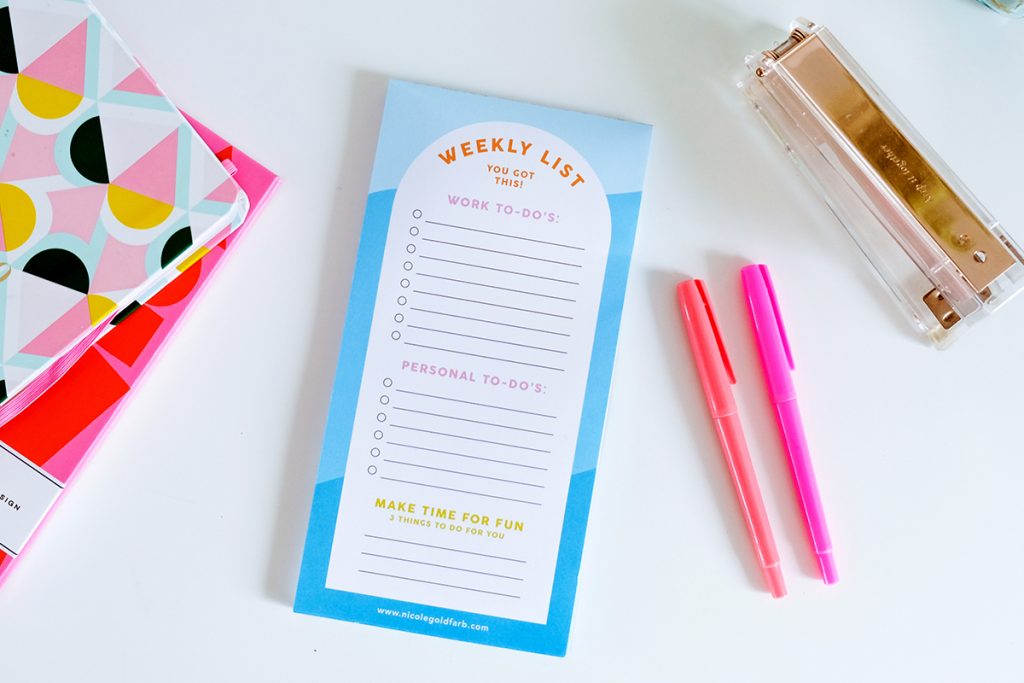 EC: What has been your biggest challenge in building your business thus far?
NG: My biggest challenge in business has been determining how to best allocate my time between my design business and my online shop. I'm essentially running two businesses simultaneously and at times it's hard to manage both. I have to be really diligent about planning out my weeks to make sure I have enough time to work on client work and meet deadlines, as well as source new products, design new items, package online orders and market everything. I am also a one woman show and I do everything by myself. So you can imagine that around the holidays things get extra crazy with a spike in online sales plus full-time freelance work!
EC: Wow! I'm so impressed that you're a solopreneur!! What is the best piece of business advice you ever received?
NG: There's a quote by Zig Ziglar that has always stuck with me throughout my journey of starting and owning my own business. It is, "You don't have to be great to start, but you have to start to be great". This resonates with me so much because I tend to be a perfectionist and if everything isn't jussst right I can be hesitant to proceed, but I've learned that in business it's okay if you don't have everything figured out because as you go things will fall in place. If you are always waiting for that perfect moment you'll be waiting your whole life. If you want to do great things, just start and eventually you will get there!!
EC: And what advice would you offer to a fellow entrepreneur hoping to break into the graphic design and illustration space?
NG: Seasoned designers and freelancers ALWAYS advise that "it's okay to say no" when taking on new clients and projects. While that is 100% true, I would actually argue against that for people starting out and advise young designers trying to break into the graphic design and illustration space that IS okay to say yes to projects, even when you're not sure. Don't get me wrong, I'm not saying you HAVE to say yes to every last thing that comes into your inbox, but if you're on the fence and you're not sure if it's a great fit but you could use the extra income and if it half interests you then I say go for it! I found that by taking on lots of different types of design projects I was really able to figure out what I love, and what I don't. I thought I would LOVE branding projects and logo design, and while I do enjoy that sort of project from time to time, it's definitely not my favorite thing to do. By saying yes to some of the projects I was iffy about I learned so much about myself and my work style. For someone starting out this is so important!
Sometimes I felt like I was doing it wrong because I was saying yes to most projects and all the advice I read was telling me not to do that…but I'm here to say it is okay if you do want to say yes more times than you say no. After 2 years of freelancing, and lots of projects ranging from brochure design to website illustrations, I now know what type of project is best for me, and now I say no way more frequently than I did in the past. I don't at all regret saying yes all those times before though because it helped me understand the type of work that fits me best. It's almost like dating if you think about it…how do you know what you really want until you play the field and try out lots of different things?!
EC: I think that's great advice for almost any entrepreneur starting out! When you're not working on your business, what are you doing?
NG: When I'm not working on my business you can find me hanging at the beach with my family and boyfriend, sipping on margs with my girlfriends, shopping for *probably* unneeded clothes and shoes that will hardly fit into my closet, or scoping out new trendy restaurants to eat at.
EC: How do you balance or integrate all the facets of your life – all while making time for personal relationships and self-care?
NG: Great question! Achieving a balance is something I have to work very hard at, and TBH, sometimes I don't do the best job at it. I tend to be a workaholic. When I have crazy busy months (around the holidays or graduation time) it's easy for me to get sucked into work and forget about a work/life balance. One thing I live by though is no emails or packaging orders on the weekend. When I close my laptop on Friday night I won't look at my emails or online orders again until Monday morning. I give myself the full weekend to reset, recharge, and hang with family/friends so I am ready on Monday to tackle another week. Sometimes that means I'll wait to respond to DMs until Monday as well.
I also never text with my clients 1) because I'm terrible at keeping up with texts and 2) I like to create healthy boundaries with clients so that I don't feel like I'm always "on". I've found this to be super helpful, as it lessens the amount of anxiety I have over my cell phone and ensures that I never miss an important message from a client.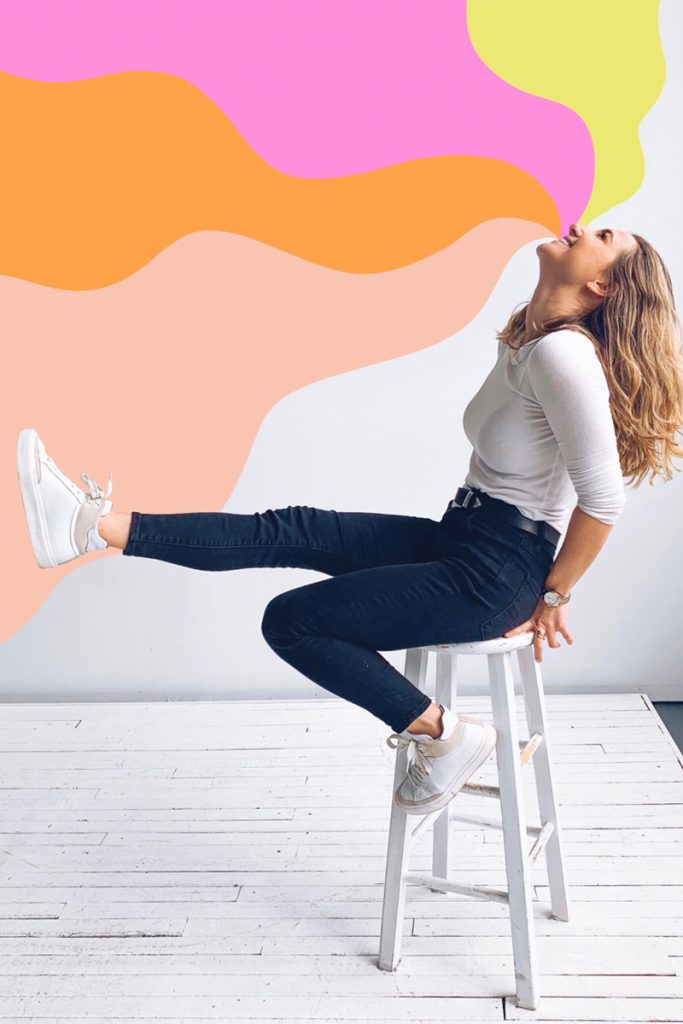 EC: What's next for you and Nicole Goldfarb Design?
NG:I have been looking into expanding my merchandise to sell more on my online shop, as well as breaking into wholesale! Right now, most of my time goes into working with clients and providing creative services, but I'd love to put more energy into my online shop and really build a brand! I recently just launched notepads, shot glasses and mirror stickers and now I can't stop thinking about all the other things I'd like to make! T-shirts, tea towels, mugs, and more!!! With all that being said…if there are any retailers out there looking to stock new items from female artists please feel free to reach out to me!!
If you'd like to follow along on my colorful journey you can do so by following my Instagram @nicolegoldfarb. Even if you're not a business owner looking to hire an illustrator or graphic designer, I'd love to connect with you! My Instagram is the place where I post all things color and design that I love and that I create! Home decor, fashion, illustrations, photography, uplifting quotes, and more. It's a mix between a lifestyle and design blog!
The Beyonce of graphic design has spoken!! I mean, how amazing is it that Nicole is known as the "no-edit wonder!?" Not only does that speak volumes of her talent, care, and consideration for each project – it also saves business owners lots of time in the design process! So if you need some illustration or graphic design help, and want to stand out in the sea of online content, Nicole is your gal! And if you just need a little more color and happiness in your life, check out her shop!