Sustainable and Intentional Hand-Dyed Apparel for the Conscious Consumer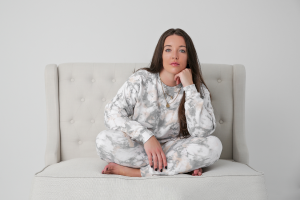 When we say tie dye, what do you think? Maybe you think of the 60's, when tie dye was a popular symbol for nonviolence. Or maybe you think of the 90's when you had the opportunity to hand dye your own T-shirt at summer camp. Or maybe you think about how tie dye started as a staple of WFH life and eventually made its way into some of your favorite items.
No matter what you think of first, it's pretty clear that tie dye – or dyeing clothes in general – has remained in fashion for decades… centuries actually (more on this later)!
But how often have you heard about hand-dyed clothing that was made sustainably? I bet you didn't even think that was a thing! Well it is, and Christina "Mo" Vázquez Mauricio, founder of Gold Coast Dyes, has not only created a sustainable clothing business, but has been incredibly intentional about everything from her branding, to her messaging, to her packaging and everything in between.
Read on to learn more about Mo, how she started and built her business during the pandemic, how she navigates running a business and managing a full-time job, and so much more!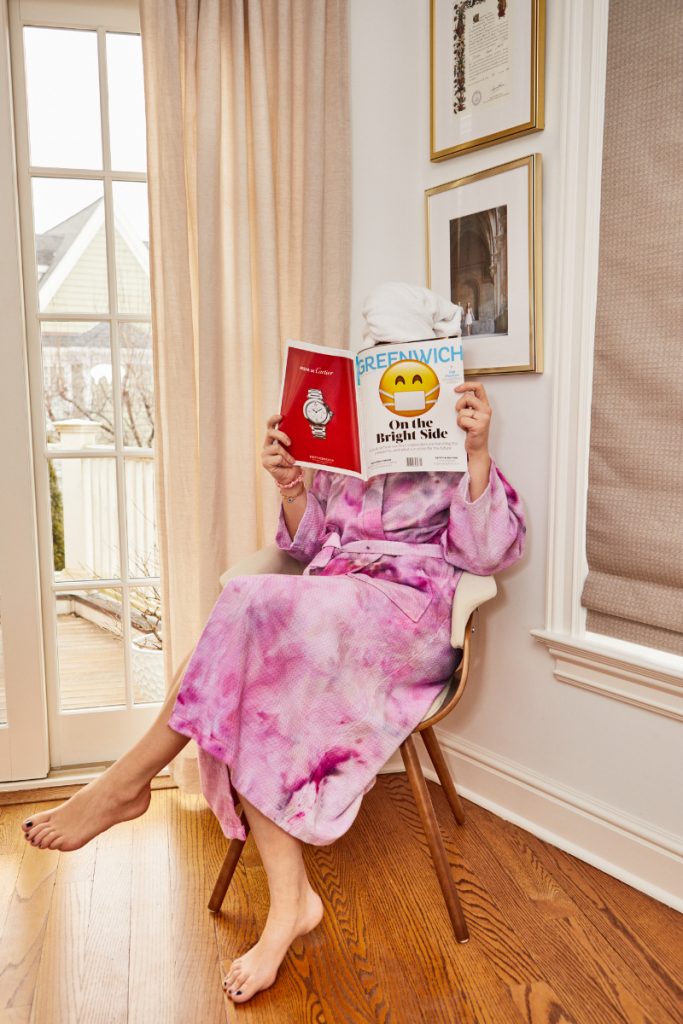 Erin Coles: Tell us about yourself, your background, and what you were doing prior to starting Gold Coast Dyes?
Christina "Mo" Vázquez Mauricio: My name is Christina Vázquez Mauricio, but all of my close friends call me "Mo," a nickname I've had since middle school. I'm of Spanish and Portuguese descent, first generation, and the proud daughter of immigrants. I was raised between the US and Spain and I've lived in a few cities and countries throughout my life. I am a "Jersey girl" at heart, but now call Connecticut home! I have a background in international relations, linguistics, and art history, with a focus on secondary education (grades 6-12). I've been in world language education for just over ten years and serve as an administrator for a local public school district, where I lead a team of secondary world language teachers. As a native speaker of four languages, I absolutely love inspiring others to learn how to communicate in new ways so they can make connections with diverse groups of people.
EC: What inspired you to start Gold Coast Dyes?
CVM: I like to think GCD's birth came about as a perfect storm, because time is the greatest gift you can give a right-brained person. I started GCD at the very beginning of the pandemic, when the news was incredibly grim and we were all afraid of leaving our homes. Because I would normally spend about eight to ten hours a day in a school surrounded by kids and teachers, I constantly had ways to be creative – whether it be helping a colleague plan an engaging unit to teach their students or planning departmental events and activities. When that creative outlet was switched off, I was left with a huge void. The constant Zoom calls, coupled with news that grew more devastating by the day (and raising a one-year old!) I began to search for a creative release that would allow me to stay connected to others.
Like many people with the privilege of being able to work from home, I started some DIY projects that eventually led me to making a set of aprons for my very best friends that I knew I wouldn't be able to see for a while. I ordered a tie dye kit from a big box craft store, some blank aprons, and made my very first tie dyed aprons.
Right around this time, I also found myself searching high and low for "loungewear," but not just any old pair of sweats. I really wanted clothes that would lift my spirits but that also allowed me to be comfortable throughout the day between working at the kitchen table and chasing my daughter who learned to walk right as lockdown began… awesome! Tie dye, while timeless, really became mainstream during the pandemic and I, like eeeeeveryone else, wanted a really comfy tie dye set but couldn't find any that I liked at an accessible price point. With the leftover dye from my aprons, I started to give new life to some of the clothes I had in my closet and, on a whim, listed a few pieces on Etsy. The rest is history!
EC: Wow! Your origin story is so cool. What a way to start a business! Where does the name Gold Coast Dyes come from?
CVM: The name Gold Coast Dyes embodies the centuries-old art of hand-dyed clothing, while also being an homage to the place where I founded my brand – Connecticut's Gold Coast. A friend also pointed out that I have a bit of an obsession with vintage gold jewelry, and while that wasn't the inspiration for the name, it is kind of interesting how one of my other interests made its way into the brand name!
EC: Where do you create the products?
CVM: I started in my kitchen, and in November of 2020 I moved my studio into my garage. All of my items are created in my in-home studio.
EC: You just did a total rebrand and changed your name from Tie Dye & Tonic to Gold Coast Dyes – congrats! What prompted this change?
CVM: Thank you! The name change came about for two reasons:
I made a conscious decision to take a big picture look at my business, and
I wanted a name I could be proud of, so I would be more willing to share it with others.
Let me start by saying that Tie Dye & Tonic was a name that I struggled to come up with in the first place. When anyone opens an Etsy shop, the first thing you have to do is give your shop a name before you launch. Logically I called it "Tie Dye" (because that's what I was making) "and Tonic" (because I love a strong gin and tonic!) – a name that, although simple, took me weeks to think of.
Gold Coast Dyes, however, is a different story. This past March I began to work with brand designer and strategist Kristen Poissant of Kristen Poissant Studio, an amazing woman I met through the WAWO Sisterhood. She took all of the brand aspects I had floating around in my head and helped me channel them into a strategic brand message, which in turn made me see my business for what it has been all along. What I make is not the ugly, "pandemic chic" tie dye you can get at Target – every piece is a unique, carefully-sourced, sustainably hand-made work of art that anyone can wear. I had been toying with the idea of changing the name, but working with Kristen really drove it home.
The name Gold Coast Dyes came to me one day while driving down Greenwich Avenue, our main thoroughfare here in Greenwich where the GCD studio is located. I saw a group of these beautiful women all dressed up in tie dye having coffee – tie dye that was not mine, and I could tell! I turned to my husband and I said, "THAT is what people think of when they think of tie dye, and that is NOT what I make!" I knew it was time to rebrand, and the name came to me instantly, much more quickly than Tie Dye & Tonic.
EC: I love that! It's awesome that you changed the name to something that was more representative of what you create. And how do you come up with the designs? Color combos, patterns, etc.?
CVM: I get a lot of inspiration from my travels, patterns that occur naturally in nature, and from my time studying art history. I also do a lot of color testing and technique experimentation to see if a pattern can go into production while still adhering to the sustainable operations I have in my studio. For example, a design may look amazing at the end of R&D, but if the technique to achieve it requires too much water, I won't put it into production.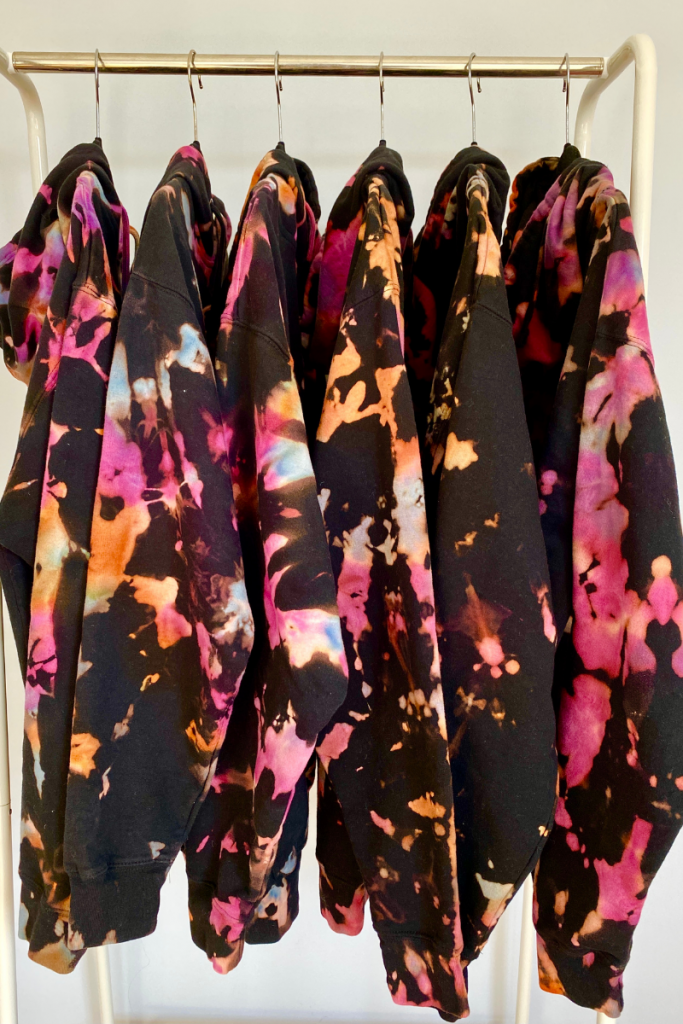 EC: Why is tie dye so popular, and why has it perpetually come back into style for decades?
CVM: I love this question because I am constantly doing research on this! The art of hand-dyeing garments originated simultaneously in what is now China, India, and Perú in the 20th century BC, so it has, quite literally, been around forever. What probably comes to mind when you first think of tie dye – psychedelic swirls and bursts of rainbow – became popular with the civil unrest of the 60s and 70s. Hippie culture used it as a countercultural statement to protest not only the boring monotony and conformity of the 50s, but as a way to take a visible stance against racism, segregation, and the Vietnam War. Hippies wrote the rules on how to protest and resist with your clothes, and they made it easy to say "I believe in a better future" by simply changing the color of what you wore.
In my mind, there is no coincidence that we are seeing a second, contemporary resurgence of this artform, considering everything our country has been through and is currently going through. Not only are the bold neons of the late 80s and early 90s coming back too, but we are again living through a time of civil unrest and looking for ways to do better. Also added to the mix is that we now care very deeply about how our clothes are made and the impact our decisions have on the environment. The simple act of putting on a fun, bright, bold tie dye shirt that is responsibly made is an easy way to instantly feel happy, even though society might not be.
EC: Can you share a little more about how you package your products when shipping and why?
CVM: I use recyclable mailers, tissue paper made from 100% post-consumer paper, and recyclable shipping labels, stickers, and inserts that are also made from recycled paper. I do not use plastic in any of my shipments except for masks and socks. My favorite thing about my shipping materials, aside from being recycled and recyclable, is the color – black! I ship everything in black mailers and black tissue paper. I like to think it is a palate cleanser for your eyes to receive an instant burst of color!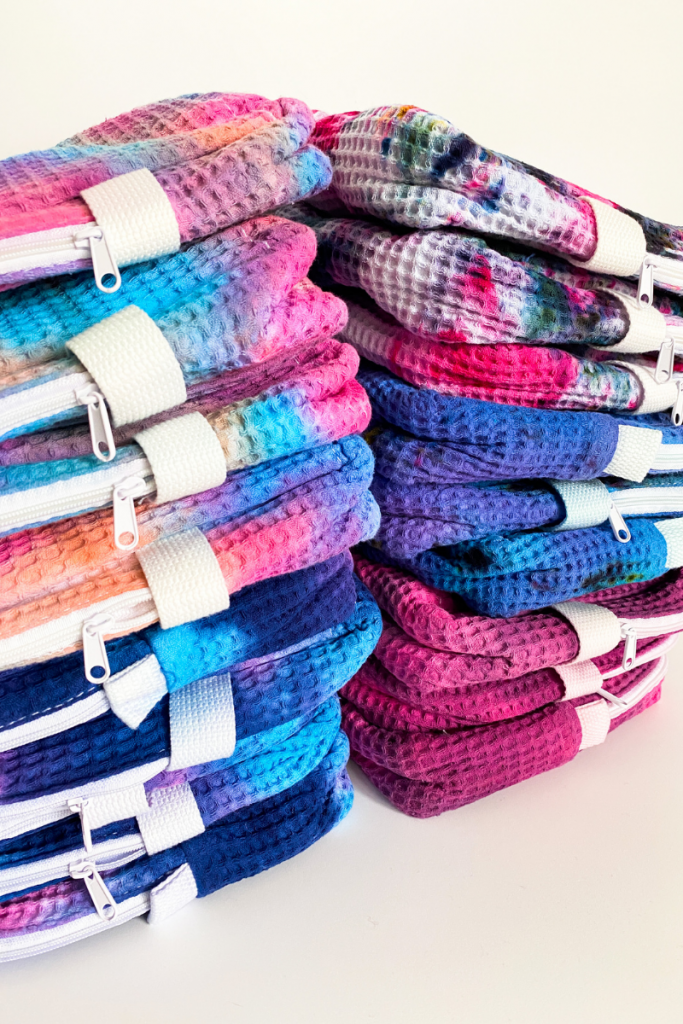 EC: Love that! As someone who has received one of your products in the mail, one of my favorite things was the juxtaposition between the black packaging and the colorful clothing inside. Such a great idea!
I'd love to know – how do you generate interest in your brand, and how do you go about educating your customers about your product? What strategies and platforms are you using?
CVM: I primarily focus on three things: Capturing color, educating and inspiring customers, and building trust. My main social media outlet is Instagram, and I prefer it to the others because it allows me to showcase my art through photos and provide engaging, informative captions. I've been working with Kristen Poissant to really highlight the sustainability and handmade nature of what I do, something that I often took for granted because my main focus was on product photography. Consumers on Instagram are looking to be educated, to really connect with the human "behind" the brand account. I am the sole person running all aspects of my brand, so my customers are confident that I'm the one responding to DMs and customer service inquiries on Etsy.
Also, there is a lot of competition on Etsy. What was once a marketplace for handmade sellers has slowly become infiltrated with people reselling items that are not handmade by them. I really like to stand out on Etsy by uploading great photos, informative product descriptions using the first-person, and responding quickly to my messages. Etsy customers are very smart and extremely savvy – it's important to make a connection with customers right away.
EC: What has the customer feedback been like? Give us an example of what your customers are saying!
CVM: I'm proud to say that I have had a consistent five-star rating on Etsy, something highly-coveted in the Etsy community! All feedback on Etsy is public and permanent, so it is really important to nail every single order. I tell people that in my day job, I give feedback for a living – I am constantly evaluating my colleagues, supporting them in their work and looking for ways to help them grow their teaching craft. It is only fitting that in my business, I take feedback that I myself am getting very seriously. Some of my designs have even come from suggestions others have given me, or feedback on a product that someone thought would look better with minor tweaks. One of my best-selling colorways, Sandstone, was actually a suggestion I took from Lisa Nicole Rosado, the founder of WAWO!
I love reading the messages people send me, especially the photos I get via DM of people wearing my items and just loving life! Very recently, I received this feedback on an order and it made me cry real, actual tears. I want nothing more than for my customers to feel good, beautiful, and happy when they wear one of my designs:
"Mo is a genius sent from Heaven to create art that graces our bodies and makes us feel beautiful and unique. I never feel beautiful, but she makes pieces that makes [sic] me see beauty in myself."
What more can you ask for?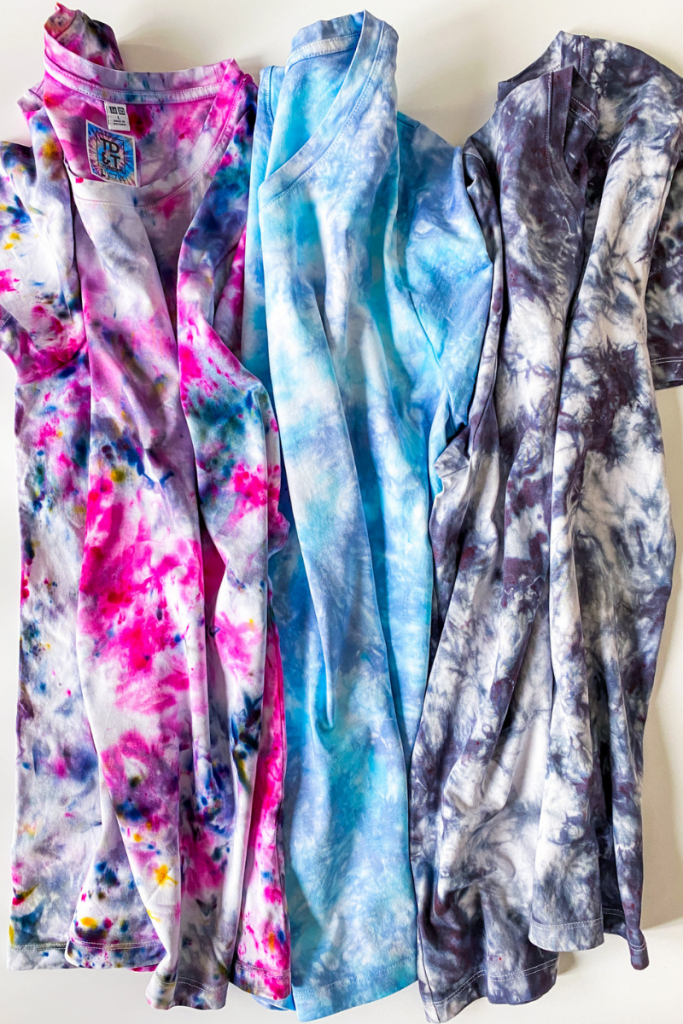 EC: Where do you sell Gold Coast Dyes? What is your plan of where to sell moving forward?
CVM: I launch and sell all of my items on Etsy. I really love connecting with my followers on Instagram, so I always post teasers on Stories and ask for feedback whenever I am about to launch something new. In the fall, I am also going to launch a Shopify shop which will allow me to be more creative with website layout and design, and provide a more curated customer experience online. About once per season, I also do Instagram Story sales where I showcase all of my samples and pieces that came out with minor flaws. This allows me to reduce clothing waste by selling imperfect items directly to consumers, and share details about items with videos and photos. Make sure you're following me – the next one is coming at the end of June!
EC: Congrats on building out the site – that's exciting! And who are your ideal customers?
CVM: My ideal customers are women and men who love to express themselves with their clothing, because their clothing tells part of the story of who they are. They often struggle to find unique pieces that are sustainably made, that they can also wear while working from home, to working in an office, to hanging out on the weekend with their friends and family. They have an eye for design, are concerned with the quality of what they buy, and are discerning with what they put in and on their bodies.
EC: What has been your biggest challenge in building your business thus far?
CVM: Because there are an infinite amount of color combinations and products that can be dyed, my biggest challenge is deciding which items to put out and in which colorways. Anyone that is in a product-based business, at one point or another, struggles with this. There is a delicate balance between putting out all of the ideas you have in your head and creating items you know people will love.
EC: What is the best piece of business advice you ever received?
CVM: This one is hard, because over the past year I have asked for A LOT of advice and have actually listened to most of it! I've received three pieces of advice that have been super valuable and that I still use:
Find a community of business owners that encompasses industries and niches of all kinds. One of the very first things I did when starting out was follow @wearewomenowned and read almost all of the articles, and soon after joined the Sisterhood. Access to such a diverse set of perspectives allowed me to learn from others – both their mistakes and their successes – by stepping into their shoes. Some of the best lessons I've learned have come from listening to other business owners completely out of my niche tell their stories, and later applying that knowledge to my overall business goals.

Ask different people to look at your business from 30,000 feet. So often we are told that "it doesn't matter what other people think," but in business, it does! Ask a friend you trust to take a look at your social media and ask them for their candid, honest opinion. Does what they see match the message you are trying to get across? Ask your accountant to help you project your profitability 3, 6, 12, 24 months into the future. What steps do you need to take to make those goals happen? Someone once told me that "it's hard to work on your business when you are in your business." Take that knowledge and invest in your weaker areas. (For example, I knew I needed help with overall brand discovery and messaging because I could not possibly do it all myself, and that's why I hired Kristen.)

Everyone has heard this one before, but it is so true – legitimize your business from day one and register it. Open a business bank account, and keep your spending separate. Not only does it help come tax season, but it also will help you focus on what you know will sell well, instead of falling victim to shiny object syndrome.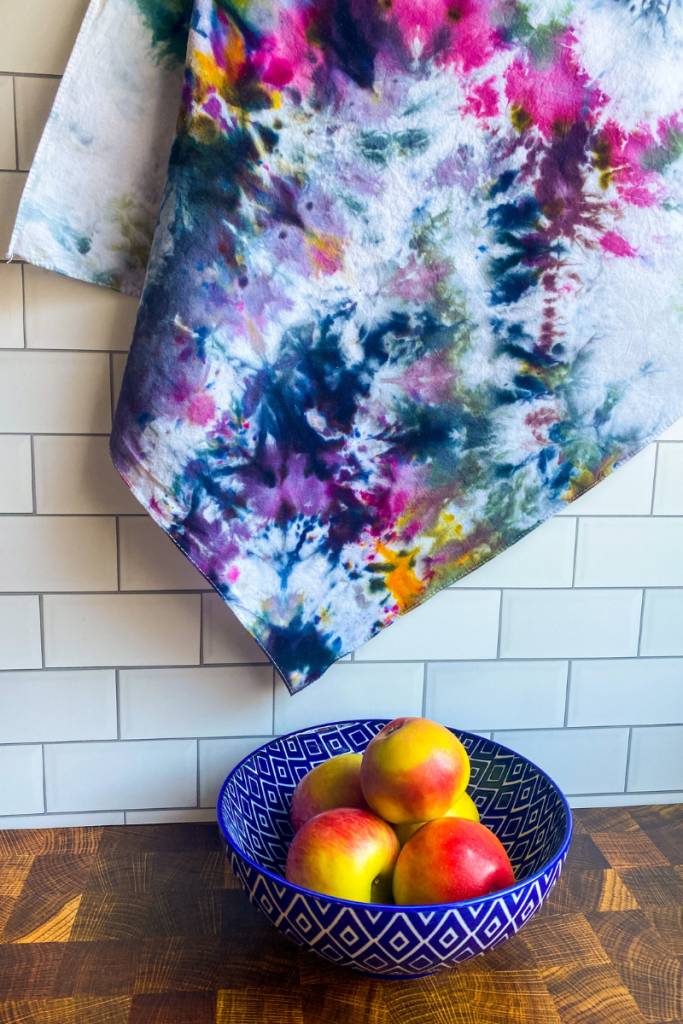 EC: That is SUCH great advice. And "shiny object syndrome" is totally a real thing! So you started your business during the pandemic – wow!! How did you navigate starting a business during such a difficult time?
CVM: Never in a million years did I think I would start a business. I truly appreciate how much time and dedication is necessary to get one off the ground, and I was able to capitalize on my time at home by starting slow and creating a solid foundation with the time I had. Because I did not have much faith in my business at first, I didn't have any expectations for success. It was a total exercise in patience. Also, I launched during the deadliest part of the pandemic and then we were a captive audience to the murder of George Floyd. It was important for me to lead with positivity and joy, while still communicating my awareness of and sensitivity to how dark of a time we were living through.
All of my early mornings and afternoons were fully dedicated to my school job and supporting my colleagues, and I worked on Gold Coast during evenings and nights when my daughter was finally asleep. Learning to compartmentalize that time set me up to continue with the system I created when we resumed in-person learning this past September.
I had a lot of supply chain issues, particularly in finding sustainable and American-made dyes and dyeables, because almost every single factory was closed or dealing with massive staff quarantines. I was able to buy the small quantities that actually were available at first, and then ramped up to larger quantities as sales went up and supply chains returned to normal.
EC: What are some of your favorite milestones from your first year in business?
CVM: We have officially hit all 50 states and 12 countries, going as far as Poland, Japan, and South Africa! I was also fortunate to be able to make monetary donations to several organizations at the beginning of this year, at a time when others need our support more than ever.
EC: What advice would you offer to a fellow entrepreneur hoping to break into the apparel space?

CVM: Consumers have become increasingly more aware of what they buy, where they buy it, and who they buy it from. If you are wanting to start a clothing brand, consider first the manufacturing process and ask yourself some hard questions. Are the workers paid a living wage, and receive benefits? Where are the fabrics sourced, and what are they made from? If you are making the clothing yourself, how are your fabrics spun and dyed, and where? Clothing manufacturing is the second-most polluting industry in the world, and responsible for 20% of global wastewater. While you may not think that your small business has an impact on that, it does! You, your brand, and your loyal customers have the potential to disrupt the cycle of fast fashion. Let your customers know that when they buy from you, they are doing good by Mother Nature.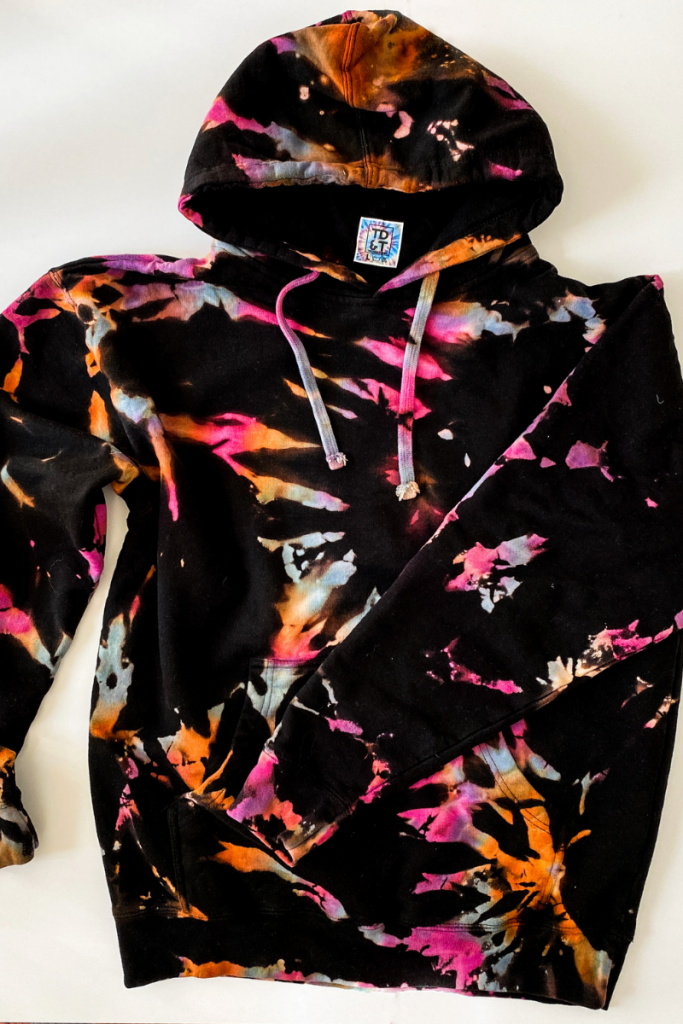 EC: Awesome advice, and such a great point! When you're not working on Gold Coast Dyes, what are you doing?
CVM: Oh gosh! I'm either working at school, spending time with my husband, daughter, and extended family, or cooking up a storm in my kitchen!
EC: That's A LOT! How do you balance or integrate all the facets of your life and career (including a full-time job!!) – all while making time for family and self-care?
CVM: Elisa Molina, founder of Covedoza and fellow WAWO Sister, said it best: "It is not about work-life balance, it is about work-life integration."
I've created somewhat of a schedule where mornings and afternoons are dedicated solely to my school job, evenings are family time, and nights and weekends I work on Gold Coast. The creative process behind Gold Coast is in and of itself self-care. Being creative, working with color, and exercising this part of my brain is therapeutic. Throughout my whole life, I always thought that my mother and grandmother worked incredibly hard, and now I've learned that they actually integrated their work into their lives and taught me by example. If my mom was grading a big stack of papers (she's a teacher, too!), she did it next to me while I was doing my homework. If my grandma was making us a huge family dinner or working on a sewing project, she invited me to watch and learn. I do the same with my daughter, too! If I have a big load of dyes to wash that can't wait until nighttime, she helps me clean up the studio or carry clothes from the dryer to the ironing board and we turn it into a little game. This allows her to see me as a woman with a career and a business, all while having fun and getting to spend quality time together.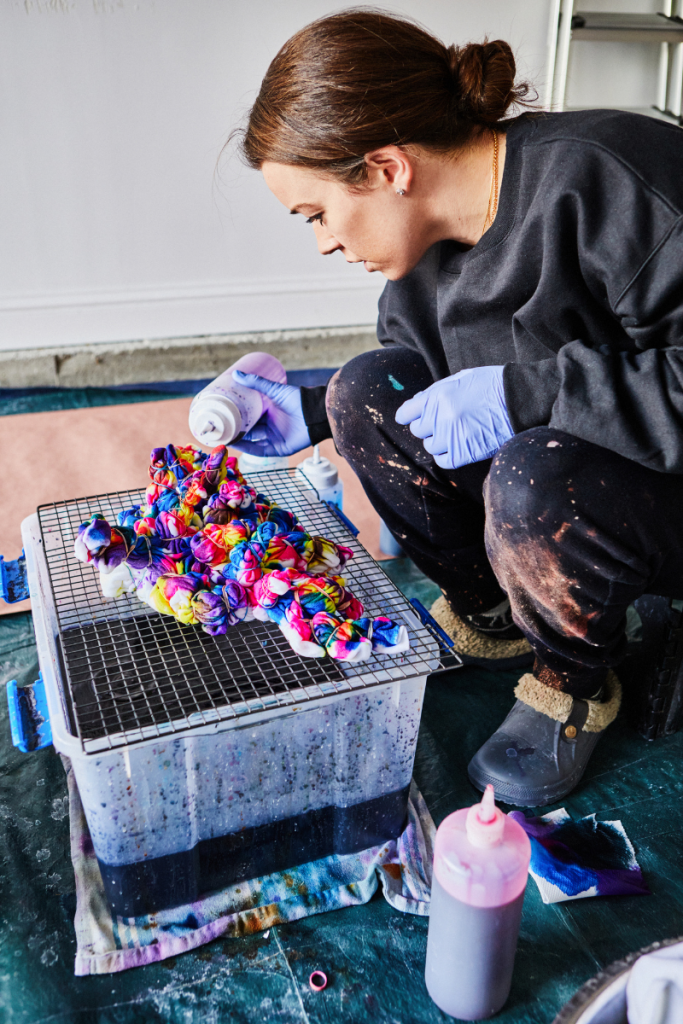 EC: So what's next for Gold Coast Dyes?
CVM: Oh boy – so much! I just launched a collection of hand-dyed sarongs inspired by my Spanish heritage and time living in Spain. They are beyond luxurious and feel like silk, but are sturdy enough to survive many summers at the beach or pool. I am so excited for people to get these because they really are the item I am most excited about, and I spent MONTHS sourcing the perfect fabric.
With the help of Kristen Poissant, I'm also going through a full rebranding – all of the fonts, visuals, aesthetics – and will be revealing the final product at the end of September. Right now I have a working logo and new brand name, but I'm excited to take my followers along for the ride and hopefully inspire others to take their own business ideas to new heights.
I don't know about you, but I am SO impressed with how quickly Mo was able to build Gold Coast Dyes, especially in the midst of such a difficult time in our history. And not only did Mo build her business quickly, she did so intentionally, sustainably and was able to manage a full time job and a family on top of that. Women are truly amazing!
If you want a hand dyed masterpiece of your own, head over to the Gold Coast Dyes Etsy shop! And follow along with Mo and her company's adventures on Insta at @goldcoastdyes.