We Talk Stress Relief and CBD Oil With Alexis Rosenbaum, Founder of Rosebud CBD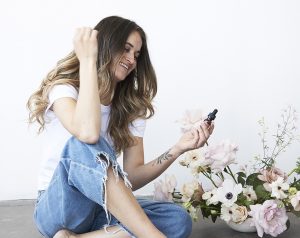 This National Stress Awareness Day, we turned to Alexis Rosenbaum, founder of Rosebud CBD to learn all about CBD oil uses and benefits, as well as how Rosenbaum keeps calm while running and growing her business.
Short for Cannabidiol, CBD is extracted from hemp flower. "Cannabidiol is the most prevalent cannabinoid found in the cannabis plant. Its history in medicine dates back to prehistory. It has long been pushed aside while scientists and users focused on the mind-altering component, THC," says Rosenbaum
I've heard about CBD through friends and on social media but didn't pay much attention. After learning more from Rosenbaum, I'm intrigued and can't wait to try it out and hopefully relieve some of the anxiety that I experience as a small business owner.
"CBD is an all natural anti-anxiety, anti-inflammatory, and anti-chronic pain supplement that works with your body's most important functions to restore balance and assist in your response to stress both physically and mentally, " says Rosenbaum
What we love about Rosebud CBD is that it's grown organically without herbicides, pesticides, or solvents. It gets made from two ingredients — CBD and MCT oil or medium-chain triglyceride oil, which gets extracted from coconut oil.
The big question is, "Will I get high?". The answer is no.
"CBD is non-intoxicating meaning you will not experience a high or stoned effect. You can use CBD orally and topically," says Rosenbaum
Read on to learn more about Alexis Rosenbaum, what it's like running a CBD oil company and her favorite use for Rosebud CBD oil.
Alexis Damen: Tell us about yourself and your background, what were you doing before you started Rosebud? Also, what inspired you to take the leap?
Alexis Rosenbaum: I had married my husband in 2012, he was playing professional baseball in the minor leagues, and we were living on a really tight budget. I didn't want to get a full-time job because it would restrict me from traveling to see him, so I started Game Day Feels. I crafted personalized leather wrap bracelets made from the lacing in baseball gloves. I was in the middle of selling GDF and working a full-time remote job managing marketing campaigns and communication strategies for other companies when my day to day anxiety was crippling.
My husband and I moved to Hoboken, New Jersey from Cincinnati, Ohio in July of 2017. When I sold GDF in October of that year, I felt relieved to no longer be in charge of running a business and be responsible for driving the sales that ultimately paid my employees bills.
It took me three months and multiple job interviews where I was told no to realize I needed to start a second venture. I paired my passion for holistic and minimalist living with my love for cannabis to bring Rosebud to market.
AD: Can you tell us more about the process of making Rosebud CBD and the Rosebud difference?
AR: Rosebud CBD is a CO2 extract from CBD rich hemp flower. Our Oregon farmers use organic growing practices. They never use herbicides, pesticides, or solvents and require that every batch of hemp grown is processed by a third-party testing lab. This guarantees our quality, purity, and potency.
Rosebud CBD does not contain any fillers, flavorings, sweeteners, or preservatives. Our oil gets made from two ingredients; CBD and MCT (fractionated coconut oil). MCT oil helps your body rapidly benefit.
Read more about the Rosebud CBD difference here.
AD: What are the uses and benefits of CBD oil?
AR: Rosebud CBD oil specifically can be administered sublingually (orally under your tongue), topically (directly applied to your skin), added to a vitamin capsule, and baked or cooked with to create edibles. We do not recommend vaping our oil.
CBD oil is best known for its ability to offer anxiety, inflammation, and pain relief. In recent studies, CBD has shown possible health benefits or relief from ADHD, Addiction, ALS, Alzheimer's, Arthritis, Autism Spectrum, Cancer, Brain injuries, Diabetes, IBS and IBD, Migraine, Multiple Sclerosis and Spasticity, Nausea and Vomiting, Huntington's and Parkinson's, PTS, Seizures, Skin Conditions, and Sleep Disorders.
AD: What is your favorite use for CBD oil?
AR: I love taking it sublingually every morning and late afternoon. I wake up with a bit of a rush of anxiety about the items I need to get done for the day. It helps me relax, gain control, and stay focused. At times when I can't relax to fall asleep, I will use a higher dose to put my mind and body at ease.
AD: What strategies do you use to build your brand awareness and engage your community and following?
AR: The Cannabis industry can not market in the traditional sense, we are unable to pay for Facebook ads, so we have to go back to the drawing board and get creative. At Rosebud CBD we focus on educating our customers and followers, creating interesting and attractive content, and telling a compelling story about Cannabis and CBD use. Social media is a great tool, but we are focused on building a strong email list and crafting interesting emails and driving engagement with our current customer base. I'm excited to announce we are working on a loyalty program that rivals Nordstrom Notes and think this will be a great way to build brand awareness and brand loyalty.
We also try to align ourselves with established brands to collaborate on CBD treats, drinks, or events. This summer we worked with The Breslin at the Ace Hotel to bring a Rosebud CBD infused cocktail to the Lobby Bar menu where we had a launch party. Last month we launched a CBD infused non-alcoholic menu at Saxon and Parole.
AD: What is your retail and wholesale footprint? Do you sell only B2C or also B2B?
AR: 90% of our sales are direct to consumer with our B2B side of things quickly growing. When we first launched the strategy was to focus on direct to consumer so that we could get our product in as many hands as possible to drive social engagement and impact brand awareness.
From there we have been doing a big retail push. We have many retailers throughout the country, but I'm excited to focus in on the NYC market to better serve our customers in the area.
AD: What has been most surprising and challenging for you during the process of starting a business and now growing it? How have you overcome these obstacles?
AR: The most challenging thing for me is the intense amount of confidence that you need in every corner and avenue of the business. From the branding to the packaging, to customer service, crafting social media messaging and finding our brand voice, building Instagram stories that drive engagement, finalizing marketing plans, managing the day to day admin, ordering supplies, managing relationships with contractors, capturing and creating content, and and and.
Every part of the business is me at this moment and for it to succeed I have to be able to give focus and confidence to everything as evenly as possible. For me, this becomes very exhausting.
How do I handle it? I ran Rosebud on my own from April to the beginning of October but had started to put some feelers out for an advisor to bring on board. I knew I wanted to find someone in the industry, so I was working hard to connect. It has been a lifesaver to bring on another woman who serves as my sounding board and helps me keep the action rolling.
AD: What advice do you have for fellow retail and ecommerce entrepreneurs?
AR: Don't overthink it — just go for it. So many of us are full of amazing ideas and a ridiculous amount of potential. What stops most of us from making a move is over thinking and wanting the concept to be complete before launch. Nothing is ever perfect, so get started and let your customers guide you.
AD: What has been your best-selling formula potency so far?
AR: All of our formulas come in one bottle size at 15ml. We keep it at this size because it offers a highly concentrated level of CBD. If we take the 350mg and make it a 30ml bottle you're essentially getting more coconut oil, not more CBD.
Rosebud started with only the 350mg formula for the first few months before launching the 700mg and 1000mg potencies. The 350mg was our best selling formula and is still our top, but the 700mg is very close behind. The 1000mg is picking up momentum as people continue to experience with dosing.
AD: November 7th is National Stress Awareness Day, and we know running a business takes a lot of energy, blood, sweat, and sometimes tears. How do you avoid burning out and taking care of yourself while also taking care of your business?
AR: Routine is huge for me. I do the same things and eat the same things just about every day. My routine includes waking up at the same time, I make my bed and pick up the house because messes increase my stress. My husband brings me breakfast in my office after I walk my dogs and practice restorative breathing.
During the day I work and break up sessions by taking one to two more walks with the pups. Did you know Steve Jobs heavily believed in daily walks to increase productivity and creativity?
Going to the gym 3-4 days a week is also a part of my routine and one of the favorite times of my day. Crossfit challenges me mentally and physically, and it gives me a space to turn up the dirtiest music and get down with myself. I love the gym — it's like the club for me.
Burn out is hard. It happens, and I try to be aware of when times are high and good so I can prepare for the inevitable come down. It is crucial to surround yourself with other people that you can do regular check-ins with and talk out your struggles. It took me some time being new to the city, but I have a pretty strong circle of people around me that help me stay focused and creative.
I love to read and create other business ideas. It gives me a good break from focusing on the day to day of Rosebud. I'm always coming up with ideas, and most of them are probably bad, haha!
I brainstorm on three to four different ways a week that I could monetize. I love to problem solve so thinking of how to improve a process, creating a missing piece to an industry, or ways to invest money are exciting and fulfilling to me.
One of my best decisions last month was ordering a two-sided on wheels whiteboard. It's life-changing. There's something about how smooth and quick you can see your thoughts on the whiteboard that gets me excited.
Learn more about how Alexis manages her stress here.
AD: How do you measure success?
AR: Ah — this is a tough one. I'm a Taurus so completing my to do list is a necessity during my day so I can walk away from work feeling successful. It's impossible, though, to always finish my to-do list, so I have had to learn to break up the list by days and stick to those tasks on those days. I highly recommend the book Essentialism for this topic.
I measure success by the level of happiness and freedom that I have. I love being an entrepreneur because while it requires a lot of work, and I mean a lot, I'm in control and hold power to my freedom. If I want Monday do be Tuesday I can.
AD: When you're not building your Rosebud CBD oil empire, what are you doing?
AR: I have a pretty low key life, but I prefer it that way. I'm a homebody, so my favorite thing to do is be in my underwear hanging out at home. I love to spend time walking and taking my pups to the park. And my husband and I are big eaters, so we love to try new places and recipes.
I try to travel regularly, and most of the time it's not international or luxurious — it might be a week trip back to Cincinnati to get away and take a break with my family or to meet up with my sister in a new city for a few days. Being outside is a huge part of my life. During the spring, summer, and fall we spend our weekends camping and hiking. If I could pick one of my favorite off work activities, it would be to hit my bowl and head to the thrift store.
AD: What's next for Rosebud?
AR: We are hard at work growing our customer base, refining the brand and continuing to build our voice, and exploring possible product expansion.
2019 is going to be a great year with some big goals that make me excited! Currently, Rosebud lives as a CBD based company, but we hope to expand into the legal market, hospitality space, and eventually a dispensary.
In Conclusion
With its many uses, Rosebud CBD oil is a great natural solution for stress and pain relief, and you don't have to worry because according to Rosenbaum, "CBD oil is non-intoxicating, has almost no side effects, and is virtually impossible to lethally overdose."
What are your go-to natural stress relief remedies? Tell us about your experience in the comments below.