COVID-19 Survival Guide For Retailers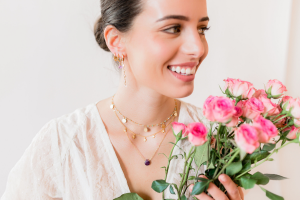 It's an intense time we're living in, from worrying about the health and safety of ourselves and our loved ones to the anxiety of the unknown financially. COVID-19's impact on small businesses is unparalleled. As the owner of a jewelry business, I've been impacted as the majority of our sales come through our wholesale stockists who have had to close their doors. While it's a scary time for all of us, whether you're on the brand side or the stockist side, I feel its also a unique and beautiful opportunity to get inventive. It's time to lean in and focus on the communities we've built and our online presence, getting more personal and open than we've ever been, and providing value. It's time to get creative with our sales approach and put our heart and soul into our businesses like we never have before.

In re-thinking my own approach with my business, I've spent the last few weeks thinking of ways I can not only continue to keep my brand afloat but give back and reconnect with our customers in new ways. One approach has been donating 40% of our online proceeds to CityMeals on Wheels, an amazing organization providing meals and companionship to NYC's elderly population. This has helped rally our customers to not only support our small business but give back to a vulnerable community that needs help the most. We've also launched an IG Live series where we have different women each week talking about topics ranging from career and dating advice to health and wellness topics. These types of conversations and guidance are so needed right now and it's been so rewarding having our followers submit their questions or areas they're struggling in. In thinking of ways to provide more value to other small businesses who are in my shoes and to our stockists, some of which rely solely on sales at their brick and mortar stores and don't have a full understanding of e-commerce or social media, I've compiled a list of resources and tips to help them get through this time.
It's been amazing to see the creativity happening online, and I truly believe we can make this stressful experience a chance to invest more soul and uniqueness into our businesses. The guide below is full of creative ways you can rally your community to support your business, gain value, and get to know and connect with you in ways they haven't before. We will get through this, and we'll all come out stronger and more inventive in the process!
---
1. Get your Online Shop set up
a. Launching or managing an e-commerce shop (especially if you don't have one set up already) can be a daunting task. I suggest starting with just your top 10-15 best-selling items to get it going, and then keep uploading from there. Don't feel overwhelmed to upload every single item you have. Reach out to brands you carry and ask them to send you assets they have (brand photos, product photography, and copy for product descriptions).
b. Shopify is the website we use for our online store (www.fybjewelry.com). There are tons of custom pre-made templates you can use that make it super easy to get your store up and running (in literally 1 day!). Squarespace is another great website platform to use.
c. Mailchimp is what we use to send email campaigns – also very straightforward and easy to use! There is also a Mailchimp app for your phone that you can use to keep track of campaigns and open rate to see how well they're performing.
d. Canva is what we use to create our graphics for email campaigns and social media. You can build out custom story templates in here as well!
e. Planoly is what we use to plan out our social media posts. This app is SO helpful, you can pre-plan your captions and schedule them to auto-post for you as well.
f. Here is a link to an amazing list of resources from SheCommerce: COVID-19 RESOURCES FOR BOUTIQUES – several guides and checklists for launching your e-commerce shop, pre-made template for gift cards, guide to email marketing, etc.
g. Here is a link to a helpful webinar hosted by Fashion Frame Works
h. Here are links to the product photography equipment we use on Amazon: Tent | Lighting
2. Ideas for Driving Sales
a. Focus on your VIP Customers
We all have those core loyal customers. Reach out to them personally email, call, text them. Ask how they are doing and tell them about new Spring arrivals you have that you think they would love! Offer to do a Facetime shopping session with them to show them what's new (think personal shopping experience!) You can also offer one on one in-store appointment, curbside pick up, if they're local or within a 5-mile radius, offer to drop it off at their house. You could also put together a "Style Box" with hand-selected picks in their size, or items/gifts you think they would love. Offer free shipping and free returns, they can just ship you back the pieces they didn't love and pay you for what they keep!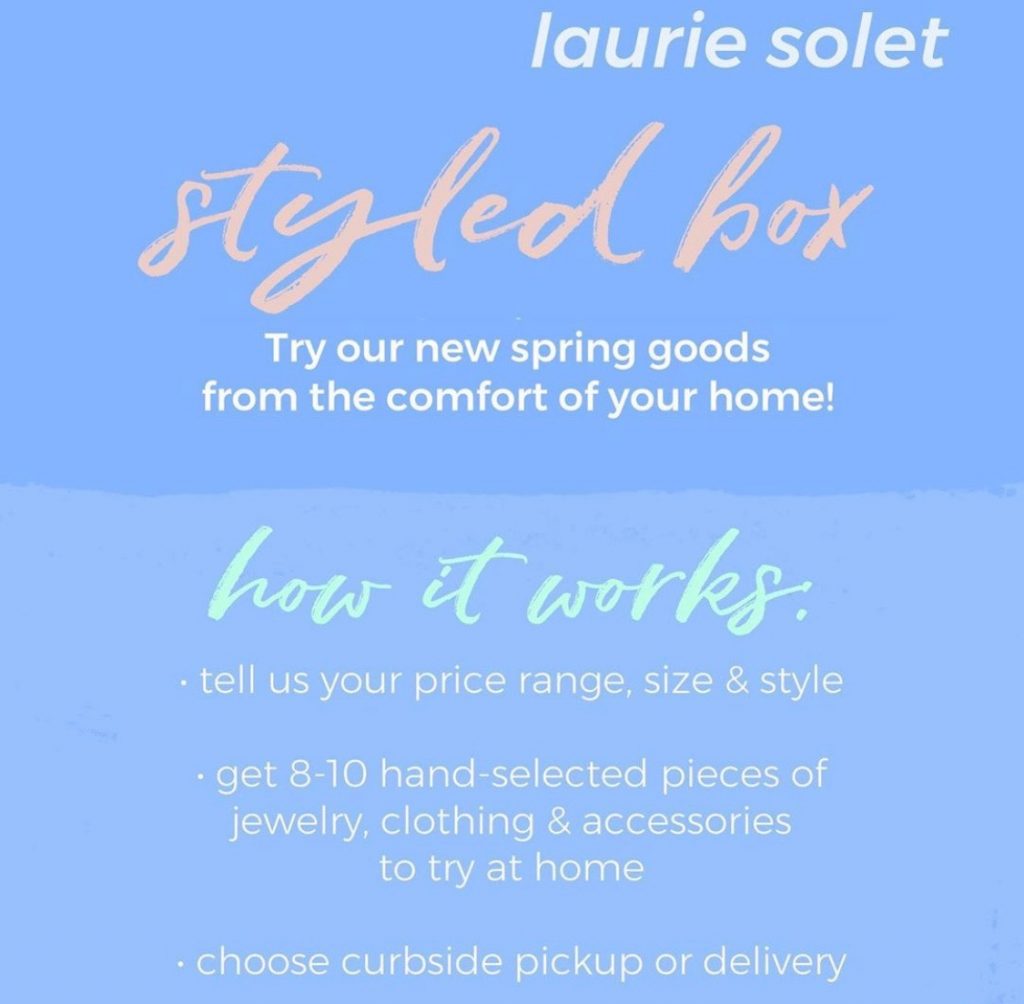 b. Run a promo code
You can create a custom discount code for 10-20% off for example, and mention the code will only be active for the first 20 customers. This creates an urgency to order since the code has limited uses
c. Consider donating a % back to a cause or hosting a drive
Donate 10% or a set dollar amount back from all sales OR on a specific item to a cause related to COVID-19 relief efforts (CityMeals on Wheels or Food Bank for NYC are two amazing ones!). This makes their purchase a feel-good purchase where they are not only supporting your business, but it empowers them to give back as well. We ran this on our website and had a huge success in sales while being able to give back to an amazing cause.

You could also run a drive for masks, gloves, etc for healthcare workers as a way to give back to your local community.
d. Free gift with purchase
Choose something small or something you have a lot of stock on (example, a set of hair ties, a bracelet, or a lip balm) and offer it as a free gift with purchase if customers spend $50+
e. Highlight gifts with meaning
Gifting is a huge source of driving sales right now. Pull together your top picks for inspiring or meaningful gifts right now and highlight them as the perfect item to send to a friend or family member who is going through a rough time, is a healthcare worker, a stay at home mom who is stressed, a fellow business owner, etc. Offer to ship directly to them with a handwritten note.
f. Care Packages
Similar to above, you can curate gift sets with themes and have set prices, for example, $25, $50, $75, $100 and put together items and offer a special price on them. Example: Self Care Set (bundle a face mask, cozy socks, inspiring book, self-love bracelet)

Have customers DM you or call you with a description of the person they are shopping for and offer to put something special together for them! The easier you can make gifting for them, the better!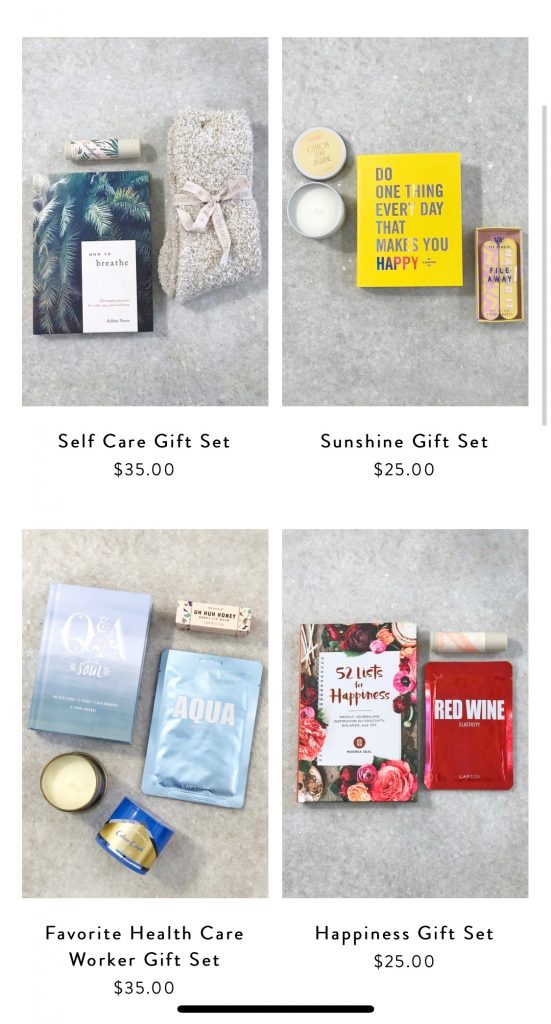 g. VIP Cards
Offer incentives for customers to buy gift cards right now! Example, if they
purchase a gift card for $50+, treat the gift card as a VIP card that gives them 10% off all purchases for the rest of the year (if they present the card when they shop in-store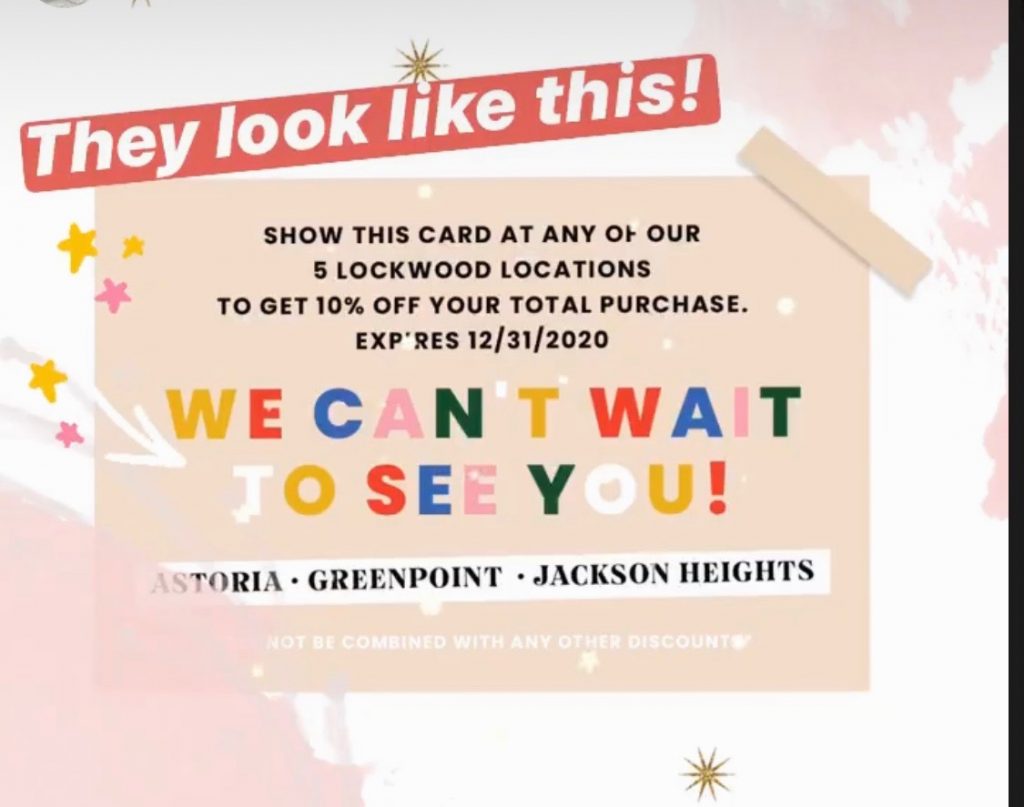 h. Flash Sales with urgency to buy
Run flash sale promos each day or week on specific styles. This gives customers something to look forward to and watch out for each day (keeping them tuned in and engaged). Run them for a set time period, example "today only" or "weekend flash sale" or today from 12 pm-5 pm
Examples:
1. Today only – Buy 2, get your 3rd 50% off on all bracelets
2. 15% off ALL spring dresses
3. Buy 3 get 4th free on hanky panky panties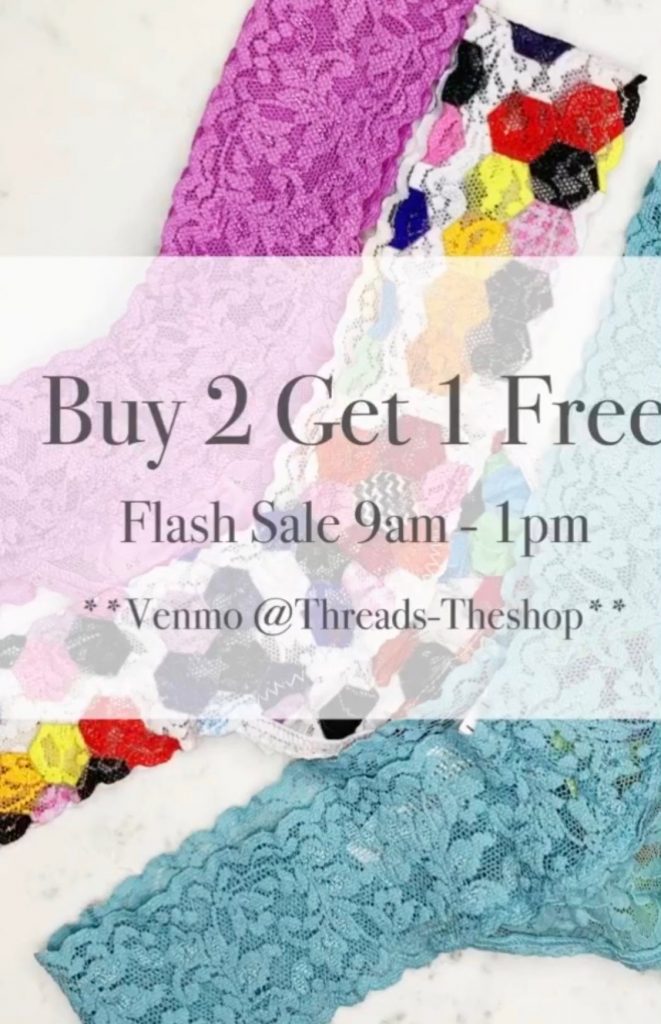 i. Channel QVC vibes
Go live on Instagram or Facebook and do a "QVC" inspired session talking about new arrivals or your favorites in-store. There's no better way to see the product visually than on video! Option to offer special incentives, discounts, or promos for tuning in and commenting on the thread with their order.
3. Get Creative on Social
a. Get Personal
Post fun polls or questions, share inspirational or funny quotes, share
books you're reading or movies/shows you're watching, recipes you're
cooking for your family, DIY projects, or fun things you are doing with your
kids. Add value in new ways and give them reasons to follow along with
you and get to know you other than pushing product.
b. Instagram Lives and Stories
Stories are a great way to also share styles and prices with your followers. Encourage them to DM you to purchase. If you have 10k+ followers, add the swipe up to shop feature and directly link the styles you are showcasing in the slide.

Post try on sessions! Show the movement of a dress, or how you style an item in a few different ways. People love watching these! It definitely makes me personally want to shop more when I see something on.

Lives are another fun way to engage your community! I've seen a couple of stores commit to going live each day or each week. Make it a happy hour!
Encourage people to tune in with a glass of wine with you to talk about your week or what you're going through. Start it off personal and then you can go into sharing product or styles you have in store!

You can also do a live or video session with a brand you carry! I did one recently with two of our stores and it was so much fun! This is a great way for your customers to also get to know the designers you have in store and connect with them/get to know their story. I'm also happy to partner up with you to do one as well!
c. Partner up with a brand you carry for a giveaway
We've seen the most success running a giveaway for a 2 day period, encouraging people to follow all participating accounts, tag friends below, like and share the post. Additional tagging/sharing = more entries to win! This also creates excitement/knowledge around a brand that you carry so
customers know you have it in stock!
d. Rally your followers
– Create shareable graphics or posts, ask your followers to tag you!
– Offer a discount or incentive for engaging
Example:
1. Enter to win a $10 gift card if you comment tagging friends
you think would love our store below!
2. DM them a 10% promo code if they re-share a post
– Ask your customers to leave google or Facebook reviews!
-Even if customers aren't in a position to spend money right now, you can still rally them to support your business by engaging on social media.

– Reshare this graphic on your social!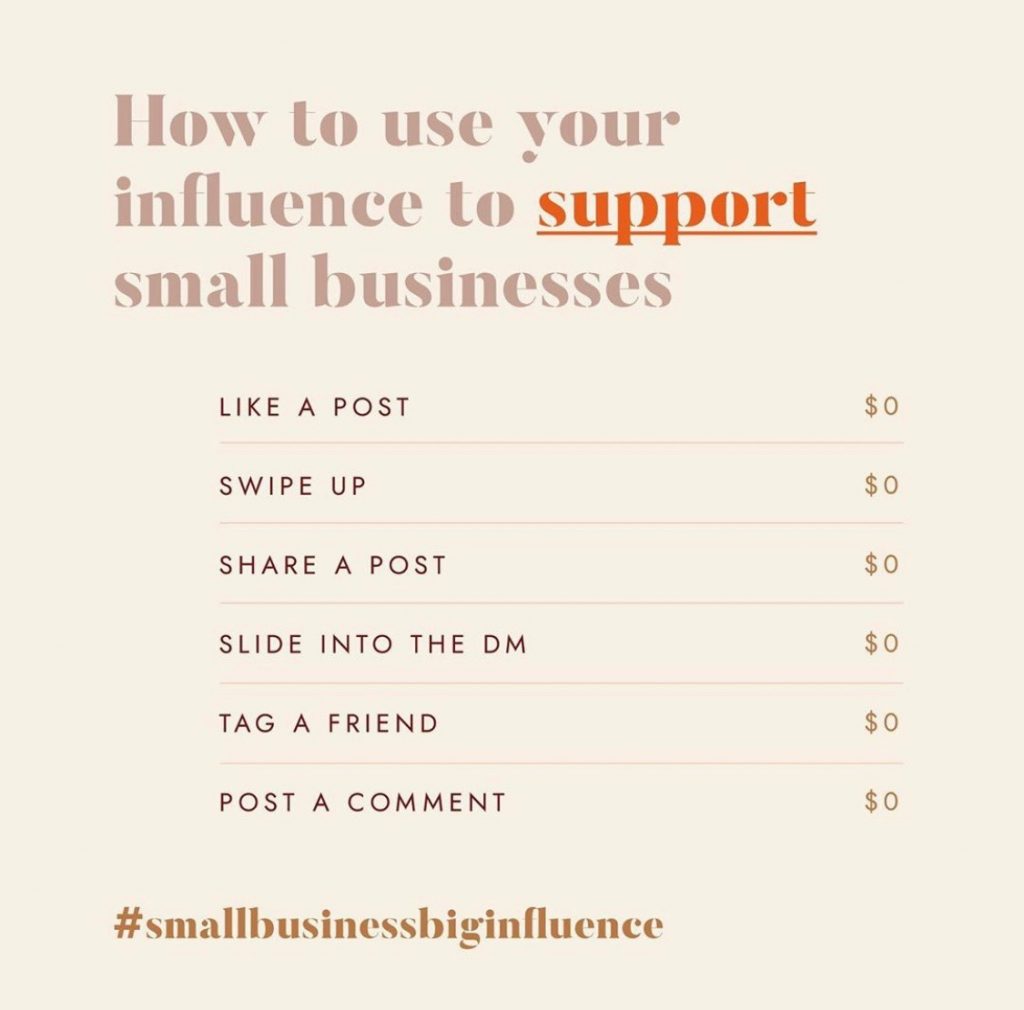 4. Other Resources
A list of helpful resources for small business owners. Learn more about small business loans & available grants, tips for staying productive when working from home, mindfulness practices to relieve stress/anxiety/fear and more!
Whenever I need a boost of inspiration, I watch her videos and listen to her podcasts. TONS of advice and resources through her on marketing, connecting with soul, and overcoming so many challenges as a small business owner.