Pop-Up Shop Display: How To Make Your Space Instagram Worthy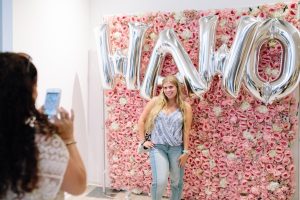 Have you ever walked into a store and immediately pulled out your phone to snap photos of "insta worthy" displays and decor? Whether people realize it or not, the design is intentional to encourage engagement and sharing.
The same mindset can get used for your pop-up shop display strategy. Pop-up shops can boost revenue and brand awareness for retailers and showcasing your products is just one piece of the puzzle. It's important to invest time and money in designing signage, and sourcing fixtures and lighting for your pop-up shop.
Imagine if half the people who walked into your booth took a picture and shared it on Instagram saying how much they love your design and products. Now imagine how many other people will learn about your brand from that one post. Creating an instagrammable space encourages engagement and provides customers with a memorable experience they associate with your brand.  
Here are a few tips to help you plan your pop-up shop display for your next event.
Know Your Audience
In a perfect world, every person who walks into the pop-up shop would be your customer. However, it's likely that your audience will be a percentage of the whole. If you're doing an event in partnership with other brands or at a market, you'll want to be sure to get your potential customers' attention as soon as they lay eyes on your display. In the same way that you plan your Instagram feed to get noticed by your potential and existing customers, think about how you can decorate your pop-up space to spike their interest IRL.
Traffic Flow
When you're setting up for your pop-up shop, take note of the traffic flow throughout the space. If people are coming from the right, make sure to put eye-catching displays on that side of your booth. Doing this can help you guide customers throughout your pop-up shop. Think about stopping points that you can create with fixtures, word art or products to keep customers engaged and slow them down as they walk through your booth. Doing this can help turn them into shoppers instead of browsers.
Keep it Simple
The more comfortable you can make the shopping experience the better it is. If you're doing a pop-up shop where many different brands are teaming up and sharing one space, customers can feel inundated as soon as they walk in the door. It's a lot to digest. Simplifying your pop-up shop display can help you get your message across right away and can help people understand what you're selling as soon as they walk in.
Put Thought Into Your Signage
Aside from displaying your brand name, there are also creative ways to use signage to engage with potential customers.
Postcards with your brand name, a small blurb about your business, and where customers can find you on the Internet and social media is a great way to make sure shoppers and browsers walk away with something that will keep your brand top of mind. You can use printers like, VistaPrint, Print Runner, or Moo to make postcards or signs and strategically place them throughout your space.   
Specials like, "Take a photo in our booth and share it on Instagram to get 25% off your total purchase," is another way to promote social shares.
Display frames made from acrylic or glass are an excellent way to showcase your brand name, price list, or special offers.
Email signup forms can be displayed at the counter or on the same fixture as your products. You can make it fun and provide incentives to get people to signup. It can be electronic on a tablet, or you can print a sheet of paper with the appropriate fields and attach it to a clipboard.
Word art in the form of an electric neon sign, artwork on the wall, or a catchy phrase on a postcard or sticker is a surefire way to encourage photo taking and Instagram sharing.
You may also like to read: Pop-Up Shop Planning: 8 Tips to Help Retail Brands Get the Most Out of Their Next Event
Fixtures and Lighting
Use fixtures that compliment your products visually and make it easy for people to see and shop your merchandise and photograph your display. If you're selling clothing, a combination of table space (for smaller items) and a rack for pieces that are hanging can help balance your area and give customers different ways to discover new products.
Hangers should be uniform, whether they are wooden, black, or felt (for example) is up to you, but make sure they are all the same.
Depending on the lighting the pop-up shop location provides, you may want to invest in a few spotlights to make sure each corner of your booth gets well lit, and products are visible.
Where To Get Inspiration For Your Pop-Up Shop Display
You can start by searching through Instagram to see what users are sharing as "insta worthy" spots. Look up hashtags like #InstagrammablePlaces and also take a look at some of your followers' Insta feeds. Searching for places that people have shared in the past will help you learn how you can get their attention during your next event.
What has been your most successful pop-up shop display? Tell us in the comments below!