Not Your Grandma's Fine Jewelry: Modern Heirlooms for Everyday and Everybody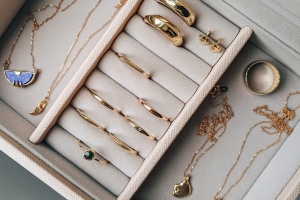 Let's go on a little jewelry journey together! You're scrolling through Instagram, and you see some gorgeous earrings. The caption says, "You don't have to splurge for fine jewelry! Gold-plated jewelry at half the price!" You've been looking for a staple pair of earrings you can wear every day, and you hone in on this cute little pair of gold studs. They're totally YOU, and with a $150 price tag, you enter your credit card info and celebrate a successful late-night online shopping experience.  
After a few months of wearing them every day, you realize the color starts to fade. After a year, the super thin plating starts to chip, and you begin to see that cheaper metal underneath. A few months later, the backing is getting loose. And now your favorite pair of earrings is headed to the trash. Then you head back to the same online shop, and repeat the cycle all over again.
Now what if you could find that perfect pair of earrings or piece of jewelry that made you feel like a total boss, and that you could wear every day without fear of that jewelry eventually corroding? Those earrings could assist you on that solo trip to Italy, be your companion as you work for that promotion, and add that extra little bit of confidence to your step as you shop for groceries, go for a hike, or head out on a first date. Would you pay a little extra for that, and make an investment in you? I know I would!!
That's where Liv Browne, founder of Brooklyn-based fine jewelry brand, Golde New York, comes in. She crafts her pieces out of long-lasting gold and sterling silver. Liv's goal is to create everyday fine jewelry for everybody and every occasion. She wants to separate the notion that fine jewelry is reserved for special occasions, and instead bring that joy to every day. She believes that we all deserve to invest in ourselves, by finding pieces that help define ourselves and that can last throughout the journey of life.
Read on to learn more about what inspired Liv to start her business, why she uses these specific materials, the care that goes into creating each piece, and how she manages a full-time job on top of running her business!
Erin Coles: Tell us about yourself, your background, and what you were doing prior to starting Golde New York?
Liv Browne: My name is Liv – creative director by day, jeweler by night. My background is in art and design and my career is in advertising – I've been living that agency life for 10+ years – but I've always had side projects going on for as long as I can remember. I started metalsmithing as a hobby and very quickly fell in love with everything about it. I founded Golde New York in 2017 and have been moonlighting as a fine jeweler ever since.
EC: What inspired you to start Golde New York?
LB: Well, I guess you could say I've always been an entrepreneur. When I was young, maybe around 10 or so, my cousin and I started a jewelry business. We'd spend the year "designing" and making our inventory (our friendship bracelets were a hit!) and sell it in front of the shore house our family would rent for a week each summer. Eventually we got a little too old to be selling beaded jewelry on the side of the road, but I knew then that I wanted to eventually work for myself.
As far as what inspired me – I spent many years daydreaming about starting and owning my own business, but it was never the "right time." In 2017 my father died – far too young – and it was a wakeup call. A month later I went to my first studio class with NYC Jewelry Lab, and the rest is history. If I could give one word of advice to anyone waiting to start something – it will never be perfect, or the right time, and it certainly won't come to you – so jump in. Head first!
(Shout out to the very talented and very patient Carolina Iwanow – I certainly wouldn't be here without her.)
EC: I am so sorry to hear about your father, and I'm sure he would have been so proud of you! Where does the name Golde New York come from?
LB: In all honesty, it's one of those things that just sort of fell into place. My last name is Browne (like the color, but with an "e") and all of my personal jewelry is exclusively gold, and so it was born from that. My boyfriend (hi, Joe!) swears it was his idea, but I have a different recollection…
EC: So clever – I love how the name came to be! Whether it was you or Joe, it's a great name. Why solid 14-karat gold and sterling silver? Are there benefits to wearing these metals over others?
LB: Hell yes! No matter what Instagram tells you, there is absolutely no substitution for fine jewelry. Even the highest quality plating and vermeil will eventually degrade and tarnish, but a solid gold or sterling silver piece will last – literally – forever. There's nothing worse than finding that favorite piece, only to have to say goodbye to it a year later.
Gold is not reactive to other metals, the elements, or the relentless march of time, which means there's nothing you can't do in solid gold jewelry. Sweat, swim, shower, sanitize your hands for the millionth time today… gold can take it all. While sterling silver isn't as bulletproof as gold, what we love most about it is that the more you wear it, the less care it requires. Water and air will oxidize silver over time, but the oils in your skin help delay this oxidation and keep your jewelry looking fresh.
If you're like me, you're looking for pieces you can wear every single day, maybe never even take off, and not have to worry about their eventual decline. Though the initial expense is greater, adding solid gold and sterling silver pieces to your collection is an investment in your jewelry box.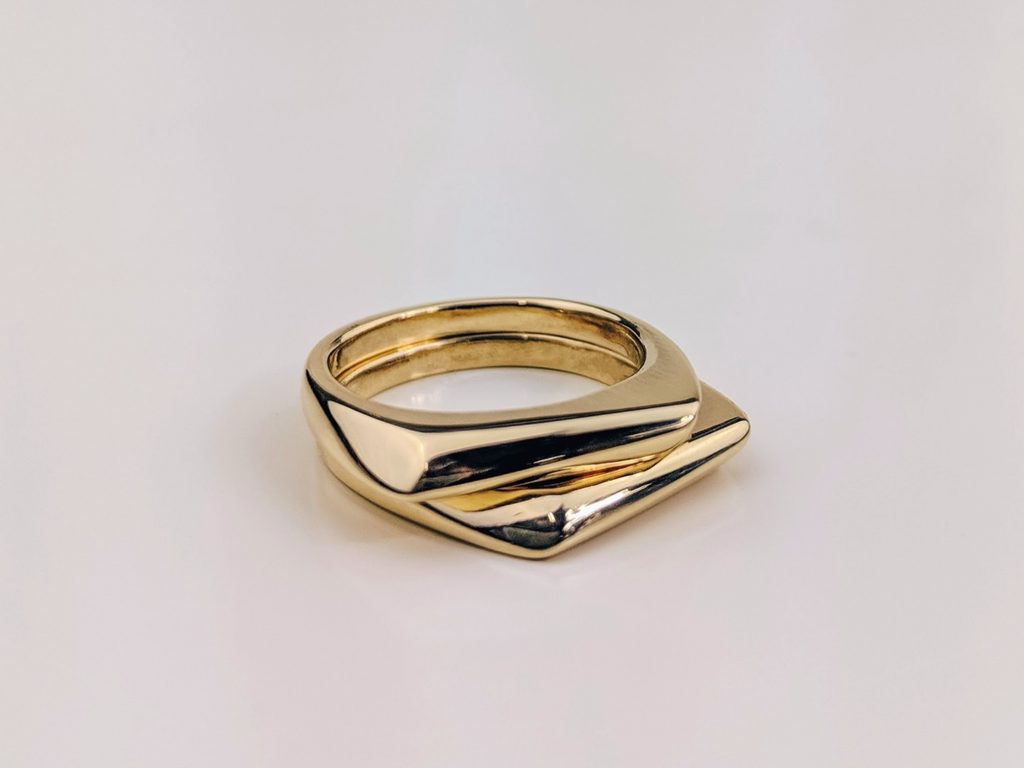 EC: That information is so helpful, and I love the idea of looking at it like an investment. OK, so I saw over on your Instagram that Golde New York is sustainable, responsible, and ethical. Tell us how!
LB: It's important to me as a jeweler (and consumer!) that my business function in an ethical and responsible way, with as little negative impact on our environment as possible. In the studio, we try to be as green as we can, using natural substitutes for toxic chemicals; outside of the studio we work exclusively with suppliers and partners who share our standard of business. Our gold and silver is recycled and sourced from industries other than mining (and our own bench scraps!) and we use stones ethically and responsibly sourced from conflict-free areas of the world. Each piece is packed in jewelry boxes and shipping boxes made of recycled materials, and all Golde packaging is recyclable. These are just a few of the ways we strive to limit both human and environmental harm as Golde continues to grow. For those interested, you can find more in-depth info at www.unitedpmr.com!
EC: That is amazing, and let's pause for a moment so everyone can give you a round of applause!! Where is your jewelry made, and what kind of equipment & space is required to create these pieces?
LB: All of my work begins at the bench in my Brooklyn studio. Some pieces begin in wax, others in metal, but each piece starts as a handmade original. After the first edition of a piece is developed and constructed, I file, sand, and polish it before sending it for a silicone mold. If the piece includes stones, the mold is made before the stones are set; however, some pieces, like our Luna pendant, never get a mold and are handmade every time to accommodate the variation in shape and size of the natural opals. All of Golde's casting is done at our casting partner in Midtown, Manhattan, and my library of molds allows me to efficiently and easily cast my designs as needed. Once cast, all the polishing, stone setting, and finishing is hand done in the studio by yours truly.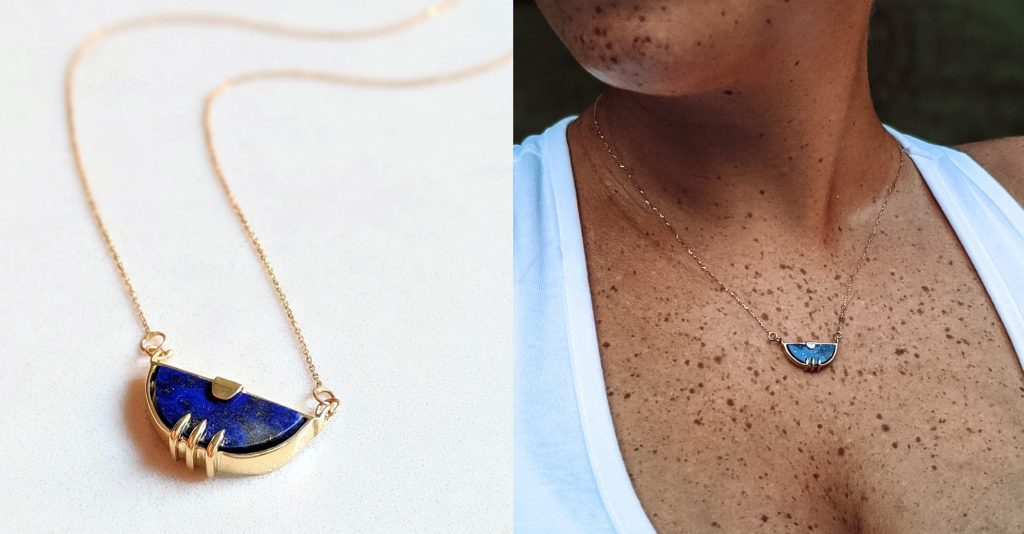 EC: And how long does it typically take to make one piece of jewelry?
LB: This process is very unpredictable and fluid, and varies with the complexity of each design. There are pieces that are relatively straightforward, and while they require hours to perfect and produce, there is a low margin of error or chance of things that can happen along the way. Our very first design (and best-seller!) the OG ring started as a wax carving. This design took about 9 hours from inception to completion, and each cast needs about 3-4 hours of hand-finishing before it's ready to ship out.
The OG is one of the less complex designs and there is very little that can happen once the piece is cast and ready to be polished. On the other hand, one of our latest pieces, El Monstruito (pictured above), is an extremely complex pendant and took about 32 hours from start to finish. The original bezel setting was made from copper and has 11 individual points of soldering, which meant the opportunity for many potential mishaps along the way. Every time a piece goes under fire, there is the chance of a previous soldering coming undone, something shifting, or even accidentally melting the piece (been there..). The first cast of this setting was done in 14-karat gold and due to the scale and complexity, took 8 hours to file, sand, and polish before setting the stone and attaching the chain. For me, stone setting is the most unpredictable part of the finishing process, mostly because I'm still learning and not great at it yet. In this case, Lapis is an extremely soft stone and there's always a chance of busting or cracking it as you set and burnish the stone in place. I cracked the first one I tried to set, and keep it in my stone box now as a reminder to take my time and be patient (it works about 80% of the time!).
EC: Oh my goodness, I had no clue it was such a long process. That's really amazing, and you're a true artist! How do you generate interest in your brand, and how do you go about educating your customers about your jewelry? What strategies and platforms are you using?
LB: Since launching in 2018, I've been using Facebook and Instagram to get the word out about Golde. Having a background in advertising has been major – I work on these platforms every day for my clients and having that experience and being able to translate it to work for my own business needs has helped tremendously. In addition to featuring my collections on Instagram, I've found a lot of interest in behind-the-scenes and process-related content! It's a great way for my followers to get a peek into the studio with me and a sense of what goes into each piece. Aside from social media, Golde New York has been featured in Real Simple and Vanity Fair, which was super cool and has helped us reach a broader audience.
EC: Phew, thank goodness for that advertising experience! What has the customer feedback been like? Give us an example of what your customers are saying!
LB: As a jeweler, it makes me feel so great when a customer is happy with their purchase. Knowing there are people who love my pieces as much as I love making them is what keeps me going in the studio. I love creating, and I love to know people love what I'm doing.
A few of my favorite words over the years from happy fans:
"I love this jewelry—every design is classic yet unique. I want one of everything."
"I'm in love with my OG ring. It's the most comfortable ring I've ever worn. I never take it off."
"I get so many compliments on my rings (the Cosmic Stack, if anyone is interested!). Someone asks me at least once a day where I got them.!"
EC: Where do you sell Golde New York? What is your plan of where to sell moving forward?
LB: For the past 3 years, Golde has been sold exclusively online at www.goldenewyork.com – but we have an exciting announcement! This upcoming weekend (November 14 and 15, 2020) we'll be featured at the Here Nor There boutique pop-up in the East Village! I get a lot of people asking where they can find Golde New York IRL, so I'm thrilled to be partnering with Here Nor There. Come by to check out Golde New York in person!
EC: Who are your ideal customers?
LB: Golde New York is for every day and every body. My ideal customers are those who want an effortless, classic aesthetic with the quality, durability, and lifespan of solid gold and sterling silver fine jewelry. Golde New York is a collection for those looking to invest in and expand their everyday fine jewelry collection.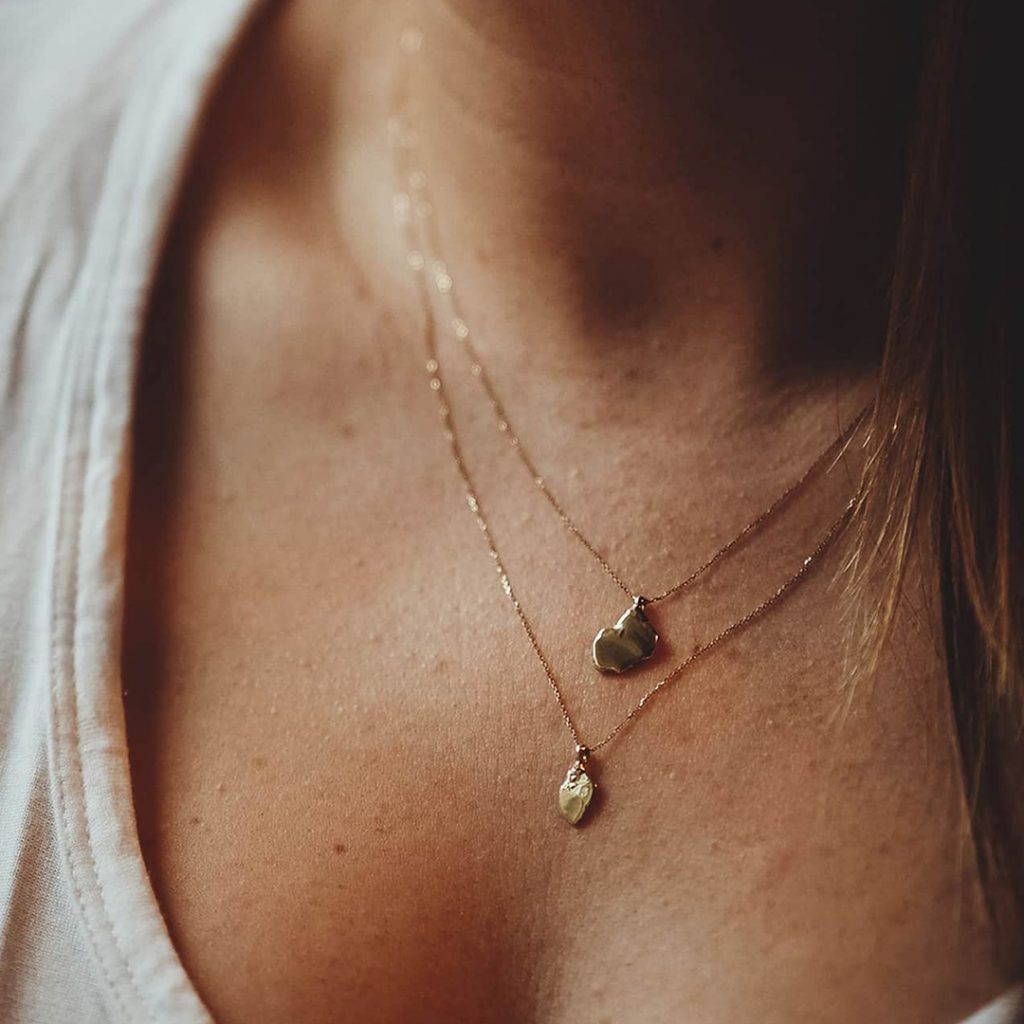 EC: If someone has never treated themselves to a handmade, high quality piece of jewelry before, what piece would you recommend they start with?
LB: Buying a good piece of jewelry can be nerve wracking, especially if you're someone who doesn't wear a ton of jewelry already. It's an investment in your wardrobe and yourself, so finding the pieces that are perfect for you is important. There are a few different ways to decide which piece to start your collection with, and it's different for everyone.
If you're someone who already wears jewelry consistently, ask yourself what pieces you wear the most and if there is one specific item that is your favorite. Think about why you like and wear that piece the most—is it comfortable? Easy to wear? Something you never take off?
For those who don't wear a lot of jewelry or may not wear it consistently, ask yourself what you're looking for from a piece of fine jewelry. Think about your personal style and how you want to complement it. Are you looking for something to wear everyday? Do you like simple pieces or something bolder? What is a piece you can easily incorporate into your daily look/life?
For me, rings are the backbone and most important pieces of my collection. I wear the same ones every day and with every outfit, so having a few different favorites to wear and stack with each other is perfect as the center of my look.
And if you're still having trouble deciding, I love doing free jewelry consultations to help people find the perfect piece for them. All it requires is an email!
EC: What has been your biggest challenge in building your business thus far?
LB: Running a business is a ton of work and doing it on top of a full-time job sometimes feels insane. I'm a one-woman show and some days I simply don't have the time in the day to dedicate to growing my business. This has been the biggest challenge so far, specifically expanding my Instagram following and presence. That's a full-time job in itself and it's been tough to gain momentum there while also designing collections, fulfilling orders, and creating new pieces.
EC: I can't believe you're running your business on top of a full-time job. That is impressive! What is the best piece of business advice you ever received?
LB: "Believe in yourself and follow your gut." It's definitely not always easy, but it's never steered me wrong.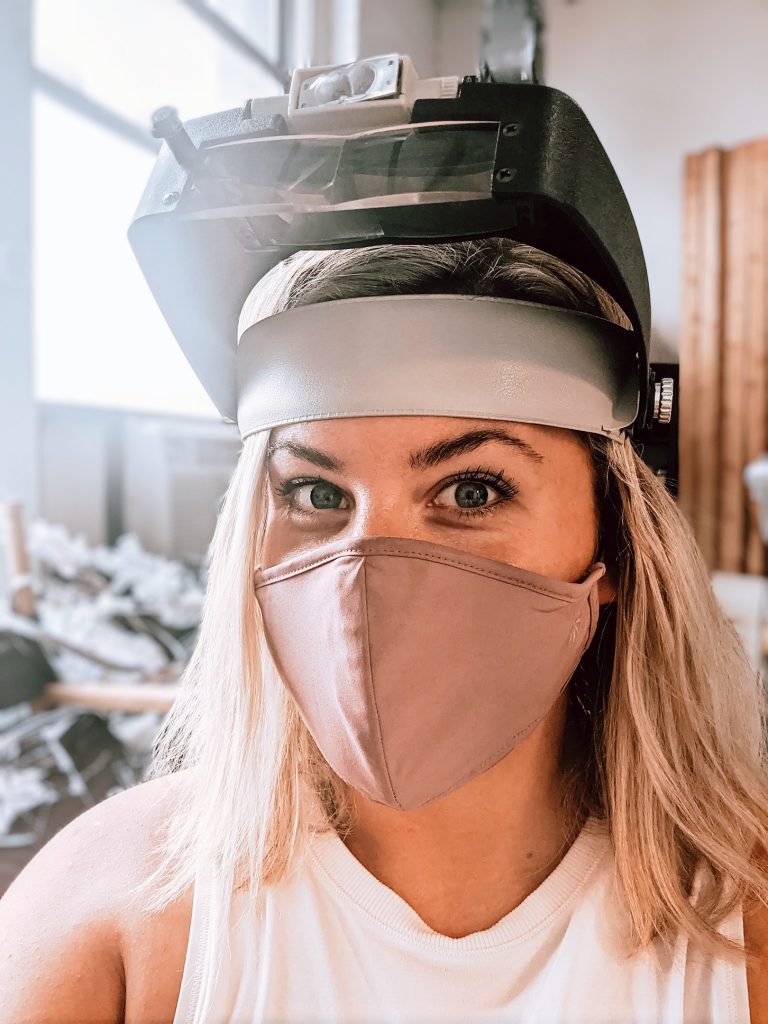 EC: Such great advice!! And what advice would you offer to a fellow entrepreneur hoping to break into the jewelry space?
LB: Don't give up and never stop learning. The jewelry market (especially on instagram) is so incredibly saturated. In the beginning, it can (and will) feel like you are floating aimlessly in a sea of competition (because you are), and that you'll never break out from the clutter. There will be brands out ahead where you want to be and there will be brands who aren't where you are yet, and it's important to remember that building a successful brand and a business is not a linear process. You can't rush it. Find what you love, figure out what makes you unique, and perfect it – and don't forget to celebrate the small wins along the way.
EC: Love that! That's advice any entrepreneur could benefit from. When you're not working on Golde New York, what are you doing?
LB: You can find me at the dog park or on a looong walk with Fredo, my frenchie. And a coffee.
EC: How do you balance or integrate all the facets of your life – all while making time for personal relationships and self-care?
LB: It's not easy, I'll tell you that. And I'm not always successful. I'm a compulsive list-maker. I love to make lists and I love the satisfaction of crossing something off. Spending all hours at home as a result of the pandemic has made me much more conscious of how I'm using every part of my day. At home, it's easy to get swallowed up in something small or meaningless, resulting in a lot of wasted time. I've found that attributing a schedule to my to-do lists with specific times and timeframes, and setting an intention and/or goal for each task has helped me make the most of my "working" time and has kept the "me-time"—time that isn't spent on work or Golde—even more protected.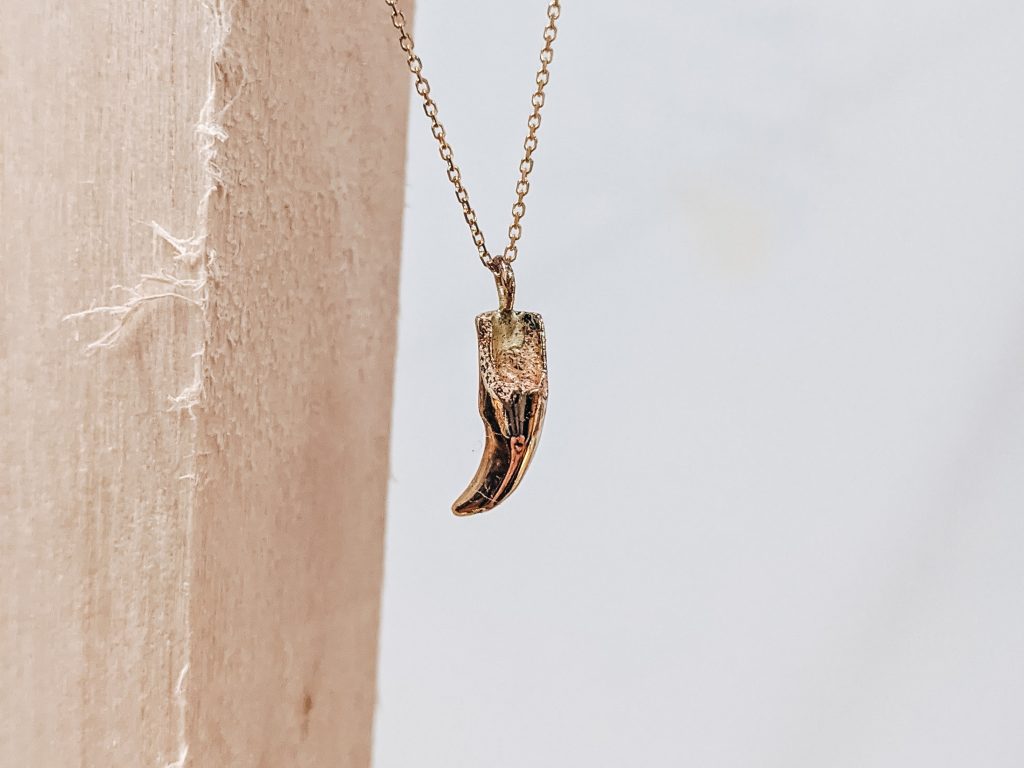 EC: What's next for Golde New York?
LB: There are a few brand new things we'll be sharing in November! The first is our launch of the Fang Collection (pictured above) – custom, solid gold editions for all my jewelry-lovin' pet parents. DM us on instagram for more details! Another is our boutique pop-up at Here Nor There in Manhattan's East Village. Until this month, Golde has been exclusively online and we're excited and proud to share our first ever pop-up!
As far as next year, we've got a new collection in the works and will be having our annual planning meeting at the end of the month. Give us a follow on instagram for the latest on sales, new pieces, and everything Golde New York!
If you're still not convinced that you deserve to invest in yourself, or simply don't know where to start, reach out to Liv! She can help you determine which piece of fine jewelry will be best for you to start with – and which piece will be your best companion on your journey through life.
Enjoy 15% off of your order before November 18th by using WAWOGOLDE