Meet Taylor Made: Truly Personalized Nail Care with a Personal Touch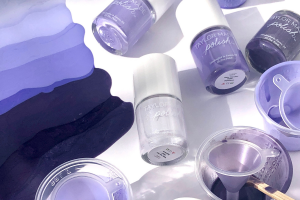 It has been just over a year since we ventured into the then unknown: the COVID-19 pandemic. A lot has happened over the course of the year including a total upheaval of the way we live our lives, the resurgence of the Black Lives Matter movement, a stressful Presidential election, and so much more. All of these happenings have caused many of us to reflect on what's truly important to us. There has been a newfound focus on diversity and inclusion, as well as physical and mental health. We've also learned that although we need and crave in-person interactions, there are plenty of opportunities to connect with the ones we love virtually. Whether in person or online, the goal is to connect!
Now that we're focusing more on these aspects of our lives, we're also looking to support companies that believe in and operate by the same principles. And it's not always easy to find a company that truly checks all those boxes! Well, we have some good news! We know of one company that's not only checking all the boxes, but one whose story of growth in the midst of this pandemic is an inspiration! Introducing: Taylor Made.
Taylor Made is a personalized non-toxic nail care company founded by Veteran, Mother, & Entrepreneur Vanessa Ungvarsky. So how exactly is Taylor Made checking all these boxes? Well…
Vanessa focuses on sourcing from diverse companies, including small, woman, minority and Veteran owned companies.
All Taylor Made products are good for you! They're non-toxic, vegan, 10-free, gluten free, organic, paraben free, and cruelty free.
Taylor Made promotes self-care by encouraging you to take time for YOU. Take a few moments away from your busy life and make your own polish – then give yourself a shiny new manicure!
Vanessa wanted to help create opportunities for her customers to share moments and memories together, so she created Polish Party Packs! They include everything you need for a perfect event you can do anywhere – even virtually!
Read on to learn more about Vanessa, why she cares so much about these things, her entrepreneurial journey, and to get some must-hear advice!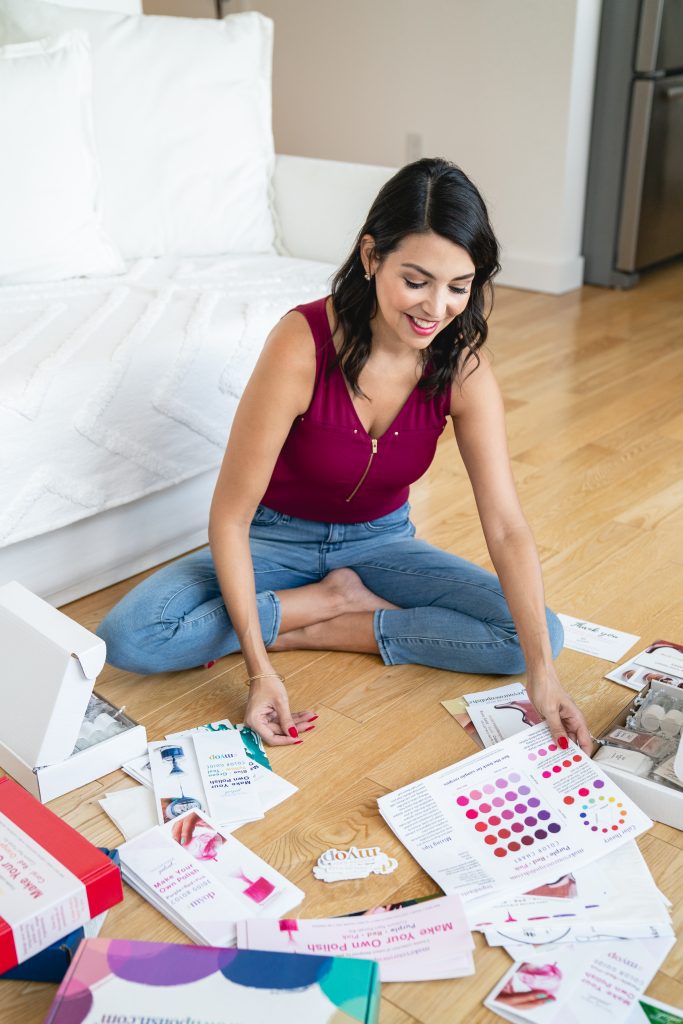 Erin Coles: Tell us about yourself, your background, and what you were doing prior to starting Taylor Made?
Vanessa Ungvarsky: In short-form, I can describe myself in four words: Veteran, Professional, Mother, Entrepreneur. I'm originally from Houston TX, the eldest of 3 girls, and I've been a creative my entire life. With a humble upbringing, I had to work very early, earning $4/hour at the Mall when I was 15 to help my family pay the bills. This instilled responsibility and grit, but at the same time, I quickly learned that I really enjoyed working and I've been busy ever since!
I enlisted in the military to raise my station in life. I thought, "a job with meals, shelter and healthcare included?…sign me up!" At the same time, I knew the right path for growth was education, so I started going to school at night and earned a 4-year degree in 2.5 years, (I doubled up on classes because I was expecting my first son and wanted to have as much balance as I could when he arrived). Then I earned an MBA at night while working in the corporate world.
EC: Wow, that's such an inspirational story! What inspired you to start Taylor Made?
VU: Like I said, I like to keep moving, and I like to keep growing. And as I grew into clean living and eating, I did more research on my nails, the products I was using and knew I needed to make a change. The beauty industry and product claims are unfortunately not regulated and enforced like they should be. When I couldn't find or trust the right products for me, I decided to create them myself. I started with organic cuticle oil and ventured into making my own nail polish and Taylor Made was born.
EC: It's wild how many beauty products are toxic – especially nail care! I love that you set out to make a product that people could trust. Why is it important to create products that are vegan, paraben-free, and 10-free?
VU: Life is messy, and we need to avoid as many toxins as possible on a daily basis; every little bit helps! Vegan products have a smaller environmental footprint and "10-free" means we've removed the 10-most harmful chemicals that have shown to cause cancer and fertility issues in women. Long-term exposure has led to real-world medical issues with some of our clients, and their medical issues subsided when they switched to Taylor Made.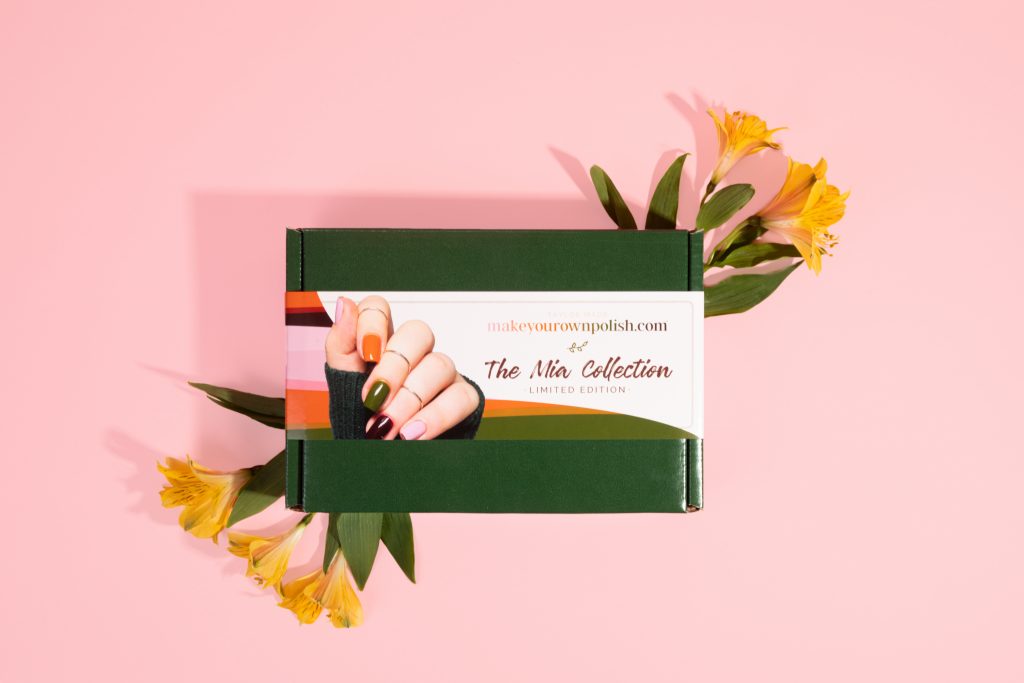 EC: And what is the mission of Taylor Made?
VU: Our mission at Taylor Made is to: "Strengthen the connection between consumers and their cosmetics through communication, education and hands-on experiences."
EC: Where does the name Taylor Made come from?
VU: Taylor Made comes from my maternal grandparents, the Taylors. I spent so much time with them growing up. My grandmother taught me how to cook, how to sew, how to express myself through art and both my Mima and Papa supported me in every endeavor. It didn't matter what it was, they always reinforced my creativity with positive feedback and always tried to help make it happen for me.
EC: That's beautiful! I understand you began your company with the intention of sourcing from diverse companies. What was the goal you initially set out for yourself, and why is this so important to you?
VU: Diversity is very important to me. My initial goal was to source at least 80% from diverse-owned companies including small, woman, minority and veteran owned. Most think this goal is a reflection of me, which is true because I am all those things, but it's actually because I've seen first-hand the benefits of sourcing this way. When you source from non-diverse companies what's often lost is the personalization, innovation, flexibility, and most importantly, the investment itself. When push comes to shove, often you don't get to connect with a real person. If something goes wrong, are they going to help you make it right? During the onset of the pandemic I was able to still get ingredients and bottles and my diverse supplies, because we're both small businesses helping each other and we were invested in each other. Where I was buying from a big corporation – which was also hit by the pandemic – they didn't care about my family or my survival and there was no one to take my call.
EC: We here at WAWO love and applaud the focus on diversity! So where are you based, and where are the Taylor Made products created?
VU: Our studio is based in Easton PA and that's where we create, package and ship all our products. Easton is the home of Crayola, Larry Holmes and the founder of Math-24, and I'm hoping it will be known as the home of Taylor Made someday!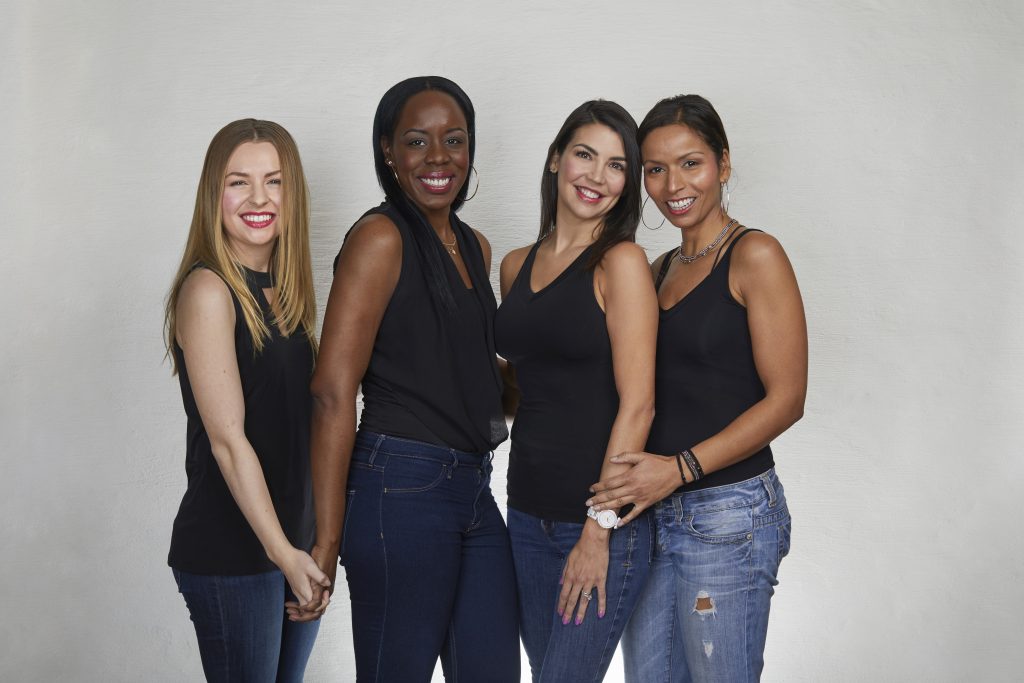 EC: Yes!! Can you walk us through what's included in the Make your Own Polish Kit? Then share a little bit about the process of actually making the custom nail polish!
VU: These kits have it all! When you open the kit it's visually stimulating, and the fun starts right away. Each kit contains dry and liquid colorants, tools, supplies and complete instructions to make 3 individual bottles of nail polish. And it's the same high quality, long-wearing safe nail polish we've had for years in our studio. The only difference is YOU get to design your own colors!
EC: What other products do you offer in addition to the Make your Own Polish Kit?
VU: We offer a full line of safe nail care products, like our soy polish remover, 100% organic cuticle oil and complete manicure sets. And of course, we offer accessory packs for anyone who'd like to build on what each kit can do.
EC: So cool! So how do you generate interest in your brand? And how do you go about educating your customers about your products? What strategies and platforms are you using?
VU: Much of our brand interest has come from word of mouth and so our growth has been organic. Our customers love their experience and most often share it with friends and family. We're continuing to build collaborations and relationships that help us showcase the meaningful experience behind creating your own polish. For March, we're working with Brooklyn-based nail blogger and polish enthusiast @miasolx to show the colors she designed using our Make Your Own Polish kits, and Mia has been such a pleasure to work with. She shares our philosophy for clean beauty and natural nails as well as many ethical and moral issues that are important to me as an individual and a company.
EC: And what has the customer feedback been like? Give us an example of what your customers are saying!
VU: Our feedback has been tremendous. Before launch, we hosted 6 weeks of focus group meetings that included participants of all ages, 5 years old to 68 years old to be exact. We had a lot of fun and we learned so much, incorporating much of the feedback so that we could closely replicate our studio experience within every kit and ensure every at-home experience was amazing.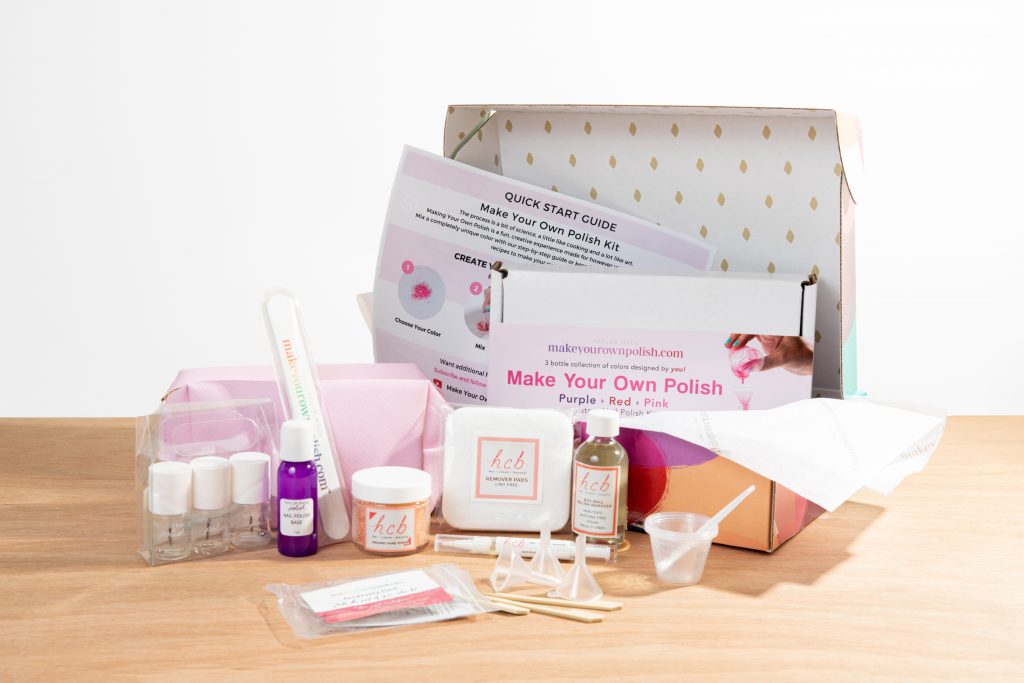 EC: Where do you sell Taylor Made – Make Your Own Polish? What is your plan of where to sell moving forward?
VU: We sell Make Your Own Polish kits on makeyourownpolish.com of course! Stop by the site and check out our latest videos and 'how to' tutorials! Very soon, we hope to sell our kits in a business near you!
EC: Who are your ideal customers?
VU: How much time and space do we have? Our customers are all ages, and of course many are beauty enthusiasts, creatives, moms, sisters, daughters, friends and family that love color, crafting, clean beauty and spending time together.
EC: In what ways did you have to pivot your business due to COVID?
VU: With COVID, we pivoted in all ways 😊 Our entire business model is different. Prior to the pandemic shutdown, 45% of our business were in-person events, 45% was wholesale and only 10% came from ecommerce.
As a result of the shutdown, our in-person and studio events were completely cancelled. Many of our wholesale accounts either went out of business or decreased their orders significantly. Our only option was going directly to customers.
It broke my heart to have to cancel birthdays and celebrations and that's when I came up with the idea to put our experience into kits. It was tough to make the transition because we were not set up for kits. Plus, supply chains globally were stressed so it was difficult to find the bottles, boxes and labels to assemble our ingredients into boxes to be shipped. Luckily, we figured it out and the kit concept was born! And through the kits we found that we could continue to spread joy and give people a fun, safe and engaging activity.
Another amazing part about our kits is that they have allowed us to reach and connect with so many more customers beyond our local reach. We're in 34 states (and counting) and we've reached Denmark, Spain and the UK. Our shop still hasn't reopened (although we have a presence for local pickups) and we haven't needed to. Every color you once created in our studio, you can now create with our kits. If you want to have a party – you can!! And you can do it anywhere with one of our party packs!!
EC: That is so amazing! I'm so impressed that you were able to pivot so successfully. And I'd love to know – what has been your biggest challenge in building your business thus far?
VU: Our biggest challenge has been hiring dedicated and qualified people that are committed to our customers, concept and high clean beauty standards. Our customers don't settle for good enough, and like them, we want the best!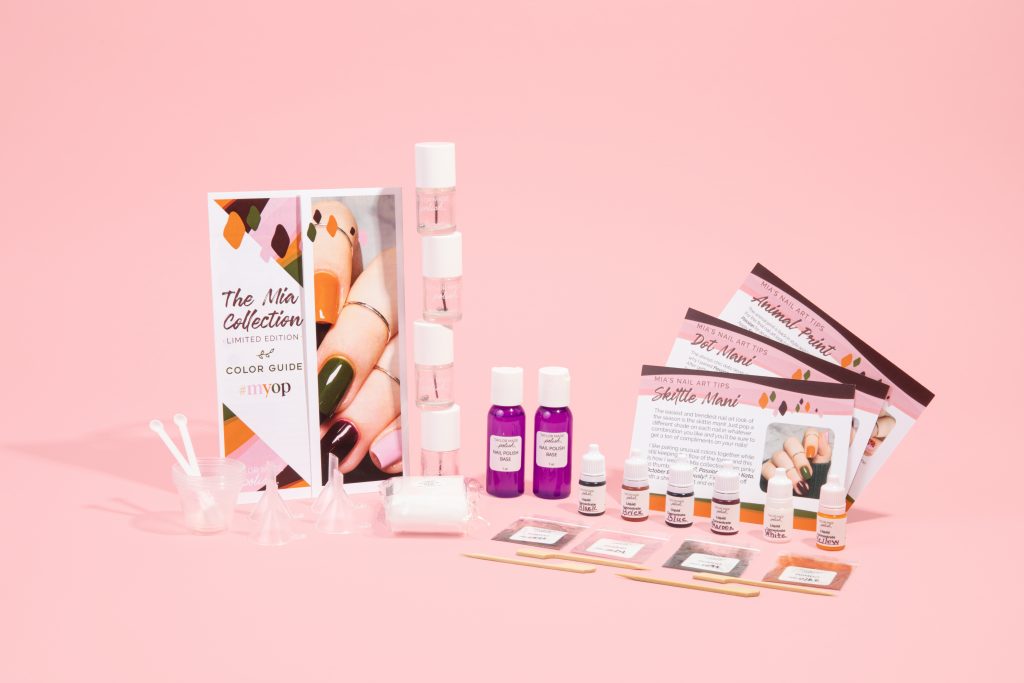 EC: What is the best piece of business advice you ever received?
VU: Stay focused. There is A LOT of noise out there, people in your ear and things that can bring you down. One phrase that sticks with me is from an Olympic swimming gold medalist: "Winners focus on winning; losers focus on winners."
EC: What advice would you offer to a fellow entrepreneur hoping to break into the beauty space?
VU: If you're interested in a product-based business, file a trademark and any patents immediately! Shout out to my attorney Victoria Velazquez Walker (IG @thelegalbossbabe) – she's the best!! Next, seek advice from product professionals (not service based); there are key differences between product-based and service-based business, it's like oil and water, and this will manifest in everything you do from messaging to technology to customer-engagement strategy. I can't stress this enough 😉
Finally, remember that the beauty market is inundated with new products and there are massive corporations constantly innovating, so it can be challenging to differentiate yourself. Find your niche and make it authentic to you. Other beauty owners have come to me before with ideas or wondering "what went wrong" when they saw someone else's success with a fad or product and tried to do the same thing. The problem was it wasn't authentic to them – it was a copy of someone else's idea, creativity or content. Learn 'how' from others but learn 'what' from you…the thing itself needs to be authentically you.
EC: That's such wonderful advice. So when you're not working on Taylor Made, what are you doing?
VU: Running or cooking, I love doing both of those things because one gives me energy and the other calms me down, and they both make me feel fulfilled.
EC: How do you balance or integrate all the facets of your life – 3 boys, your relationship with your husband, your business, and so much more – all while making time for personal relationships and self-care?
VU: I know it's fashionable to say we can 'have it all', but I'm not sure that's accurate. There are sacrifices I'm making, and I have made with myself, my family, my kids, my husband and my business, and it goes both ways. I would encourage people to be realistic and honest and find a balance that works for you because even mine doesn't work for me all the time – I have to make adjustments when it's not working.
EC: What's next for Taylor Made?
VU: We want to reach out and touch people. We're excited to build on our word-of-mouth marketing with the recent launch of our new website, YouTube channel and collaborations!
EC: Is there anything else you'd like to share with us before we sign off?
VU: Life motto: I'm not here for a long time, I'm here for a good time. I've said this for years. It was meaningful before COVID but so much more now. You can't celebrate the drink you didn't have, the dance you didn't boogie down to or the chance you didn't take.
Drink up, dance on the table and go for your dreams!
Wow, Vanessa is a total BOSS! I'm just going to go ahead and bookmark this page now so that I can refer to Vanessa's advice again and again! 💖 If you want to purchase some nail care products for yourself or a friend, or want to follow along on Vanessa's business journey, check out www.taylormadepolish.com or follow on Instagram @taylormadepolish.