Meet FAUXMO: Premium Non-Alcoholic Cocktails to Cure FOMO Once and For All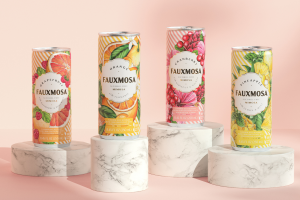 Have you ever had an amazing night out with friends, only to wake up the next morning with a headache, and that sick feeling in your stomach from drinking just a little too much? Or maybe you had one too many glasses of wine while binge-watching "Tiger King" in the midst of this global pandemic. Most of us have been there, and after a night like that some of us have even proclaimed "I'm never drinking again!" Alas, most of us end up drinking again, and end up with that very familiar hangover over and over again. And if we do stop drinking for a while, it's usually part of a trend – like "Dry January," where thousands jump on the bandwagon of drinking no alcohol after the indulgent holidays.
But all of this might actually be changing, and "Dry January," is turning into a year-round pledge. The mocktail and non-alcoholic beverage market is growing, and there has been a massive trend towards people drinking less alcohol altogether. According to Mintel, a global market research firm, "The wellness movement has extended to the alcohol market with many wellness-minded consumers rethinking their relationship with alcohol in order to lead healthier lives. Moderation or complete abstention are trending in some circles and terms like "sober curious" and "mindful drinking" are entering the zeitgeist."
Even as more people are choosing to live a sober lifestyle, or are "sober curious," and decide to drink much less, being around friends who decide to drink, or simply missing the taste of alcohol can make the switch a bit more difficult. It's that dreaded FOMO, (fear of missing out) that quakes even the most mindful of the non-drinkers. That's where FAUXMO comes in!
Amanda Moore, founder of FAUXMO, started her own premium non-alcoholic cocktail line, FAUXMOSA, based on her own curiosity about living a sober lifestyle. It's FAUXMO's bold ambition to make a dry lifestyle accessible, desirable and acceptable promising an experience with the equivalent ceremony, consideration and sophistication as similar alcoholic drinks.
Read on to learn more about FAUXMO, a sober curious lifestyle, Amanda's journey, and her best business advice!
Erin Coles: Tell us about yourself, your background, and what you were doing prior to starting FAUXMO?
Amanda Moore: Prior to FAUXMO, I led digital and social marketing globally for Marriott International's portfolio of hotel brands and award-winning loyalty program, Marriott Bonvoy. Working for the world's largest hospitality company has given me unique opportunities and insight into anticipating the needs of consumers and how to forecast ahead of trends, including food and beverage. I'm lucky to have spent the majority of my career leading and developing marketing strategies for some of the world's biggest brands including Corona, Target, and L'Oreal. The FAUXMO brand, packaging, and end-to-end consumer experience has definitely been inspired and informed by my background in marketing.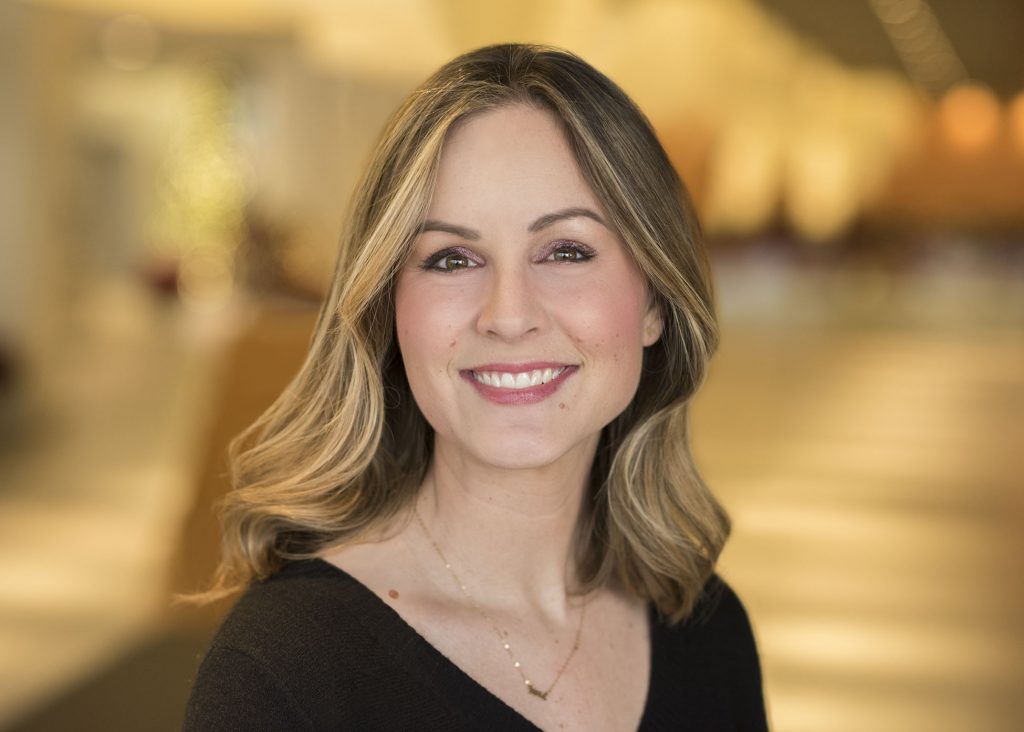 EC: Wow, that's amazing! What an impressive resume! What inspired you to start FAUXMO?
AM: FAUXMO was inspired by my own sober curious journey and the teetotal* experiences of the women in my life. As I continued to explore my own relationship with alcohol, I very quickly discovered that colleagues, friends and family were opting out more than they were opting in, but what we experienced when we reached for a non-alcoholic alternative were limited options that lacked sophistication. What we could find on bar menus, on store shelves or online left us feeling like we were missing out, sacrificing great taste and a sophisticated experience for good health. So FAUXMO was born, and now no more will missing alcohol mean missing out.
*Teetotalism is the practice or promotion of complete personal abstinence from alcoholic beverages. A person who practises teetotalism is called a teetotaler or is simply said to be teetotal.
EC: Where does the name FAUXMO come from?
AM: The "fear of missing out" (FOMO) refers to the apprehension that one is either not in-the-know or is out of touch with social events, experiences and interactions. When people aren't drinking, they don't want to compromise on the experiences they have. For those that are sober or sober curious, compromise can be a far too common occurrence especially when it comes to finding quality non-alcoholic options. We believe that missing alcohol should never mean you're missing out. Goodbye FOMO. Hello FAUXMO. It represents a regret-free lifestyle that's not only desirable but accessible and acceptable.
EC: I love that! And I know that your mission goes much deeper than the fear of missing out due to a sober or sober curious lifestyle. Tell us a little more about how you give back, and why that's important to you.
AM: I knew if given the chance I would someday have the opportunity to build a company that is in business to do more than simply promote and sell a product or service, but to build an organization with thoughtful intention designed to lend our platform to educate, inspire and enrich people's lives.
While our mission is to create a range of products that ensures mindful drinkers never miss out, having to sacrifice great taste for good health, we have a greater vision. We believe the fear of missing out is real for women and girls around the world when it comes to clean water, healthcare and education. We believe it's our collective future that's truly missing out, for a world where women and girls are stifled is a world that will never reach its full potential.
That's why FAUXMO is committed to supporting these causes by pledging a percentage of our total sales to organizations, like Water.org and Room To Read, devoted to these missions. With every FAUXMOSA purchase there can be progress.
EC: Wow that's so powerful, and such a gracious thing for you to do. Can you share a little more about the process of using real California grapes that you'd typically see in an alcoholic wine?
AM: It's important that our drinks are crafted and served with the equivalent consideration and ceremony as similar alcoholic cocktails, including flavor profile. Our grapes are critical to that experience. Anyone can combine orange juice and seltzer, but each FAUXMOSA recipe was carefully and thoughtfully crafted. It took us almost two years to get it right. We're lucky to have amazing partners throughout California's world-renowned wine region that help us source the highest quality Chardonnay, Sauvignon Blanc and Grenache grapes from local vineyards. It truly makes all the difference.
EC: Whoa – two years to get it right! That's commitment! Where is FAUXMO made?
AM: Our co-packing facility is located in Seabrook, New Hampshire. It ends up being a convenient excuse to sneak away to Portsmouth or Portland, Maine for a little weekend.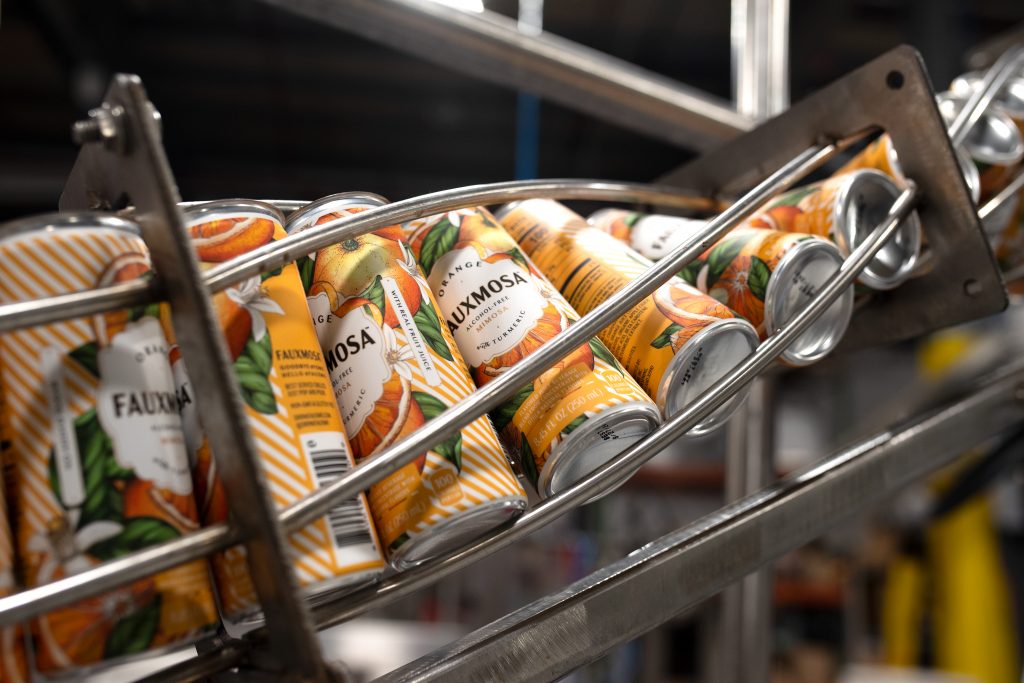 EC: So nice – the Northeast is beautiful! How do you generate interest in your brand, and how do you go about educating your customers about your product? What strategies and platforms are you using?
AM: Not a day goes by that someone isn't discovering a new product or brand via social media, especially on Instagram. We invest quite a bit of time carefully curating our content, engaging with our community and building relationships with micro influencers on the platform and it's paid off. We also rely heavily on email marketing, paid social and paid search to drive traffic and conversions in a way that's both effective and efficient with our limited startup budget.
EC: What has the customer feedback been like? Give us an example of what your customers are saying!
AM: They've echoed our sentiment and frustration that it's been challenging to find non-alcoholic drinks that don't involve sacrifice, especially when it comes to great taste. The reviews are in! Our packaging makes the experience special, and then delivers when it comes to quality, flavor profile and taste.
"My husband likes a little kick in his drinks and since he stopped drinking, it's been hard to find non-alcoholic drinks that have enough flavor for him. Cranberry with Hibiscus & Ginger does the trick."
"Grapefruit is one of my favorite morning drinks so of course I had to try FAUXMOSA Grapefruit and it did not disappoint. I could not get enough. As I was cracking open my 2nd can, I thought, 'Maybe I should slow down?!?', but then I remembered, this is FAUXMOSA, I can drink as much as I want with no hangover. So…bottoms up!"
"I couldn't get enough of this yummy goodness! The pineapple, lemon and mint flavors work deliciously together and create a refreshing drink perfect for a warm summer night…or any night…or day."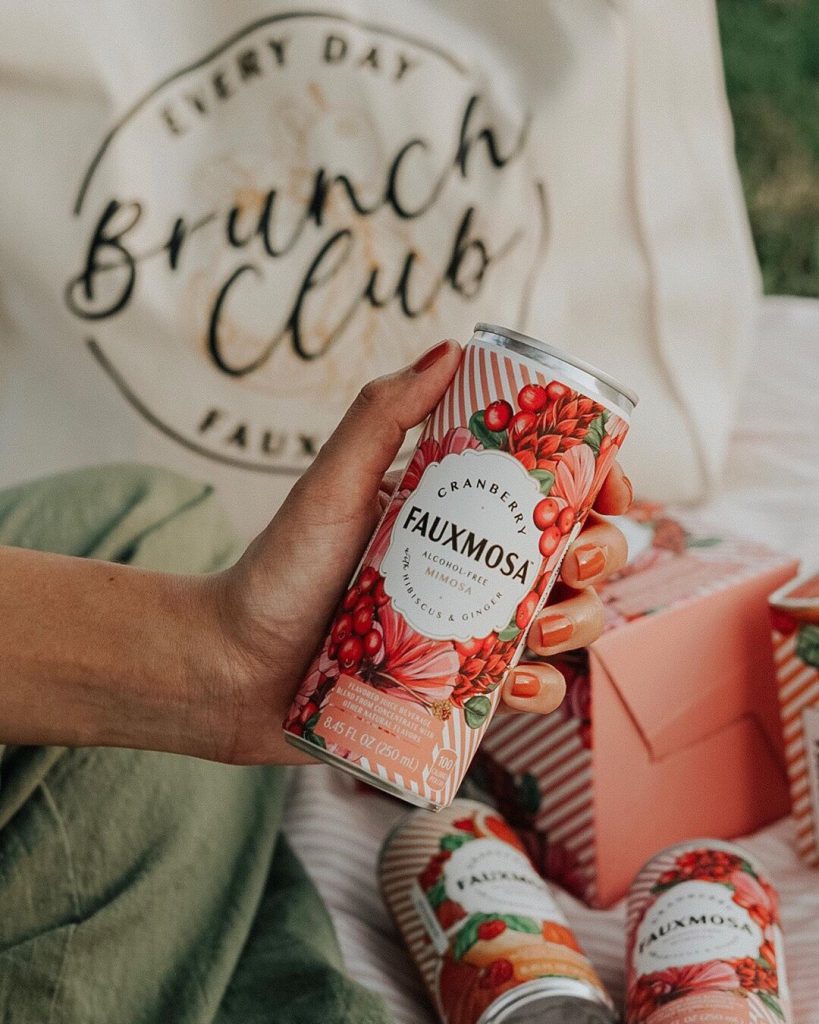 EC: Those are such awesome reviews! I've definitely gotta try some! Where do you sell FAUXMO? What is your plan of where to sell moving forward?
AM: In response to the COVID-19 pandemic, our sales and distribution strategy has pivoted to a direct-to-consumer launch in the U.S. and Canada, allowing our consumers to effortlessly access their dry lifestyle at home available via drinkfauxmo.com and Amazon, including free shipping on orders over $25.
As the country begins to recover from the impact of the pandemic, our growth will be fueled by on and off-premise distribution. You'll discover FAUXMOSA at the most sophisticated bars, Michelin starred restaurants and luxury hotels. We're also seeing significant traction with off-premise accounts like premium grocers and beer, wine and spirits retailers.
EC: What are some of the benefits of choosing a non-alcoholic beverage over alcoholic beverages?
AM: The benefits can vary from person to person depending on your previous consumption habits. For me personally, when I abstain from alcohol I notice more mental clarity, better sleep, brighter skin and more energy throughout the day. That's reason enough for me to opt out more often than I'm opting in.
EC: What has been your biggest challenge in building your business thus far?
AM: All startup founders and CEOs are required to wear multiple hats, which requires you to be equally adept at managing finances, marketing, production, and distribution. I thrive when I'm researching and learning, and with no previous experience in the beverage industry my capacity and eagerness to learn is never ending. It's led to a lot of early mornings and long nights. My biggest challenge so far has been balancing each piece of the business while still finding time to expand my own skill sets. 
EC: You have an MBA – congrats! How has your MBA helped you as you grow FAUXMO?
AM: My MBA community has been an unexpected resource in helping to network in the beverage industry and scale FAUXMO's distribution. People I haven't talked to in years have graciously offered their time, energy and connections to help position us for success. The sense of community that resulted from pursuing my MBA is something I've always cherished and will be forever grateful for. Aside from that, I credit quite a bit of my financial acumen to my MBA curriculum. There's not a day or minute that goes by where I'm not flexing that muscle.
EC: What advice would you offer to a fellow entrepreneur hoping to break into the beverage space?

AM: The business climate for beverage startups is much more favorable than it was just five years ago, but getting one off the ground and making it past the first five years is still very difficult. The reality is that beverage startups often fail, but don't let the potential for failure hold you back. Let it keep you up at night and wake you up in the morning. Let it serve as your motivation. Start now. Start where you are. Start and don't stop. Just…start.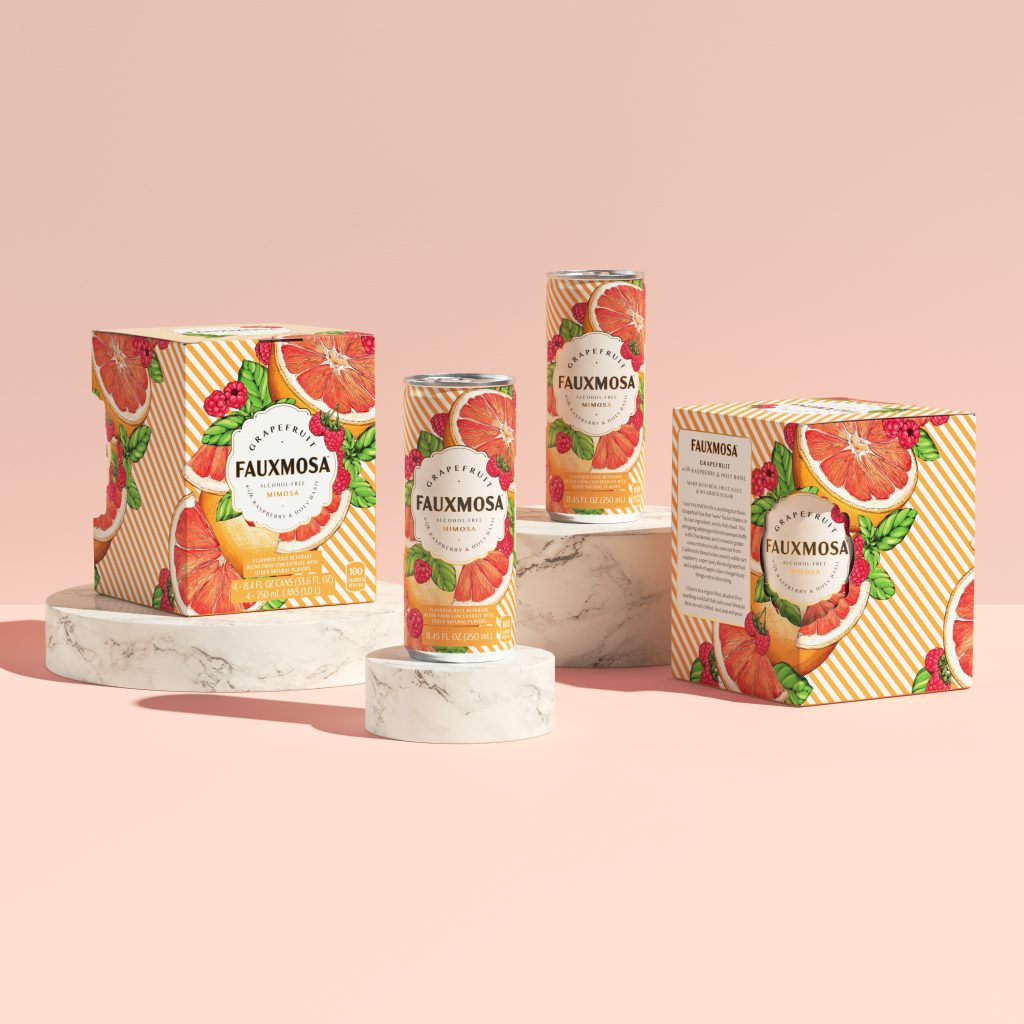 EC: Such good advice – just start! When you're not working on FAUXMO, what are you doing?
AM: You can find me spending time with my family and loved ones, taking long walks with my dog Joey, trying a new restaurant or running to clear my mind.
EC: How do you balance or integrate all the facets of your life – all while making time for personal relationships and self-care?
AM: I'd be lying if I said this one was easy. I'm extremely lucky to have an incredible community of friends and family that are unbelievably supportive and understanding of what it takes to build a business from scratch. I'm honestly not sure where I'd be without them checking in on me and cheering me on. As for self-care, I try to meditate daily and find time for things that bring me joy but are unrelated to work like golfing or spending time with my nieces and nephew.
EC: What's next for FAUXMO?
AM: We just expanded into Canada, and have some really big retail accounts coming on board in the next couple months that will fuel our ability to scale, grow awareness and trial of our brand. Otherwise, we're focused on launching our next product line, a non-alcoholic Prosecco early next year.
What an exciting journey, and incredible advice! If you're thinking of starting a business, Amanda says, "just start!" And if you're considering drinking a little less, or switching out those happy hour drinks for something else – FAUXMO is the way to go!