Meet Kitty And Vibe: Swimwear That Offers Cup Sizes For Your Butt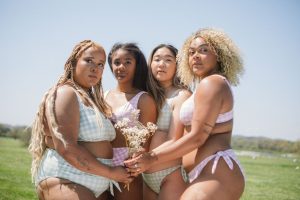 Coveted by familiar faces like Lena Dunham, Kitty and Vibe offers swimwear that has cup sizes for your butt. Need we say more?

Fed up with the agonizing and often disappointing process of shopping for bathing suits, founder Cameron Armstrong took it into her own hands to measure various women that wear a vast range of sizes.

After realizing that the inseam measurements fluctuate the most, the "kitty" measurement was invented.

Engaging with customers is one of the main ways that Kitty and Vibe builds community — the brands following even has a say in what gets designed.

Read on to learn more about Cameron, and how she's building Kitty and Vibe.

Alexis Damen: Tell us about yourself and your background, what were you doing before you started Kitty and Vibe? Also, what inspired you to leap?

CA: I vividly recall wanting to be an entrepreneur at a young age. I was raised in Atlanta, and at six-years-old, it began with my over-saturated presence of lemonade stands on my neighborhood block. Age ten, fake-hotel check-ins for every guest that entered my family home. By seventeen, I was running annual summer day-camps for young girls, and establishing myself as a leader in my high school.

I attended the University of North Carolina at Chapel Hill as a business journalism major, and spent most of my free time practicing with my UNC hip-hop dance team, a group of diverse men and women that used dance as their biggest stress-reliever, something that would serve as a pivotal value of my soon-to-be company, Kitty and Vibe.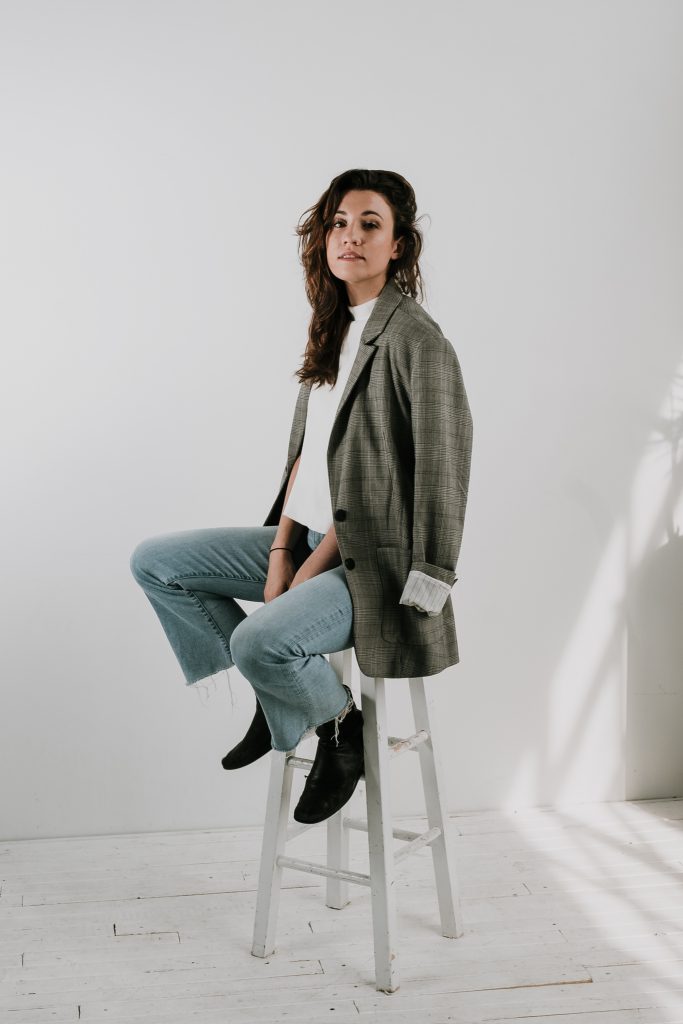 Post college, I moved to New York City and spent two years in operational marketing at L'Oreal USA. My idea for Kitty was born in a fitting room, feeling self-conscious and standing in a swimsuit that was two sizes too small, hating the agony of trying to find a swimsuit that made me feel confident. I noticed contagious negative energy that would multiply when talking with my friends about the misery of shopping for a swimsuit and wearing one in public. At twenty-four, after months of researching the frustrations that come hand-in-hand with swimwear, I started Kitty and Vibe.

AD: How did you come up with the name Kitty and Vibe for your business?

CA: When deciding to tackle the inconsistent sizing women often find when shopping for swimwear, I started measuring all parts of women's bodies, searching for a measurement that had yet to be focused on in traditional sizing. I found the inseam measurement to differ the most (from her belly button to the top of her tailbone) — alas, what I dubbed the *Kitty* measurement.

Once I landed on the "Kitty" as my unique approach to sizing, what I wanted to do next is offer an experience to go hand in hand with the swimsuits. I chose the word "vibe" to place importance on the experience we would be providing to our customers, to overcome the anxiety this garment has historically triggered in women.

AD: Can you tell us how and where Kitty and Vibe is made?  

CA: Kitty and Vibe is a female founded small business based in NYC. Our swimwear is one of a kind, designed in-house. The fabric is digitally printed in Bogota, Colombia and manufactured at a family owned factory, also in Bogota, where Kitty and Vibe is produced ethically in small batches. The factory is run by a woman, Ana, which upholds the female empowerment and inclusive ethos of Kitty and Vibe. All workers have work contracts (to ensure job security), retirement plans, health insurance as well as above-minimum wage.

Kitty and Vibe swimwear ships in 100% recyclable, biodegradable and compostable mailers made from 100% recycled content. The individual swimsuit units will ship in their own bags; as of April 2021, we switched from plastic to 100% biodegradable bags. 
AD: Tell us more about your sizing structure that takes into consideration women's hips and butt size?

CA: Kitty and Vibe swimsuits are available in a revolutionary sizing system focused on inseam measurements and your booty size. We've thrown out the traditional sizing chart and in doing so, removed the boundary between too much fabric or too little for the perfect fit. Think of it as cup sizes for your butt!

AD: What does diversity mean to you personally and as a business?

CA: I'm thrilled that body positivity is at the forefront of the fashion conversation. It's about time! My entire reason for creating Kitty was to introduce a truly inclusive size range.

Where Kitty differs is in the marketing and social media. As you shop the site, we show product on a range of women in different sizing and body types. Many brands may have additional sizing options but are too afraid to actually showcase it, which again, makes women feel inadequate.

We do the same on our Instagram, where we proudly include customer photos across all sizes, shapes, and colors. We've received a lot of praise for this.
AD: What has been your favorite moment of starting a business so far?

CA: I ran into Lena Dunham while working at The Wing. She's always been a huge inspiration to me, especially when I was building Kitty and Vibe. The energy she exudes when dancing in her underwear in her bedroom on her show, Girls, was precisely the magic I wanted to provide for my customers.

I wrote a simple thank you note on the back of a sticker and slid it onto her table when she went to take a phone call. Next thing I know, she slid into my DMs, and I was able to send her a suit. She wears the Reversible Underwire Top and Reversible Cheeky Bottoms.

AD: What strategies do you use to build your brand awareness and engage your community and following?

CA: The majority of the design decisions get made via Instagram Poll. We take this approach to give the customer a direct influence in everything we launch — it makes her future Kitty suit feel all the more personal.

AD: How do you use email marketing to scale your business?

CA: We use emails to give our loyal followers an inside scoop on everything we launch as well as offer exclusive promotions. It's a great tool to talk to customers effectively and provide them with information that is curated based on the way they shop.

AD: What do you think are the key factors to create a great end-to-end experience for your D2C customers?

CA: When developing Kitty, my intention was always to make the brand feel like a friend. From the moment you meet her, I hope she offers a "virtual welcome hug," and you feel that love throughout your experience. Every swimsuit comes with a mood-boosting playlist that matches the vibe of your Kitty. We hope the music helps you manifest your inner confidence when trying on a bathing suit.

AD: What has been the most surprising and challenging for you during the process of starting a business and now growing it? How have you overcome these obstacles?

CA: Thinking bigger! As an entrepreneur, it's so easy to get caught up in the day-to-day hustle. I try to actively carve out time each month to take a step back and remember to strategize how to grow vs. just maintaining the current business.
AD: What one piece of advice do you have for fellow retail and ecommerce entrepreneurs?

CA: There are a million resources that teach you how to grow your business most effectively, but there's nothing more valuable than your gut. Try to listen to advice, especially when it counters your own, so you're incorporating multiple points of views, but ultimately don't lose sight of your vision.

AD: What one thing do you wish someone had told you before you started your business?

CA: To focus on the quarter, not the daily. I wish I had known that instead of spending time worrying over why I had a bad sales day, to focus on the bigger picture and strategies that can make your brand take off in the months ahead.

AD: How do you balance work, life, and self-care as a busy entrepreneur?

CA: This is a process, but I try to maintain my self-care by actively carving out me time. The hobbies I have that are the most refreshing for my mental health are dance and pottery. My therapist gave me some essential advice — entrepreneurs have increased anxiety and depression from their lack of human contact. It's too easy for me to dive into work behind my screen, but every day, I try to make sure I'm interacting with other people outside of a phone call or email. I spend a couple of extra minutes chatting with a barista or catching up with my roommates after work — it goes such a long way.

AD: How do you measure success?

CA: Although it's hard not to focus on sales numbers, site visits, follower growth and the like, I try incredibly hard to stay grounded by measuring success based on the testimonials from our customers. Having a woman tell us that we have "changed her perspective of her body" or "gave her the confidence to wear her first bikini" is more successful and meaningful than any other metric.

AD: When you're not building Kitty and Vibe, what are you doing?

CA: Spending time with friends without our cell phones in sight, soaking up the sun at Prospect Park, improving my new craft of pottery, and hitting up yoga at Sky Ting.

AD: What's next for Kitty and Vibe?

CA: We're excited to launch our first String Bikini in our best-selling star and moon print, the Ashton vibe!