Kelly Mosser on Replacing Your Dead-End Marketing Strategies, Establishing Yourself as the Go-To Expert, and Getting Massive Amounts of Exposure for Your Business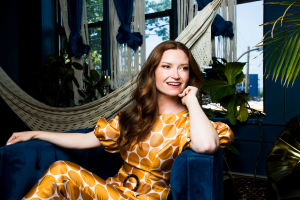 What if you could finally figure out how to get more eyes (and ears) on your business – all while showing up as your most authentic self?
Well, you're in for a treat:
Meet Kelly Mosser, a values-driven coach, strategist, speaker, and top 2% podcaster! 
It's no secret that we're big fans of Kelly here in WAWO-land. In fact, she's one of the sponsors who made our 2022 Holiday Gift Guide possible!
Kelly is all about helping women find their unique voice, get visible, reframe failure, and step into the role of paradigm-shifting leader, so obviously we had tons of questions about…
→ Her business journey
→ What it means to build an aligned brand
→ How we all might benefit from approaching failure as a science experiment instead of a soap opera
→ Her new course, Hell Yes Guest, for soulful entrepreneurs who want to master Strategic Podcast Guesting™ (and explode their brand awareness in the process!)
Ready to jump in!?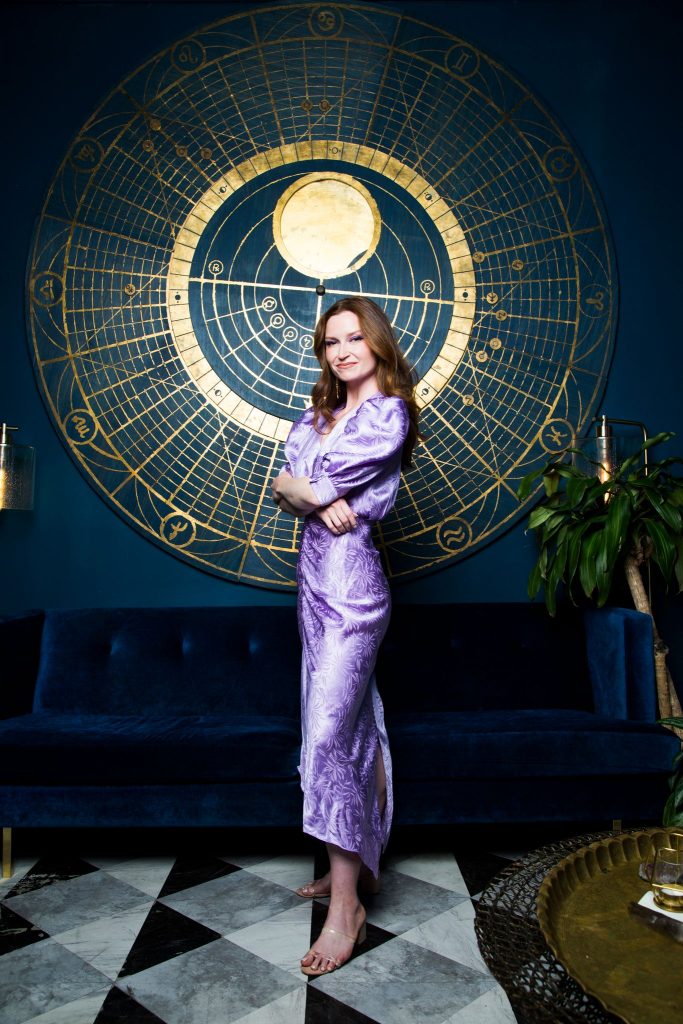 WAWO: Hello! To start, we'd love to hear a little about you! Where in the world are you located, and what's bringing you joy right now?
KM: Hi! I've lived in New York for the past 8 years, so I *think* I can technically now identify as a New Yorker. 
So many things are bringing me joy right now: my dog Tully, the photos we just got back from our wedding, cozy decaf cappuccinos, and the fresh new journal I just bought from McNally Jackson!
WAWO: What do you do for a living, and what type of client do you absolutely love working with?
KM: I am obsessed with helping women entrepreneurs find their voice, scale their influence and impact, and transform from "expert" into paradigm-shifting leader. 
I am so blessed to coach and consult for some of the brightest, most dynamic, and biggest-hearted entrepreneurs and businesses. Nothing lights me up more than seeing a business owner step into her power, find her voice, and become the one they can't ignore!
WAWO: Tell us more about the path that led you here, please!
KM: I started my career in corporate retail buying, crunching a lot of numbers and predicting trends. While there were aspects of the job I absolutely loved, I knew I needed to be working hands-on with people. I left that role to support startup businesses with their strategy and operations, and fell in love with helping businesses scale. 
My last "real job" was as the Director of Strategy and Operations for 305 Fitness, a New York-based wellness and fitness company. At the time, I was slowly building my own coaching practice on the side, where I was helping women reduce stress and feel better through meditation and helping them connect with their intuition. 
Before I knew it, I was helping my friends grow their own side hustles, because they knew I had so much experience in the startup world. That's how I fell into my groove supporting small businesses, and I haven't looked back!
WAWO: What does it mean to build a brand in an aligned way?
KM: It's so easy to fall into the trap of "I'm not where I want to be yet," or "maybe if my business just did what they're doing, we'd get there faster." Every time you log onto social media, you're bombarded with what others are doing, and it can be so distracting. 
To me, building a brand in an aligned way is all about rooting everything you do as a business owner in your values. You want your brand not just to be known for the great products or services you sell, but also for the mission at the core of your work and what you stand for as a business. 
For a lot of brands, it can be tempting to sacrifice some of your values for faster success, and I just never believe that's the right approach. 
At the end of the day, all you have as a brand is your integrity, and even if your growth is slower, the success you'll create when you're truly operating from a place of purpose and integrity is going to feel so much more authentic and wonderful than any success you create as a result of a shortcut or quick cash grab.
WAWO: Oooh, that's powerful! So, helping business owners find their unique voice is a big part of the work you do. What does that mean to you, and what does it look like for them?
KM: Growing up, many of us were conditioned to follow the status quo. We saw how standing out or being different could result in a person getting bullied or being left out of the group. As humans, it's our nature to want to feel included, valued, and appreciated. So it's natural for our brains to encourage us to follow the "safe" path as often as possible. 
Starting a business, whether it's a multiple 8-figure enterprise or a scrappy side hustle, is a massive act of rebellion. When you start a business, you're essentially saying: "The status quo doesn't work for me. I'm willing to get uncomfortable exploring a new path for myself, and I'm aware that it won't be easy, and it might not work." 
That can be super scary for our brains! It's so important to recognize what a triumph it is just to START your business. And then once we find ourselves on the path of entrepreneurship, our brains will often try to guide us back into the status quo among our fellow business owners. 
Stepping into true authenticity and finding your voice requires not just one but TWO massive breaks from the status quo: to leave behind the school-to-job pipeline that was set up for us, and then to break from what all the other brave business owners are doing. 
This isn't always easy work. It requires a lot of courage, a lot of self-awareness, and the right tools to help you move through the resistance and fear that says "just be like everyone else!" But when you're showing up in your highest expression of authenticity, you can finally magnetize the people who actually share your values and will benefit the MOST from what you have to offer.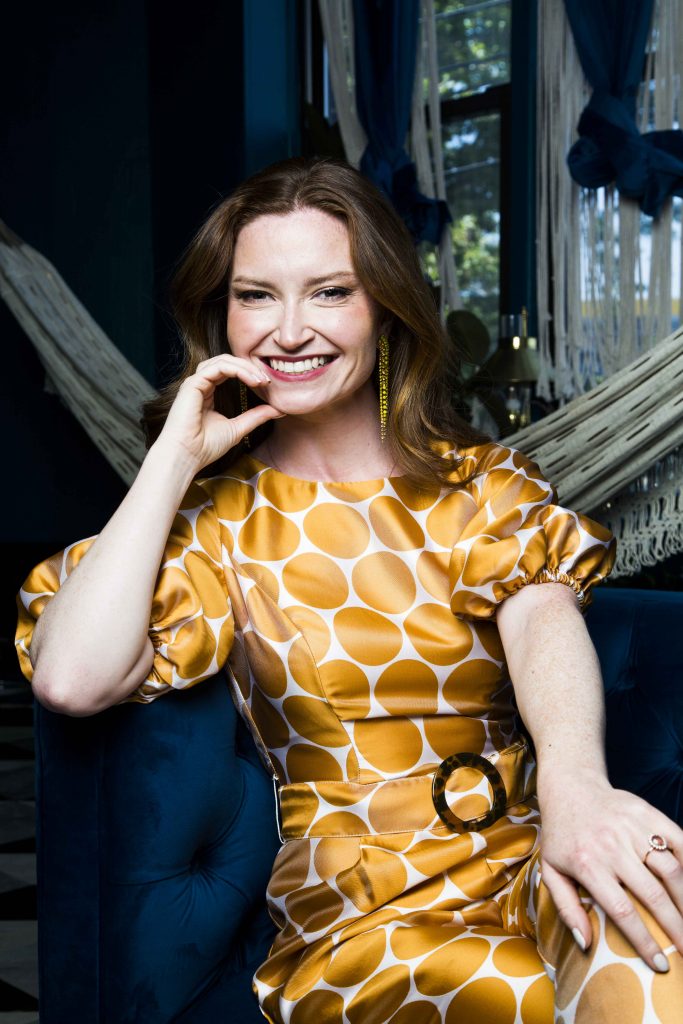 WAWO: Failure: we all know it's an inevitable part of business and life, but it still feels really, really uncomfortable to experience, right?! Can you share some of the ways you've found opportunities within failure? How might our readers practice this for themselves?
KM: It is totally normal and natural to be afraid of failure, in fact, our brains are wired this way on purpose! We need to remember that our brains' primary goal is to keep us alive, and by keeping us from new experiences, our brain feels like it's just doing its job. Rather than trying to eradicate our fear of failure, we can take a more gentle, more experimental approach to keep us moving forward even when we feel that fear response bubbling up. 
The first part of this strategy is to remember that there's value in all experiences, even the ones that don't work out the way we want them to. Instead of thinking in black and white terms of "success" and "failure," it's so helpful to think of our experiences in terms of 'what went well and what did I learn for next time?" 
The truth is, there's no such thing as total success or total failure. Even when things go well, there will be something we'd like to change for next time, and when things don't go as we'd planned, there's always a valuable experience or lesson to be gleaned from it. 
I encourage all of the women I work with to think of their businesses as a science experiment rather than a soap opera. When we treat our business like a soap opera, every "failed" experience will be interpreted by our brains as a personal failure. We'll allow it to mean something about our potential or our likelihood of success in the future. We'll be mean to ourselves and our self-esteem will plummet. 
On the other hand, when we treat our business like a science experiment, every outcome is acceptable and valuable. When things go right, we can double down on them and repeat them for even more success. When things go wrong, we can objectively evaluate what's working and what's not so we can iterate for next time. No mind drama. No shame spiraling. We can simply pick ourselves back up and keep trying, keep experimenting. 
I really think this is the secret to success as a business owner. Be willing to keep trying and failing, and don't let failures of any size impact how you perceive yourself and your potential for success in the future.
WAWO: What's something you wish more women felt comfortable doing?
KM: I really wish more women were comfortable getting out there and becoming more visible. I meet so many entrepreneurs who feel like they haven't created enough success yet and that's why they can't get more visible, get more press, or be considered for bigger opportunities for exposure. 
The problem here is that too many of us think of visibility and exposure as rewards for our success, when in reality they're tools to create more success. The reason you haven't created the level of success you desire is because not enough people have had the chance to fall in love with you and your brand. 
You'll create the level of success you desire by putting yourself out there exactly as you are right now, exactly as your brand is right now. That's really the next step to scaling.
WAWO: What are some steps the women reading this can take – whether they're entrepreneurs or not – to get more comfortable finding their voice and trusting their intuition in their own lives?
KM: It's really important to start to get clarity on what you bring to the table in very practical terms. If you don't feel confident or clear about the value you add, you will always feel more comfortable hanging back and lingering in the shadows, waiting to be invited by someone to share your magic or speak your mind. 
When you truly understand what your values are, what you bring to the table, and what leverage you have, you'll never feel like you're asking for something you don't deserve. You'll know you deserve every opportunity that comes your way, and you won't be shy about raising your hand for it!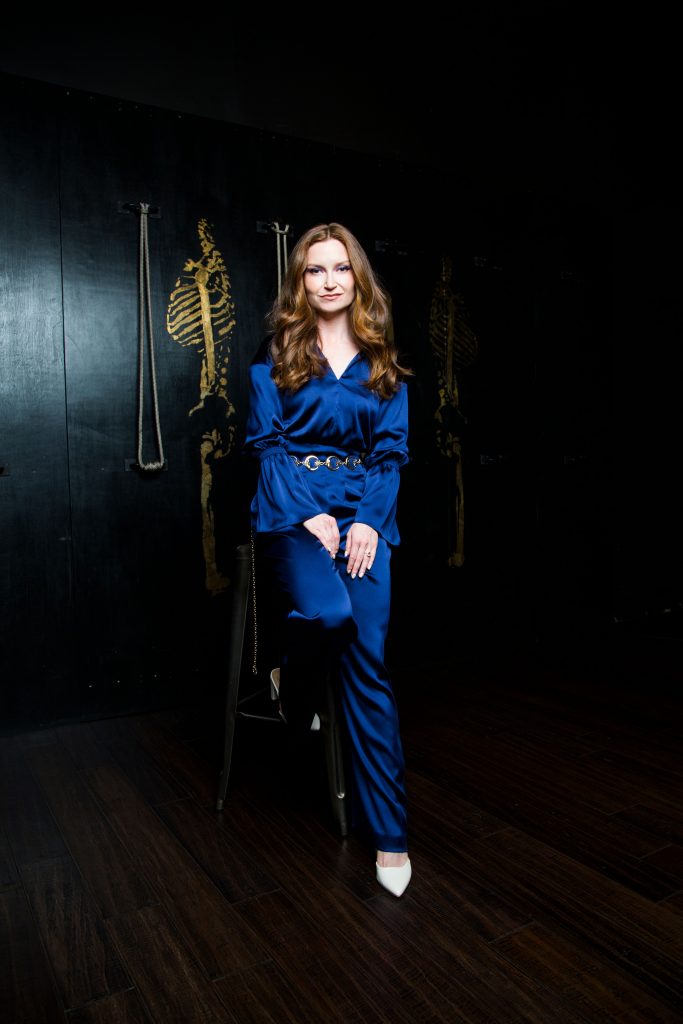 WAWO: Are you launching any new programs or promotions this holiday season? We'd love to hear about them!
KM: I'm currently obsessed with helping experts, leaders, entrepreneurs, and authors create more visibility so they can scale the impact of their brands and of course, generate more revenue. I know this can feel extremely daunting for some folks, and for others who know they're ready, it seems impossible to know where to start. 
As a podcast host, I've gotten to witness the power and magic of the podcasting world. Booking yourself as a guest on relevant podcasts is the fastest, most effective, and most profitable way to scale your brand and business right now, because you don't need to compete with any algorithms or pay for the exposure. Helping entrepreneurs dive into this strategy in an intentional way that actually drives their business goals forward is my top priority right now! 
I just launched my new course, Hell Yes Guest, to teach leaders how to establish themselves as go-to experts who are ready for the mic so they can create massive exposure for their businesses. I'm so excited to start taking my students through the process of pitching, getting booked every single week, and monetizing this strategy. 
As social media changes and it becomes harder and harder to build a brand on those platforms, becoming a Hell Yes Guest will be the smartest organic content marketing strategy for 2023 and beyond across ALL niches.
WAWO: Where can our readers keep up with you online?
KM: I'm always on Instagram and I'd love to connect with you there! Send me a message @kelly.mosser and I'll voice note you back. 
I'd also love to invite you to check out my podcast, The Aligned Success Show, which helps entrepreneurs master the magical alchemy between spirit, science, and strategy so they can scale their businesses with ease and joy. 
And finally, if getting massive exposure for your brand and business is something you're serious about in 2023, I invite you to learn more about my new course, Hell Yes Guest, so you can replace your dead-end marketing strategies with ones that actually work and feel amazing.
WAWO: Ok, WAWO Community – are you as speechless as we are right now!? That was amazing, Kelly. Thank you so much for sharing your wisdom with us!

A version of this interview also appears in the 2022 WAWO Holiday Gift Guide. Check it out right here – and don't forget to browse the full gift guide while you're at it!