How this Founder Creates Intentional Art That Spreads Joy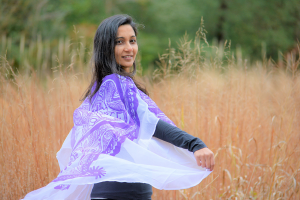 If you've been on any sort of self-improvement journey, about not only finding what you want out of life, but truly making it happen, then you've probably heard about manifestation. You may have heard it as "thoughts become things," or "the law of attraction." And if this is a new concept to you, "the Law of Attraction is the ability to attract into our lives whatever we are focusing on."
For example, if you want the corner office, you should focus on anything that's going to help you get there! The first step is believing you can do it. Stop telling yourself that it's impossible to get, too competitive, you're not qualified, etc. On top of that, you can visualize the corner office, take on challenging projects in the workplace to get noticed by your manager, and ask for a promotion.
To some, the concept of manifesting can seem really cool, but also really out of reach. So one of the best things we can do is learn from others who have found success in manifesting what they desire. And one of those people is Loveleen Saxena, founder of Designs by Loveleen.
Loveleen did a whole lot of listening to her soul and manifesting to get from a job in construction to a career as an artist and business owner. And through her journey of being more self-aware and owning herself and her time, she has realized the mission of spreading joy and sharing those learnings.
And how does she share those learnings? Through her art and designs. All of the love, calm and joy Loveleen embodies through her inner work is poured into the process of making her art. Then she transforms the art into lifestyle pieces that can remind others to live with more intention and joy.
Read on to learn more about Loveleen, her journey to business ownership, and her best business (and life) advice!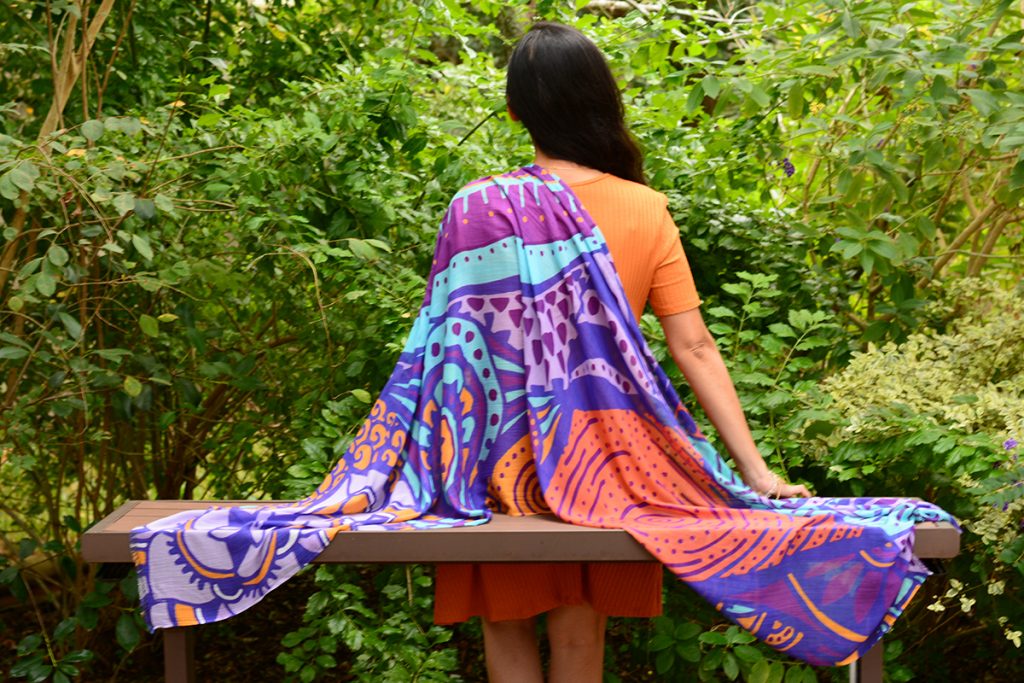 Erin Coles: Tell us about yourself, your background, and what you were doing prior to starting Designs by Loveleen?
Loveleen Saxena: I'm a self-taught artist currently based in Katy, Texas.
I grew up in a busy neighborhood of New Delhi, India. While the kids in our neighborhood played cricket or badminton on the street, I spent most of my time studying and sketching.
I was pretty shy and introverted. So I guess I always found it easier to voice my thoughts and feelings through art. But being an artist and running my business – that was never my goal.
It was only in 2013 that the nudge to start doodling & making art rekindled.
Before that, I spent a decade working in the construction industry. I came to the US to do my Masters in construction, after completing my Architecture degree back home. It was the next logical step for me. As soon as I graduated, I moved to Maryland, to work for an amazing construction company.
My day-to-day work life involved crunching numbers, reading contracts, specifications, scheduling, estimating and talking to contractors. I worked on huge commercial projects like airports, hospitals, and I even worked on the Houston Metro project!
I loved it and was great at what I did. The long hours didn't bother me. Eating lunch at my desk felt normal. And so did going to happy hours.
I was learning, growing and following the success path that I thought was my own. I was doing things everyone did, because I wanted to fit in. And I was trying super hard to be someone I wasn't.
Everything I had worked for started shifting in the summer of 2013, when I came face to face with the void I had been feeling for years.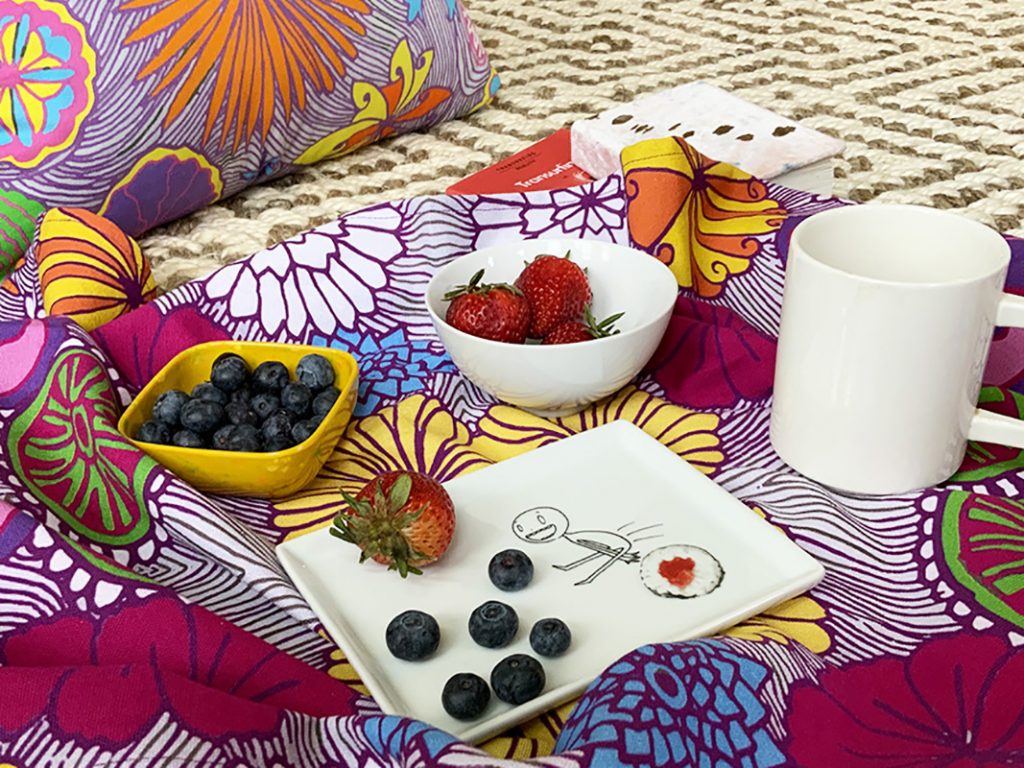 EC: Wow! So something changed for you in the Summer of 2013. What was it that inspired you to start Designs by Loveleen?
LS: Starting Designs by Loveleen was a natural progression for me. There was no plan to leave my corporate job or start a business. The thing that led me to where I am today was a little nudge from my Soul, in the summer of 2013, to start carrying a journal & pen during my daily walks. So I did.
The next day, as I sat under that big oak tree on a bench, I opened my journal and started doodling. And from that day onwards, that's what I did. On my bus ride, during my lunch time, before sleeping…I doodled. Not because I wanted to leave my job. Only because the act of making those doodles brought me so much Joy.
The doodles became more & more intricate. And new doors started opening up. My husband & I decided to go backpacking a year later. We quit our jobs & traveled to 10 countries for six months. I took my journal & pens and doodled as we traveled. When we came back home, I started another job & that's when I decided to start selling my art.
And here I am today, doing what I love and making things that bring me so much Joy!
EC: What a cool story – I love that! How would you describe your design style?
LS: My design style is bohemian and maximalist.
My pen and ink drawings are intricate, intuitive and a spontaneous creative expression. The patterns and shapes I make are free flow form, inspired by nature, sacred geometry and spirituality. I purposefully choose bold colors and patterns.
My mission is to spread Joy through my work. And my intention is that each piece inspires us to showcase our Truth, be bold, and shine our light in the brightest way possible.
EC: I know that your art and your designs have a deeper meaning. You create based on your experiences, and share your designs with others to help them along on their spiritual journeys. Can you talk a little more about this, and why you focus on spiritual growth?
LS: First of all, I love this question! The reason I focus on spiritual growth is because I truly believe we create our own reality. Everything is energy. And everything is spiritual.
I truly believe our thoughts, our actions, our desires – everything we do, shapes our life situation.
For example, if I am creating chaos within myself or thinking my life is a mess or I am not good enough, that's what I will see and bring more of in my life. That's the intention & energy that I will infuse in every aspect of my life too – whether it's work, my relationships or my health. And that's what will create my present & future.
Having this Truth as the North Star has transformed my life because it encouraged me to take complete ownership of myself and my life and to become more self-aware.
Why do I share it with others? Because I feel that's my purpose right now. My art is the way the Universe talks to me. And my products are the vessel through which I get to share these Truth nuggets with everyone. The scarf or the towel are not just a piece of colorful art. They are here to nudge you to be the best version of yourself.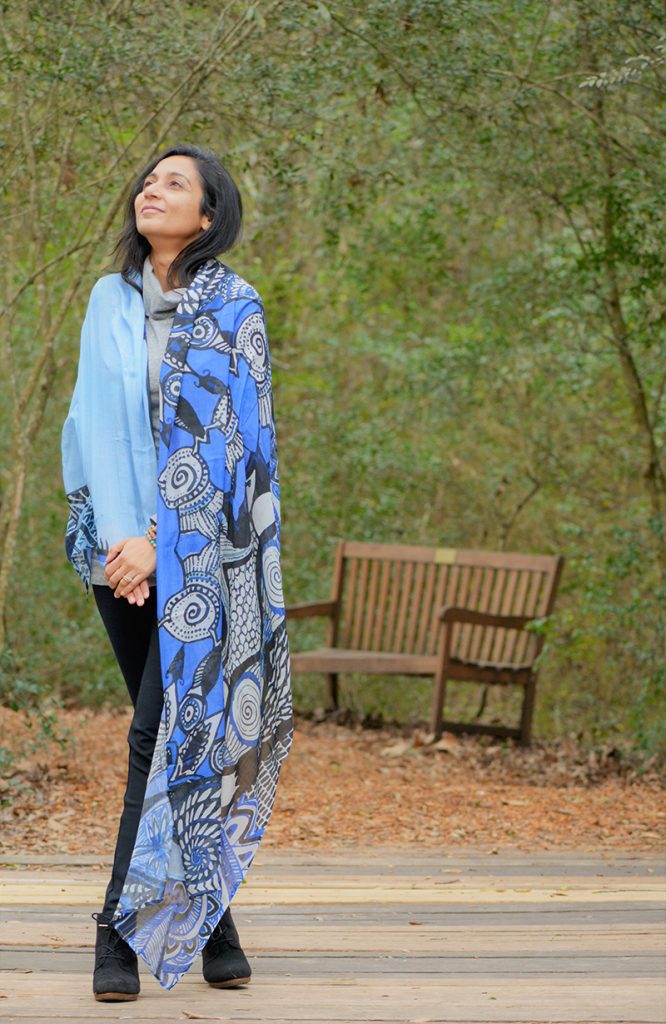 EC: That's so incredibly beautiful! OK, so all of your designs are broken into categories based on essence. Can you describe what "essence" means in this context, and why you chose to categorize your designs that way?
LS: Essence is the part of us that's changeless and timeless. It's us in our truest and purest form. It's the part of us that's not tainted with our past or environment or circumstances. So it's our guiding light in a way.
Let's look at the statement 'I am Joyful'. It's rooted in impermanence because it's dependent on some external reason that brings me joy. On the other hand, the statement 'I am JOY' exudes permanence. It's your state of being, irrespective of what's going on in your life.
Same with all the other Essence categories I have.
And that's why I categorize my designs that way. I want my pieces to remind us that the essence of Joy, Peace, Love, Beauty, Courage, etc. we seek outside is already a part of us.
And it's changeless. All we need to do is remind ourselves of this & remove the layers that make them seem fleeting.
EC: I love that outlook, and I'm positive that's going to resonate with so many people! Where are your products and pieces made?
LS: My paper goodies, art prints, glass trays are made in the United States and the pieces like scarves, kitchen products, pillows and kimonos are made in India.
EC: And how do you generate interest in your brand? What strategies and platforms are you using?
LS: I seek to walk the talk as much as possible. My brand is an extension of my life so the more I stay authentic and true to my mission, the easier it is to generate interest in my work! People love transparency, rawness and truth.
When it comes to strategies, I started seeing more interest in my work when I established my brand pillars with the help of an amazing Brand strategist. And from that point it was speaking, writing, being & thinking in those terms. And as I evolve, so does my brand!
Currently I am using Facebook, Instagram and Youtube in addition to my website to raise awareness of my brand.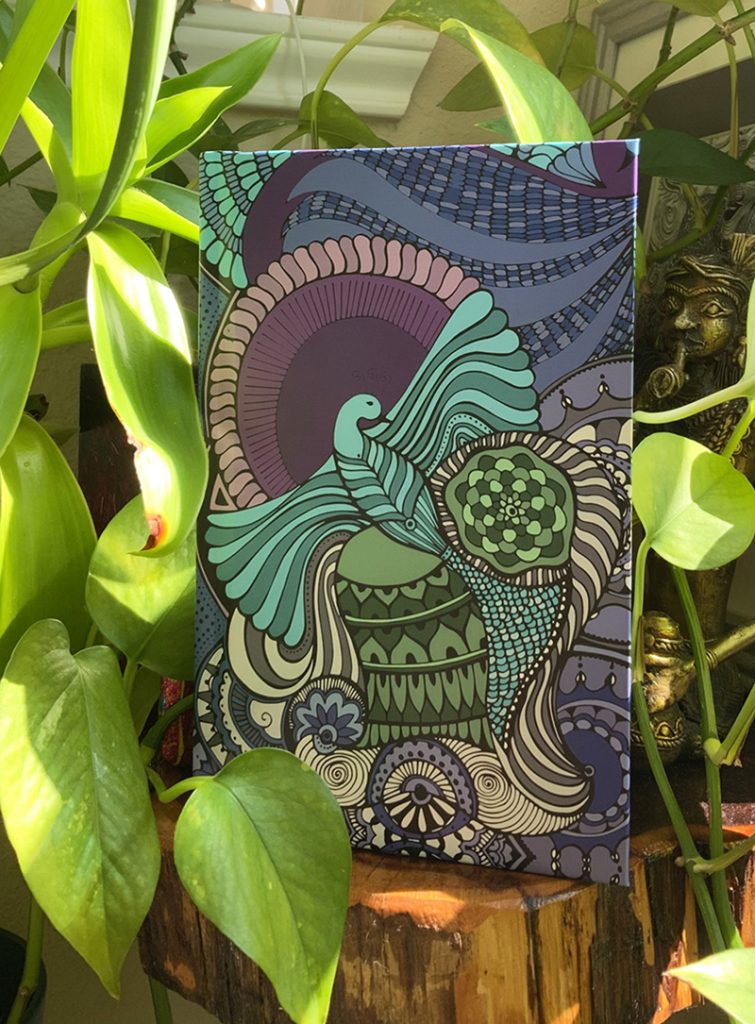 EC: What has the customer feedback been like? Give us an example of what your customers are saying!
LS: I love my customers and the feedback has been amazing!
Here are a few examples of what they're saying:
"Such a delight to come home to the most lovely package filled with exquisite kimonos & artwork by Loveleen. The design, the fabric, the intention, the essence of beauty, all ethically sourced & sustainably wrapped with loving care. And a tree planted with every purchase. I am so excited to wear, dance and create in them. Thank you Loveleen"
"Love the way you package everything Loveleen. It was a gift for me (even though technically it's a gift for someone else). Just receiving it was a huge burst of Joy into a busy day for me!"
"The vibrant colors and design bring a smile to my face. When I'm having a bad day and don't feel as self-confident as I should, this scarf brings me to a place of peace"
"My pillow is so beautiful! I get so much Joy seeing my kids cuddled up to it on the couch"
EC: What is the process for transforming your designs into a physical product?
LS: My art goes through many stages to become a physical product!
I hand draw my artwork using micron pens. Being so intricate & detailed it takes me anywhere from 10 hours to 30 hours to complete a 11×17 drawing.
After scanning and digitizing it, I let the drawing guide me on which colors would she love to play with! And as I play with the colors, I decide what products the drawing would be perfect for. Next step is to work with a manufacturer to create and launch those products.
It takes anywhere from 3 weeks to 8 weeks for a product to be manufactured. I always order small batches as it serves better for my brand and for the environment.
During this process, I get a nudge on what its essence will be. Sometimes I know what the essence will be as I am creating. Sometimes it reveals itself once I have the final product in hand. The entire process is very creative, fun & intuitive!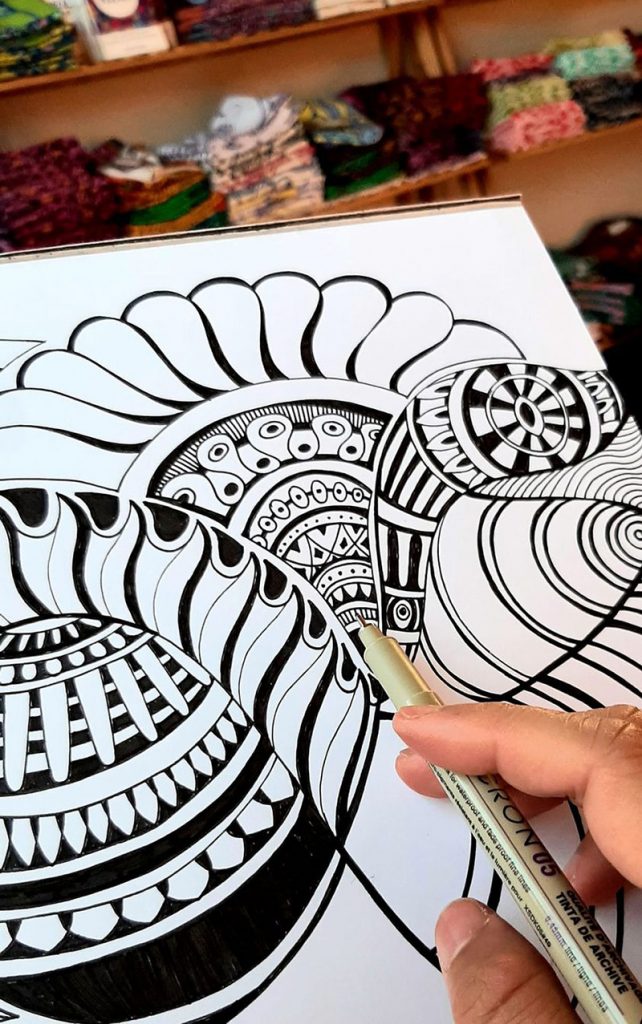 EC: So cool! Why is it important for you to plant a tree for every product purchased?
LS: I feel deeply connected to Mother Nature, especially trees. The beauty I see in flowers, in leaves and the various seasons each tree goes through, reminds me that miracles are all around us.
And Mother Nature does so much for us and will continue to do so. She's been giving and giving limitlessly, despite what we've been doing to her.
From paper to fabric to shipping, my products use resources she provides. While I can't avoid using these materials, what I can do is give back to her in any way I can.
And as a business owner, I feel it's my responsibility to leave a positive impact on the environment. We're seeing the impact of all the ways we've ignored or exploited Mother Earth.
So it's about time we take steps, even small ones to help nature restore back to health. And planting trees is my way of doing that.
EC: And can you share a little more about how Designs by Loveleen is eco-friendly?
LS: All my products are made with eco-friendly materials such as lenzing modal, linen, bemberg, recycled paper and organic cotton. I make everything in small batches so I don't end up overproducing items and discarding them, as commonly seen in fast fashion brands.
In addition to the products, I ensure my packaging and marketing materials are also recyclable, reusable and biodegradable. I avoid using plastic in any of my packaging, and if I do have to use, I reuse the material I already have.
Plus I choose carbon neutral shipment and plant one tree for each product sold.
EC: We here at WAWO are ALL about eco-friendly, and love that so much! Where do you sell your designs? And what is your plan of where to sell moving forward?
LS: I sell my designs on my website. You can also shop some of my products at boutiques, gift shops & yoga studios in Texas, Michigan & California!
While my website will continue to be the primary platform for selling, I would love to have my products in unique boutiques & gift shops all over the world. I love the connection, the story and the uniqueness these shops bring, that is often missing in big box stores.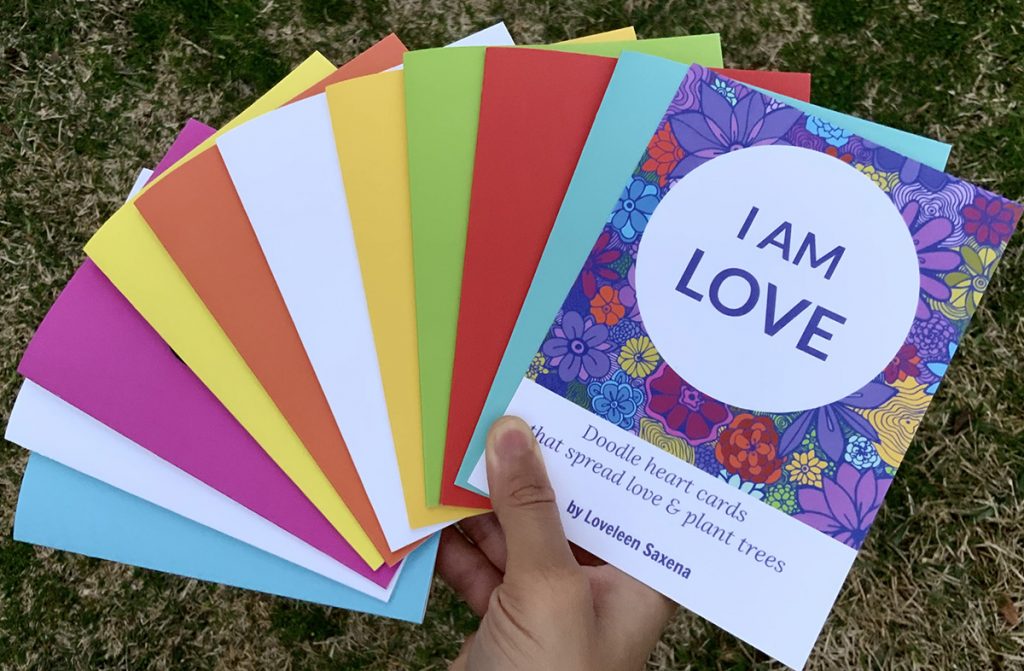 EC: Who are your ideal customers?
LS: My ideal customers on a path of personal growth. She is woo or curious about it. She loves to invest in things that are unique, bold, colorful and infused with intention. She lives a beautiful life, and her home & lifestyle is full of trinkets, goodies that elevate her Soul!
She loves supporting small businesses, lifting each other up, and believes in collaboration not competition.
EC: And as a customer, what is the experience like when they get a package from you?
LS: Getting a package from me is a Joyful experience in and of itself.
I like to infuse the energy of love & joy every step of the way, whether it's doing energy clearings before I make art, including a handwritten note or blessing the products before I ship and everything in between.
So when you get a goodie from me, it's like getting a gift from your bestie, it'll make your heart sing and your Soul dance!
EC: *clap emoji* So did your background in architecture and construction help you build and/or manage your own business? If yes, how?
LS: Absolutely! My design background helped me gain persistence, discipline and consistency. Plus I learned pen and ink drawing during my architecture degree. And my construction background has helped me learn about numbers, budget, strategy and taught me a lot about project management. Because of that I'm very comfortable working with my budget and day to day operations.
It is often assumed that creatives don't love structure, numbers or math, it's actually quite the opposite for me 🙂
EC: What has been your biggest challenge in building your business thus far?
LS: The biggest challenge has been gaining clarity on who my ideal customer is. Once I became clear on that, marketing & selling has become more fun!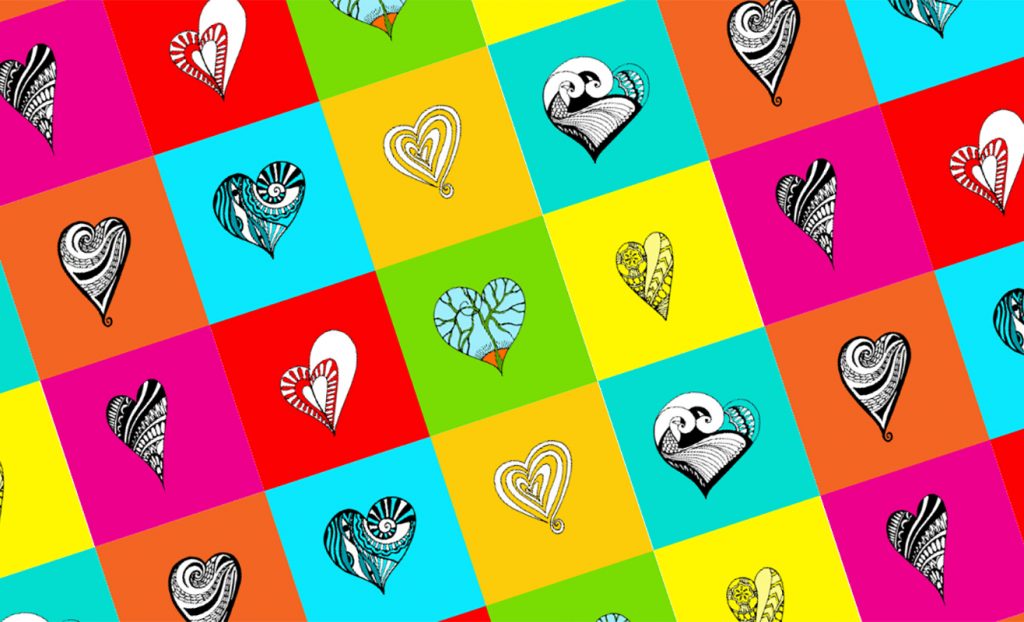 EC: What is the best piece of business advice you ever received?
LS: Own your gifts and create from the inside out.
We often look for solutions, tools, and techniques outside to make our business successful.
I've done it for years. The next course, the next social media strategy, the list goes on. But we forget to focus on our inner world completely.
How clear are we? What energy are we putting in our work? Do we actually believe we can succeed? Unless we own our purpose, our gifts and work through the limiting beliefs and old paradigms, no tool can help us in the best way possible. So work from the inside out! Let your inner world be your guiding light and the fuel your actions need to propel you to success.
EC: What advice would you offer to a fellow entrepreneur hoping to break into the design & self-exploration space?

LS: Get a mentor or a coach right from the beginning. Be willing to invest in yourself.
Own your gifts. And stay focused.
I didn't see any success or growth in my business for the initial few years because I subconsciously believed that artists always struggle and making money is bad or not spiritual. That was the biggest obstacle for me.
So work with someone who can clear your lens and help you become more aware of those old stories and beliefs that might be sabotaging you. It will be worth it.
EC: When you're not working on Designs by Loveleen, what are you doing?
LS: Creating our backyard food forest. My husband & I love trees, plants and growing our food. So whenever I need a mindful break, I hang out in our backyard, pull weeds, talk to the plants, and look at the sky.
We also love to travel and hike and hope to start doing it again soon!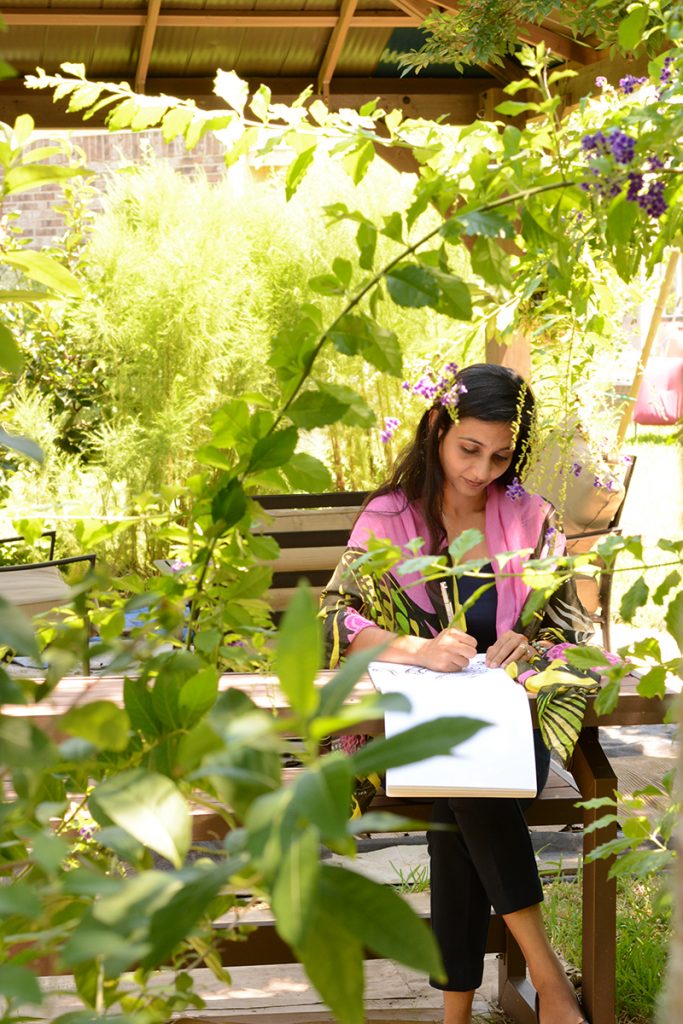 EC: How do you balance or integrate all the facets of your life – all while making time for personal relationships and self-care (or "me" time)?
LS: Honestly, it's a work in progress! Busyness was something I had to work through a lot.
Since COVID, I am working on listening more to what my human needs. And being gentle with myself.
My morning ritual is very important for me. It's the time when I meditate, study, journal, set the intention, make art and connect with my Soul.
And I keep a set schedule for my work. No night outs or long hours for me anymore. Getting good sleep each night is must-have.
And the set work hours allow me to be more focused and disciplined.
During the day I take a few mindful breaks, go for a walk and create space in my day for new ideas to flow through. Evenings and weekends are more for relaxing and resetting. I do work a few hours, but it doesn't seem to work anymore. That's the beauty of doing what you love! Work becomes fun.
What I've learned since last year is to be flexible with your schedule. So I let my intuition guide me a lot. Sometimes I need more rest during the week and I honor that. Listening to our body is a huge gift we can give ourselves, when it comes to self-care.
EC: What's next for Designs by Loveleen?
LS: Growth and expansion! My mission is to sprinkle Joy and plant lots of trees. And I see my brand growing into a name brand for intentional and eco-friendly living. I want to keep creating beautiful, joyful products that inspire you to be your best Self. Simple things you can fill your home with, that remind you miracles are everywhere. Goodies that'll make your everyday life feel like a ritual.
Does anyone else feel a sense of calm and peace after reading that!? If you want to continue to feel Loveleen's presence, check out her website to shop all things woo and joyful! From journals to scarves, to affirmation cards and kimonos – there's something there for everyone!