How an Employee First, Customer-Centric Model has Led to Incredible Growth for this Mobile Nail Salon!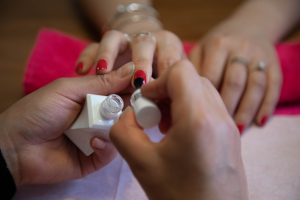 Let's take a moment to talk about a business trend we LOVE, and that we hope continues to take shape and become stronger as time goes on! And that trend is taking care of your employees! 
It has been shown time and again that "a happier workforce is clearly associated with companies' ability to deliver better customer satisfaction — particularly in industries with the closest contact between workers and customers." One rockstar founder, Paulina Serrato, deeply believes in this link, and has seen the positive impact of an employee-first strategy within her own business, MANIORPEDI.
Like many entrepreneurs, Paulina started MANIORPEDI when she realized a major gap in the market. After passing several empty nail salons in the middle of a weekday, a lightbulb went off, and she knew she needed to fill that gap. So she started a mobile nail salon with the goal of meeting working men and women at their places of employment.
And she chose to focus on some often overlooked aspects of the nail care industry: fair pay and equitable treatment for all nail technicians, one-time use products, and unsurpassed customer service.
All of this care and attention shows! In 2019, MANIORPEDI was awarded New York City's Mobile Business of the Year, and Paulina has been featured in numerous online publications, such as On The Dot Woman, Luxurlux, and Telemundo's Mujeres Imparables.
Read on to learn more about Paulina, her journey founding and building MANIORPEDI, her pandemic experience, and some fun news about what's next for the business! 
Erin Coles: Tell us about yourself, your background, and what you were doing prior to starting maniorpedi?
Paulina Serrato: My name is Paulina Serrato, I was born in San Diego, CA but was raised in the border town Tijuana, México. I come from a family of entrepreneurs – my grandparents used to own a clothing store and my parents a candy store. I guess that's where my entrepreneurial genes come from.
Graduated from LIM College in New York in 2015 with a BA in Fashion Merchandising. Soon after graduation, I landed my first (and only) corporate job at Macy's in the Buying department.
I did not last long at Macy's before realizing that was not for me, that I wanted to own my own business, I just wasn't exactly sure what that was going to be.  
EC: What inspired you to start MANIORPEDI?
PS: Being a minority and Latina-owned business, the primary reason why I founded MANIORPEDI was to give manicurists from all cultural backgrounds an opportunity for a better lifestyle.
The three core benefits of being a manicurist with us are: greater wages in less hours worked versus at a normal nail salon, scheduling flexibility to help juggle family commitments, and invitation to inclusive company-wide events throughout the year.
EC: Where is MANIORPEDI based, and how far do you travel? Any plans to expand in the future?
PS: MANIORPEDI is based out of Manhattan in New York. We're currently serving offices and events in Manhattan, Brooklyn, and Queens. Occasionally we also serve Upstate New York and New Jersey for bigger offices and/or events.
We are very excited to share with you that we are starting our first brick and mortar location in my hometown Tijuana, Mexico.
We want to keep the mobile business in NYC for now, and once we have our first location open in Tijuana we would love to open more nail salons throughout Mexico – and maybe one day open one in New York.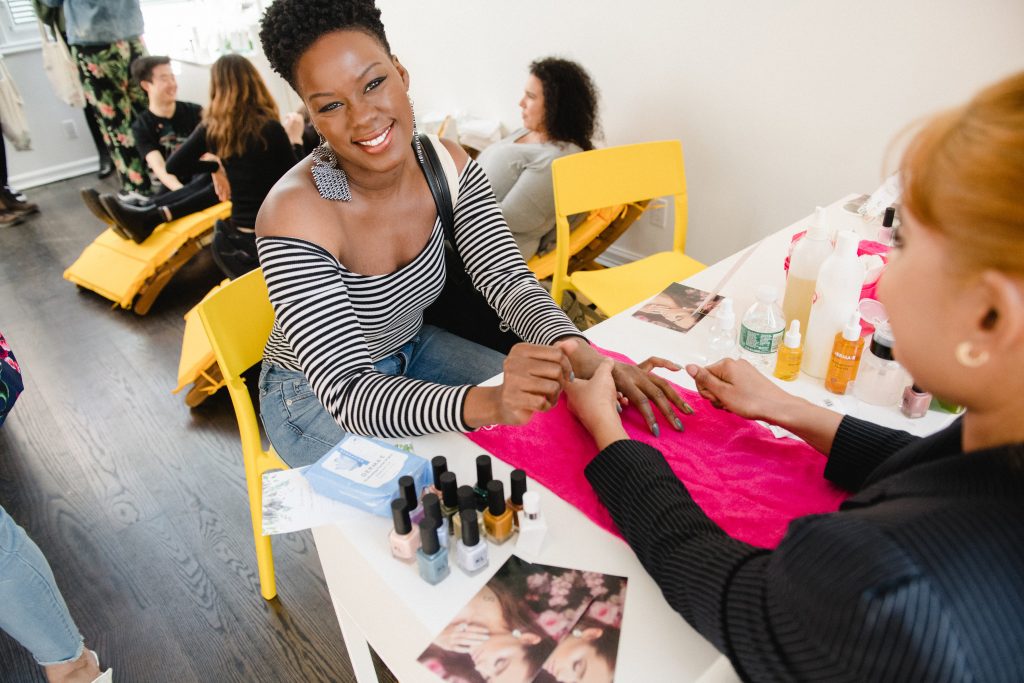 EC: Wow, congrats on the location in Tijuana, Mexico!! Let's take it back to NYC for a moment. Why was it important to you to create a mobile nail salon versus a brick and mortar location?
PS: One day I was walking on the Upper East Side in Manhattan and realized that all the nail salons were empty. Nail technicians were on their phones just waiting for clients to walk in. I was wondering where the clients were, and why these nail technicians were so bored.
That's when I realized…people are at work! Nail salons are mostly empty between 10am-5pm, so, why not bring the nail salon to the office instead? That's how the idea of a mobile nail salon was born…that's how MANIORPEDI was born.
There's already so much competition in the nail salon industry (brick and mortar) that starting a brick and mortar nail salon in NYC was never an idea. 
EC: How do you generate interest in MANIORPEDI, and how do you go about educating your customers about your services? What strategies and platforms are you using?
PS: The most effective way to raise awareness is through word-of-mouth. We barely spend any money on Google or Facebook Ads. It all comes from clients who loved our services. They recommend us to other departments within the same company, to colleagues from other companies, and they also re-book us.
I would say that 60% of our clients come from Google search (our SEO is on point!) and 40% come from word-of-mouth.
We do not have "marketing strategies" as such – instead, we rely on our clients. We know the service we provide is superior, our manicurists are amazing people,  and our products are always one-time use. That's why they continue booking our services and recommending us to their colleagues.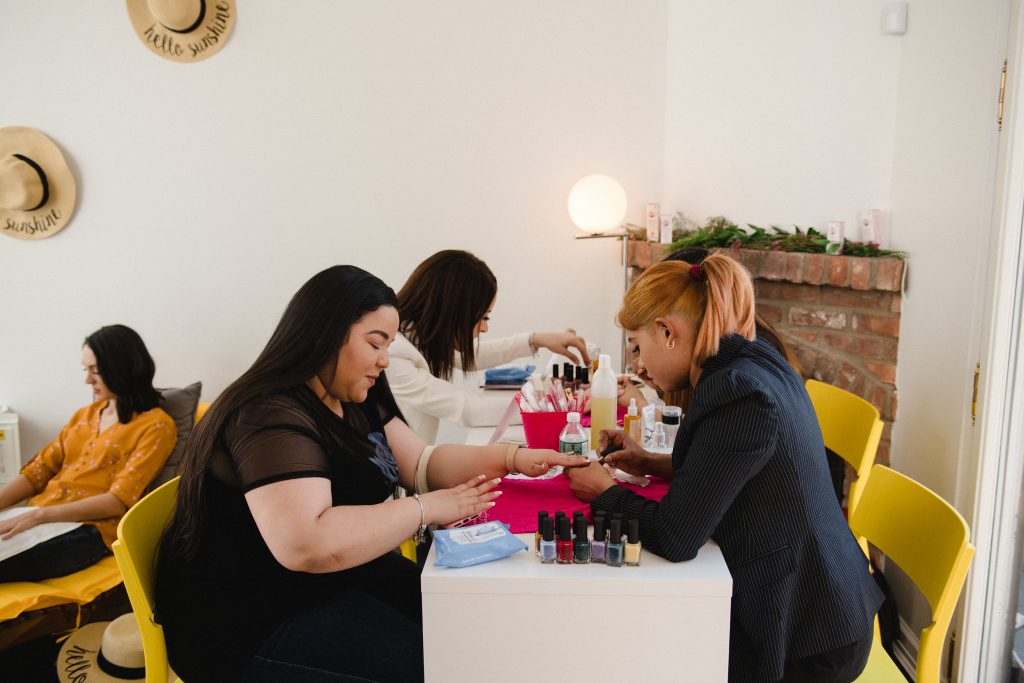 EC: That's amazing! Since it looks like your clients love you so much – I'd love to hear some of your customer feedback! Give us an example of what your customers are saying!
PS: We currently have 173 Google reviews with a 4.9 average rating!
Here are some examples:
I loved the experience! It was so nice to have the service in the middle of a workday to brighten up the day. The ladies that also did the service were very nice and considerate. My lady asked if I wanted a third coat and was super precise with working on my nails. I wish I could have her do my nails all the time!
I don't know how but the quality of the nail polish was also great! I usually do my own nails with gel color and the polish starts to crack within one day but I think it was an Essie Gel they used and it did not start to see any issues until day 4 or 5! I love the quality that lasts.
Looking forward to the next one. Thanks again!
Such a great experience! It was quick and well done. They use really nice polish, tech was very sweet, and it was during my lunch break. Will certainly go again next time they are in my office!
Excellent service and great nail techs. Staff is very professional and friendly. I highly recommend their services 💅🏼💅🏼
EC: Such amazing reviews – congrats! And who are your ideal customers?
PS: Basically anyone that works in an office. HR managers, Community managers, PR, and Brand Activators are the ones usually contacting us for in-office manis and pedis, or events.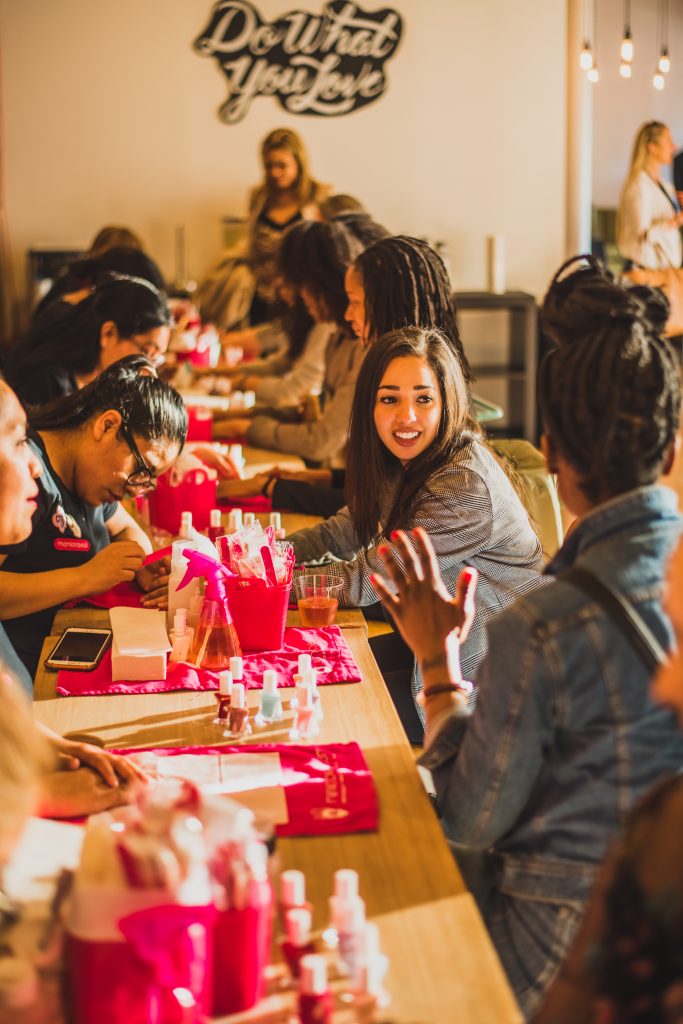 EC: Because your business model functions through in-person interactions, how did COVID affect your business? How have you navigated lockdowns, restrictions, PPE, and everything else? 
PS: The COVID-19 pandemic has been my biggest challenge. During these strange times, I've had to learn how to lead my manicurists with greater strength and confidence, as well as kindness, charity and empathy, giving them hope for a brighter future. My experience as a female founder has not only given me the tools to lead myself, but also a team of manicurists who depend on me during an extremely difficult time of financial instability and uncertainty.
The biggest challenge I'm currently facing for 2021 is growing the business. People are still hesitant to book our services at companies and/or events. Clients who were once repeat clients, will likely not book as they once did, and it'll be difficult to acquire new customers who are afraid of the virus. If we do not have revenues from business, it'll be more difficult to reinvest in building brand awareness and marketing the business; much more time will be spent developing earned-and-owned media.
EC: You've partnered and worked with some well-known brands including Adidas, Babe Wine & Spirits, and Macy's. Can you share a little more about how you obtain and develop relationships with those brands?
PS: All of them have reached out to us because they found us on Google and they've seen our posts from previous events on social media.
I'm extremely lucky because I have a team of amazing nail technicians who provide the best customer service every single time.
Our biggest differentiator from the competition is that all of our nail files, buffers, and orange wood sticks are one-time use. They come in a little clear plastic bag. After each use, it's given to the client to take home, put in the purse, or leave on their desk. The nail packet is branded, making them a great way for people to remember us.
Another differentiator is that we only use long-lasting polishes which makes a huge difference, especially when typing on the computer all day.
EC: That's so amazing that all of those brands reached out to you! That speaks volumes of the type of service you provide! Are there any other partnerships you're particularly proud of?
PS: We've partnered with Safe Horizon and their campaign to help stop domestic violence (#putanailinit), and with the American Heart Association to help women with heart disease problems (#gorednyc). During these partnerships we either donated part of our proceeds or provided pro-bono manicures at certain events.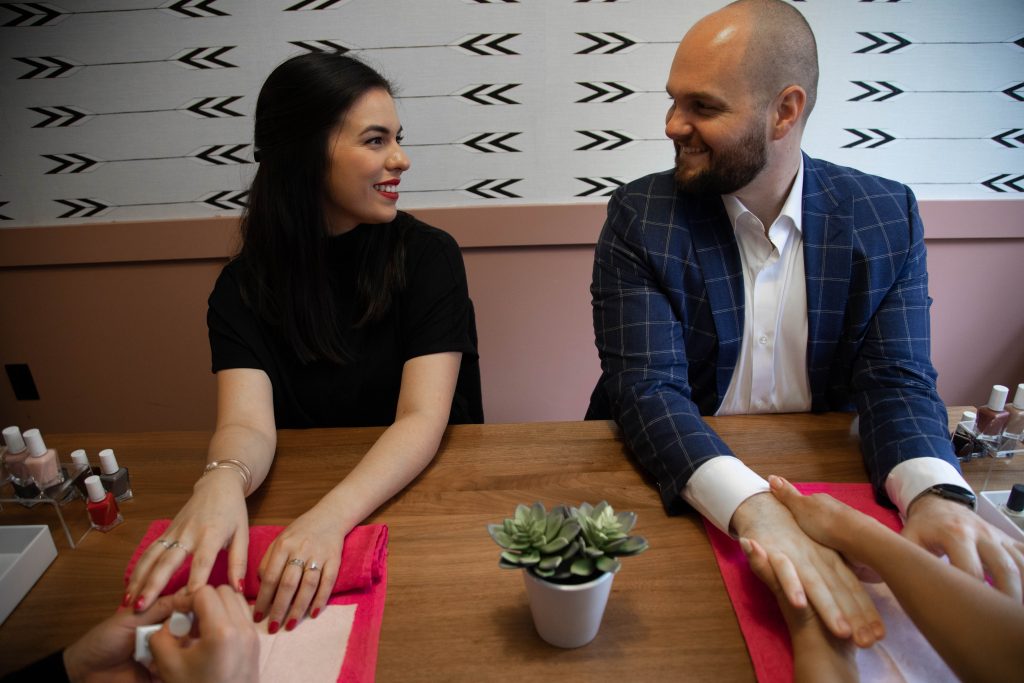 EC: That's amazing! OK, so you and your husband, Joseph started MANIORPEDI together – how cool! What is it like working with your spouse? Any tips for fellow entrepreneurs who are working with their significant others? 
*Paulina and Joseph are pictured together above!
PS: Joe has all the marketing, branding, and SEO skills, while I have all the operations, inventory, and management skills. We definitely compliment each other.
Sometimes it's not easy and we bump heads with certain ideas, but at the end of the day we both want what's best for the business.
In order for your spouse and you to work together as a team, there must be communication at all times. Joe and I have weekly meetings where we talk about MANIORPEDI and what's needed for the business.
I must say that my business role model is my husband Joe, not only because he's my husband, but because he represents what the word "entrepreneur" means. He has started several businesses (including MANIORPEDI with me), and currently has his own Branding and Marketing Agency. He is all about working smarter not harder. He has taught me so much about business and how to keep my head high, even in situations where you just want to give up. 
EC: I love that perspective! And what has been the biggest challenge in building your business thus far?
PS: As previously mentioned, COVID put a complete stop to our business. We were at the peak of our success before COVID. Offices and events were completely closed/cancelled. We basically had to start from the ground up, and we are okay with that. The only good thing that came out of COVID was the time it gave us to really think about what we wanted with the brick and mortar location. Now we have to wait until most offices reopen, so we can reach out to our previous clients to see if they want to have us back in their office.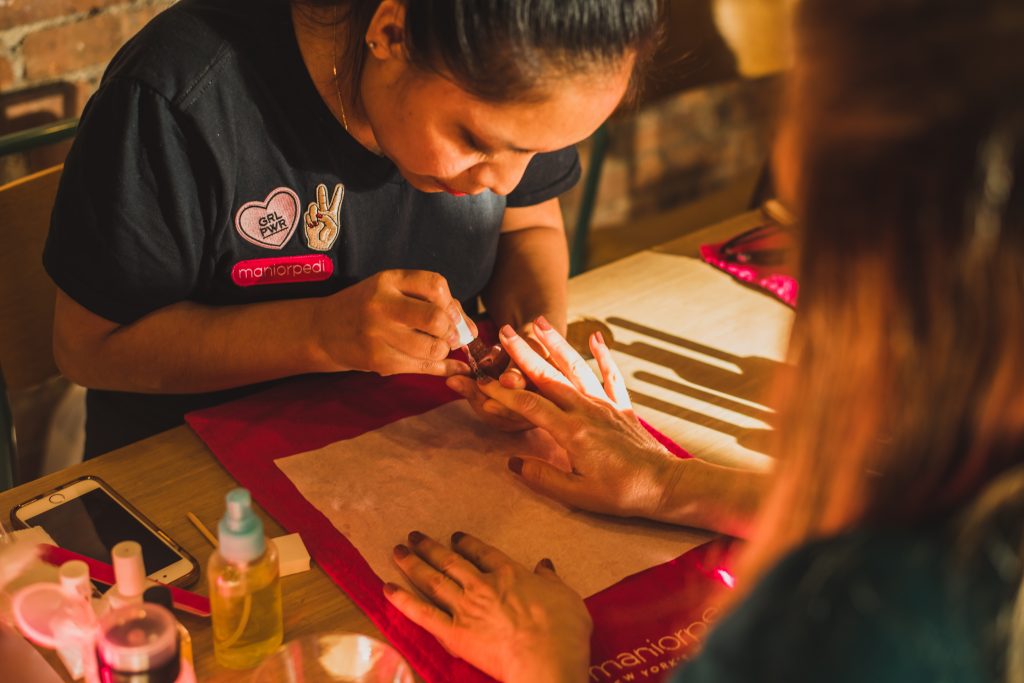 EC: What is the best piece of business advice you ever received? 
PS: "Take care of your employees, and they will take care of your customers" – 100% true. If you care for your employees, treat them well, and pay them fairly, the rest will fall into place. They will stay with you, be loyal, take care of the company and most importantly, your customers.  
EC: That's amazing advice. And what advice would you offer to a fellow entrepreneur hoping to break into the mobile beauty space?
PS: Service is everything!
EC: Yes! Agreed! When you're not working on MANIORPEDI, what are you doing?
PS: I go to the gym 3 times a week and I use that hour of my day to truly focus on the exercise and not think of anything else. Group classes are my favorite! I usually take Barre, Boxing and Boot camp.
My favorite way to decompress is by doing nothing. From time to time, I enjoy staying at my apartment, waking up late, binge watch something on Netflix, order some food, and just stay in PJs all day long. Having the phone away is a big plus.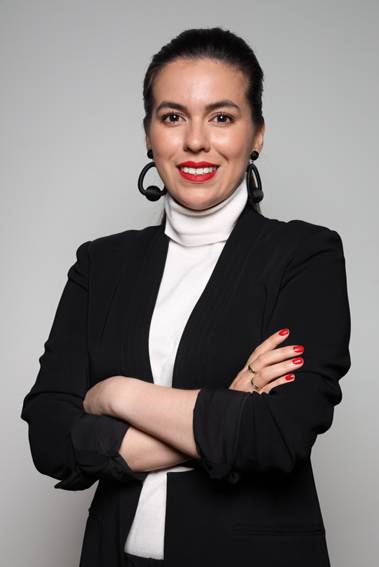 EC: How do you balance or integrate all the facets of your life – all while making time for personal relationships and self-care?
PS: I must say it's very hard for me to find balance between work and life. MANIORPEDI is what I eat, breath, and sleep. However, having a rescued dog named Benji has helped me tremendously! I make time in my day to take him to the park every day, as well as to walk him around the block at least twice a day. He definitely keeps me in shape!
EC: What's next for MANIORPEDI?
PS: In New York, we just want to get back to work. We miss going to offices and meeting new people, and working with amazing companies and startups.
In Mexico, we'll be ready to open to the public in July 2021 – we are beyond excited to bring a New York nail salon to the mexican clientele.  
Amazing, right!? If you're ready to book your at-home or in-office MANIORPEDI experience – or if you're already packing your bags to Tijuana, Mexico (like me), head to www.maniorpedi.com for more info! You can also follow Paulina on Instagram at @pauserrato, and check out business updates at @maniorpedi and @maniorpedi.tj. And Paulina would love to hear from you directly! Email her at paulina@maniorpedi.com if you have any questions or want to get something scheduled!