From "Not Yet" to Noyette: Sustainable & Socially Conscious Editorial Fashion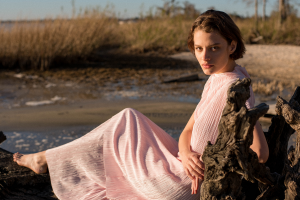 Have you ever had an awesome idea or really wanted something and said to yourself "now is just not a good time?" As time passes you continue to say, "not yet" and push it off until the perfect time comes along – fully knowing that the perfect time probably doesn't exist? If this sounds like you, you're not alone! Riley Bennett, Founder of sustainable editorial fashion brand Noyette, did this very same thing!
The idea for Noyette came to Riley long before she took the leap into entrepreneurship. Riley saw a need for quality made fashion that was editorial, affordable, sustainable, and that gave back to the community in a larger way. After saying "not yet" for 2 years, Riley finally started Noyette in 2020. She started making dresses ethically in California from deadstock fabric, and she hasn't looked back!
Read on to learn more about Riley's entrepreneurial journey, why sustainability and giving back is so important, and her best advice for entrepreneurs who keep saying, "not yet."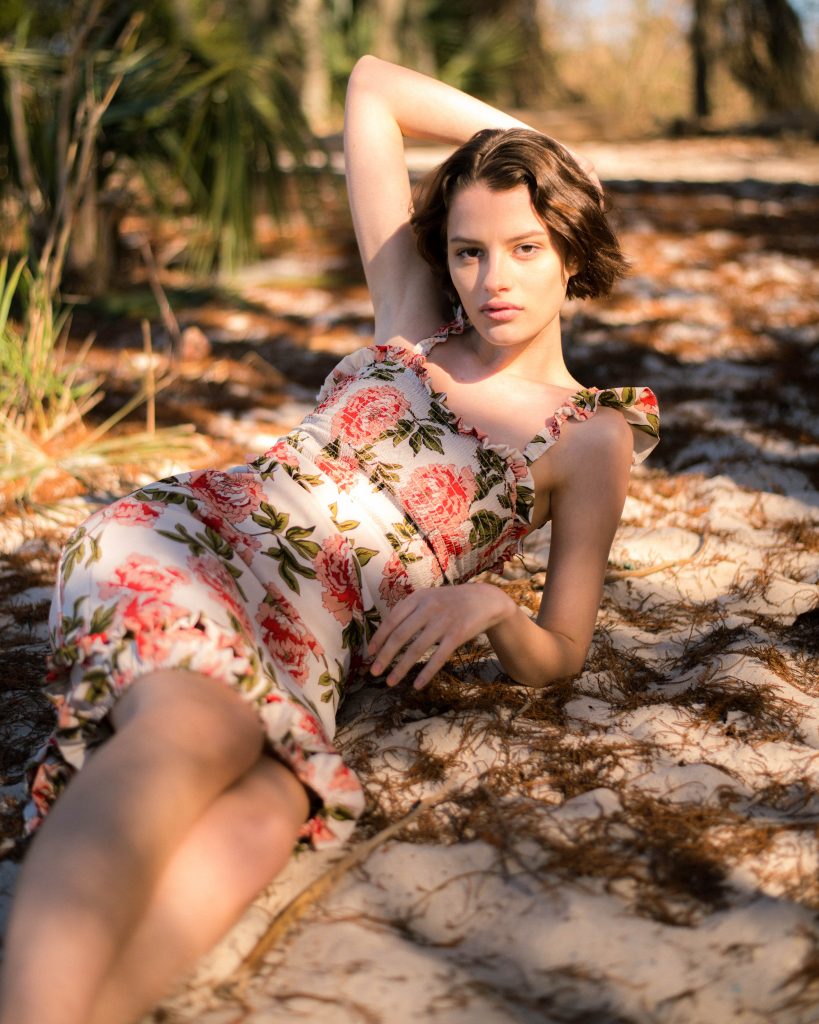 Erin Coles: Tell us about yourself, your background, and what you were doing prior to starting Noyette?
Riley Bennett: I'm Riley Bennett, the founder of Noyette. I'm based in San Francisco, but lived in NYC for about 8 years where I graduated from the Fashion Institute of Technology. I have worked in Fashion Ecommerce for over 10 years.
EC: What inspired you to start Noyette?
RB: It's hard to pinpoint the exact moment I decided to start Noyette. The idea of a brand with the Noyette aesthetic began about 2 years before I actually took steps to really build the brand. I knew I wanted to produce clothing domestically and support the garment districts in the US. I have always been interested in fashion and the idea of creating my own brand, but I felt I wanted to contribute to the community and causes I cared about outside of fashion. This is where the donation piece of Noyette came in, and I'm very proud of that. 10% of every order at Noyette is donated to some amazing organizations, and I love being able to give back through fashion.
EC: And where does the name Noyette come from?
RB: The name Noyette is really what catapulted me to officially start the brand. I had done sketches and even started some of the early sample work, but kept battling myself on it not being the right time to start a brand. I kept telling myself "not yet, not yet" on starting a brand. Not yet became Noyette and that really led me to move forward on making Noyette official.
EC: I love that! We've all told ourselves "not yet" before, so I'm sure this resonates with a lot of people! Where are your pieces made?
RB: All of our dress collection is made in California. We produce our pieces ethically in small batch production from deadstock textiles. It was important to us to reduce our carbon footprint and produce our pieces ethically.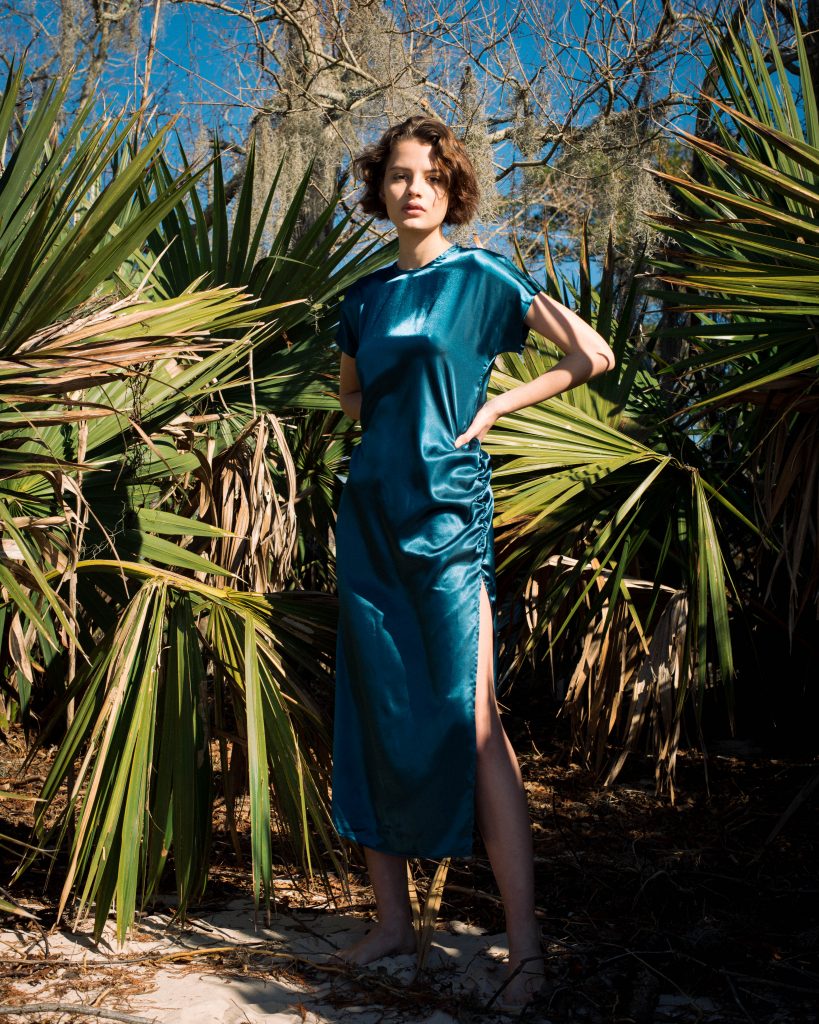 EC: Noyette is an ethical and sustainable clothing brand. Can you tell us more about "deadstock fabric" and share the other ways in which you're sustainable?
RB: Yes! Noyette's dress collection is made entirely from deadstock fabric, which is overage fabric from other manufacturers that would otherwise go to waste. Rather than producing more textiles, we utilize deadstock fabric to reduce our carbon footprint. We also manufacture in California where we are based which reduces footprint as well.
For packaging we use recycled materials that are recyclable and use soy based ink that is non toxic for the earth on printed materials. We also define sustainability beyond the materials we use. Our production is ethical which means there are fair wages and safe working conditions with our manufacturer.
EC: That's all really amazing. And why is sustainability important to you?
RB: We only have one earth and we have to do our part to lessen our impact. I think being conscious about your choices is key. It's not to say Noyette is doing everything right in terms of sustainability, but we are determined to lessen our carbon footprint and contribute in a positive way by being thoughtful about our production and materials.
EC: I know you like to give back a portion of every sale to organizations that have inspired your team. Why is this important to you, and what are some of the organizations you've donated to?
RB: The world is so much bigger than fashion and we wanted to be able to contribute to causes we cared about. We love being able to give back through our love of fashion and let our customers do the same. 10% of every order is donated at no additional charge to our customer. And our customers can select at checkout to donate that 10% to one of these organizations: Planned Parenthood, The Loveland Foundation, The James Beard Foundation, or Campaign Zero.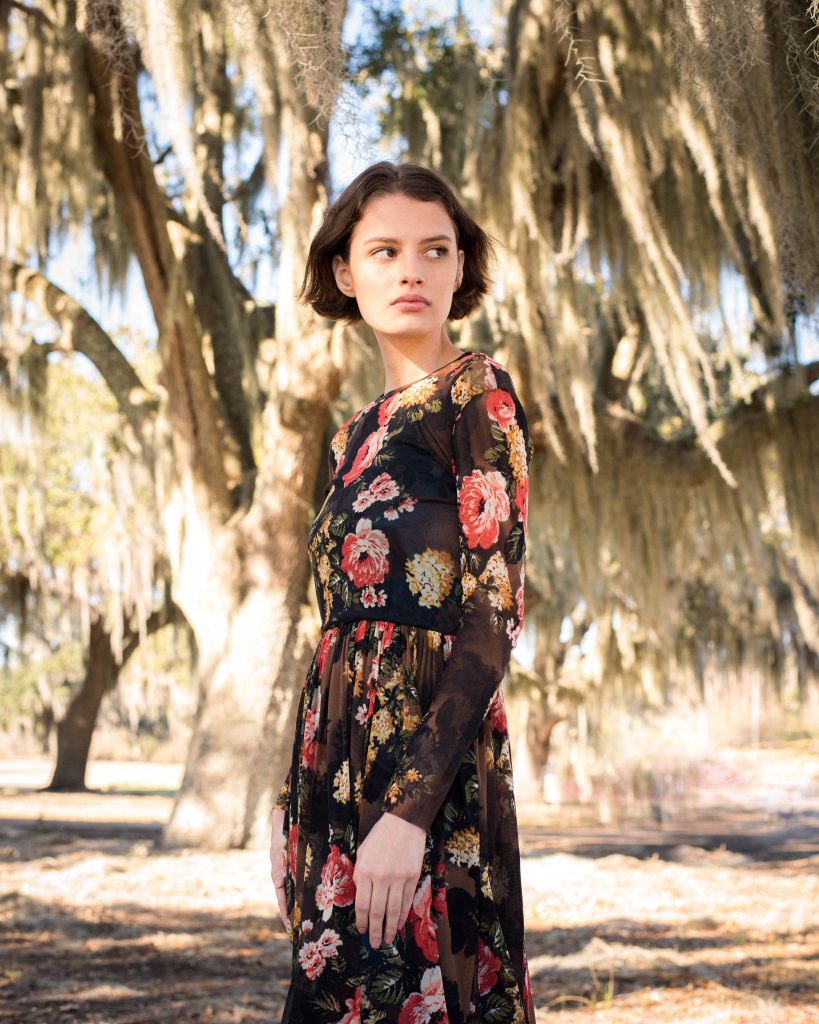 EC: That's so thoughtful, and so powerful! How do you generate interest in your brand, and how do you go about educating your customers about your product? What strategies and platforms are you using?
RB: Our main traffic driver and outlets we have drummed up interest in our brand are through our Instagram @noyette.noyette. We share posts every day as well as stories that go more in depth on our brand. We are also on Facebook, Pinterest, TikTok and our emails, but our largest community is on Instagram currently. We value building relationships with our community and we have made some amazing connections there.
EC: What has the customer feedback been like? Give us an example of what your customers are saying!
RB: Our customers have been pleased with the quality of our dresses. Our manufacturer works with some high end luxury labels and we are offering the same production value at a lower price point. We also get a lot of positive feedback on our sustainability efforts and giving back, we love that our customer values the efforts Noyette is making as a brand.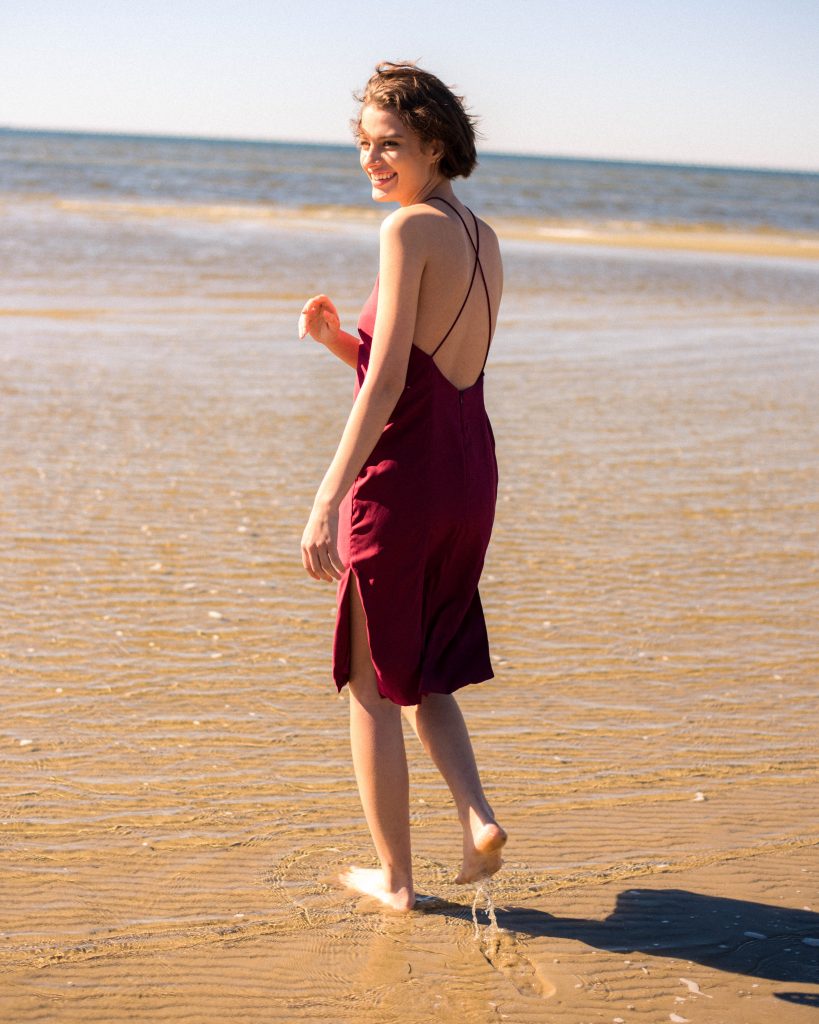 EC: Well I'm a personal fan for sure! Where do you sell Noyette and what is your plan of where to sell moving forward?
RB: Currently we only sell Noyette on our website, it allows us to keep our price point down by selling directly to our customer. We are open to selling through other retailers though as well, but it's not an avenue we have explored yet.
EC: Noyette has the cutest mascot (and logo)!! Tell us about that adorable French Bulldog!
RB: Tule is my french bulldog, and arguably the real head of operations. Tule is featured on our sweatshirt in an embroidery design that my sister-in-law created. Tule pops in from time to time in our stories and our packaging as well. She's too cute not to include and she does a lot of supervising at Noyette.
EC: You've gotten some amazing press! Can you share some of the places Noyette has been featured? Also, let us know if you have any tips to share with other brands who may be looking to get press!
RB: Thank you! Noyette has been seen in Fashionista, British Vogue, Conde Nast Traveller and Glamour UK, Elle UK and Tatler.
Press is still something we are always working on and there is no direct answer for it. We've been lucky enough to have some friends that have helped us craft pitches and do reach out. However, don't get too caught up in the press. Ultimately it's the relationship with our customers that is of the most value. One moment we are especially proud of is that Ali Kriegsman, co-founder of Bulletin and author of How to Build a Goddamn Empire, wore our West 30th dress to her book launch party. It was a huge surprise for us and we loved that we got to be a part of a female entrepreneur's big night. We also are big fans of her book and the moment was all around so special for us.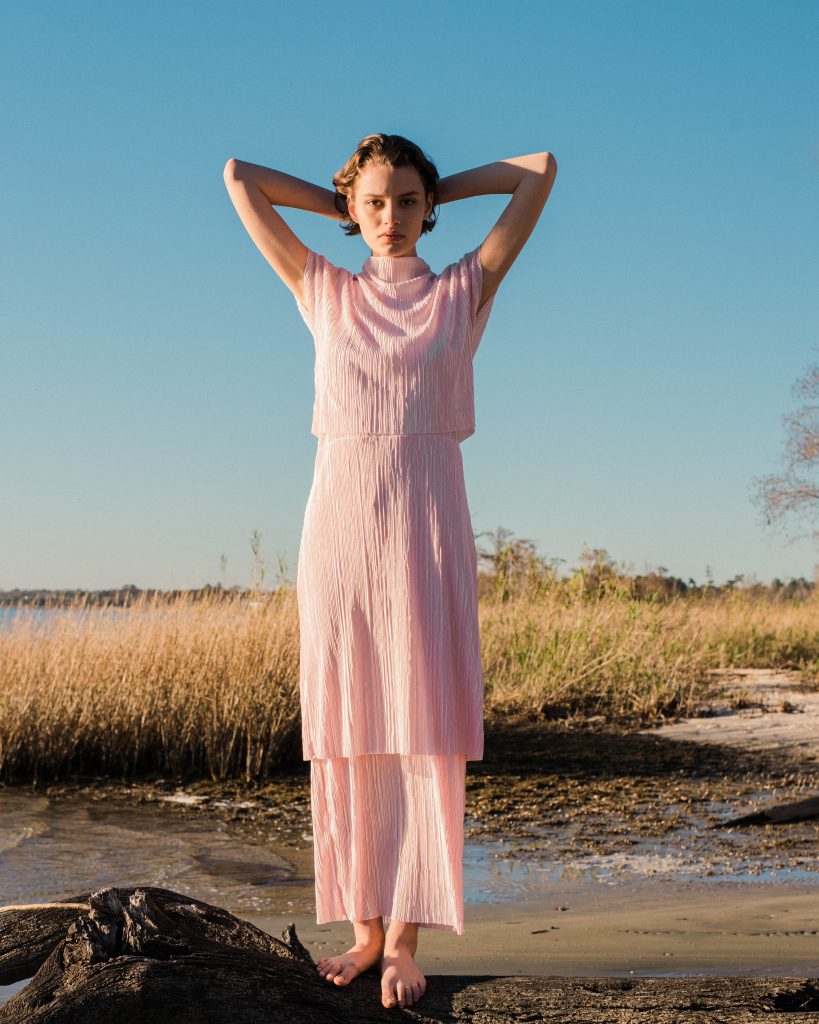 EC: Ahhhh, that's so awesome! So who are your ideal customers?
RB: Our target audience right now is mainly women between the ages of 24-35 based in NYC and LA based on demographics. Our target customer though I think is really a modern romantic who isn't afraid of color and appreciates easy luxury. She cares about her impact on the world and is aligned with our values in sustainability and around giving back.
EC: What has been your biggest challenge in building your business thus far?
RB: There have been so many! We went into production and launched Noyette last summer at the start of the pandemic. Like so many others, we didn't know what that meant for the business. Navigating that and launching our business was all new to us, but it really comes down to the fact that you can't expect to do everything right or well. Take everything one day at a time.
EC: Wow, I didn't realize you started during the pandemic. That's so impressive! And what is the best piece of business advice you ever received?
RB: To just start…We spent a lot of time focusing on the right time to start Noyette and there never really is a right time. Do your research, but there is never really a right time.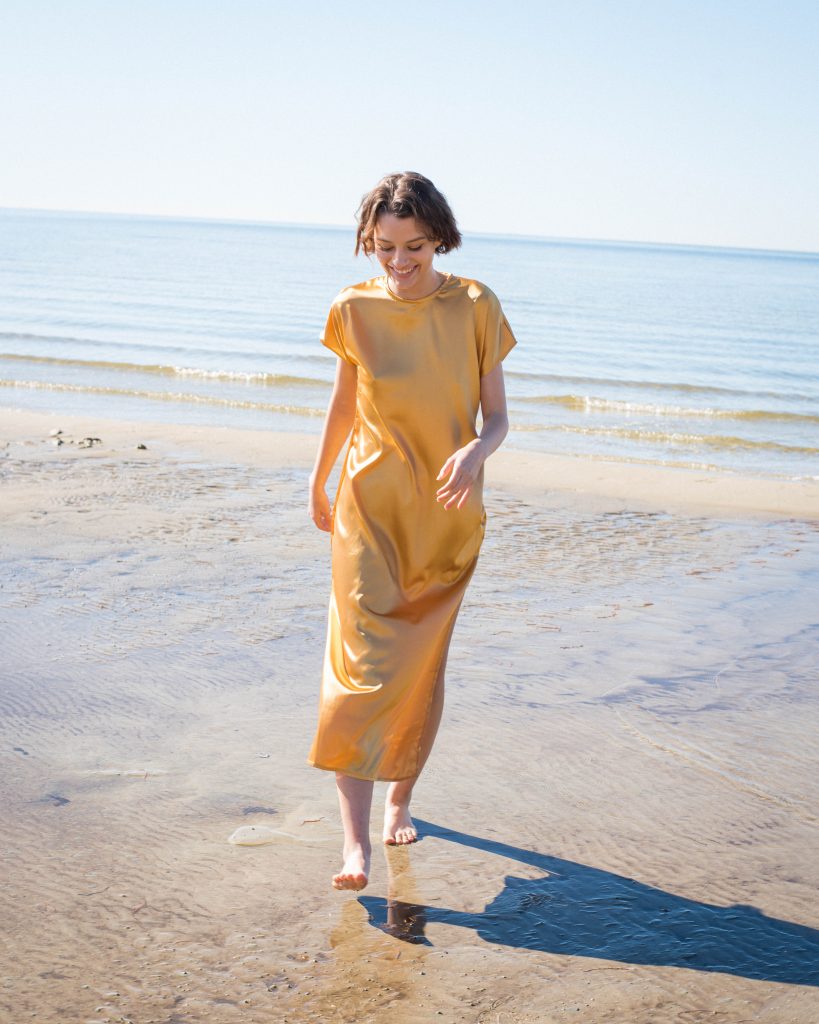 EC: What advice would you offer to a fellow entrepreneur hoping to break into the clothing retail space?

RB: Research is important! In the early days we did a lot of cold calling to talk to manufacturers, pattern makers and any one we felt could help point us in the right direction. We were pretty specific about the kind of partner we wanted to have and that took a lot of thoughtful research. You don't know what you don't know, so talk to as many people as you can to help gain a better perspective around your options and goals.
EC: So when you're not working on Noyette, what are you doing?
RB: I work full time in ecommerce, which I really enjoy. Noyette is really a passion project at the moment and I work on it at odd hours at night more than I care to admit, but it's happening!
EC: And how do you balance or integrate all the facets of your life – all while making time for personal relationships and self-care?
RB: I don't have an answer around how to balance it all, I really focus on just trying to find balance and making an effort to step back when I am feeling burned out. I find it's important to be conscious of your life outside of just work and to put the time and effort into your relationships and things you enjoy outside of work. Don't be afraid to stand up for yourself.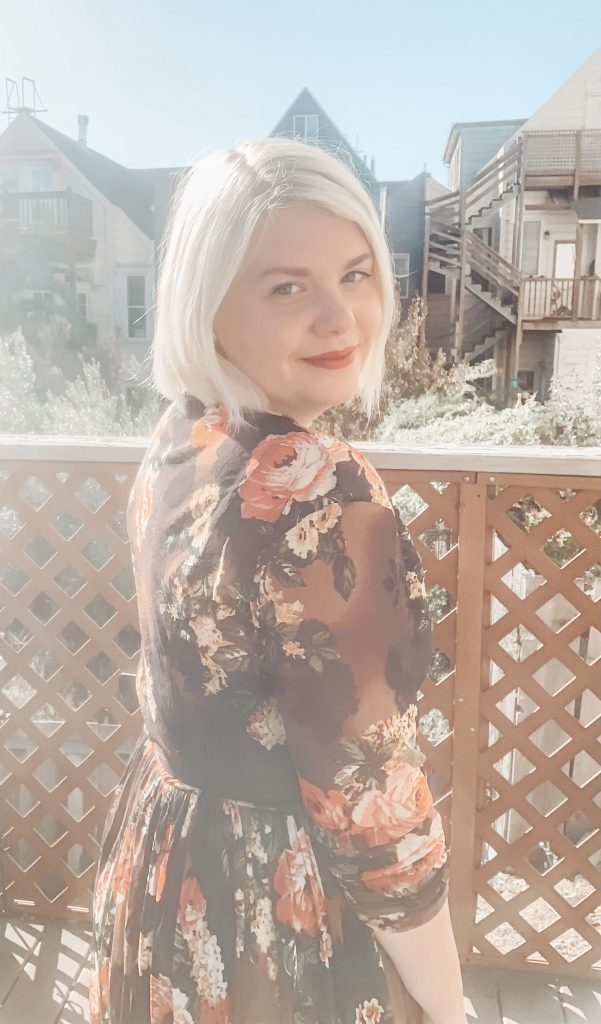 EC: What's next for Noyette?
RB: Currently, we are working on a new design which we are very excited about. It's still the early stages of our development, but we're looking forward to having a new piece coming out soon. Our customers have given us feedback on what they want to see from us in a new design, so we are excited to make that happen.
Riley's "just start" advice is probably one of the best pieces of advice you'll ever hear as an entrepreneur! Thanks, Riley! It's so easy to push something off, but if you just start, look at all you can accomplish!
If you want one of these GORGEOUS dresses for yourself, head over to Noyette to browse and make your purchase! And to keep up with new design launches, product updates, and exciting news, follow @noyette.noyette on Instagram!
But wait, there's more! Riley wants to give you something special, so she's offering a 30% promo with code WAWONOYETTE! Enter the code at checkout for 30% off all products. Code expires on July 7th, and can be used once per customer.
Special Shout-out to the creative team behind the gorgeous photos in this post:
Photographer: Chris Scheurich (@cjs1022)
Stylist: Ali McNally (@itsalimcnally)
Model: Annabelle Landry (@ayvtt)