How a Simple Coping Mechanism Turned Into Creative Fulfillment (and its Very Own Brand): Amanda Thayer Designs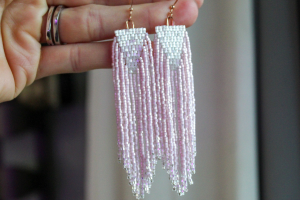 Say hello to Amanda Thayer, Founder + Designer at Amanda Thayer Designs. This Portland-based maker is a mom to one kiddo, a wife, and a dog mom to two pups: Elsa the Husky and Wicket the Shih Tzu. 
If you're thinking Amanda's name sounds familiar, you're right – her David Rose-inspired earrings were a huge hit in the 2022 WAWO Holiday Gift Guide!
Amanda is no stranger to putting in the work, either: for the past two years, she's been building her brand and lovingly crafting those stunning beaded earrings (using only top-quality beads and precious metals, of course) – all while working full-time for a large corporation.
In this interview, we got to chat with Amanda about:
How a serious injury prompted her to give beadwork a try
Building a business while working a full-time job
Pursuing creative freedom outside of her 9 – 5
Where she finds inspiration and what the design process usually looks like
The biggest surprise about being a solopreneur
Eager for alllll the details? Let's jump right in!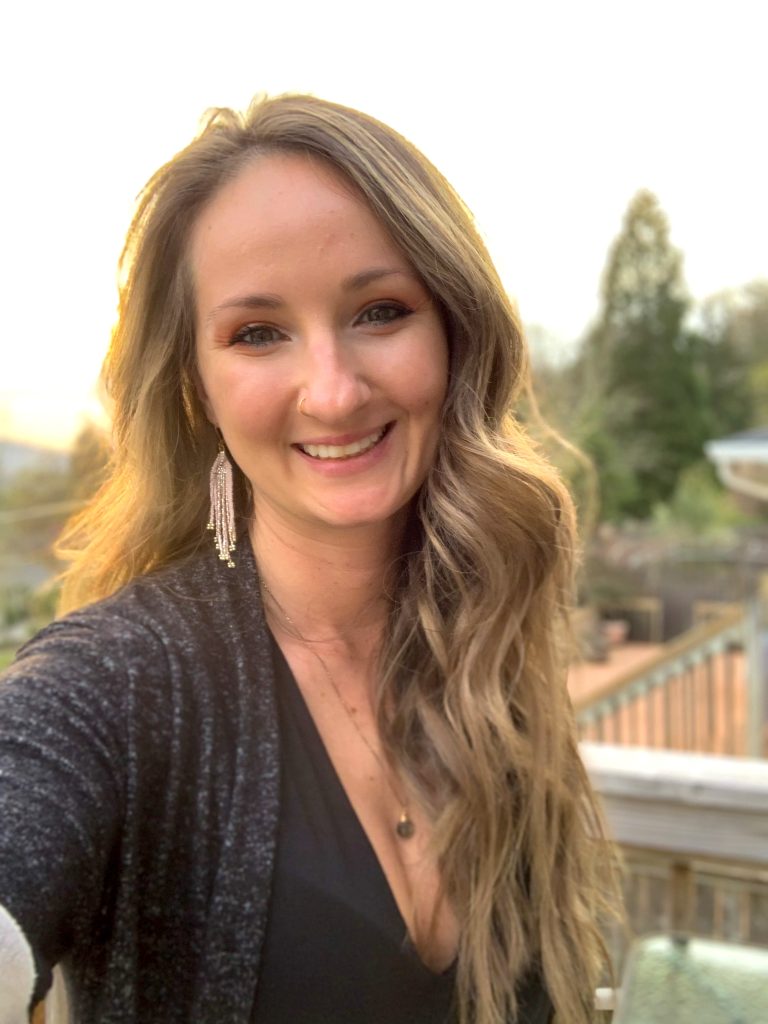 WAWO: Tell us a little about the work you do and the ways you make your living!
AT: I work full-time for a large corporation as a cake decorator. I enjoy my full-time job most days, but working for a large company does not allow for a lot of creativity.
I've also been working on building my business, Amanda Thayer Designs, in my spare time for the last 2 years. I LOVE that my business allows me the freedom to pursue projects that feel creatively fulfilling! Each pair of handcrafted beaded earrings has a unique story, and so much thought and love go into everything I make.
I want my customers to feel like wearing my earrings helps them to express their personal style. I want them to feel beautiful. I want my earrings to feel fun.
When someone is running behind in the morning and they only have time to grab one item to brighten up their look, or when they need that extra pop of sparkle that's going to make them feel so empowered to tackle whatever the day has to throw at them, that's when I want my earrings to be what they reach for.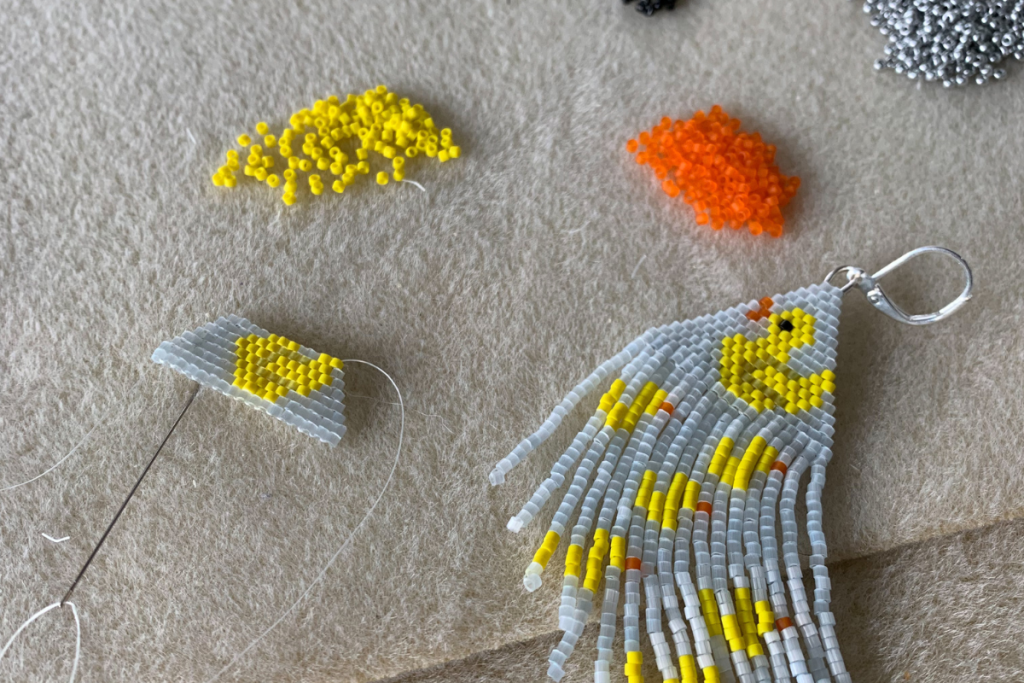 WAWO: How did you get started with beadwork?
AT: My journey toward beading started with an injury.
In June of 2015, I seriously injured my left knee doing one of those obstacle course mud runs. I've since had 3 knee surgeries (and my 4th is scheduled for the beginning of February this year!).
Then, in 2022, I was diagnosed with Adenomyosis and my doctor and I decided that a full hysterectomy was necessary. Thanks to my previous knee surgeries, I was already familiar with how major surgeries and long recoveries take a heavy toll on my mental health: isolated, depressed, alone, and stagnant. Day after day of being restricted by my injury and recovery left me feeling suffocated and confined.
So, this time, I decided I was going to do things differently. I started working with a coach and I set out to learn how to make beaded earrings. I wanted something that would keep my mind busy and stimulated while also allowing me time to rest and heal.
Learning to bead was a SLOW process but it gave me something to look forward to every day. I was excited to do better than I had the day before. I enjoyed the challenge of learning something new, and I welcomed the ability to be creative.
It did not take long before this thing that I started doing as a coping mechanism became something I truly loved doing!
WAWO: That's amazing! What prompted you to turn your beading into a business?
AT: Since beading became this thing I really loved doing, I was starting to have quite the board of beaded earrings!
Someone suggested I start an Etsy shop. I thought, yes, sharing this thing that is bringing me so much joy with other people sounds like a fantastic idea.
When customers tell me that wearing a pair of my earrings is giving them the confidence boost they needed, it feels so incredible to think that what started out as my happy coping mechanism is helping other people to feel happy, too.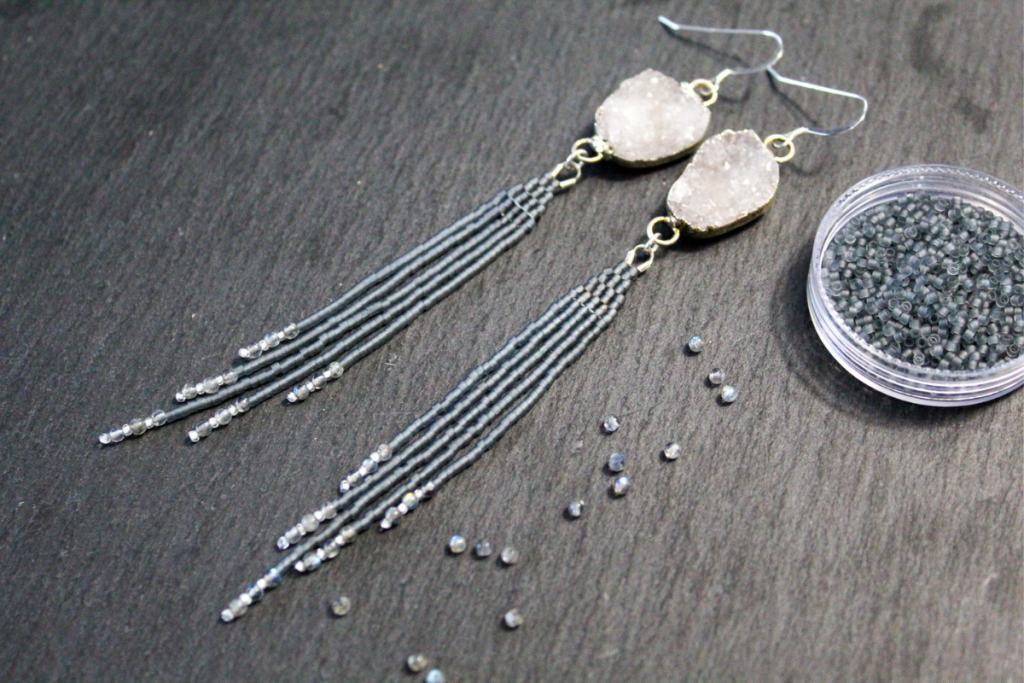 WAWO: What does your creative process typically look like?
AT: The process starts with a spark of inspiration. It can be anything: an object like a rubber duck, a sweater I saw while shopping online, a sunset, or even the beads themselves.
Occasionally, I will pull out the beads and supplies I need to create a project and just start working. But what typically happens is I begin by drawing the design that's in my head out on beading graph paper.
Then I start with a prototype. Sometimes it comes out just as I had imagined and other times it can take several tweaks to get the end result I was looking for. 
WAWO: Where do you find inspiration?
AT: Inspiration comes from everywhere. For example, I watched the show Schitt's Creek and decided that I needed an earring to represent David, so I made an earring patterned from a sweater he wore in the show.
I also love holidays and frequently make earrings inspired by them. Sometimes I receive requests for custom designs. Currently, I am working on a chicken-themed earring for a friend! 
WAWO: How long does it typically take to create a pair of earrings?
AT: When the design process goes smoothly and everything turns out exactly how I expected, making a small pair of earrings can take about 2 hours.
Larger earrings and more complex designs can take upwards of 5 hours – even longer if you factor in design time.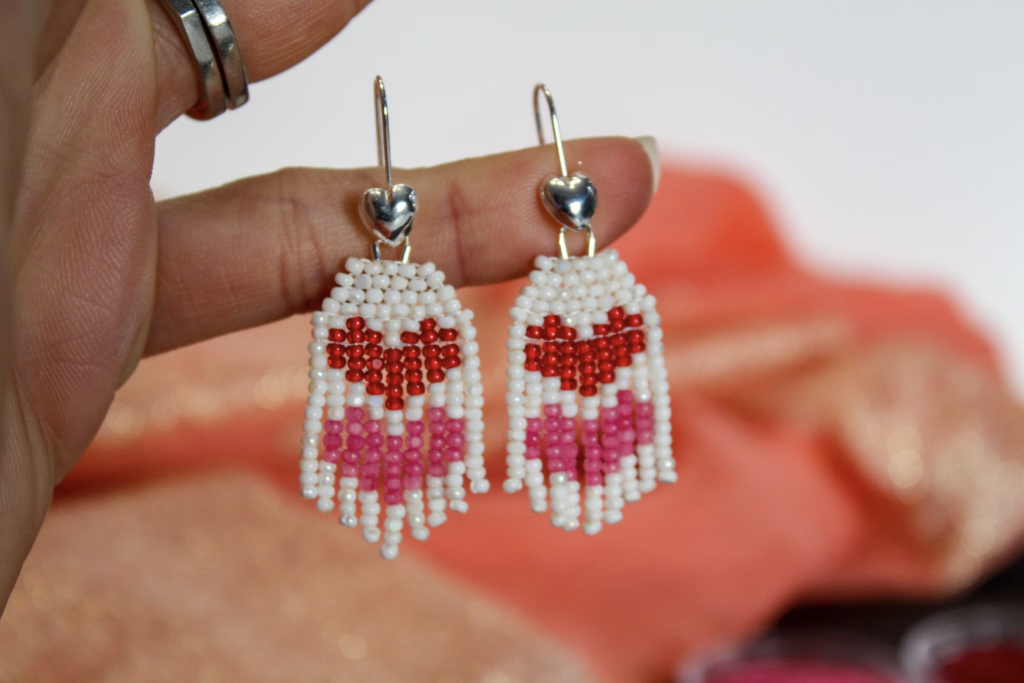 WAWO: Is there an earring design you're especially proud of? Please tell us everything!
AT: Yes! It was very early in my beading journey. My friend was going on a trip, and I decided it would be super fun to surprise her with a pair of Wonder Woman-inspired earrings to match the Wonder Woman bag she had purchased for this trip.
I went into the project thinking, this is going to be a breeze. I'll just knock out this cute earring and I will be on to the next thing!
Nope, not that easy.
It took 4 different designs and 5 prototypes to get an earring that was in line with what I was hoping to create. I worked so hard on the project – that was when I learned that making something custom sometimes requires a lot of design time.
In the end, I was super proud of what I created.  My friend loved her earrings which made all the work 100% worth it. 
WAWO: What's been one of the biggest lessons or challenges you've had to learn or overcome in your business journey?
AT: The business aspect of having my own business has been the biggest challenge. I knew nothing about marketing, networking, bookkeeping, or even how to talk about my business.
When I started, I naively thought, I will just open an Etsy shop and my beautiful earrings will sell themselves. Ha!
The truth is that being a solopreneur is so much more complicated. I feel like I have had to learn how to do everything. It's a process and I am doing my best to take it one step at a time.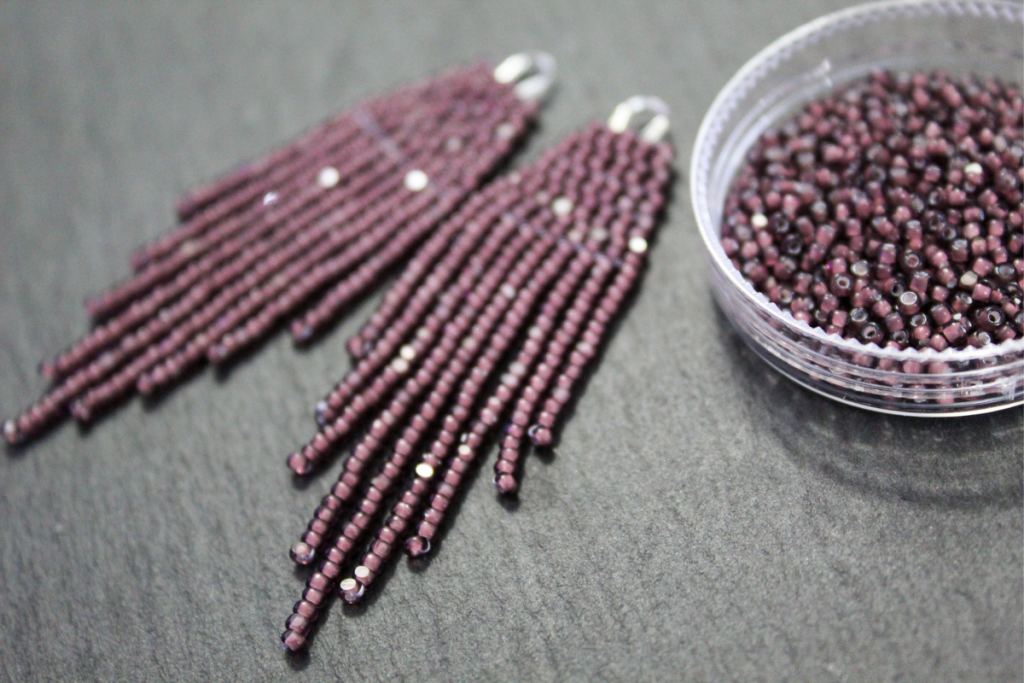 WAWO: What initially drew you to the WAWO community?
AT: It was the holiday gift guide! I liked the idea of being part of an all-women-owned business holiday guide where people could shop small and shop women-owned at the same time.
WAWO: Have you had any big wins as a result of being part of the WAWO Network? If so, we'd love to hear about them!
AT: I think that having the opportunity to share my story with more people is a huge win for me. 
WAWO: What's bringing you joy right now?
AT: One of my favorite things to do is to spend time at the horse rescue that my family and I volunteer at (Arabian Horse Rescue and Education Center). 
I really enjoy that it is something that my family and I do together: I'm out there with my daughter, husband, and mother-in-law once a week or so.
I love spending time with the horses and getting to know their stories. It feels great to know that the work I'm putting in is making a difference to help these sweet animals in their journey to finding loving forever homes.
WAWO: What's in the works for Amanda Thayer Designs in 2023?
AT: I'm taking the beginning of 2023 to learn some new techniques! I have my 4th knee surgery in February, so it's the perfect time to take it slow and learn some new skills. After that, I am hoping to introduce bracelets and maybe beaded bands on hats!
WAWO: Thank you so much, Amanda! This has been wonderful. We're wishing you a smooth recovery from your surgery, and we can't wait to see what you create next!
---
Want to see more of Amanda's gorgeous earring designs… and maybe purchase a pair for yourself (or someone you love)? Follow her on Instagram at @AmandaThayerDesigns, check out her listing in the WAWO Directory, or visit her website: AmandaThayerDesigns.com.