Nothing Wasted, Everything Gained: How My Career Journey Prepared Me To Create My Travel Planning Business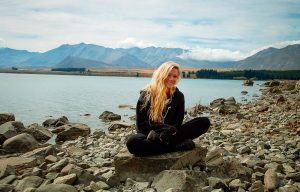 I sit here on the bouncy felt seats, gazing out the window to my right at the ever changing landscape of Morocco.
I am riding a train eight hours to Marrakech from Fes, an ancient city dating back thousands of years.
Martin and Marilyn, two Australians in their sixties have just departed at their day trip stop, and the seats beside me are thus vacant. As they stepped off the platform at Meknes, my heart became warm, my smile wide, and my sureness of self, strong.
After chatting with the couple about travel, life, home, politics, goals, I learned fifteen minutes before our split that Martin is a retired CEO of a travel company. With enthusiasm they both listened to my casual two minute pitch for The Nomad's Direction. Handing my business card to hungry hands, a "We can't wait to look you up, Alexandra!" and it was over.
I can sit here and wonder what is to come of this happenstance — will I get an email? Will this person work as a bridge to connect me further in the industry? Or have I just made a new friend?
When I start questioning the unknown future (and sometimes find myself in a deep hypothetical career-tangle), I have learned that rather than try to cheat ahead with predictions of what's to come, it is instead better to look backward at my accomplishments and ask, "Did I ever see that coming?" The answer is usually no.
In college I studied photography,
making mostly black and white documentary work throughout my four years at SUNY Purchase. This is also where I got my first waitressing job at Emma's Ale House in White Plains, and the age where I traveled abroad for the first time.
As college goes, many experiences were had to carefully and mindfully create the woman I am now, even though I had no idea that was what was brewing.
I love the art of photography, and as I traveled more frequently, my camera became a tool that would work as a catalyst to connect me to the people and places I was visiting. I was documenting them, but I was also keeping a visual diary for myself.
After graduating, all of my friends moved to Brooklyn and got jobs in their field. I had friends at Vice, at HBO, at The Food Network, in David Zwirner Gallery. I was still at my mom's house on Long Island working in a restaurant six days a week. I wanted to travel.
I felt limited and suffocated by being only twenty-two and devoting my life to what I chose to study in college.
I adore making pictures, and looking at them, touching them. But I also thoroughly enjoyed and felt fulfilled by reading, activism, producing, working in the hospitality industry. At times I wondered if I had wasted my time committing years of my life to a medium I did not dive headfirst into upon emerging from my art school womb. I felt horrible each week that passed by where I did not pick up my camera.
But I was learning new things. I was acquiring new skills. I was not stagnant, and the knowledge I gained at university was not going to escape me either.
In the midsts of being promoted to Event Coordinator and Manager of the restaurant I was working at, my side hustle hobby company was starting to make some traction — just in time for my solo four month backpacking trip through Europe where I would hike my way within and take thousands of photos throughout twelve countries.
When I returned to the States, I was inspired and ready to job hunt after scoring an apartment with two girlfriends in Brooklyn. I met with my favorite photographer, Elinor Carucci for a one-on-one workshop at her apartment in Manhattan. She loved the work I was making (which was a thrill that I had not lost my photo mojo), but we somehow ended up talking for hours about travel and this baby sprout business of mine. While on the job search across the film, photography, and event producing listings, I just kept wanting to click send and continue building and branding for The Nomad's Direction.
I took the leap and decided to nurture my company full time while freelancing on the side to help pay for rent.
I had never taken a single business or marketing class before, but I was sure of a few things:
that my photos of my travels had invited an audience to inquire with me about travel assistance

that I had excellent customer service skills after waitressing at fine dining restaurants for six years

and that budgeting, scheduling, time management, and multi-tasking came naturally to me, proven by the work I did as an event producer.
I knew I could do it, so I did. And I have my collection of past education and carious career trajectories to thank for it. So always remember, rather than try to peer ahead with wonder, reflect back with pride and ask, "Was this part of my plan?"
We want to hear from you!
Did you believe your college study focus was your forever-career?  Have you gone on to build a career that's in line with your college degree? If not, do you still practice what you learned in college at any capacity at your current job?