Send Beautiful, Thoughtful Gifts This Holiday Season – or at Any Time of Year – with PEACHBOX CO!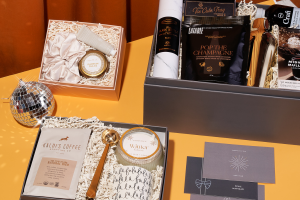 Raise your hand if you'd love to be the person who's always sending thoughtful gifts to friends, family, clients, and employees…
…buuut finding the time to make that perfect selection, package it up beautifully, and actually manage to get it shipped on time, well… that's a fresh set of challenges in itself.
🙋‍♀️
PEACHBOX CO. gets it.
The Boston-based brand, founded by Alvania A. Lopez, helps caring-but-busy people (that would be all of us… right? 😅) focus on nurturing those indispensable relationships by making gifting Easy-Peachy.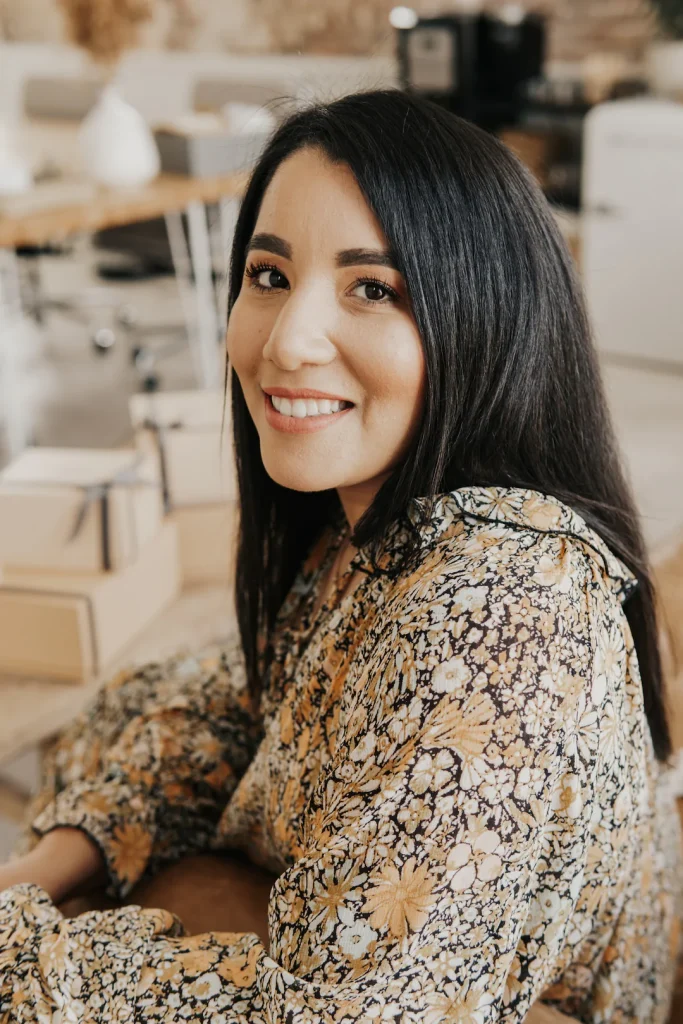 Think of PEACHBOX CO. as your full-service gifting concierge
Want to shop from a curated collection of ready-to-ship boxes for any and every occasion? Or maybe you'd prefer to personalize your very own gift box?
No matter which option you choose, PEACHBOX CO. has everything you need to send a gift that's thoughtful, elegant, and timeless. Even better? Your gift recipient will be thrilled to discover (and then actually use!) every single item included.
Need corporate gifts this year? Whether you're looking to send 25, 2,500, or 25,000 gift packages, the PEACHBOX team will work with you to make the process fast and seamless from start to finish.
Gifting with people and the planet in mind
Alvania and her team aren't just obsessed with effortless gifting, either – they love the planet and its people just as much as you do.
In action, this looks like using biodegradable packaging, sourcing ethically manufactured products, carrying delicious dairy-free, gluten-free, and low-sugar foods, and seeking out small, women-owned businesses to supply 90% of their products.
Plus, the bilingual team truly understands cross-cultural gifting.
Together, it all makes PEACHBOX CO. a first-of-its-kind gifting destination that prioritizes innovation and diversity. 🍑
Holiday gift picks from PEACHBOX CO.
No need to work up a sweat at the mall this holiday season – PEACHBOX CO. is here to help you send those love-filled gifts with just a few clicks!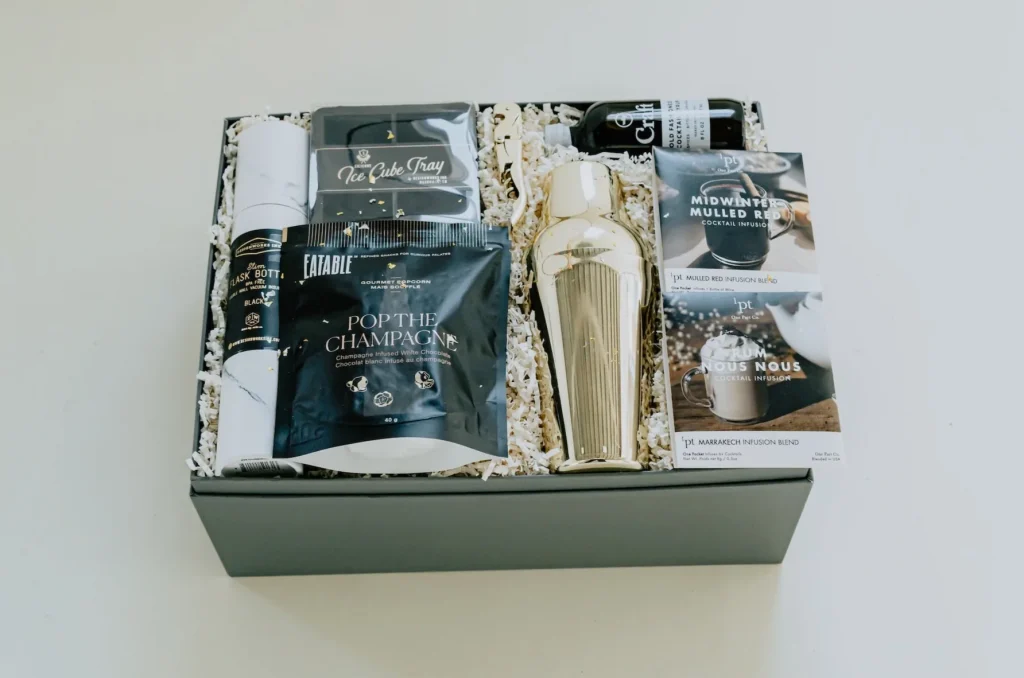 For the person who loves to make every drink its very own moment – luxurious bar cart accessories they'll love (and actually use!). Includes a gold cocktail shaker, matching corkscrew bottle opener, a large ice tray, old-fashioned craft cocktail syrup, champagne-infused popcorn, and more!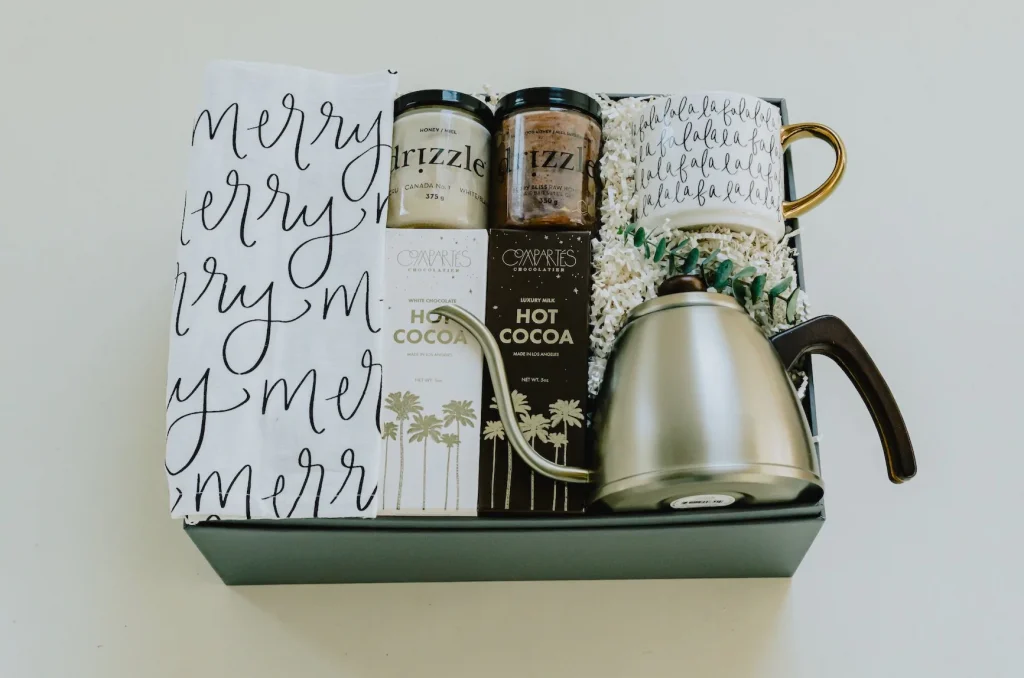 Spice up their holiday season – and their kitchen counters – with everything they need to create the perfect warm winter drink. Includes a chic stainless steel gooseneck kettle, a fa la la mug + merry tea towel from Sweetwater Decor, two varieties of hot cocoa, and two flavors of Drizzle honey.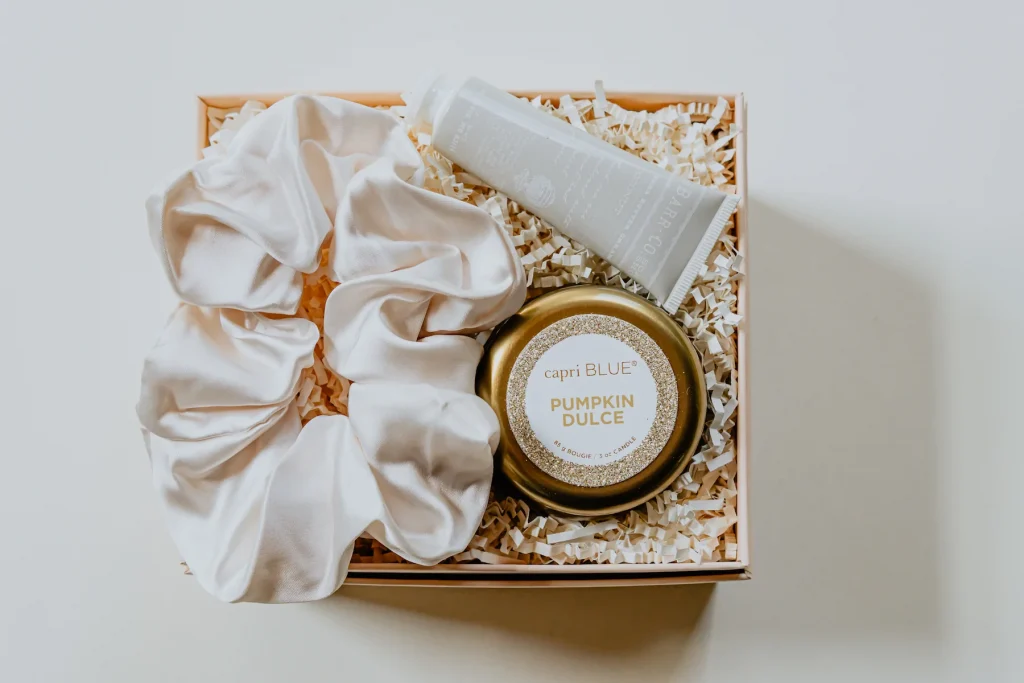 A sweet little surprise for the coworker who wishes it could be autumn all year 'round! Includes Capri Blue's delicious-smelling Pumpkin Dulce candle, BARR-CO mini coconut hand cream, and a satin scrunchie from LoveLina.
Ready to get gifting? Enjoy 15% off your order with code WAWO through December 31st, 2022!
---
Be sure to check out PEACHBOX CO. on pages 68 – 69 of the 2022 We Are Women Owned Holiday Gift Guide!
Shopping women-owned this holiday season? Don't miss your chance to join in on the #ShopWomenOwnedChallenge!