5 Ways To Convert Pop-Up Shop Customers Into Online Shoppers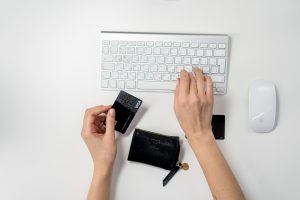 It's no secret, the way people shop is quickly evolving — retailers are forced to strategize and build an omni-channel shopping experience that can convert in-store customers to online shoppers and vice versa, and it's proven to be beneficial to business growth.

Omni-channel is a multichannel sales approach that you can use to give customers a unified shopping experience across all of your channels (online and offline). It extends from brick-and-mortar and pop-up shops to online shopping, social media, and retargeting.

According to this Cision article, "Digital and physical are complementary channels, not mutually exclusive." While it also states that, "Most shoppers – 60% of respondents in the report – start their hunt in the digital channel," we know that's not the case for small retail businesses.

We know the challenge for you, though, is converting pop-up customers into online shoppers.

In our experience, being a small retail business means you have a small marketing budget. The U.S. Small Business Administration (SBA) recommends, "spending 7 to 8 percent of your gross revenue for marketing and advertising if you're doing less than $5 million a year in sales."
For many of us — at this stage of growing our business — that number might be quite low, and that's OK.

The advantage of pop-up shops is that they allow you to test an omni-channel retail sales strategy while sticking to a budget. Events are a great place to meet customers face-to-face (and build trust), grow your mailing list, and network with like-minded entrepreneurs.

Planning and promoting your pop-up event doesn't mean your work is done. If you want to convert your new leads or customers who purchased products at the event to online shoppers, you'll need to craft a post-pop-up sales and marketing strategy that works for your retail business. There's no one size fits all, but we're sharing a few suggestions to help you get on your way.
1. Map Your Ideal Customer Journey
It's crucial to understand your customer journey by looking at your ecommerce analytics. With the right data, you can see exactly how your existing and potential customers are behaving and optimize your customer journey. You can begin to get more personalized with each user and provide the right message, at the right time, to the right person.

According to Divvit, "5.5 touchpoints are needed on average between merchants and their customers before a purchase can be made." Understanding each touchpoint your customers make can help you get closer to a conversion. The three main steps to the customer journey in ecommerce are awareness, consideration, and acquisition.

You can look into using an app like Sumo to help grow your ecommerce sales.
2. Create Segmented Lists (By Event) For Pop-Up Customers
We've been reading a lot about the importance of personalization when it comes to ecommerce and marketing. In fact, over the last year, businesses have lost $756 billion because they have not been focusing enough attention on personalization.

One way that you can personalize your sales and marketing efforts for pop-up customers is to segment them into different mailing lists based on the event they first discovered you at or made a purchase at. Later on, you can merge these lists into one, but to start, you can use an email marketing solution like Mailchimp or Klaviyo to create an automation flow that pop-up customers go through after purchasing in person, so they hopefully come back to shop online.
3. Offer Targeted Promotions Shortly After The Event
Now that you have segmented mailing lists for pop-up shop customers, you can test targeted promotions shortly after your pop-up event. Personalized promotions, for example, can be in the form of a "thank you for shopping with us" email that includes a discount code for 10% off their first online purchase before a specific date.
4. Send Personal Emails To Your Pop-Up Customers
At this point of growing your retail business, one advantage that you have over larger retailers is your personal touch. Customers are buying what you're selling because they like it, but they also like you. Taking an hour or two after each event to craft a personal email that gets sent to each customer who made a purchase (directly from your email account — not an email campaign), is a surefire way to nurture relationships with pop-up customers. It may seem time-consuming, but it's worth the energy (while your business is small enough), mainly because customers can't get the same experience from big-box retailers.

If you want to streamline this work to some degree, we recommend using the Gmail plugin, Mail Merge. It allows you to send mass personalized emails from your Gmail drafts with a few clicks.
5. Work On Your Customer Service
What does your current customer service strategy entail? Are you available 24/7 to answer questions? Probably not, you're human.

You can consider using a chatbot like MobileMonkey as an additional sales and marketing channel. You can use chatbots to do a poll, respond to frequently asked questions, market products, and more.

There are also options to create marketing campaigns within some chatbot solutions, allowing you to keep leads in a loop so you can continue to engage with them and hopefully convert them to online customers.

Strive To Create A Seamless Shopping Experience Online And Offline
The best case scenario is that your pop-up shop experience will encourage customers to visit your website and continue to shop from you, and your website does the opposite — encouraging online shoppers to visit you in person at your next pop-up event.

As long as you are always striving to create a personalized experience that is seamless whether customers are shopping online or in person, it can help you build strong relationships with customers and ultimately increase your return on investment (ROI), whether it be on digital marketing or vending at pop-up shops.

You can continue to use your in-store experience to promote your online presence, and hopefully, with time, more people will feel comfortable shopping with you even when they can't visit you at a pop-up event.