Monica Sharma-Patnekar on Building Impactful Brands, Prioritizing Family Life, and Why Everything Comes Down to Believing in Yourself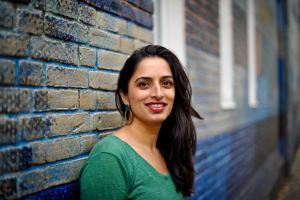 Have you ever wished you could figure out how to connect with your REAL audience – without having to spin your wheels on messaging, content, and ads that just don't convert?
Or maybe you've been wondering if it's actually possible to build a business that allows you to prioritize family life, all while creating game-changing results for your clients?
If so, then this is the interview for you.
Meet Monica Sharma-Patnekar! She's a brand growth strategist and founder of Business with Monica, where she offers high-touch coaching and mentorship for creative & conscious product, e-commerce, and retail business owners who want a clearer, more focused vision of their brand. Occasionally, she works in Fractional CMO and Brand Head roles for scale-ups, too!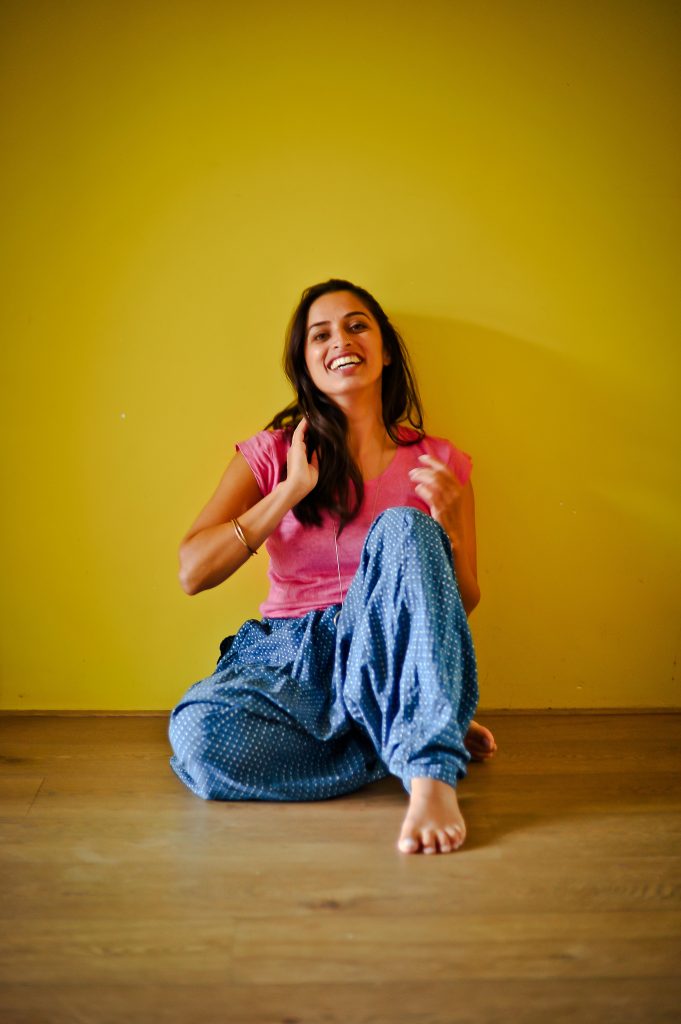 WAWO: First, we'd love to hear a little more about YOU! Can you get us started with a little Monica 101, please?
MSP: Dutch by birth, Indian by heritage, and global by education and choice. Living in Amsterdam, The Netherlands.
I'm a Gemini sun, Virgo moon, and Virgo rising. I guess that's why I'm naturally intuitive, creative, and analytical.
I have close to 2 decades of experience building brands – from a master's degree in business to working with corporates, scale-ups, and small business owners like you.
I'm an absolute chai fanatic⁠!
Dancing is my happy place.
I've been married for over 18 years. And, guess what, we didn't really date. And noooo, it wasn't arranged – but that's a story for another time.
My inspiration? My mom: a first-generation immigrant who raised my sis and me on her own. She got us through private, international schooling and invested in real estate, all whilst working as a receptionist for close to 40 years. And now I'm a mom of 2 girls myself, who make my world go round.
WAWO: What's bringing you joy right now?
MSP: My girls are 8 and 11. Having the privilege to be able to work around my girls' schedule (even though it's not all perfect). Seeing them grow up and become their own people while they see their mom following her dreams.
And my mom. Very conscious of how she's getting older and not knowing how much time we may still have together. Even at nearly 74, she's the backbone of our family.
WAWO: When we were preparing for this interview, you mentioned that your "why" is to Believe. Will you share a bit more about that?
MSP: Yes! My why is to Believe.
I've been on a journey to learn to believe in myself. To trust myself. To feel like I'm worth it. All those stories, beliefs, and experiences I carry and allow to hold me back. But they're what make me.
I see this a lot with many of my clients, too. It's easy to lose sight of the fact that YOU hold the key to your business – to sustainable growth and impact. You just need to know where and what to look for and what to do with your findings.
A big part of that is working on your Customer-Centric Brand & Growth strategy, which fosters:
CLARITY: a focused vision, direction, and audience.
CONFIDENCE to share your message and take the actions you need to grow your business.
COURAGE to show up every day in your business and keep going when things get tough, because they do!
And this unlocks the ability to truly…
COMMUNICATE your message & products with your audience.
CONNECT and build a trusting relationship.
Build a COMMUNITY around your brand. Real people!
WAWO: Tell us a little about the work you do at Business with Monica! What do you specialize in, what do you offer, and what type of client do you work with?
MSP: As a customer-centric brand & growth strategist, I work with established creative & conscious product-based, e-commerce & retail business owners to not only elevate their brands, but to create a clearer, more focused vision, too.
My perfect-fit clients are makers, curators, or service providers who care about the 5 "P"s (Product, Purpose, People, Planet, & Profit), are BEYOND ready to escape the sales plateau, and want to scale their store in a predictable, sustainable, meaningful, and enjoyable way.
They want to feel secure that they're doing the *right* things (instead of ALL the things) and achieving something incredible that nobody can take away from them (their legacy!). They're ready to impact more people's lives with their products and have more time back to do the things they love to do outside of the business.
That's where I come in!
I help them communicate and connect with their REAL audience – without spinning their wheels on messaging, content, ads, and tactics that don't convert – so that they can impact even more people's lives with their products AND start to feel like they have control over their own.
And if that sounds like you? I really believe that you sell so much more than just a product!
It's an experience. A lifestyle. Even a movement. People buy your product because of how it makes them feel. Coz you're not just solving problems, you're fulfilling desires.
I work with my clients inside either 12-week or 12-month private brand growth mentorships.
Inside my signature brand-growth mentorship, Scale Your Store, we create a customer-centric brand + plan that will help you communicate with your audience in a way that moves them to take action AND keeps bringing them back for more.
The process looks a little like this:
In phase 1, we elevate your store into an irresistible brand that defines why your audience should buy from you, so that competition becomes irrelevant in the mind of your customer.
In phase 2, we build a data-driven, customer-focused action plan – your growth strategy – to bring your audience and customers back to your store… again and again.
In phase 3, we focus on taking consistent and intentional action toward your goals while keeping your brand and key KPIs in mind.
It's really about going back to the fundamentals of a business and for you to take control.
WAWO: Do you have a signature process or framework? If so, what does it look like?
MSP: Yes! My Scale your Store roadmap. The exact 3-step process I take my clients through:
POSITION your brand so that it's top of mind and has an emotional bond with your customers.
PLAN a growth strategy and messaging hierarchy to guide your customers along the journey.
PLAY to take consistent, long-term action and have fun in your business.
As part of working with me, my clients have to do customer interviews using my signature customer story probing technique. This info not only helps them understand what their customer is saying and doing, but also what they are really thinking and feeling. It serves as the basis of all of the work we do together!
WAWO: This is all fascinating! What's your background, and how did that lead to what you do now?
MSP: I have close to 2 decades of experience building brands – from a master's degree in business with a major in marketing to working with corporates, scale-ups and small business owners.
By the time I quit my job and started my own online store on Shopify (whilst continuing to freelance), I'd spent more than 10 years working with Fortune 500 companies across Brand Management, Strategy Consulting, and Global Marketing.
Eventually, I realized that I was chasing an old dream with my online store. I was so desperate to get out of the corporate world that I just took the plunge.
But while helping other fellow store owners, I realized that building brands and helping other businesses grow is what I love the most – I just want to be doing it for small businesses and scale-ups where I can see the impact I'm having. And when you help a small business owner, you're literally not just impacting their business, but also their lives.
In the meantime, I was hired by Google to coach their premium partners. More recently, I've done projects with larger conscious e-commerce scale-ups.
My main passion and focus is on coaching small business e-commerce, product, and retail entrepreneurs.
WAWO: Oooh! That segues perfectly with our next question: what was going on in your life when you decided, "I'm going to start a business!"?
MSP: I had been in the corporate world for over 10 years. I just had my second child and decided not to go back at the end of maternity leave.
I struggled to really find my place as a woman of color in the corporate world. I kind of was done chasing after things, always feeling 2-steps behind and having to work harder and harder. I didn't want to work like that anymore. And I wanted to make sure I had time with my girls and let them see their mom go after her dreams. It's important for me that they see that!
I always had this dream of having my own business – it's just different from what I thought it would be! I started with an online store called House of Chutney, selling contemporary designer home accessories from India, here in Europe. Bringing my 2 worlds together.
But my passion was really building brands. And whilst helping other store owners as a favor, I realized the gap – nobody was focused on building a strong brand and they had no clue who their customers were. Their messaging was all over the place. People would go on Facebook and spend tons on ads, trying to test who their audience is and what their message should be… instead of working on the fundamentals. So I went all in on that!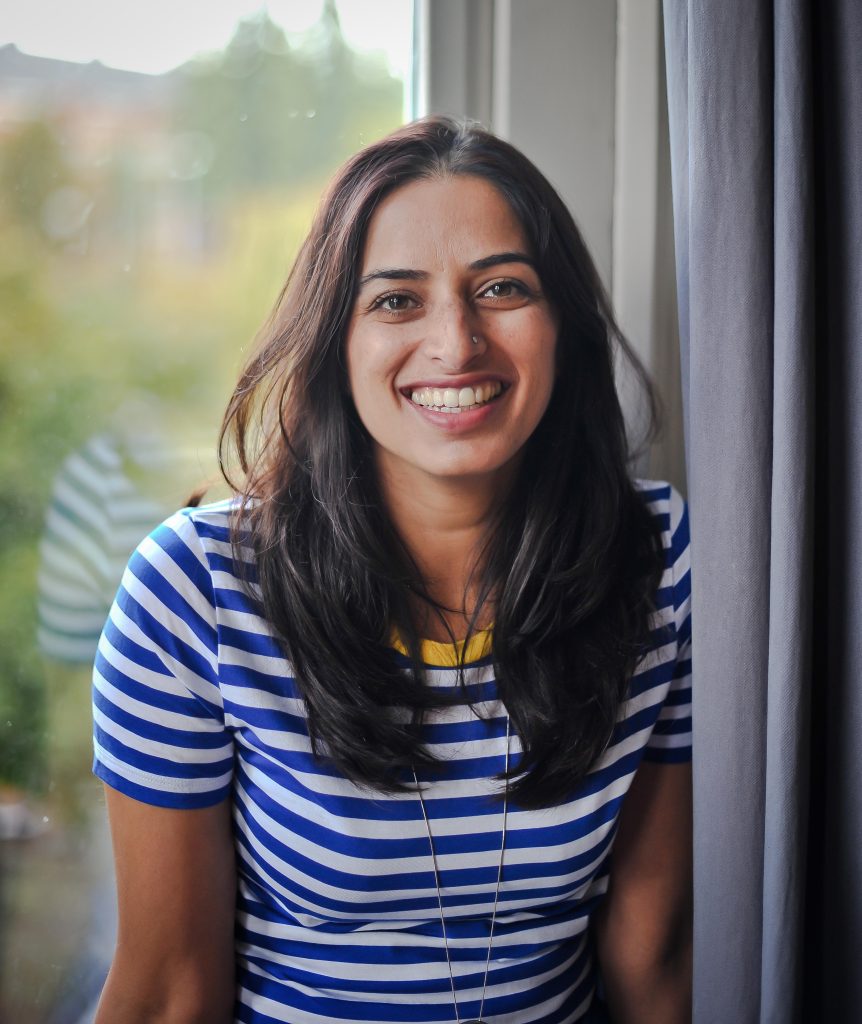 WAWO: What's something you do really, really well?
MSP: It's taken me a long time to realize this, and the entrepreneurial journey has really been key: It's intuitive thinking, emotional understanding, and diving really deep.
I can read between the lines of what you're saying. I'm taking cues from body language, tone of voice, what you're saying, and what you're not saying. Then, I'm combining that with creative and analytical thinking and bringing it all back to your strategy.
In the corporate world, I never used this side of me – that work was much more analytical. That's probably why it took me a while to realize it!
I do this well in both my work and in my personal relationships. Even my husband and daughters tell me that. And it's why I'm so good at helping you understand your customer and brand. Sometimes it feels like therapy for your business.
WAWO: What do you wish more women entrepreneurs knew or realized?
MSP: That you are brilliant the way you are.
That you don't need to apologize for every little thing.
That we don't need to be like men. Our feminine energy, our ability to empathize and nurture, is a strength that we can bring into our businesses.
To understand our bodies and cycles better. To honor that and work in sync versus trying to push through all the time. (It's been amazing learning about this!)
That we don't have to label ourselves. We don't have to choose between "mom" and "entrepreneur."
To be open. What we have in mind when we start on this journey may not be where we end up.
Remember to take time for yourself. Put on that oxygen mask first! (Something I still often forget)
That it's ok to slow down!
WAWO: What or who inspires you?
MSP: My mom!!!! We may have chosen very different careers and lives (partly because she didn't have much choice in deciding what her life would look like), but because of her sacrifices, I'm able to do what I do today. She is my inspiration.
She's a first-gen immigrant who raised my sister and me on her own in The Netherlands, a country where she had no one. Yep, a single mom from when I was 4 and my sister was 6. She worked as a receptionist for close to 40 years. She got us through private, international schooling, and invested in real estate, whilst in this one job.
She didn't even get to sit her final exams in university, because my granddad had to move countries for his job. Since women were not supposed to work, their studies weren't seen as important.
She's a 2x cancer survivor and is living with it now for the third time. It's not curable but it's kept in check with medication. It's been about 7 years now.
Today, she's still the backbone of our family, always helping everyone out but never asking for anything in return. Plus, she's the all-time favorite of my girls.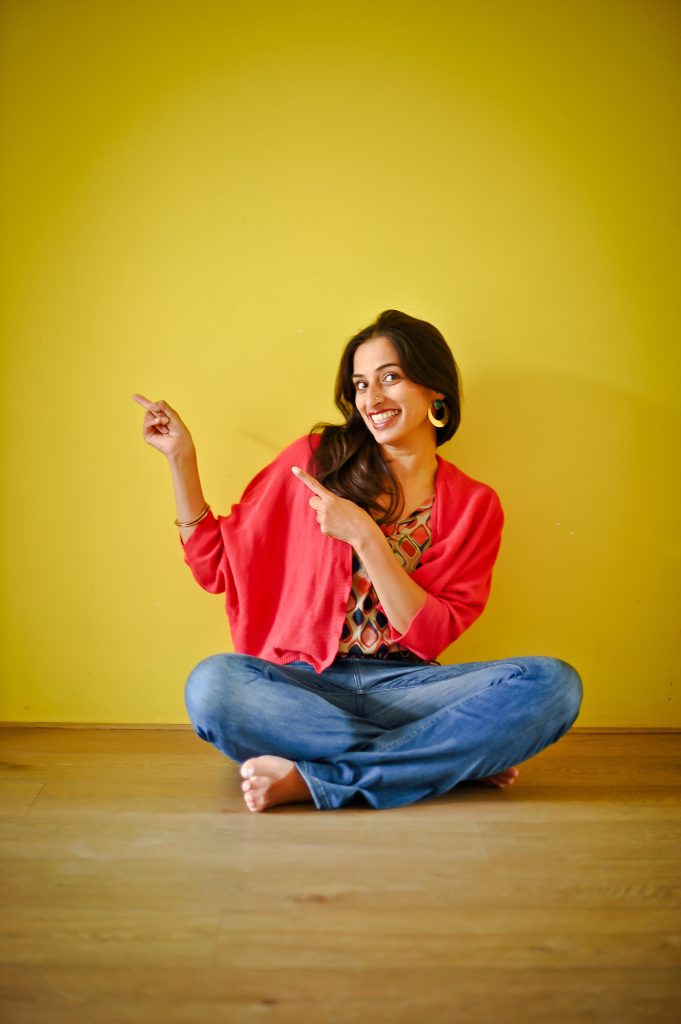 WAWO: Is there a recent project or client success story you're especially proud of? Please tell us everything!
MSP: There are many, but I think the one I just finished is going to be really close to my heart for a long time.
My client is a woman of color, a mixed-media artist, a film editor in Hollywood, and the founder of a blog for artists. She also has a pure oil-based fragrance brand, which is why she came to me.
While going through a rebrand, she wanted clarity around her vision, customer, and messaging to be able to take the next steps forward in her growth. Despite her doing so many amazing things, one of the first things I noticed was a lack of confidence and belief in herself. Yet, she still pushed forward, in daily life as well as the marketing and selling of her product.
As a fellow woman of color, I resonated with this so much.
We dove deep into her story, her why. What's her purpose? I won't share the details publicly, but there's a strong link to her personal life, her mom, and what fragrance means to her.
Then, she had to interview her customers to get to know their needs, wants, and desires (using the customer story probing process I mentioned earlier). This is a non-negotiable step when you work with me, because you can't run a business or build a brand if you don't know who you're speaking to!
Next, we defined her brand and value proposition, aligned her products to it, and created a growth strategy action plan.
The biggest change I saw come out of our work together was her confidence and belief in herself. Initially, she worried that people would not buy from her because of the color of her skin. Yet, each customer she spoke to asked her to share more about herself, show herself more, and mentioned how much they love what she does!
Now, she's redirected her focus back to the people that matter, she understands the value of what she does, and she knows why people buy from her. She has a strong vision and is ready to communicate and connect with her real customers, which means she's ready to take her brand to the next stage!
Here's what she had to say about our work together:
" I'm beyond grateful to have been able to work with you and I'm so glad you've set me on a path to succeed. I can't thank you enough for your sound advice, encouragement, and holding me accountable for getting out of my own way is truly a part of my daily thoughts."
It all comes down to really being clear about your vision and purpose (you've got a story worth telling!), knowing who your customers are, why they buy (or don't), aligning your brand, messaging, and products, and then creating a growth strategy that will guide your audience through the journey. And consistently implementing this.
WAWO: If you could go back in time to when you started your business and share one lesson with yourself, what would it be?
MSP: Ensure you have a financial buffer or don't go cold turkey and quit your job, or at least take a part-time job to ensure you can manage finances for a few years.
With so many rags-to-riches stories shared in our space, it can be easy to forget the realities of starting and running your own business. It can be tough, and it takes time.
In my case, I also had to realize that the business I initially started wasn't IT… which meant starting over two years in, directly after I had my second child.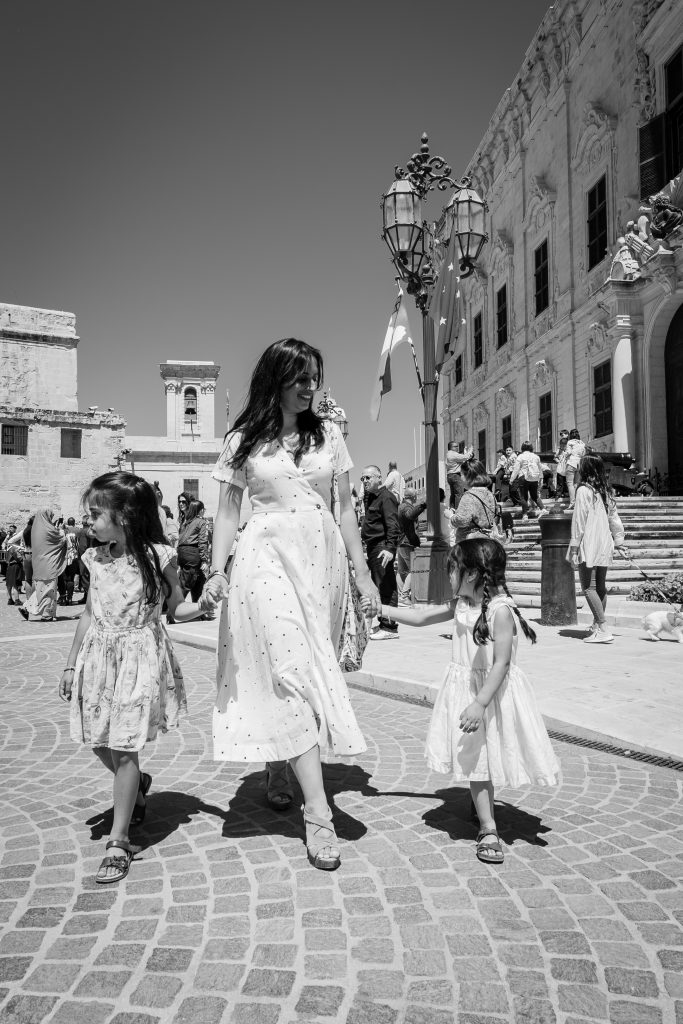 WAWO: What are you most proud of?
MSP: 1) Of myself! I don't EVER say this, but when writing these responses, I realized I can be proud of myself too. We've navigated a lot as a family: my older daughter facing racism at her previous school, the impact of changing schools, the pandemic and its impact on my business, my husband experiencing burnout, and me realizing I was heading toward chronic stress – all while trying to run my business, help clients, take care of my girls, and look after our home. Finally, I accepted help. So yes, I'm proud of myself.
2) My girls. Now 8 & 11. They're so incredible. They come first. In Sanskrit, their names literally mean Earth (Mahi) and Soul (Jiya). That's what they are for me. They ground me and they have this amazing energy around them. Seeing them grow, develop their interest and personalities, push my buttons (hahaha!)… everything I do is for them.
3) Seeing the impact I have in my clients' lives. It's great to see the financial impact, of course, but the confidence and belief they gain in themselves is the best part. For my clients, their business is personal. As their business grows, it directly impacts their personal life. And since they sell conscious products, they have a positive impact on their customers' lives. I'm so proud and grateful that I can be a small part of their journey.
WAWO: What's been one of the biggest lessons or challenges you've had to learn or overcome in your business journey?
MSP: Belief. To believe in myself. To know I can do it. To let go of past experiences.
The entrepreneurial journey has been one of self-reflection and development. It really takes you to places that you don't realize. I always come across as a confident person, but internally I struggled.
I had to realize that the power is within me and stop looking for answers everywhere else. I had to stop making decisions out of fear and start listening to my intuition. I learned how strong it can be if I just give it space.
WAWO: What initially drew you to the WAWO community?
MSP: The diversity!!! That was big for me. It's something I really, really miss in other places. Also, the all-women network plus a nice mix of product-based and service-based businesses.
And there is something that I can't put my finger on, but I just kept getting pulled to the WAWO community. I was following you for a while and every time I was like, "I need to join this!" But not from a FOMO point of view. It was more like this feeling that I'd meet the kind of people I'd been dying to meet online, who'd hopefully become new friends. It's so hard to explain – I just kept getting pulled towards it!
WAWO: Finally, where can our readers keep up with you online?
MSP: Check out my website, www.busiensswithmonica.com where you can download any of my complimentary resources. You can also join my email list for stories, inspiration, and practical tips for creative and conscious product, e-commerce, and retail entrepreneurs.
And be sure to connect with me on Instagram and Linked-In.
WAWO: Monica, thank you so much! It has been such a treat to get a glimpse into your life, your business, and the wonderful way you approach your work. We can't wait to share your wisdom with the greater WAWO community! ❤️️