-Mary is Effing Awesome: An Interview with Mary Skomial, Founder of MIFA Media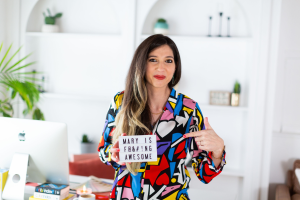 Meet Mary Skomial, Owner and Creative Director of MIFA Media, a boutique creative agency based in Parsippany, New Jersey.
When she's not delving into branding, website design + development, packaging, or marketing, you can probably find her playing or teaching tennis (she's been a devotee since age 9!), riding her motorcycle, or hanging out with her husband and Yoshi, their Shiba Inu.
If you're thinking, "Wow, this Mary person sounds really fun," well, you might want to buckle up – it only gets better!
Why? Let's start here: The MIFA in MIFA Media stands for "Mary is *effing awesome," because it's something clients and coworkers alike said to her all the time, thanks to her talent for making magic happen on a tight deadline or knocking it out of the park on a logo design.

Ready to get inspired to own your awesome? Read on to learn more about what prompted Mary to start her business, get the details on the biggest challenges she had to overcome, and find out how she created success in a world dominated by men and mega-agencies.
WAWO: Tell us a little about MIFA Media! What kind of work do you do, and what type of clients do you serve?
MS: MIFA Media is a small creative agency that does work for clients of all sizes, both large and small. We focus on branding, website design, and development, packaging, and marketing, but really, we do it all! A lot of our clients tend to come from fields like hospitality, landscaping, education, health & fitness, human resources, technology, real estate, construction, beauty & wellness, food & beverage, and healthcare/mental health.
With the start of COVID, we've seen an increase in demand for branding and marketing for therapists and mental health providers. We believe mental health is important for everyone, so this is work we truly love.
WAWO: What inspired you to start MIFA Media?
MS: One of the reasons why I started my business was to help women-owned businesses and mompreneurs.
I was greatly inspired by my grandmother, who grew up in Malta. When she was in 6th grade, she was told she had to drop out of school to help her family. She learned to sew to help the family with chores and tasks – that's how she became a highly-skilled seamstress.
She and my grandfather came to the US from Malta back in the 50s, and after a few years, she started her own business working as a freelance seamstress. Seeing how hard she always worked and hearing the stories about the projects she completed – like ballgowns for famous dance competitions – always inspired me. Sadly, she passed away two years ago, and she only stopped working a few years before that.

I know how hard mothers work every day, and seeing MIFA Media help them grow is one of the best feelings ever. Some of the recent mompreneur-type brands we've worked with are Monarch Consulting and Kathryn Landis Consulting, and we can't wait to connect with more mom-owned businesses in 2023!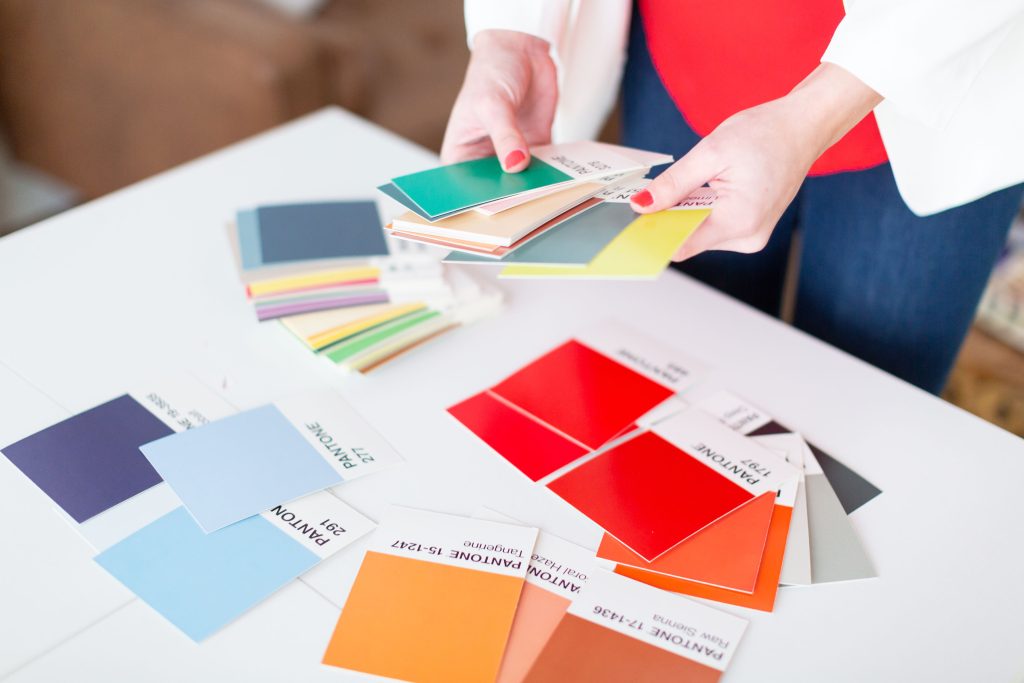 WAWO: What did the journey to creating MIFA Media look like for you?
MS: I had worked at several other top creative agencies in the tri-state area and felt like something was missing from my day-to-day.
A few years ago, after college, I started freelancing on the side with smaller start-up businesses. I really enjoyed the personal touch aspect – I felt so much more accomplished interacting with and working for clients more directly.
I decided I wanted more of this in my own life, so I started my own business!
WAWO: What's your favorite thing about the work you do? What keeps you going when things get tough?

MS: I enjoy making a difference in people's lives. Although I work with both large and small businesses, the smaller businesses always seem to be so happy and appreciative of the work. Getting them started on their journey and supporting them in their growth is so rewarding.
For the larger businesses, it's awesome to see their projects come to life in the real world, whether that's with the packaging you can see in stores or print advertising and signage that you see while walking through NYC or down the NJ Parkway.
WAWO: What's been one of your biggest lessons or challenges as an entrepreneur?
MS: Gaining new clients and leads. Especially as a younger woman-owned small business. The design and marketing field is run by mainly men and dominated by larger creative agencies. I had to prove that I can provide the same quality work as – if not better than – the competition.
WAWO: Similarly, what lessons, ideas, or ah-ha moments from this year are you carrying forward into 2023?

MS: No matter where you are in your business, never let that hold you back.
Being a small business owned by a younger female, I never thought MIFA Media would have the opportunity to work with larger businesses (even though I had experience working in-house at huge companies like Marvel, Disney, and TJ Maxx).
However, through perseverance and being a hard worker, my business has been able to work with brands like GreenPan, Blue Diamond, and Alpaca Audiology.
In the coming year, I'm looking forward to building more connections with bigger businesses and inspiring the younger generation to reach for the stars.
WAWO: Where do you find inspiration?
MS: Everywhere. It can be from online sites like Pinterest and Instagram to printed books or even advertising I've seen walking around town.
I love looking at the intro credits for TV shows. There's so much inspiration to be found in the typography and graphics there!
WAWO: What's something you wish more women business owners knew?
MS: Take advantage of becoming a certified women-owned business! MIFA Media is a certified woman-owned business in the state of New Jersey. Both businesses and customers look for this, and it can even potentially help you gain larger clients that have diversity and equity programs.
WAWO: If you could travel back in time and share a bit of wisdom with past you, what would you say?
MS: Any time is a good time to start making connections. Go to BNI groups and speaking events to better prepare yourself for "selling yourself" in the business world. Being a business owner means I need to sell my services to other clients… which doesn't come easy to me.
As an introverted and sometimes shy person, this is something that was a big challenge I had to overcome (especially when others – who might not even be the best fit – could easily sell themselves).
WAWO: We're 99.9% sure you've worked on at least a few campaigns that you're ridiculously proud of over the past few years. 😉 Care to share a little about one or two of them?

MS: Yes! MIFA Media worked with The Cookware Company, a global pioneer in nonstick cookware. We helped create packaging for brands like GreenPan and Blue Diamond, and that packaging was later available at big-name stores like Costco, Macy's, Williams Sonoma, and World Market. We love doing digital work, but seeing your packaging in stores – as a real, tangible item – is such a big wow moment!
We also helped a startup, Bang Cookies, build their brand from the ground up. When they first came to us, they had zero stores. Now they have four! I'd say that's a huge accomplishment. We supported them in projects like packaging, website design, digital marketing, and print, which included everything from brochures and business cards to the design of their stores and tradeshow booths. We've also been able to back them up when launching new products (like their limited edition ice cream line).
WAWO: Amazing! What's next for MIFA Media? Do you have any new offers or promos you're rolling out in 2023?

MS: In 2023, we're offering a free business card design with new logo design bookings!
We always offer a free complimentary 30-minute call for any type of project you're looking for. Plus, after completing your first job with us, you get a referral promo. If you send a new client our way, we give you a credit for your next project with us. We love and thrive off of referrals and repeat clients!
WAWO: Finally, where can our readers keep up with you online?

MS: Visit our website at mifamedianj.com. We're also on LinkedIn, Instagram, and Facebook!
WAWO: Mary, this was wonderful – thank you so much!
WAWO Community, we hope this interview has inspired you to own and celebrate those areas where you are awesome. If it has, we want the details – leave a comment below or share on IG (be sure to tag us at @WeAreWomenOwned). ❤️️