6 Rules for Pricing Your Creative Products or Services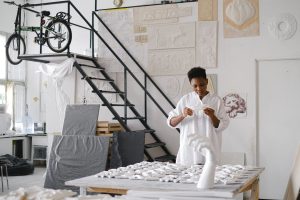 Whether you're brand new to or have recently started selling creative products or services, pricing can be a topic that entrepreneurs struggle with. So if that's you, know that you're not alone. You have passion for what you do and know that what you offer has value, yet is it often difficult to attach a dollar amount to that for both financial and emotional reasons. In this article, I'll break down simple tips to help you set prices with confidence that accurately reflect your worth.
1. Know your numbers
In order to price your products fairly for your consumer and still generate a profit, you have to know your numbers. What do I mean by this? First, identify how much it costs for you to produce a specific product or service. If you're selling physical goods, include the cost of all of the materials as well as the labor involved and if it's a service, tally up the number of hours of work and multiply that by your hourly rate. If you don't yet have a set rate, then start with step two.
2. Research your niche
Look into what your competitors are charging, while keeping in mind your own experience level and any industry standards (if they exist). Since the term "creative business" is so expansive, you simply won't find a one-size-fits-all calculator or formula that works for everyone. You will, however, likely be able to figure out a solid starting point by doing a bit of digging. Here are a few ideas:
Research or request quotes from those with similar offers
Check in professional Facebook groups, memberships, or directories
Ask peers, friends, or colleagues whom you trust and respect
3. Resist the urge to undercharge
It can be tempting to undercharge for your first offer just because you're new, but positioning yourself as experienced from the beginning will earn you higher profits and establish your value early on. Imposter syndrome often gets in the way of setting higher rates so if you need a pep-talk, lean into a small-business community or entrepreneur membership (like WAWO!). Alternatively, you can always call a friend or trusted peer to remind you of how far you've come to be here.
Also remember that low pricing doesn't guarantee sales. You may sell a higher volume, but you also might not. Sometimes the client's perception of a lower-priced product is that it's also lower quality. As such, it's more about how accurately you can portray your value and expertise, as well as how you deliver on the promise of your offer.
4. Define your target customer
As a gallery owner, I've often gotten the pricing question from the artists I work with – but the following advice holds true in any creative niche. Before discussing any numbers, I always ask them not how much they want to make, but what kind of artist they hope to be. An artist selling sculptures for $100 is usually not going to attract the same buyers as one selling for $1,000. That's the point.
You might think that the second sculptor would make more money, but that's not necessarily the case. While the first artist will have to spend time and funds to create a larger stock of industry, the second one will have to work harder to find the right clients for their sculptures. Therefore, both can be equally successful depending on their ability to network, market, and sell.
There's nothing wrong with choosing either option—it's about what feels right to you and how you envision your business. If it is high-end and luxury to fit the wants of your ideal client, then the prices should reflect that. On the other hand, if your products and services are meant to be accessible and affordable, be realistic about setting prices that are within most people's budgets.
5. Aim to have options
Even though you will probably begin with one core offer, eventually you should seek to have a range of products or services to appeal to a wider audience. You may have clients who start with what is most affordable and eventually come back looking for more.
Charging hourly is great if you offer consultation calls or do work that can be completed in a short amount of time. It's an easy way to get started with service pricing. You may have also seen offers where you can book a provider's services for a portion of their work day (usually a half or full day) and this is an easy way to make a higher-ticket item available. However, many people aim to eventually move towards being paid per project or on retainer for more consistent income.
Along similar lines, you should decide if you will offer payment plans for your higher-end services or products. Although it's a personal decision for every entrepreneur, I'd highly recommend doing so as this has allowed my businesses to serve more clients and it's usually quite simple to integrate into your ecommerce platform.
6. Experiment & adjust as needed
One final note on pricing is that in the vast majority of cases your prices aren't set in stone. You can always adjust on both ends of the spectrum; don't get too caught up in what your audience might think. Most people won't even remember what you charged for a product or service last year, let alone last week.
If you feel exhausted by keeping up with orders and services, it's time to raise the rate at which you're exchanging your time for money. On the other hand, if you have a premium offer that isn't selling at the volume you expected, can you break it up to make it more affordable rather than slash the price with a hefty discount? Launching your products or services is ultimately the best way to get client feedback. Based on the amount and rate of sales, you'll be able to arrive at pricing that works best for your company.
No matter the level you are at in your career, your pricing should always respect your time, energy, and experience as well as be mindful of the expenses it takes to create your offer. Although the above advice has helped me grow my businesses and price successfully for profit, it's this last rule that has ensured that my work still feels creatively fulfilling rather than emotionally or monetarily draining. I hope it helps you find that balance in your business as well.
The Creative Business Handbook
This article was adapted from a chapter in The Creative Business Handbook by Alicia Puig and Ekaterina Popova. Recently released by Chronicle Books, this essential guide for creative entrepreneurs is available now wherever books are sold.