Ready for Mother's Day? Here Are 11 Sweet Gift Ideas from Women-Owned Businesses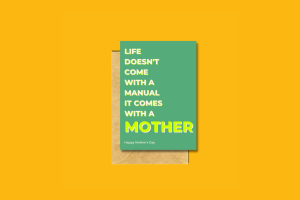 Mother's Day is coming up soon – Sunday, May 14th, in fact!
Need a few thoughtful gift ideas that go beyond the flowers, brunches, and bathrobes that have served as your trusty go-tos for the past few years?
We know just the place: the We Are Women Owned Small Business Directory!
Whether you're shopping for your mother, grandmother, bonus mom, aunt, big sister, friend group mom, or even yourself (because you deserve a treat, too), it's the best place to find dozens upon dozens of delightful gifts – the kind that you can feel great about giving and your loved ones can feel great about receiving.
And the best part? They're all from women-owned small businesses!
Mother's Day Gift Ideas from Women-Owned Businesses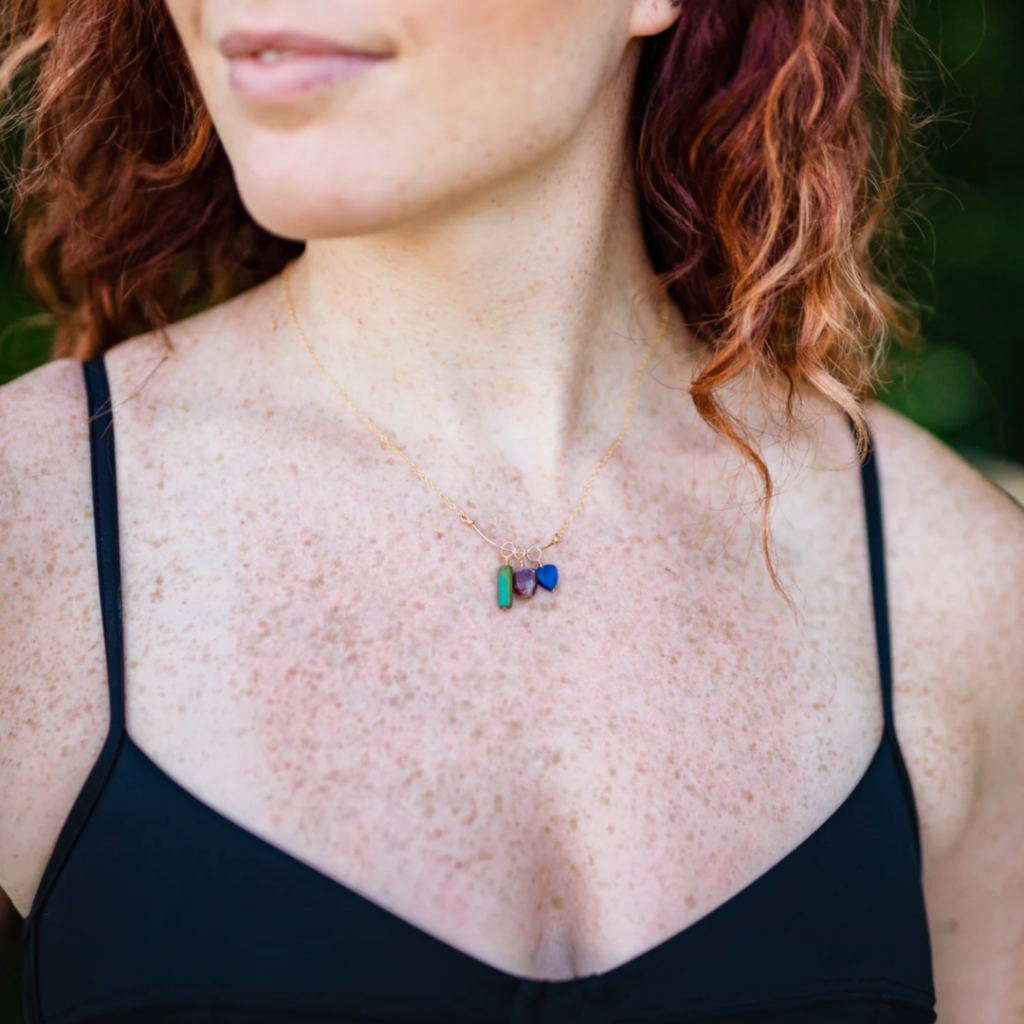 If, when you think of "birthstone jewelry," you think of mass-produced pieces from mall retailers, then we highly recommend you acquaint yourself with this delicate, custom-made gemstone birthstone necklace from Saucey and Wubs Designs.
Choose anywhere from 1 – 6 birthstones, so Mom can have all of her loves close to her heart on a necklace she'll want to wear anywhere and everywhere.
In fact, this design holds special meaning for Saucey and Wubs Designs founder Jenny Lieberman – it's based on a necklace she originally created for her own mother. Bonus if your mom happens to be an animal lover: Jenny donates a portion of all sales to an animal rescue.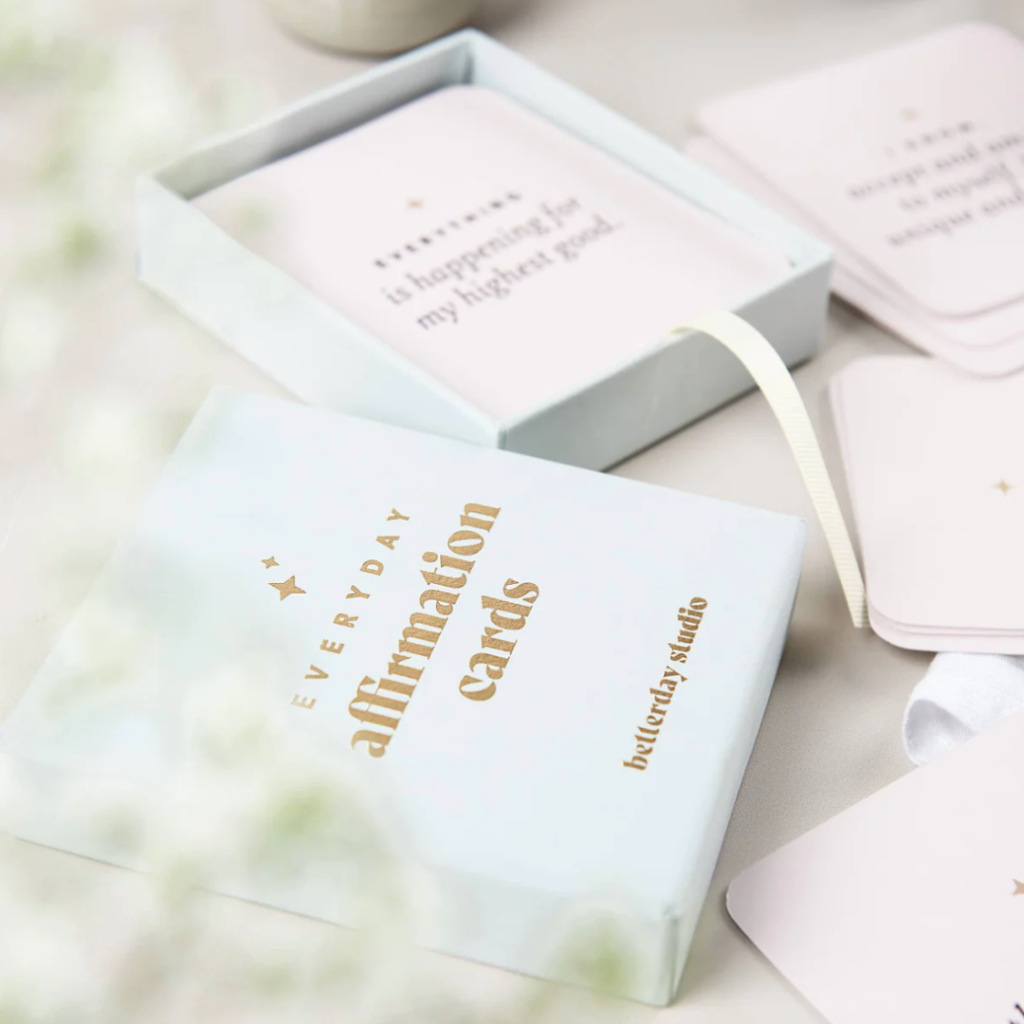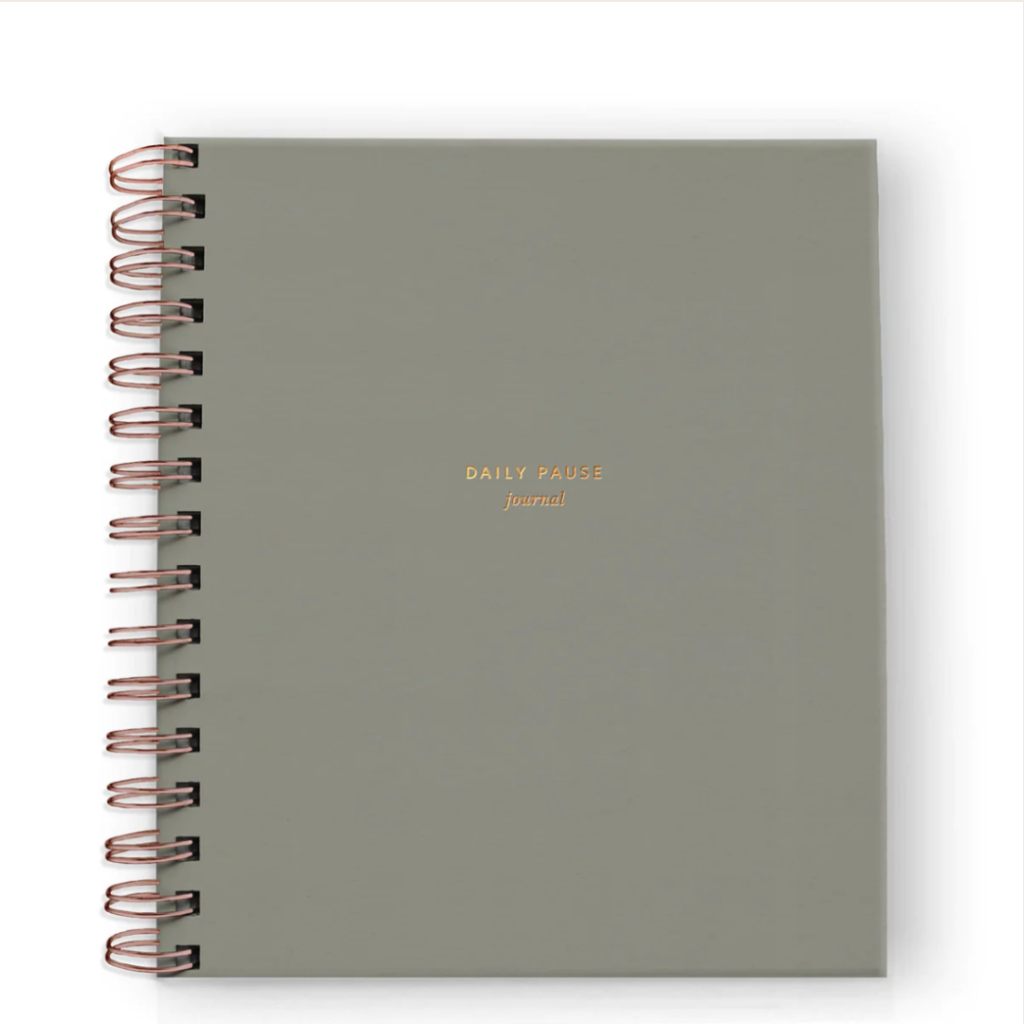 After years of working nonstop to grow her business in the wedding industry, it suddenly became very clear to designer Natalia Otalora that it was time to make the changes necessary to prioritize her well-being.
Now, through Papel and Company, her goal is to encourage others to slow down and reconnect with themselves – all with the help of beautiful paper products that allow them to express their thoughts and emotions.
Pair the Everyday Affirmation Cards and Daily Pause Journal from Papel and Company for a nice surprise for the mom who deserves to make connecting with herself a priority (that would be all moms, right?).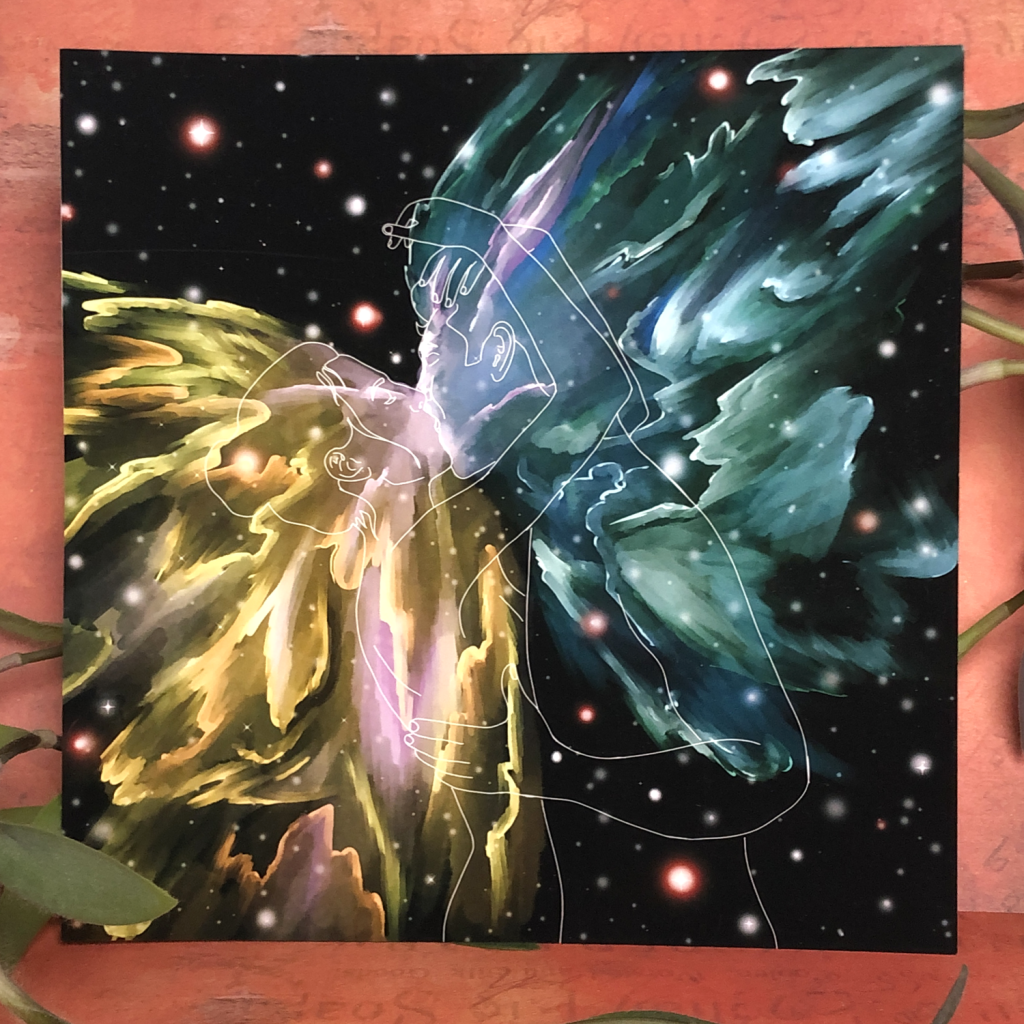 Founded by Asian American artist Tiffany Chen, each Dìfúní Art print, sticker, and greeting card represents an exploration of the bridge between her Asian heritage and her American upbringing.
The stunning Create Art Print, inspired by Card Captor Sakura, is Tiffany's interpretation of nebulas – much like people – colliding to create something new. 
Perfect for the mom who appreciates original art, has the uncanny ability to create something beautiful from nothing, orrrr somehow always managed to listen patiently while little you recounted the minutia of your favorite manga.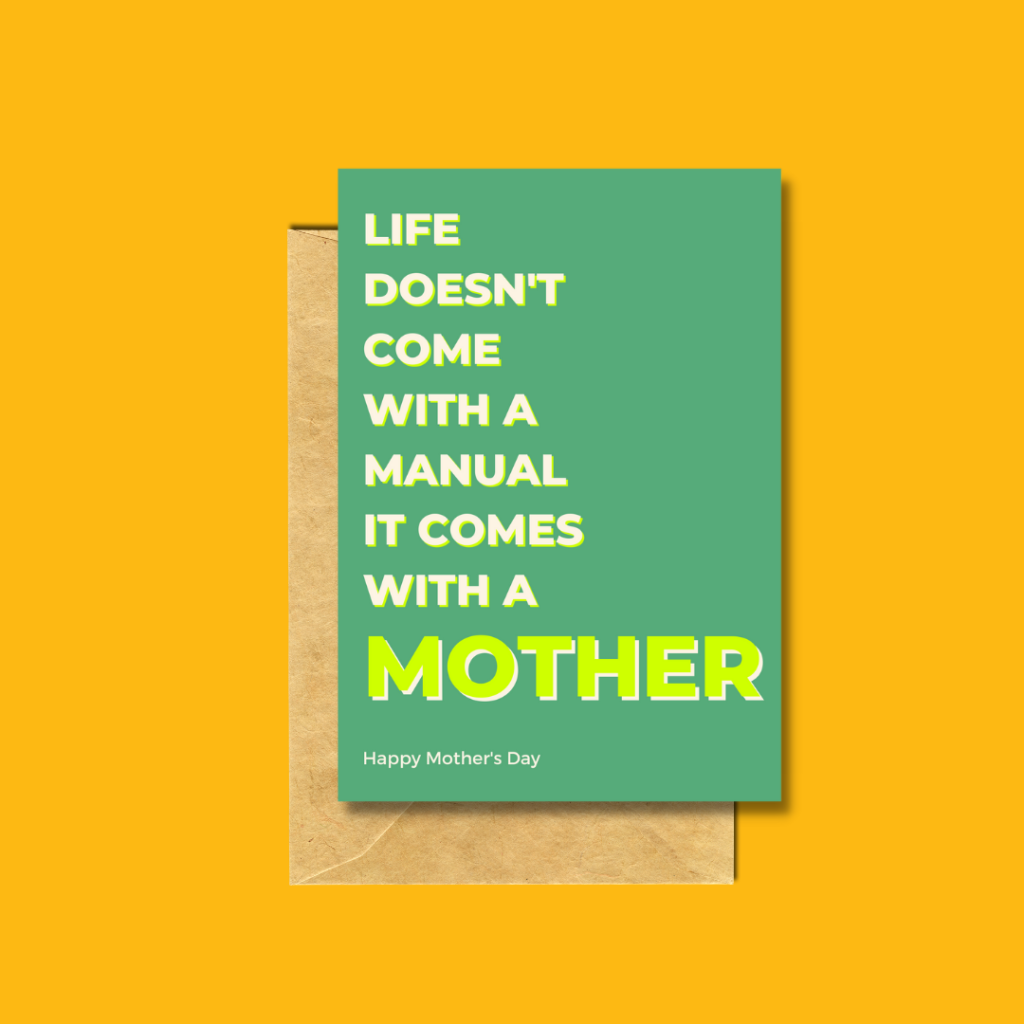 PärdēPress stemmed from founder Keli Change's desire to create space for women to acknowledge and celebrate one another in all areas and stages of life – because while getting married and having babies is great, there's so much more to celebrate beyond those milestones, too.
Acknowledge and celebrate the woman who taught you, well, pretty much everything by adding your own heartfelt note to this fun Life Doesn't Come with a Manual card from PärdēPress.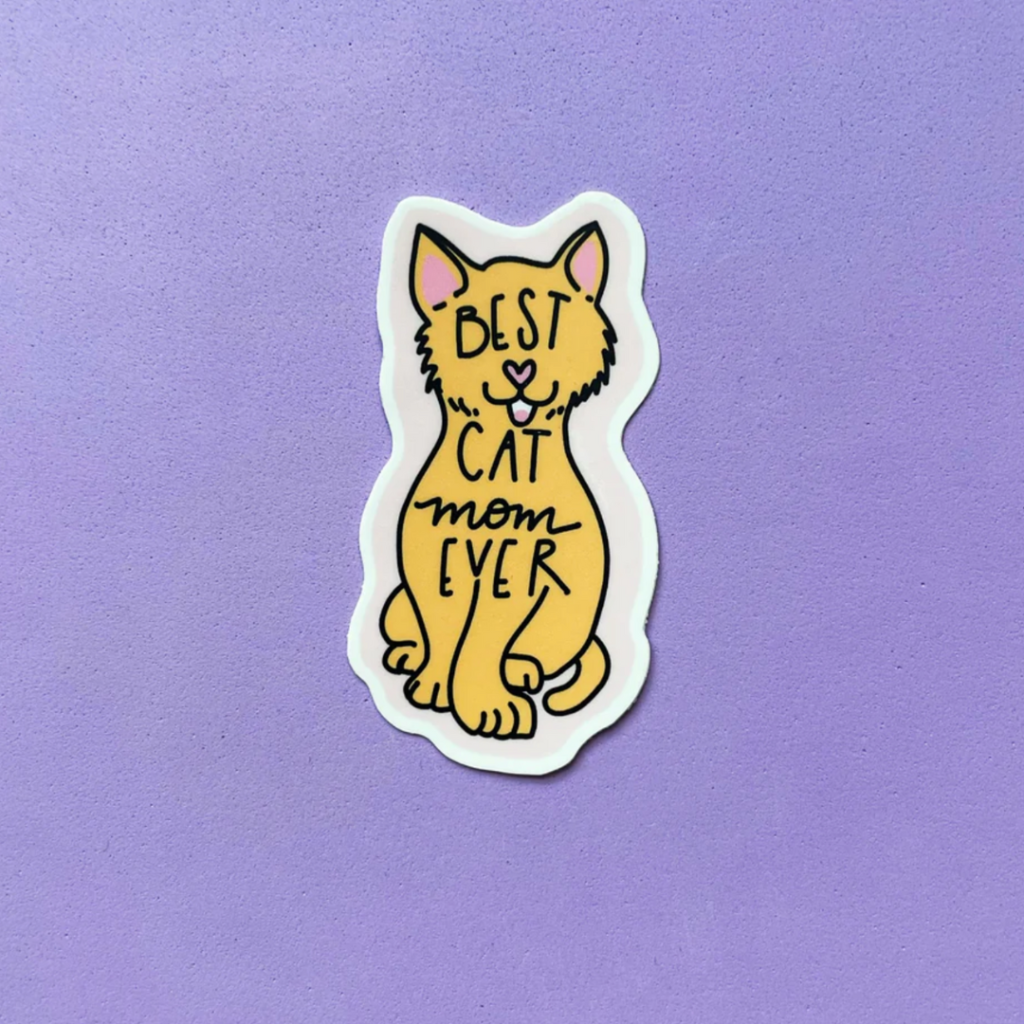 Yes, pet parents count, too! Treat the cat moms and dog moms in your life to the adorable Best Cat Mom Ever or Best Dog Mom Ever stickers from Pretty Peacock Paperie, a proudly Black-owned, fun, and empowering stationery company based in Winter Park, Florida.
Need an uplifting journal or card to go with your stickers? Everything you'll find at Pretty Peacock Paperie is hand-drawn – with love, of course – by owner and artist Natalie Henry-Charles herself.
Enjoy 25% off your order with code WAWO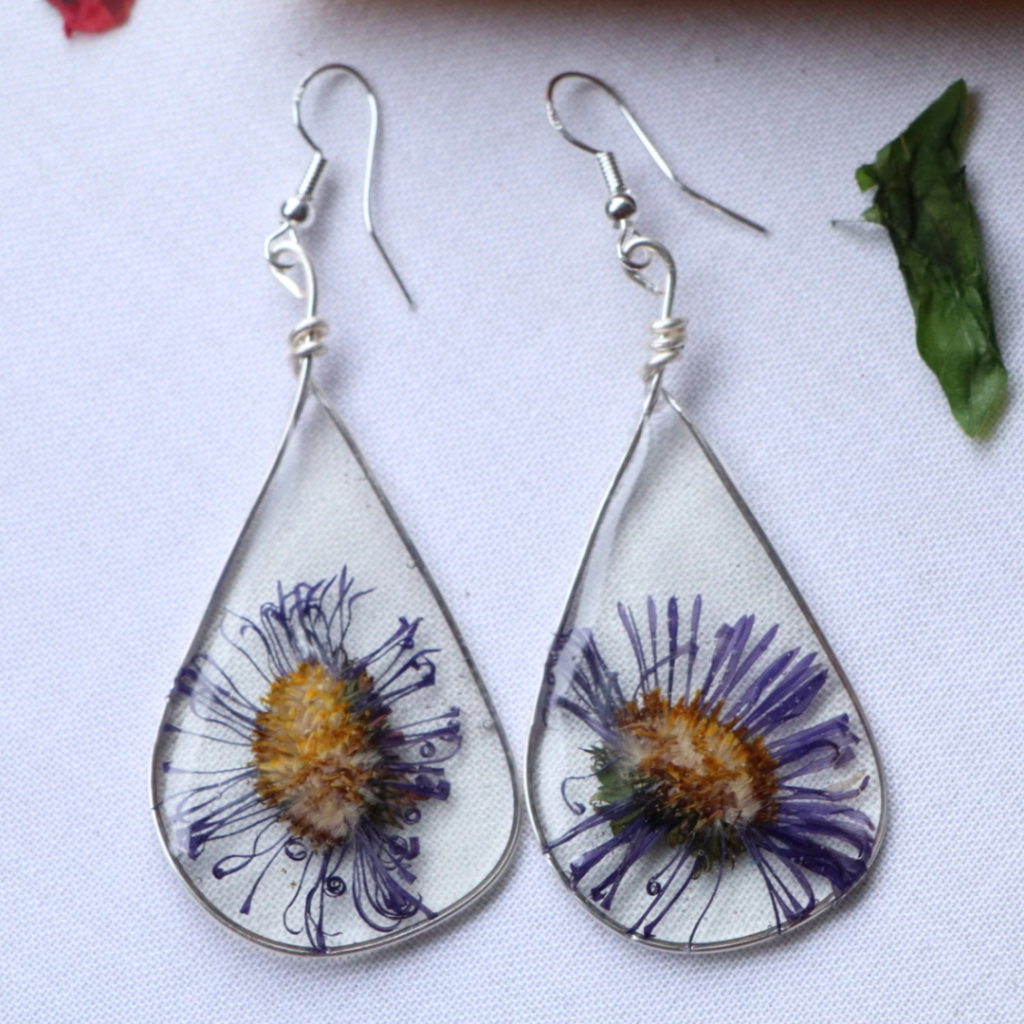 Looking for a gift that's truly one-of-a-kind? Treat your mom to a Reiki-infused, handmade piece of jewelry from Pieces by Ellie.
Founder Ellie Polsky is an abstract artist and certified Reiki Practioner who merges resin, canvas paintings, and found items to create pieces that are so much more than just jewelry – they're wearable art!
Each collection is infused with a specific intention, reiki energy, and an individual message for the recipient to explore on her own journey. The Unfolding Creation earrings featured here were crafted with the intention to bring a creative flow to those who wear them.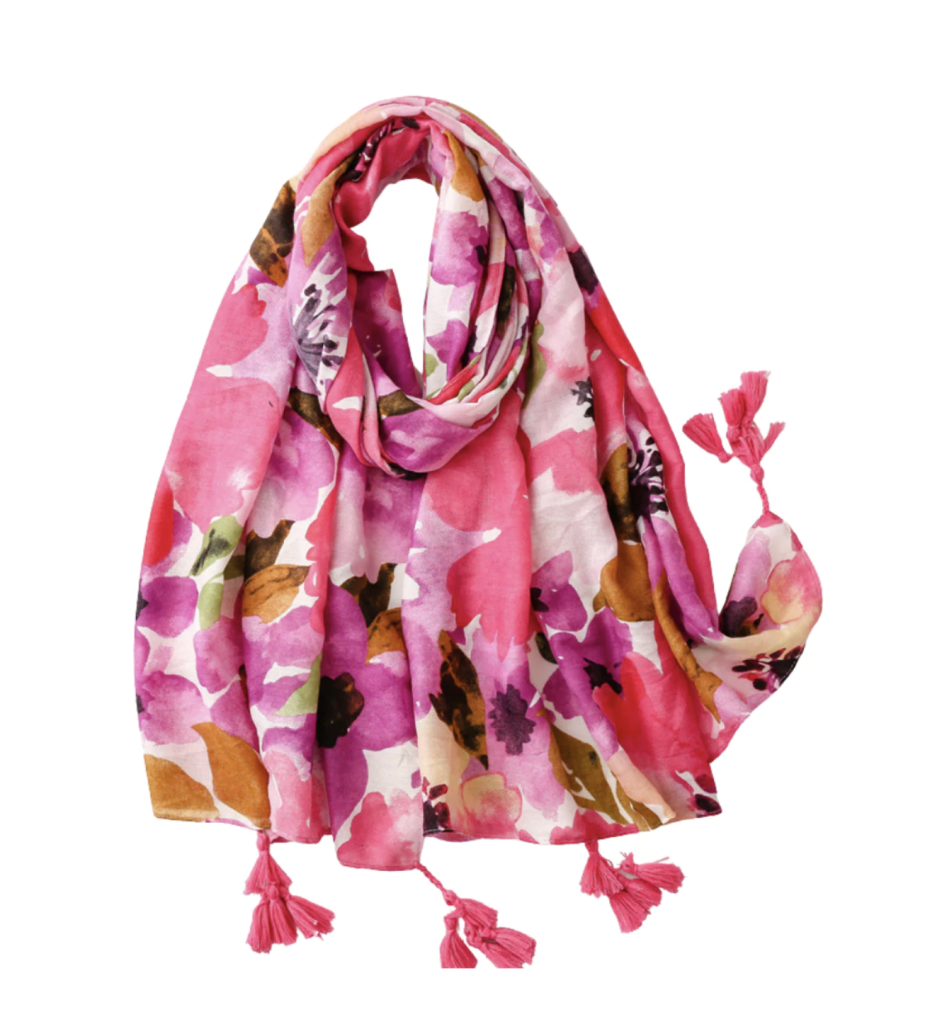 A gift that looks beautiful, has multiple uses, and helps to get quality food into stomachs instead of landfills? Yes, please!
Meet the Spring Fuchsia Floral Blooms scarf from Anchor Designs, a vibrant, Hawaii-based brand founded by Hispanic woman and military spouse Maritza Del Real Hollon.
As part of her mission to always support the local community where her family is stationed, Maritza and Anchor Designs donate a portion of net proceeds to Aloha Harvest, the largest food rescue and redistribution organization in Hawaii.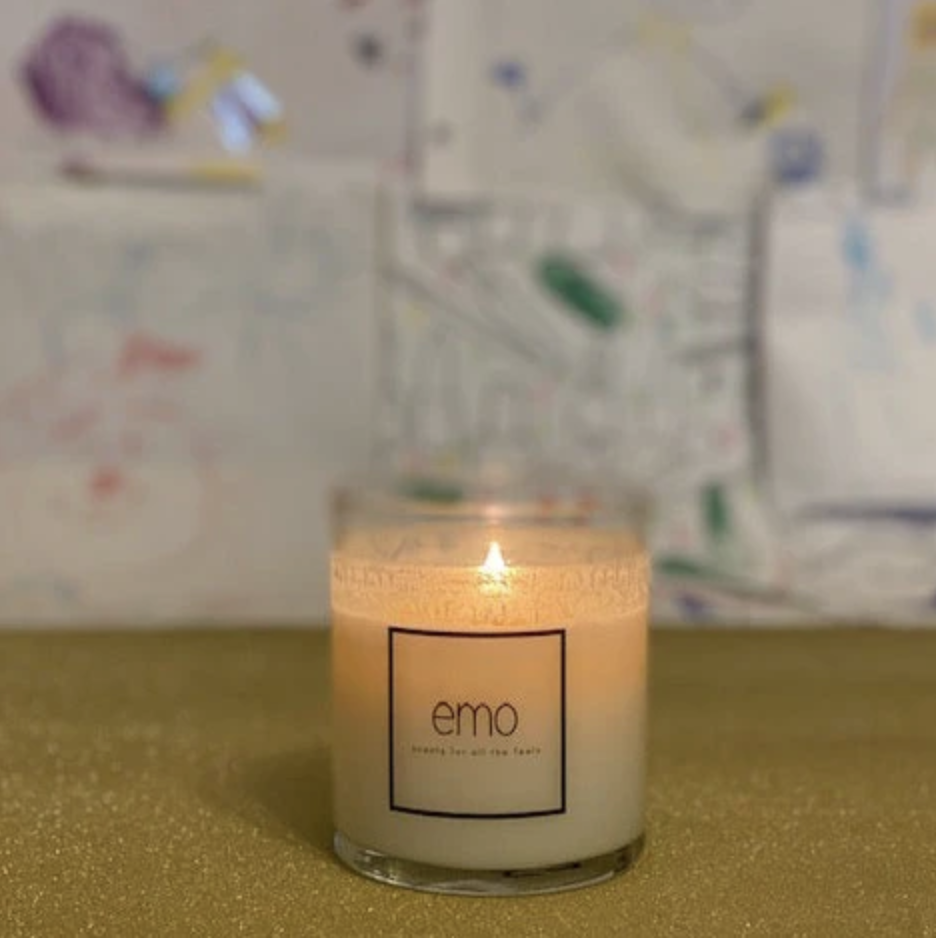 Could your mom use more of those fresh and calming vibes? Treat her to the Big Feelings candle from emo candles! They're hand-poured, small-batch soy wax candles made and packaged with sustainability in mind.
Plus, the story behind Big Feelings is especially appropriate (and cute): it's named for founder Erin Morrison's niece, whose parents were told she had a lot of "big feelings" at a parent-teacher conference.
Erin's niece even selected the scent notes for Big Feelings: vetiver, bergamot, fig, patchouli, tonka bean, moss, orange, incense, lemon, clove, hemp, cedar, musk, and amber.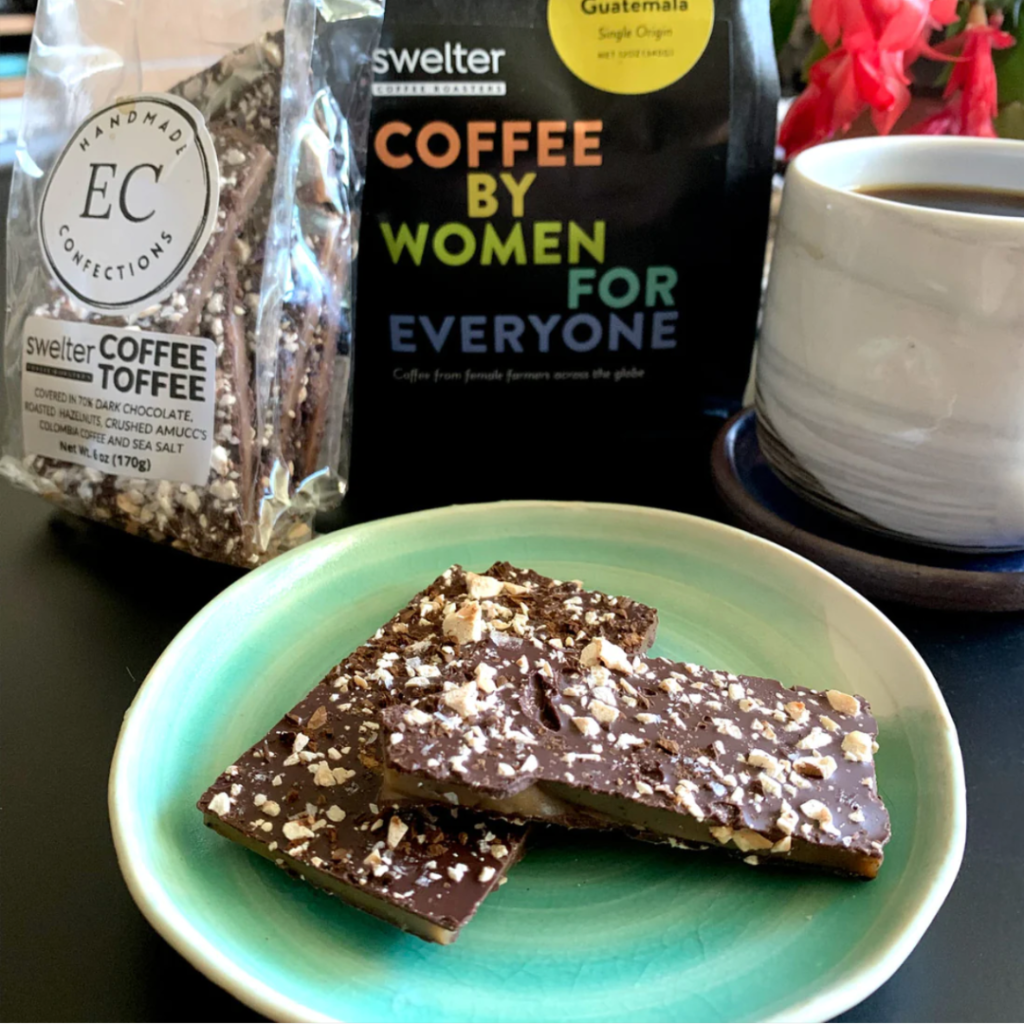 Satisfy Mom's sweet tooth and hankering for caffeine with the Coffee Toffee Gift Pack from Swelter Coffee Roasters! It includes one bag of the Swelter single-origin coffee of your choice, plus 6 oz of Coffee Toffee by EC Confections.
Swelter Coffee Roasters, a California-based brand founded by coffee enthusiast + roaster Stephanie Welter-Krause, features single-origin coffees produced by female farmers. Yup, your purchase gets you so much more than delicious coffee – it supports women farmers, their communities, sustainability, and economic resilience across the globe.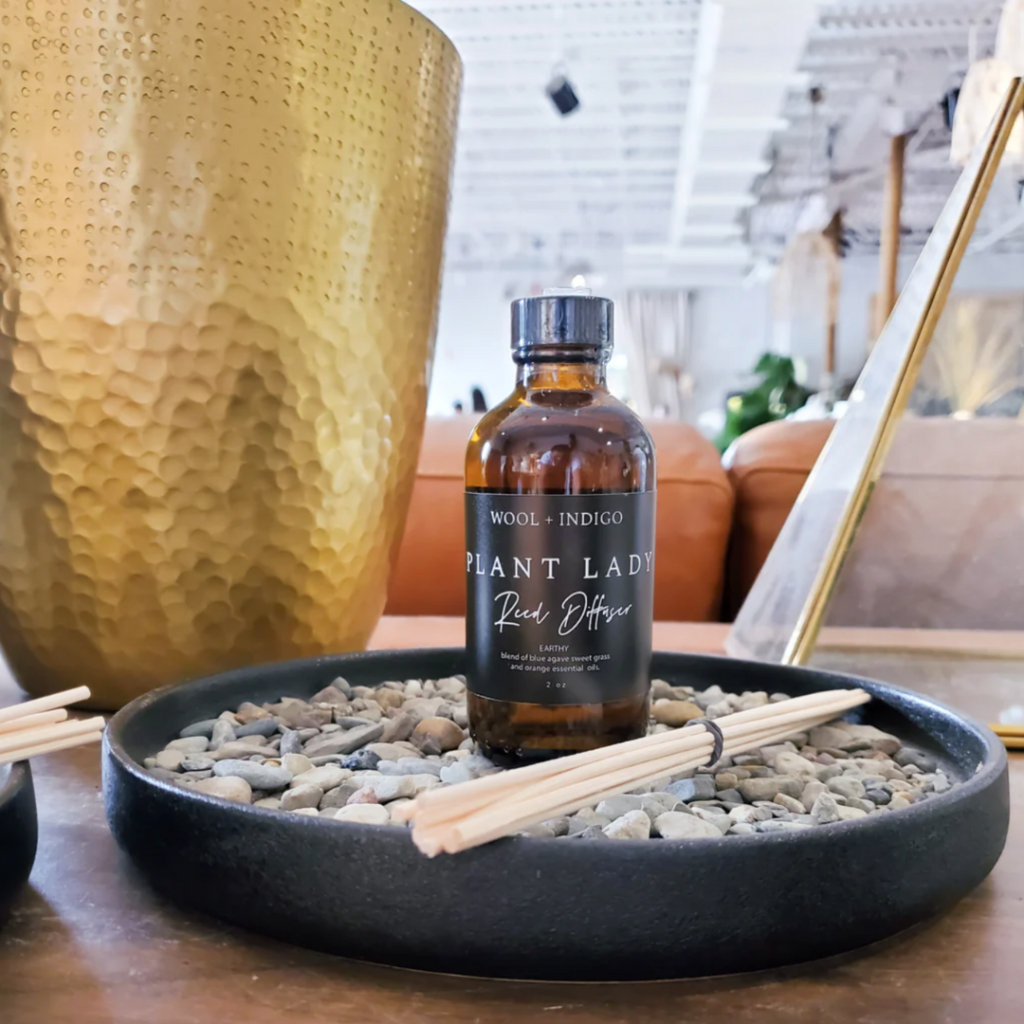 Meet Wool & Indigo, a women-owned creative studio in Orlando, Florida. They believe beautiful design and ethical values are the cornerstones of quality – that's why their team specializes in creating sustainable home goods, small-batch soy-free candles, and perfume for the modern home.
Wool & Indigo's reed diffusers come with hand-cut reeds and are hand-blended using natural fragrance, essential oils, and a zero-VOC base. Choose from scents like Moon Glow, Plant Lady, Cuban Tobacco, Floridaland, and Wild Yuzu.
Designed in New York and handmade by artisans in Ethiopia, the Doré Tote from Couleurs, NY makes a perfect gift for the practical mom who loves a bit of luxury. This chic, roomy tote – made from high-quality, sustainable leather, no less – is the perfect sidekick to see her through any day, occasion, or destination in style.
---
Want even more gift ideas that say "I love you," "Thank you," or "Wow, I'm really sorry about those teen years" in time for Mother's Day?
Come explore the We Are Women Owned Small Business Directory!
As the go-to destination for discovering, shopping, and supporting women-owned businesses, it's the perfect place to find more than 100+ amazing gift ideas for any occasion.
You can even browse categories like Accessories, Apparel, Baby & Kids, Beauty, Food & Beverage, Gifts, Home & Lifestyle, Paper Goods, Pets, Wellness, Services, and more.
Psst: before you go…
We realize that for some, Mother's Day is a joyful celebration. For others, though? It can be kind of a tough time.
So, whether you're thrilled to be a mom, struggling with being a mom, longing to be a mom, ambivalent about becoming a mom, missing or grieving for your mom, missing or grieving for your child, working through a difficult relationship with your mom, devoting your "mom energy" to a beloved pet, or happily choosing not to be a mom, we see you, we love you, and you matter! ❤️️