10 Gift Ideas For the Woman Who's Way Overdue for a Self-Care Moment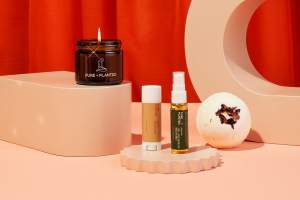 There's a good chance you know someone (maybe it's you!) who just. does. so. much for her partner, for her kids, for her household, for her extended family, for her work, for her colleagues, for her friends, and for her community… but when it comes to taking the time and space she needs for herself?
Ummm, well, that doesn't happen nearly as often or with as much fervor, and that's just not acceptable – because doesn't she deserve at least as much rest, peace, and love as she works so hard to give everyone else?
And while we can't fix big systemic issues or the unequal division of labor with a simple holiday treat (honestly, how rude), we can give thoughtful gifts that encourage the people we love to hit the pause button and take the time + space they need to rest, dream, and have fun.
If you're thinking, "Sounds great, but I have no idea where to even search for that kind of gift," then you're in the right place!
Here are a few ideas – straight from the pages of the 2022 We Are Women Owned Holiday Gift Guide – to get you started: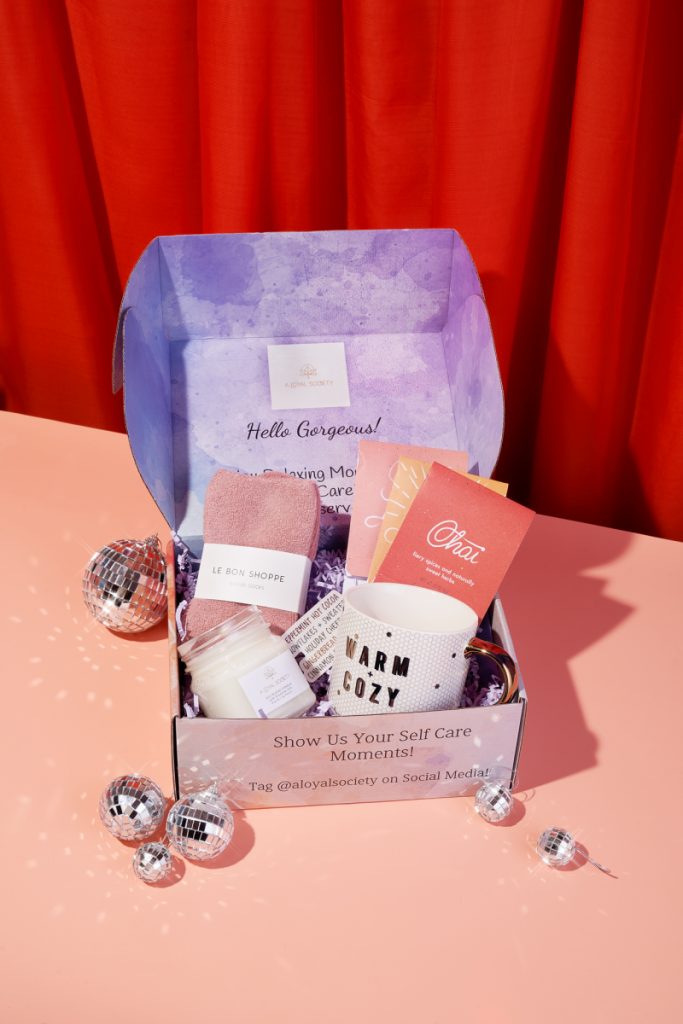 A Loyal Society
Let's face it: while the holiday season is magical, it can also be stressful.
And who's actually creating all of that holiday magic – you know, tirelessly searching for the perfect gifts, baking delectable treats, showing up for the elementary school winter pageant, and making the house look like a winter wonderland? Much of the time, it's women!
Krista, Founder of A Loyal Society, mom to a preschooler, proud Howard graduate, and 15+ year fashion industry veteran, truly gets it – that's exactly why she's such a passionate advocate for self-care and stress management, especially at this time of year.
Warm and Cozy Winter Box, $69.99
Set the scene for restful moments, peace, and pampering – even on the busiest of days – with super-soft, plush socks, herbal tea, a chic "warm and cozy" mug, and one of A Loyal Society's decadent relaxation candles.
Cozy Winter Nights Box, $49.99
Banish stress and bring on those cozy vibes with chamomile tea, wildflower honey, lavender bath soaking salts, and a festive bath bomb.
Find A Loyal Society on page 64 of the 2022 WAWO Holiday Gift Guide
Don't forget your WAWO-exclusive offer:
Enjoy 20% off sitewide using code WAWO20 through January 15th, 2023!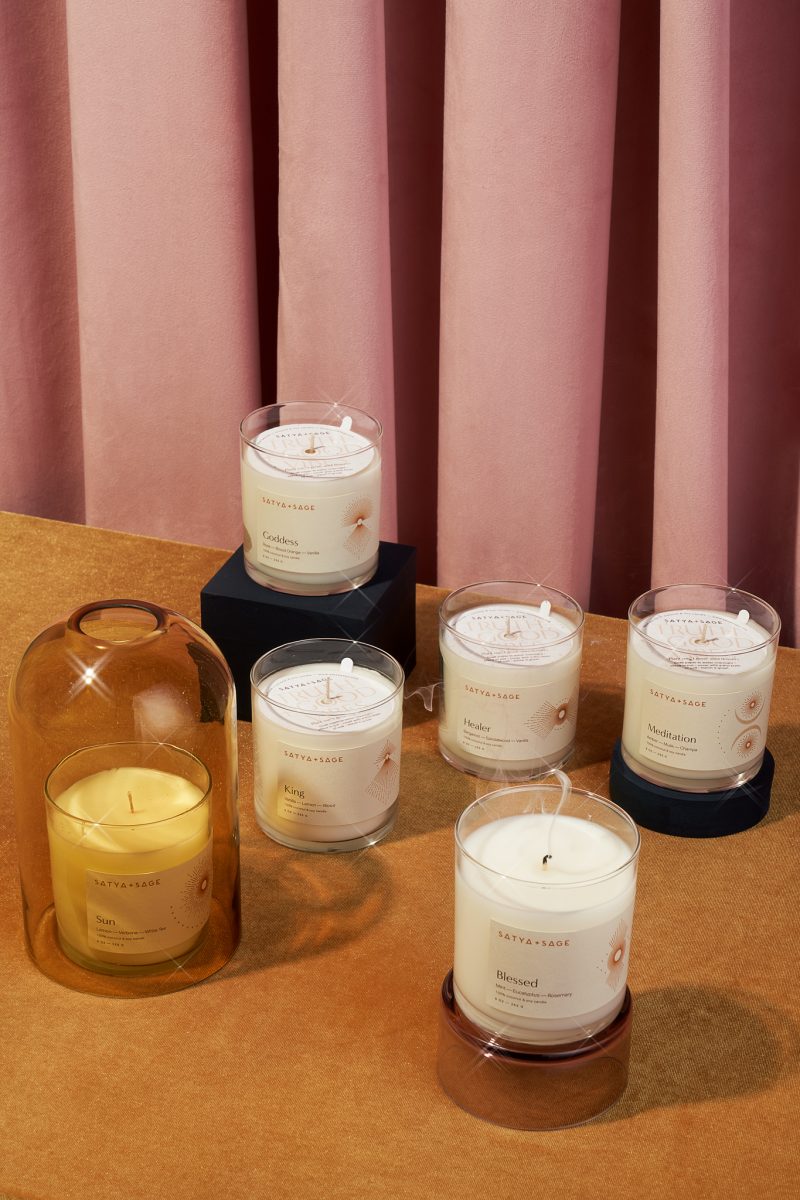 Satya & Sage
Son-ja Haile came up with the idea for Satya + Sage after realizing just how much creating the physical and mental space to set intentions helped her focus on the things that matter most.
Now, her collection of handmade, eco-friendly candles is here to help inspire you (or your chosen recipient) to slow down and cultivate your own daily sacred space.
Each Satya + Sage candle is crafted with consciousness using vegetable oil and coconut wax, cotton wicks, and phthalate-free, premium-grade fragrance oils.
Truth + Good Vibes Bundle, $180 
Fill their space with truth, positivity, and good vibes with these six Satya + Sage candles in scents like Blessed, Goddess, Sun, Meditation, Healer, and King.
Find Satya & Sage on page 42 of the 2022 WAWO Holiday Gift Guide
Don't forget your WAWO-exclusive offer:
Free 5oz Sacred Candle with the purchase of the 9 oz Truth + Good Vibes set with code WAWOSAC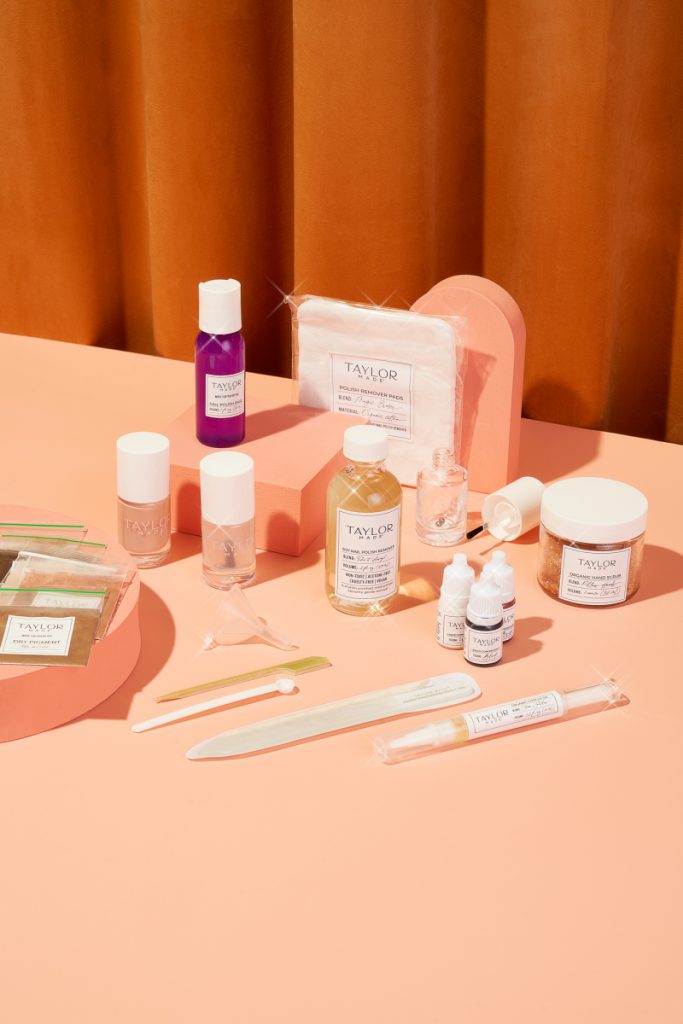 Taylor Made Polish
Taylor Made Polish is revolutionizing the nail polish standard, because every elevated beauty experience is cause for celebration, and one size fits none.
Their polish kits are perfect for any occasion, whether that's a solo self-care night next to the fireplace, your kid's birthday party, a long-awaited reunion with your college roommates, or just because!
Each curated custom nail polish kit contains all of the ingredients, supplies, and instructions you need to create up to three custom colors that are uniquely you, regardless of whether you're a nail polish novice or a mixing master.
Nudes and Neutrals Polish Kit, $70
The struggle to find that perfect shade is over: the Nudes and Neutrals kit offers 2000+ different color and finish combinations so everyone can finally have their perfect nude nail polish.
All Nail the Queen Gift Set – Metallics, $105
For the person who's ready to shine this season! The Rose Gold, Gold, Copper, and Silver Polish Kit plus the Metallics Mixing Tool Pack and the Gold Organic Manicure Kit.
Find Taylor Made Polish on pages 14 – 15 of the 2022 WAWO Holiday Gift Guide
Don't forget your WAWO-exclusive offer:
Enjoy 20% off your order with code WAWO20 through December 31st, 2022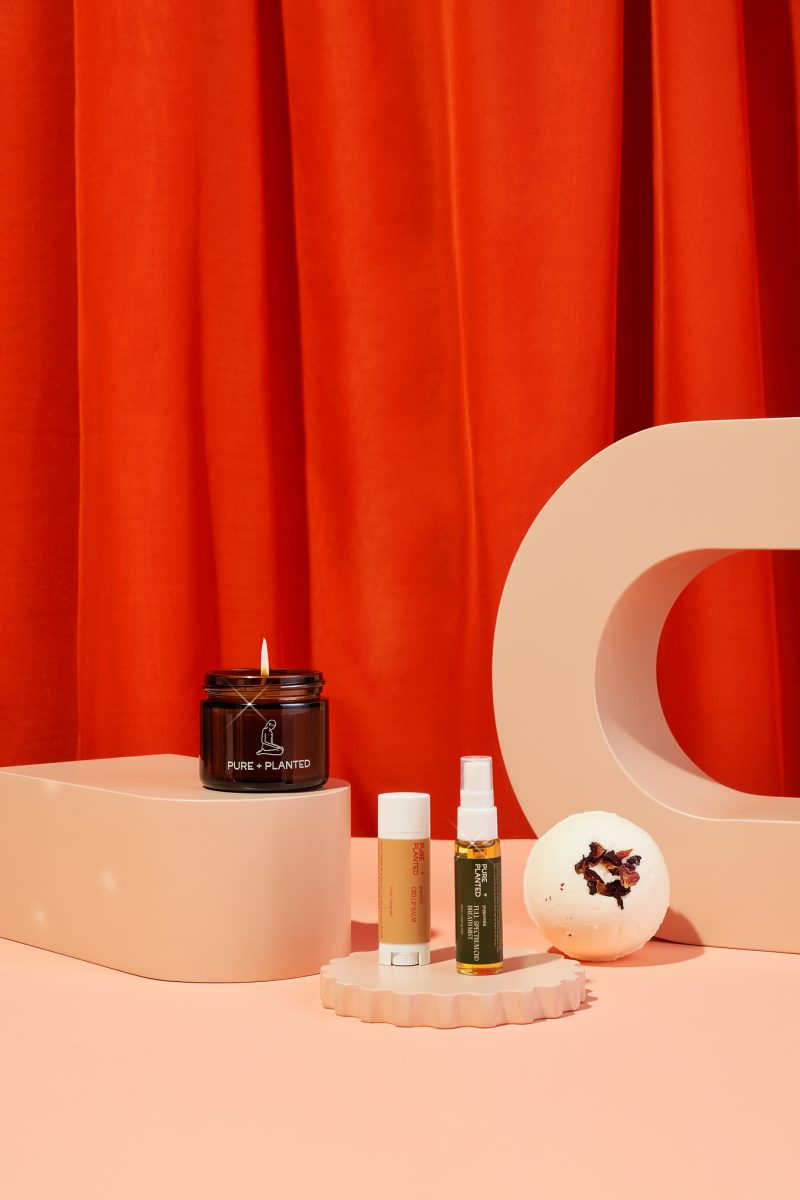 Pure + Planted
For the person who's curious about exploring the possibilities of combining CBD with intimacy – whether that's solo or with a partner – Pure + Planted created just the thing: their CBD Date Night Kit.
As a major part of the cannabis community for the past 20 years, Pure + Planted prioritizes crafting CBD goods from locally-sourced hemp and natural ingredients. Plus, each product is handmade in small batches in Burlington, Vermont!
CBD Date Night Kit, $55
Everything you need for an extra-special evening. Includes a full-spectrum CBD bath bomb, massage candle, breath mist, and lip balm.
Find Pure + Planted on page 65 of the 2022 WAWO Holiday Gift Guide
Don't forget your WAWO-exclusive offer:
Enjoy 20% off of your first order with welcome20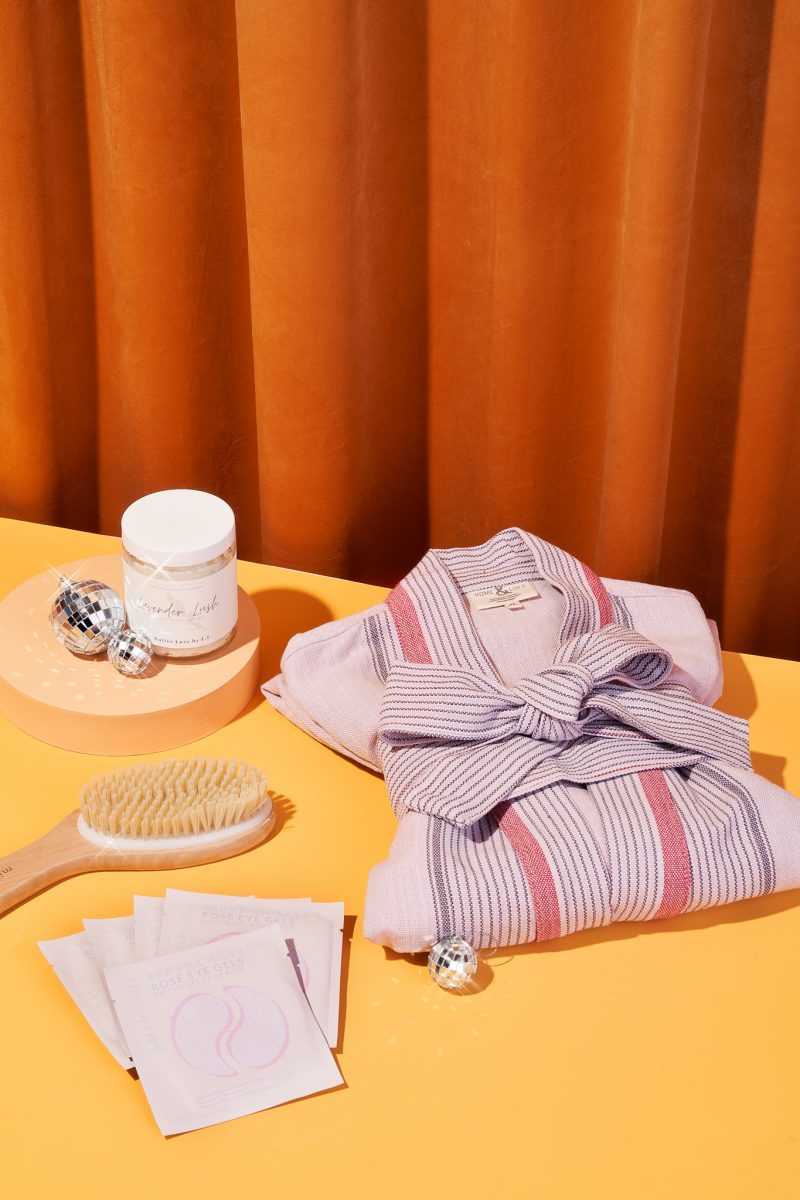 East Third Collective
East Third Collective likes to do things a little differently. Instead of creating ready-made gift boxes, they sell everything individually. They're here to provide you with great ideas – and excellent products to choose from – so you can mix, match, and curate the perfect present.
That way, you can give the best kind of gift: one that's meaningfully chosen by you, and then beautifully packaged and shipped by them.
Plus, East Third Collective sources their products from small women- and BIPOC-owned businesses, B Corp-certified companies, 1% for the Planet + People members, and sustainable brands.
Well-Deserved TLC, from $161
Send some well-deserved TLC with a hand-loomed robe made with Turkish cotton, lavender body butter, refreshing eye gels, and a body brush… or choose from 26 other personal care and wellness-themed gifts to customize your own gift box!
Find East Third Collective on pages 70 – 71 of the 2022 WAWO Holiday Gift Guide
Don't forget your WAWO-exclusive offer:
Enjoy 10% off your purchase with the code WAWO10. Valid until December 31, 2022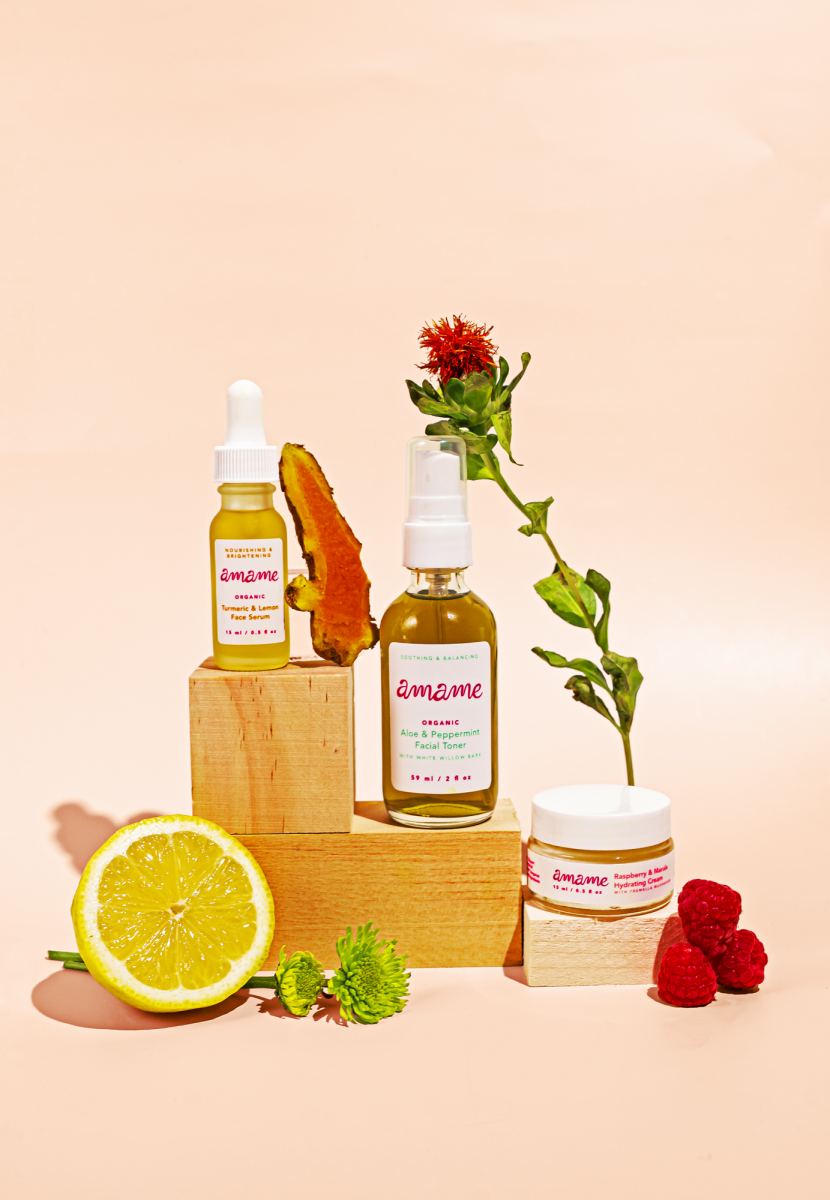 Amame
Sasha LoPresti's background in the agriculture industry led her to become a proponent of eating clean, organic foods harvested sustainably without the use of pesticides.
Eventually, she started to wonder: If she held her food to that standard, why let her skincare fall short?
What started in Sasha's kitchen is now Amame, a line of ethical and sustainable skincare products that work in harmony with nature. Each product is USDA-certified organic, Leaping Bunny-certified cruelty-free, and certified Plastic Negative through rePurpose Global.
Glow Organically Kit, $46
Get your glow on and jumpstart your skincare routine – organically – with Amame's Aloe & Peppermint Facial Toner, Turmeric & Lemon Face Serum, and Raspberry & Marula Hydrating Cream.
Find Amame on page 19 of the 2022 WAWO Holiday Gift Guide
Don't forget your WAWO-exclusive offer:
Enjoy 15% off your order with code WAWO15 through December 31st, 2022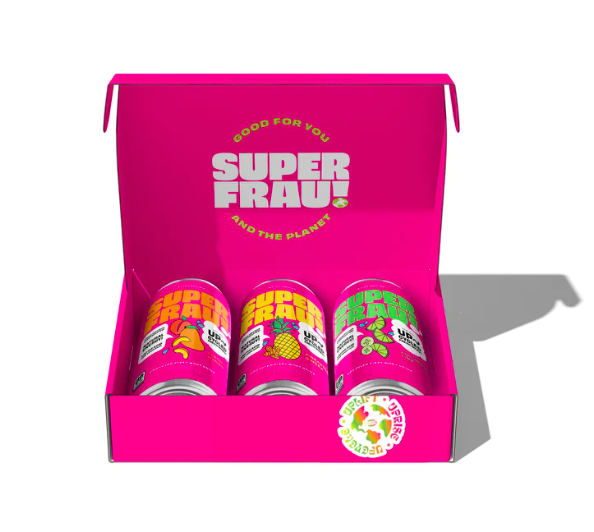 Superfrau
Did someone say "delicious, healthy drinks that make a perfect cocktail mixer or afternoon pick-me-up"?
Oh look, it's Superfrau's Upcycled Certified Sparkling Functional Beverages! These delightful drinks are not-too-tart, not-too-sweet, slightly effervescent, and made with fresh surplus whey from yogurt manufacturers.
Enjoying a "me moment" with Superfrau is an easy (and delectable) way to do good for your health and for the environment.
Includes one 12 oz can of each flavor: Pineapple Ginger, Cucumber Lime, and Peach Mango.
Find Superfrau on page 90 of the 2022 WAWO Holiday Gift Guide
Don't forget your WAWO-exclusive offer:
Enjoy 15% off your order with code SuperWAWO15 through December 31st, 2022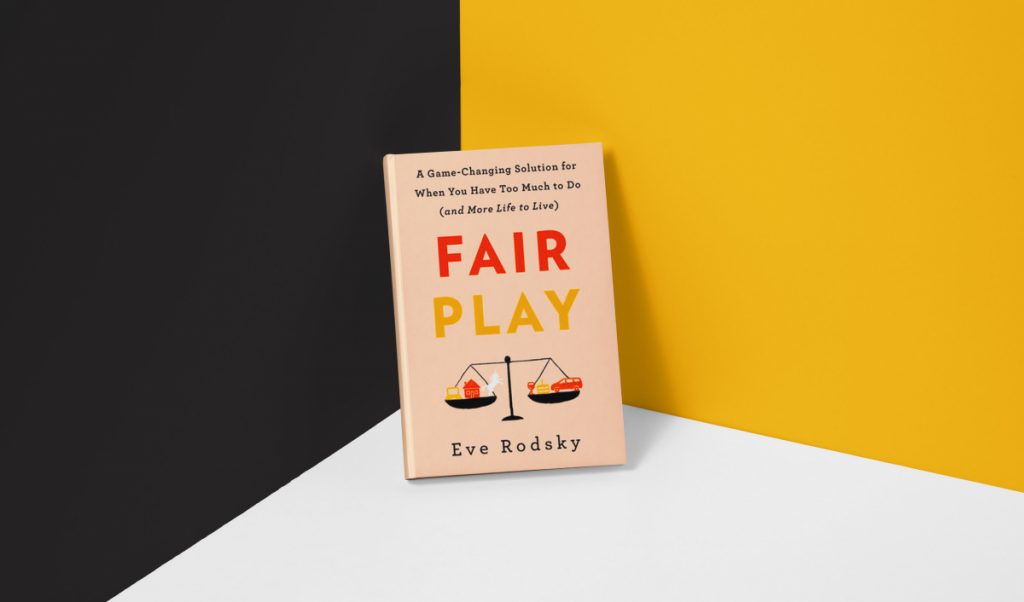 Fair Play
This last one's for you – yes, you – the person who made it all the way to the bottom of this blog post.
If you don't remember the last time you weren't exhausted, you may want to check out Eve Rodsky's book, Fair Play: A Game-Changing Solution for When You Have Too Much to Do (and More Life to Live). 
There's even an accompanying card deck to help you and your partner rebalance your to-do lists, reclaim your time, and re-prioritize what's most important. Who knows – it could be the best thing you give yourself all year!
---
Want even more great holiday gift ideas from women-owned businesses?
Start exploring the We Are Women Owned Holiday Gift Guide and the We Are Women Owned Small Business Directory to get inspired by ideas for more than 125 gifts (the kind people will actually be excited to receive) for everyone on your list.

Did you know you can win fabulous prizes – including some of the amazing items featured in the WAWO Holiday Gift Guide – simply by shopping women-owned this holiday season? Get the details and join in on the #ShopWomenOwedChallenge right here!